Finestel does "Proportional Order Replication & Portfolio Syncing" between a connected "trader Binance" account and multiple other "investor" (copy trader) Binance accounts that copy the trader account. Welcome to Binance Spot Copy Trading's guide and introduction; this paper is about the future of crypto portfolio management.
If you're looking for a futures copy trading service, we've written a dedicated article for crypto copy trading on Binance futures.
Content Menu
What Is Copy Trading? Crypto Portfolio Management W/ Binance Copy Trading
Why Copy Trading? Introducing Finestel Services
Crypto Portfolio Management Through Proportional Order Replication & Portfolio Syncing via API Access
How to Copy a Binance Spot Trader
Crypto Portfolio Management via Binance Copy Trading | Introducing Finestel Pro
Finestel Pro; A White-label Copy Trading Platform to Build Digital Crypto Asset Management Firms on Top of!
Frequently Asked Questions
What Is Copy Trading? Crypto Portfolio Management W/ Binance Copy Trading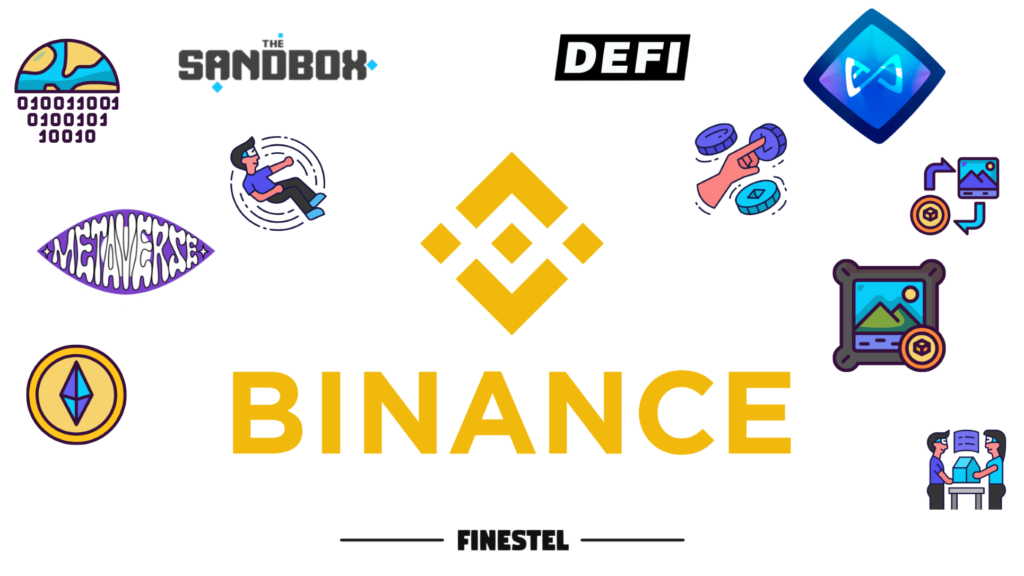 What Is Crypto Copy Trading?
Crypto copy trading is the process of reading and copying a trader's orders and portfolio to replicate them into multiple other accounts proportionally. Crypto copy trading can be a feature on a crypto exchange or through an independent intermediary platform that connects to exchange accounts via API access.
What Does Proportional Mean?
It means the replicated orders will be placed into the investor (copy trader) account proportional to their account balance.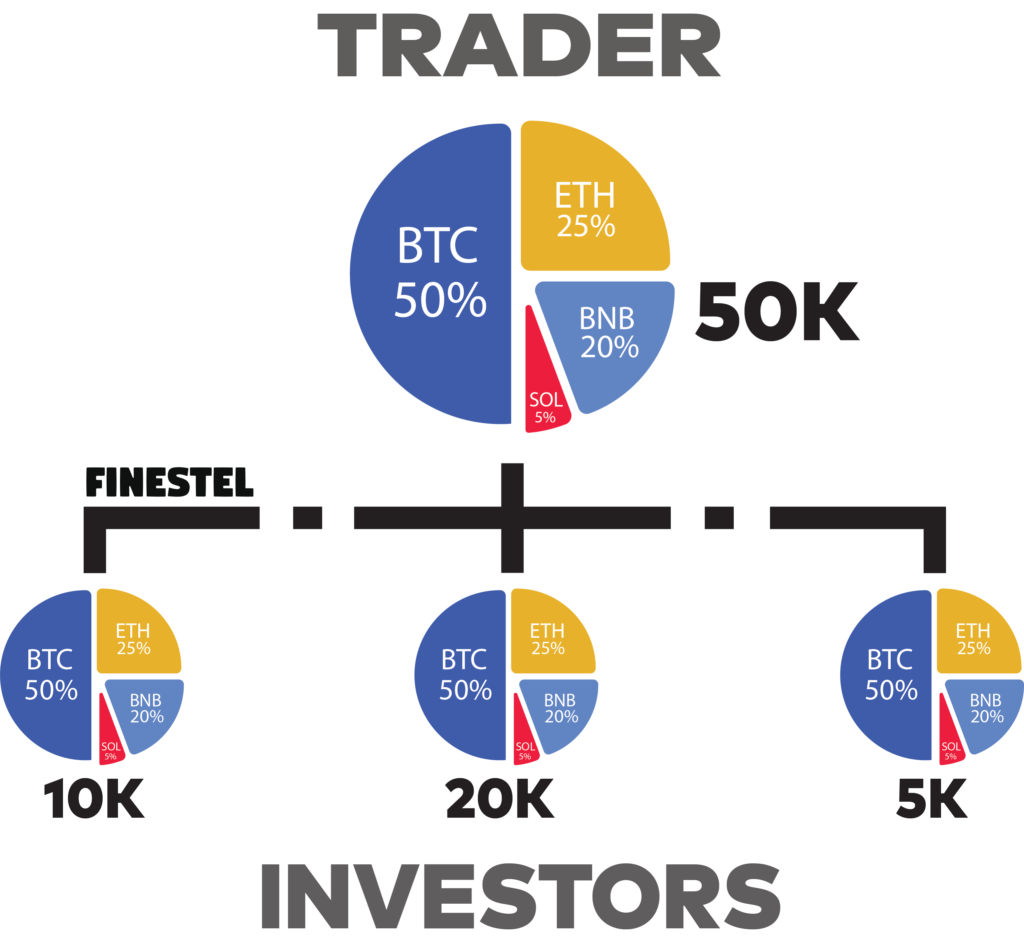 For example, if you trade with a $10000 Binance spot account balance, and I copy you with a $1000 balance, and then you place a $500 worth of BTC buy order, I'll receive the same order set (SL, TP, etc.), but for $50. It's about the ratio of your balance to the copied trader's.

In other words, each investor account will receive the replications based on the ratio of their account balance to the copied trader's. Finestel can process about 10000 orders in less than 0.01 of a second!
Why Copy Trading? Introducing Finestel Services
So there's a "Trader" on one end and multiple "Investors" on the other, right?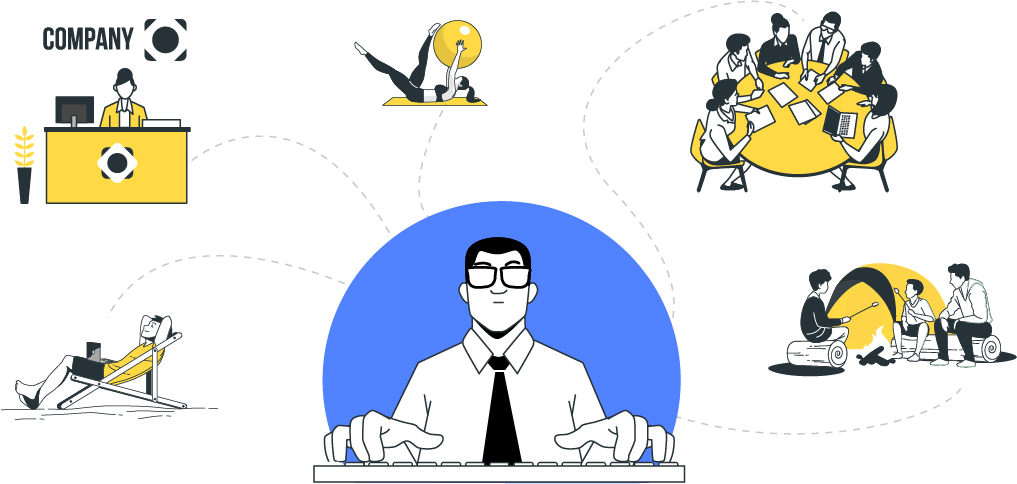 In this equation, pro crypto traders, asset managers, or portfolio managers (I'll discuss the variety further below) provide their investment management services and earn "Performance fees." Investors, on the other end, receive the copied trader's performance into their Binance or KuCoin accounts (depending on the trader's exchange account) proportionally.
Trading is NOT for Everyone!
Crypto trading is not a hobby, a side hustle, or a part-time job. Trading is not something that one starts learning today and becomes a profitable trader in a year and then hits a 10X return the next! Trading–anything–is one of the most complex–if not even the most–jobs requiring tons of knowledge and years of experience to end your trading day with a profit.

Moreover, becoming a trader does not rely on technical or fundamental knowledge. In fact, the majority of traders fail to profit because they cannot control their emotions. That's why many professional traders use "Automated Crypto Trading Systems" or "Trader Bots" and develop a trading system using a well-tested crypto trading strategy to avoid emotional decision-making.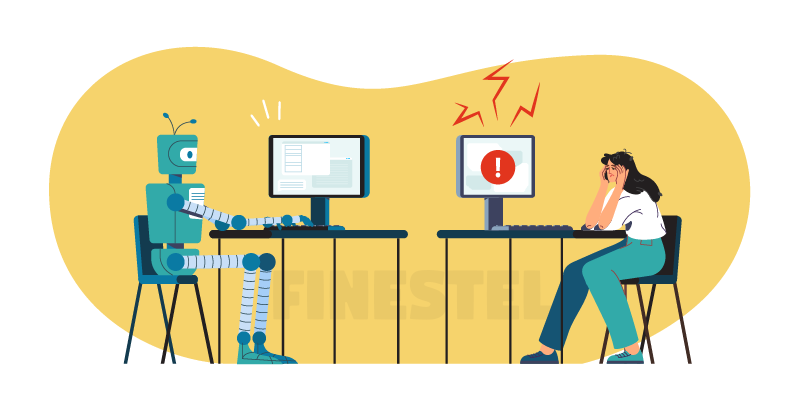 Not easy to achieve, not free to share, obviously! And that's the reason why trading signal and strategy marketplaces exist. Fortunately, though, there are alternatives! Finestel's copy trading services makes it possible for everyone to gain profits from their crypto investments like a professional trader or invest in the crypto industry as experts do.
Finestel Services
Finestel runs on a powerful yet fully customizable crypto copy trading engine, capable of integrating with crypto exchanges – Binance, Bybit & KuCoin are currently available on Finestel, there are more options for Finestel Pro, and there will be more popular exchanges available soon.

Services that are currently running on top of Finestel's engine:
Finestel KuCoin & Binance Copy Trading via API access: currently available for Binance Spot/Futures markets and KuCoin Spot market only, via read-only & trade-only API access.
Finestel Pro: a platform for establishing and running fully personalized Digital Crypto Asset Management Firms.
Finestel Exchange: a cryptocurrency exchange that also supports crypto copy trading–not publicly available yet, but it's passing the final tests.
Crypto Portfolio Management Through Proportional Order Replication & Portfolio Syncing via API Access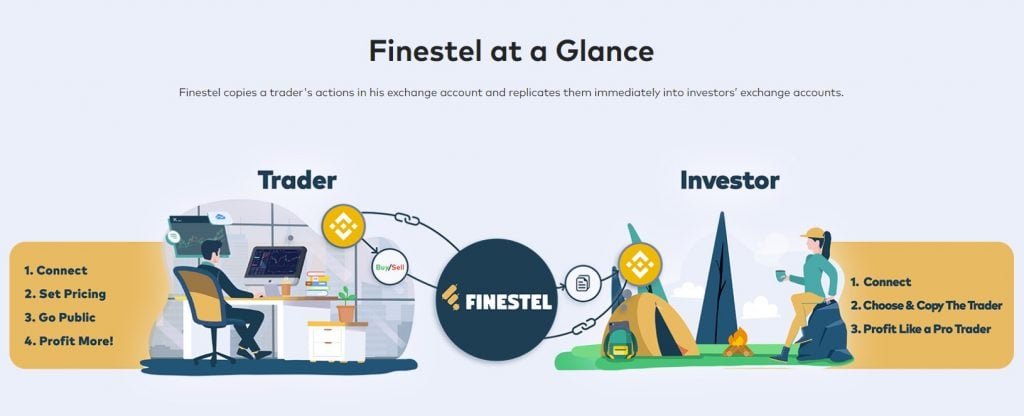 First, Binance copy trading is a service that every crypto enthusiast can use. Finestel has 2 main sides, Investor and Trader. Investors and traders are exchange accounts (Binance in our case) that are connected to Finestel via API access.
We have a full tutorial video for Binance copy trading API integration:

Using one Finestel account, you can connect up to 10 exchange accounts (Binance or KuCoin) with different functions–trader or investor. So one Finestel account can simultaneously contain trader and investor accounts from different crypto exchanges. You can copy other traders with your connected investor account, get copied by investors, or even copy yourself!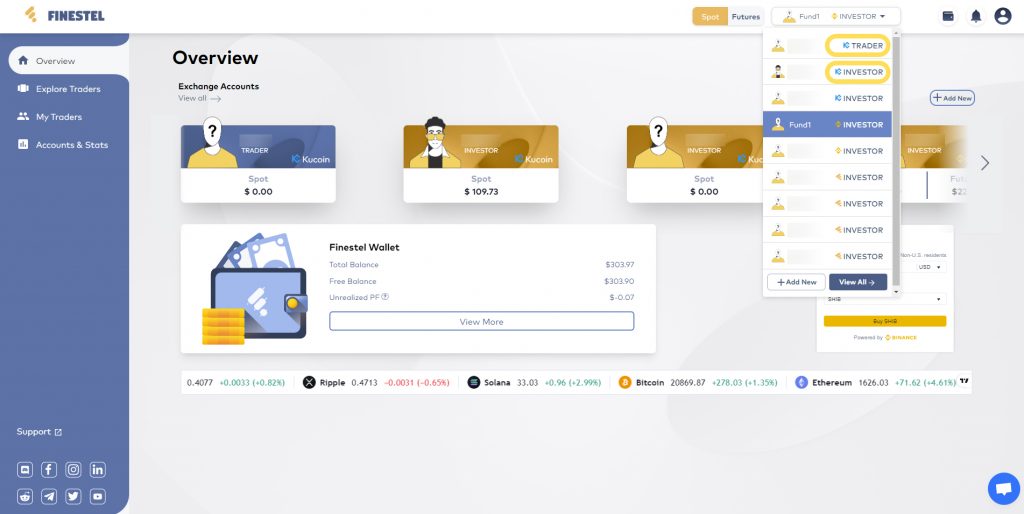 Why? I'll let you know, but first, let me tell you how to connect your Binance account to Finestel and copy a trader or get copied as a crypto trader or portfolio manager:
Connecting a Binance Account to Finestel via read-only (traders) & trade-only (investors) APIs
An API (Application Programming Interface) is what two or more pieces of software, computers, or applications talk to each other through. When you tap on the YouTube app on your smartphone, the app starts talking to YouTube servers using APIs.

For Binance copy trading – or other crypto copy trading models – two API configurations are used:
Trade-only API configuration, which is for connecting a Binance account to Finestel as an investor (copy trader). This API access allows Finestel to place/cancel replicated orders from the copied trader account into the investor account.

Read-only API configuration, which allows Finestel to read and copy orders, portfolio, or positions (futures copy trading) from the connected trader account. A trader account can be a crypto trader bot, an asset management firm, or a professional portfolio manager.

Connecting a Binance Account to Finestel | Investor & Trader Accounts Binance API Configurations
Log in to your Finestel account and hit one of the buttons in the image below (yellow boxes):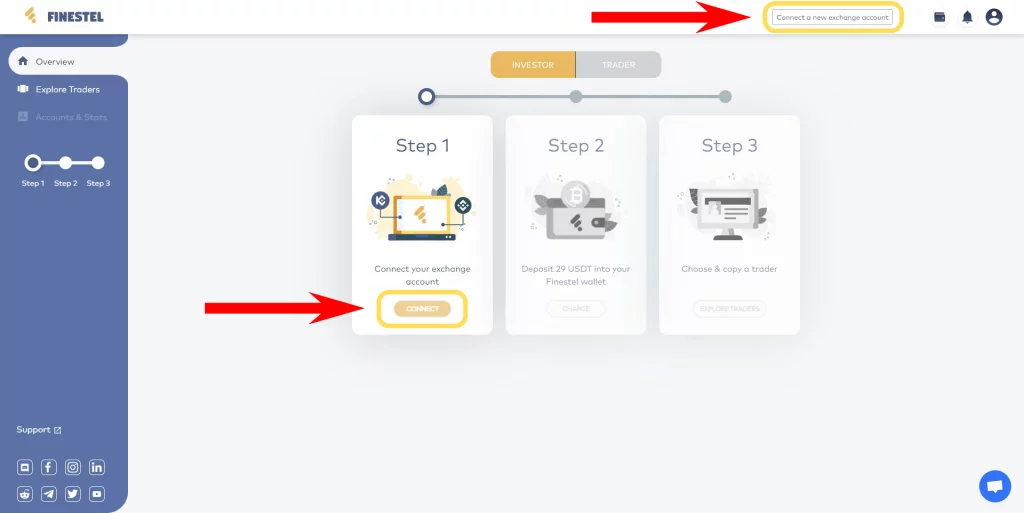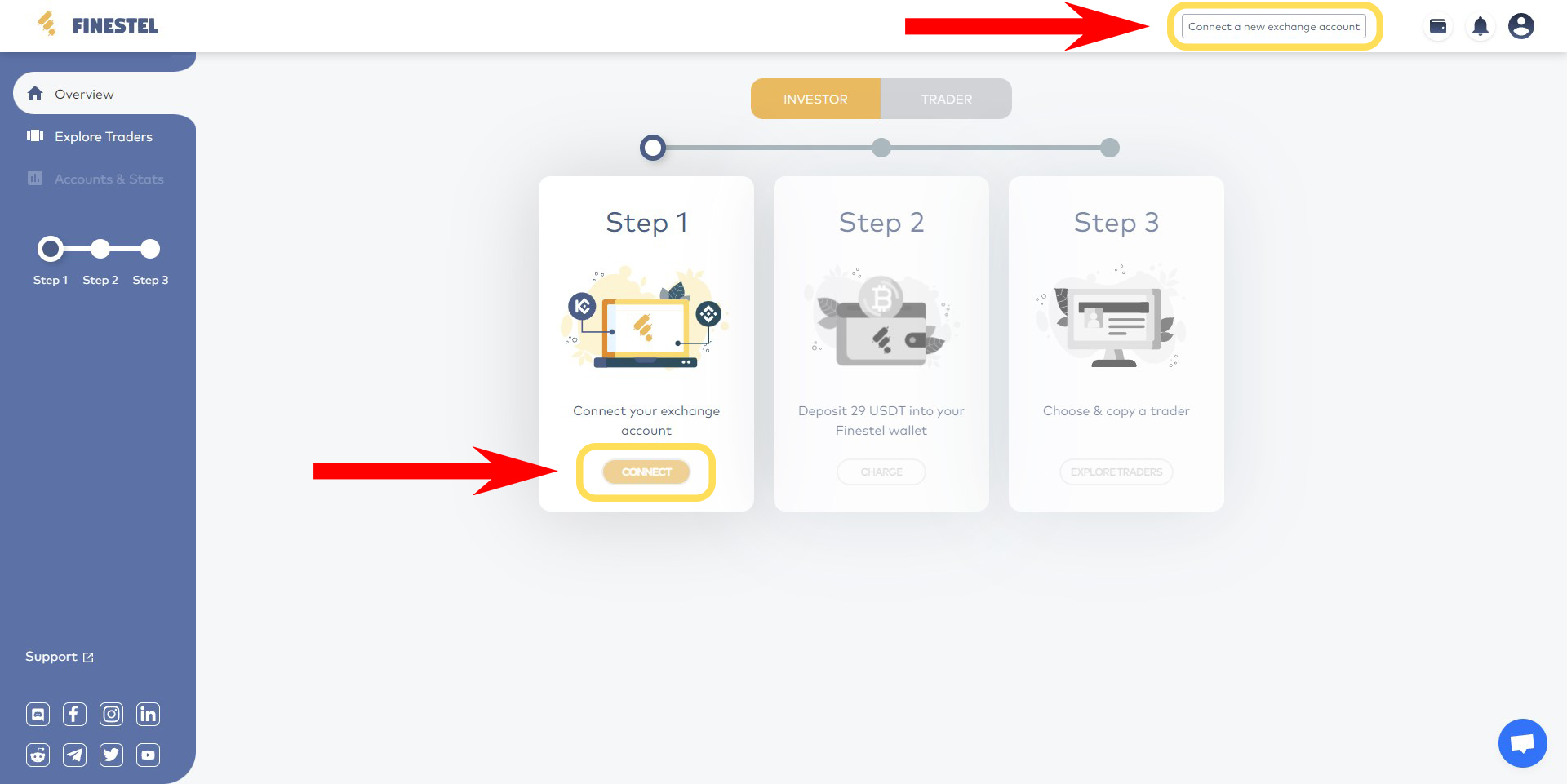 Select the exchange on the next page – we select Binance.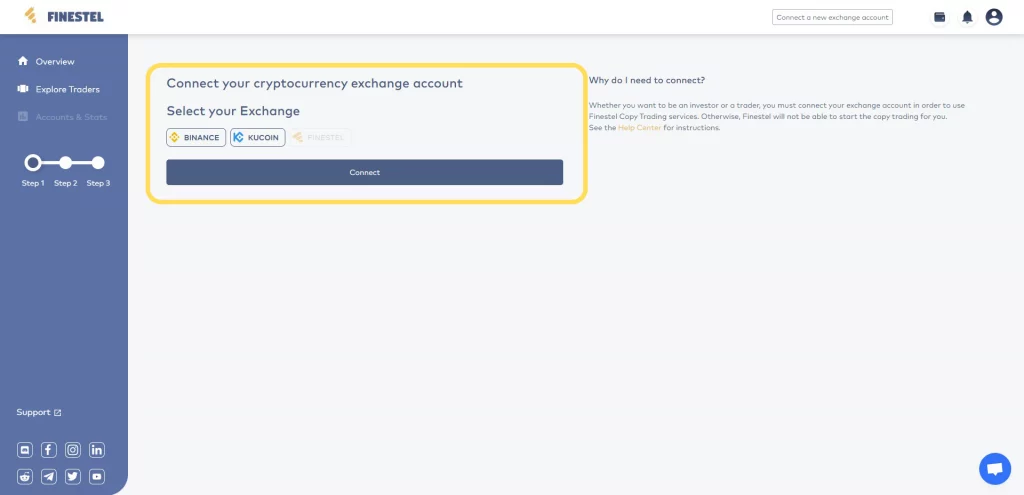 On the next page you must pick a name for the Binance account you want to connect and confirm the account role (trader or investor). Afterward, you need to go to your Binance account to create the API.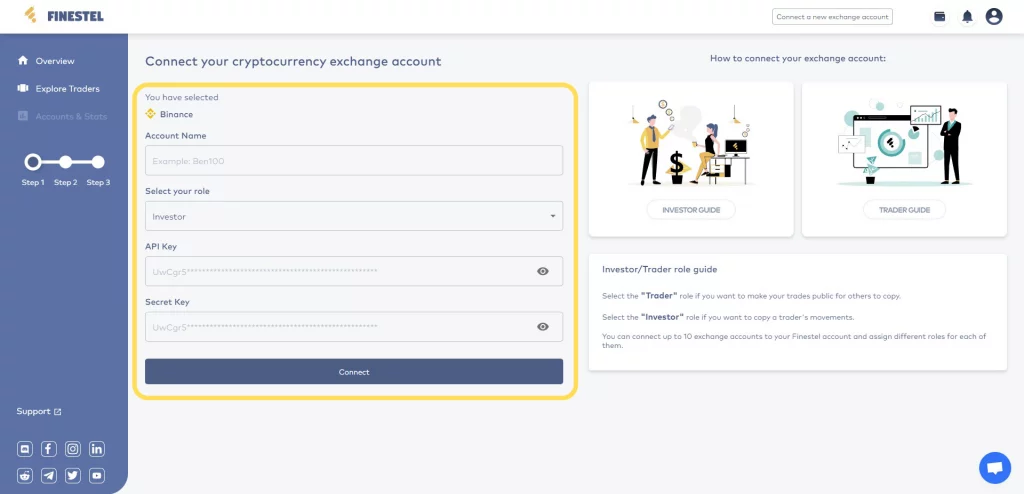 Log in to your Binance account and select the "API Management" option from the profile icon menu. Verify your Binance credentials and you'll see a button that reads "Create API."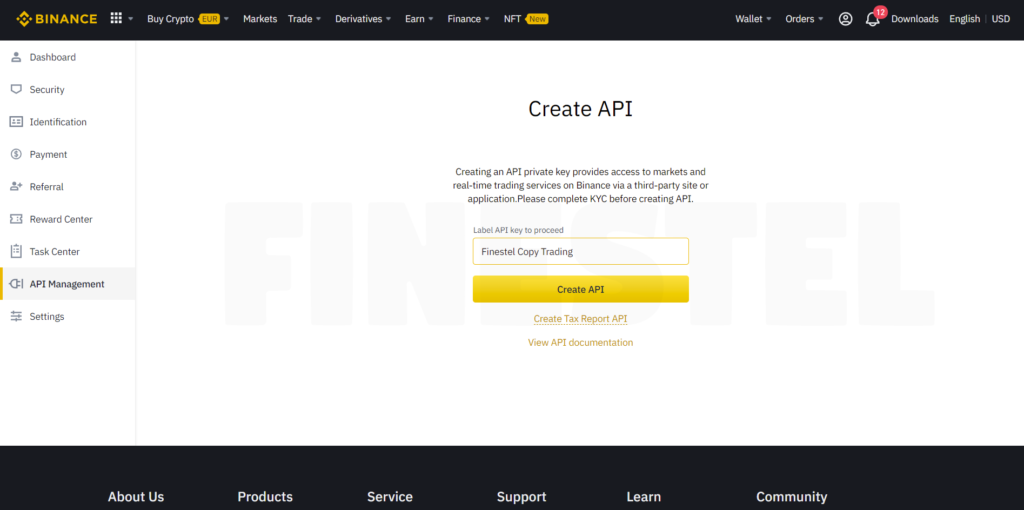 Investor Accounts' API Configuration for Binance Copy Trading:
Investor Binance accounts must configure trade-only API access (the image below). Please keep in mind that the top option (Enable Spot & Margin Trading) is for copying Binance spot traders only. If you want to copy Binance futures traders with your connected investor account, you must check mark the bottom option (Enable Futures) as well.

Trader Accounts' API Configuration for Binance Copy Trading:
The default API configuration on most crypto exchanges is read-only (Enable Reading) and trader accounts don't need to change anything here.

Both trader and investor accounts must set the IP Restriction as "Unrestricted," otherwise your Binance account might lose connection to your Finestel account.

After configuring the API for Binance copy trading just copy and paste the API key and Secret into their blanks and hit the connect button. Within 60 seconds Finestel connects to your Binance account and you will see your Binance account balance on your Finestel dashboard.
Let's see the syncing procedure on YouTube:
Public & Private Trader Accounts
Trader accounts are either "Public" or "Private." When you connect a trader Binance or KuCoin account, it connects as a private account by default.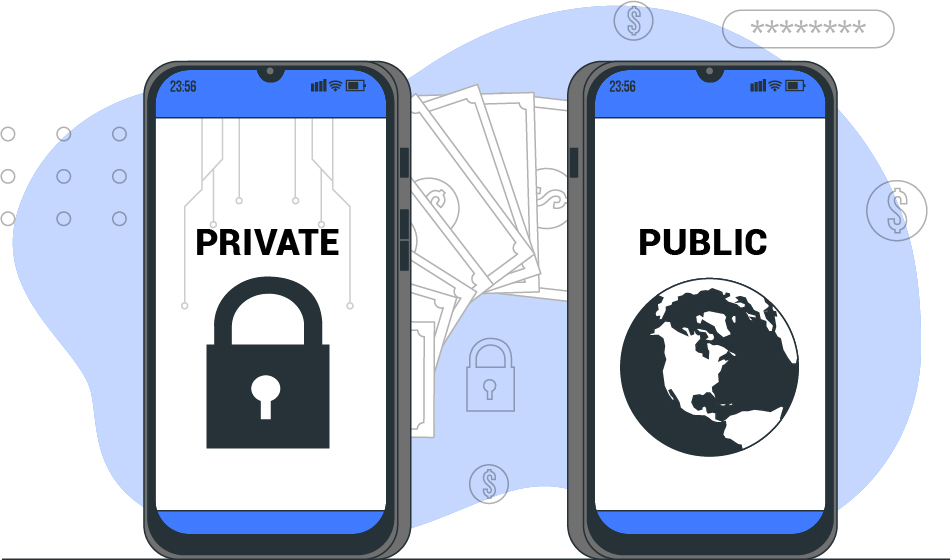 Finestel will not list private trader accounts on the Explore Traders page and your investors find you using your profile link. This is for traders who want to provide their services to their private community of investors only.

There's a "Go Public" button on the traders' "Accounts & Stats" menu. Upgrading your trader account to "Public":
Finestel will list your account on the Explore Traders page and Finestel investors can copy you.
Finestel regularly promotes Public trader accounts with good performance.
Still, you can use your profile link to gain investors from your private community.
Important Notes:
After configuring the API and hitting the save button, remember to copy the API secret. Because Binance will show the Secret only once and when you create the API. If you lose it, you must delete the API and create a new one; the API Secret is not retrievable.
Due to "Unrestricted" IP address, Binance will activate the API for only 90 days. After that duration your Binance account will lose connection to your Finestel account and you need to get back to the API Management of your Binance account and reactivate the API. Binance will alert you through an email 1 week prior to the event.
Warnings:
DO NOT grant "Withdrawal" API access to Finestel. Anything or anyone with withdrawal API access to your Binance account, potentially has your assets. Finestel does not need withdrawal API access for KuCoin or Binance copy trading.
DO NOT trade on the Binance account that you copy a trader with. If you're copying a trader on your Binance spot account, you can trade on your futures account or copy a trader with it and vice versa. But trading on a Binance account that's already copying a trader will cause order miss-matching and you'll potentially lose money.
How to Copy a Binance Spot Trader
An investor account could be a copy trader or a client's Binance account being managed by a crypto portfolio manager. Sounds complicated? I'll break it down further below, but first, how to start Binance copy trading.
Start With Choosing a Trader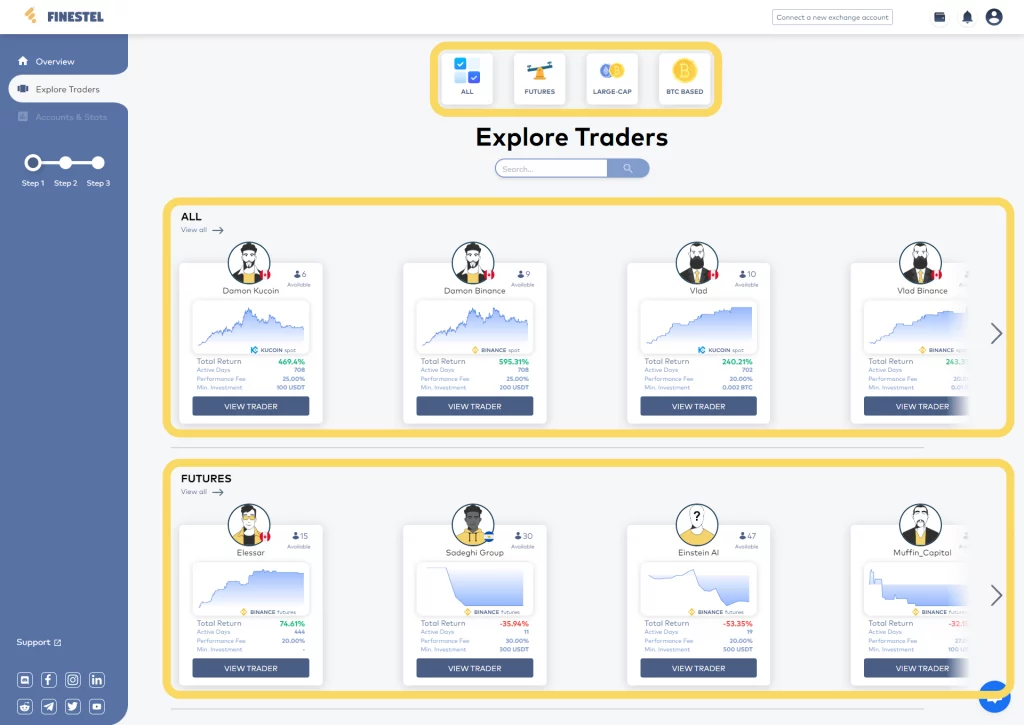 Have a quick comparison between the traders on the "Explore Traders" page using their mini cards. You can also use filters and categories to narrow down your search.

After finding one, hit the "View Trader" button on the mini card to land on the trader's Finestel profile page. Traders' profile contains every detail you want to know about the traders performance:
Finestel Traders' Profile Details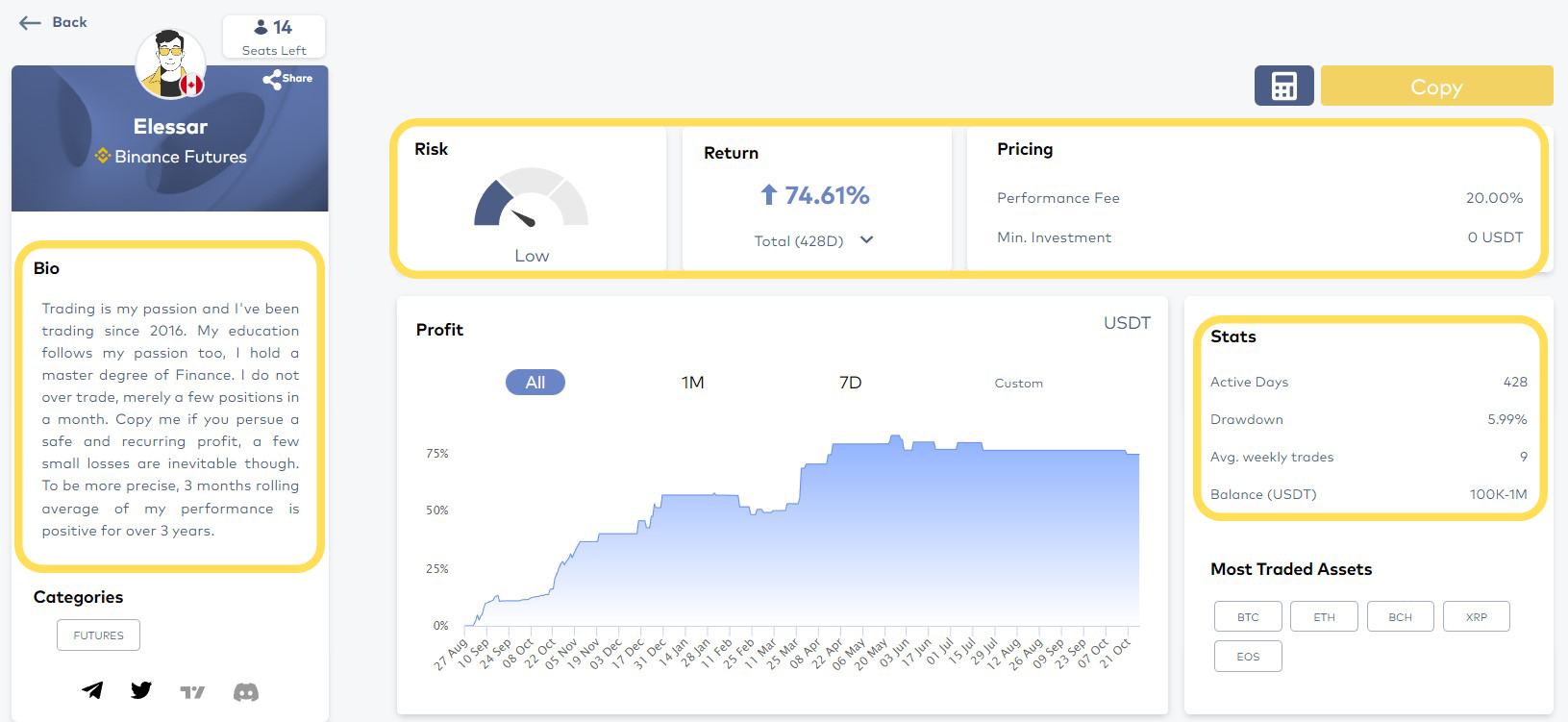 Bio: Traders use this section to explain their trading model and strategy or trading experience.
Social Media: Traders connect their Telegram account, group or channel or other social media such as Tradingview account, Twitter and Discord channel.
Risk: The risk level is the fluctuations in the trader's performance history.
Return: The return, which is available in 5 fixed timeframes, is the trader's profitability in the selected timeframe.
Pricing: The "Performance Fee" is the copied trader's share of your profits. The "Minimum Investment" is the minimum balance value (BTC or USDT value of your Binance spot account) that you must have to copy the trader; no matter what coins or tokens the investor account holds.
Stats: You better spend some time on this section. The trader's statistics contains:
Active Days: The age of the trader account on Finestel.
Drawdown: The lower, the better! It's the difference between the biggest drop and the profit peak before the drop.
Avg. Weekly Trades: The number of trades per week, on average. You can see how often the trader's strategy makes a trade.
Balance (USDT): You can see how much "Skin in The Game" the chosen trader has.
Most Traded Assets: You can see the asset classes and market sectors that the trader is focused on.
Profit Chart: You can use the fixed or custom time frames to see the trader's performance in different durations or just select and drag your mouse pointer on the chart to select a part of it.
The Profit Calculator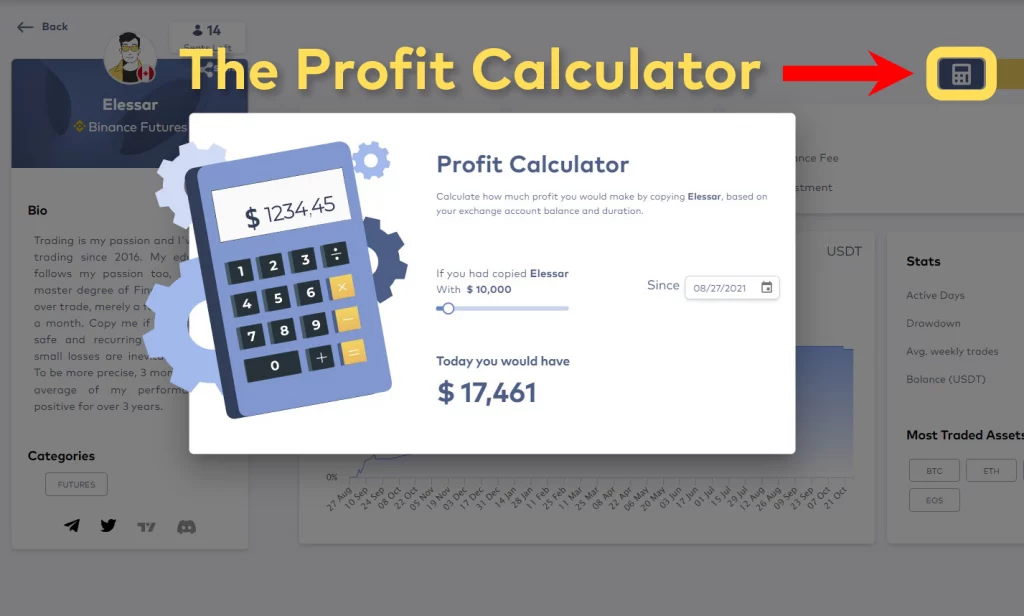 And last but not least, the Profit Calculator. This calculator can show the possible profit you would've gained if you'd copy the trader from the date they've connected to Finestel forward and with $1000 upward.
Hit The Copy Button!
If the trader's risk, return, pricing, stats, etc., suits your financial condition just hit the copy button. A pop-up will appear asking you to agree that you will not trade on the account that you're copying the trader with.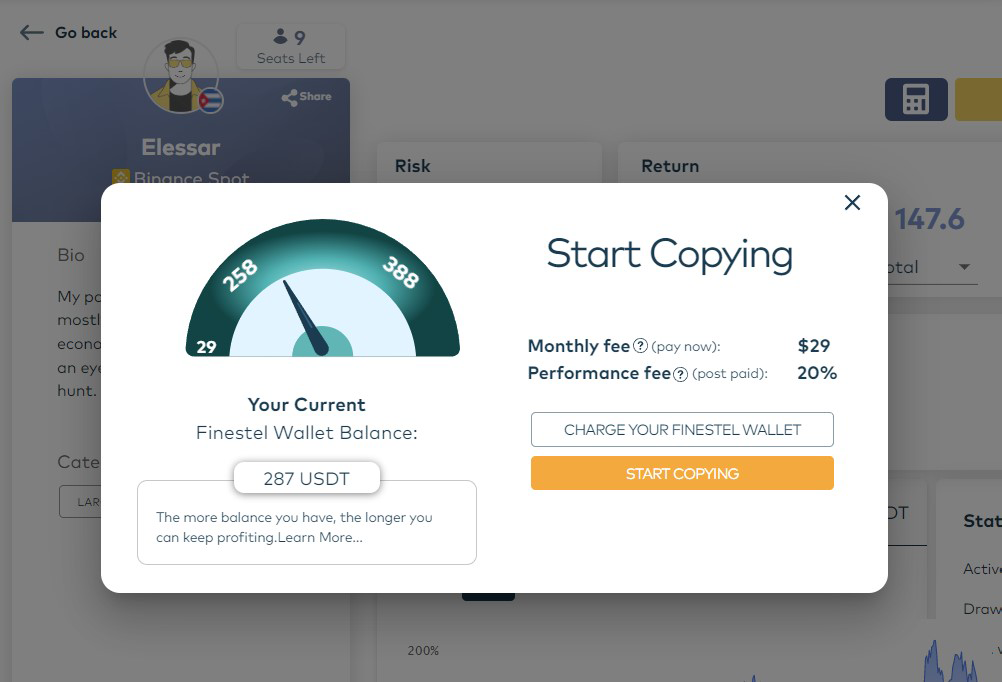 Next, Finestel will ask you to pay the $29 (or USDT) monthly service fee which is per copy, which investors pay using their Finestel wallet; this is the platform's fee, not the trader's post-paid performance fee.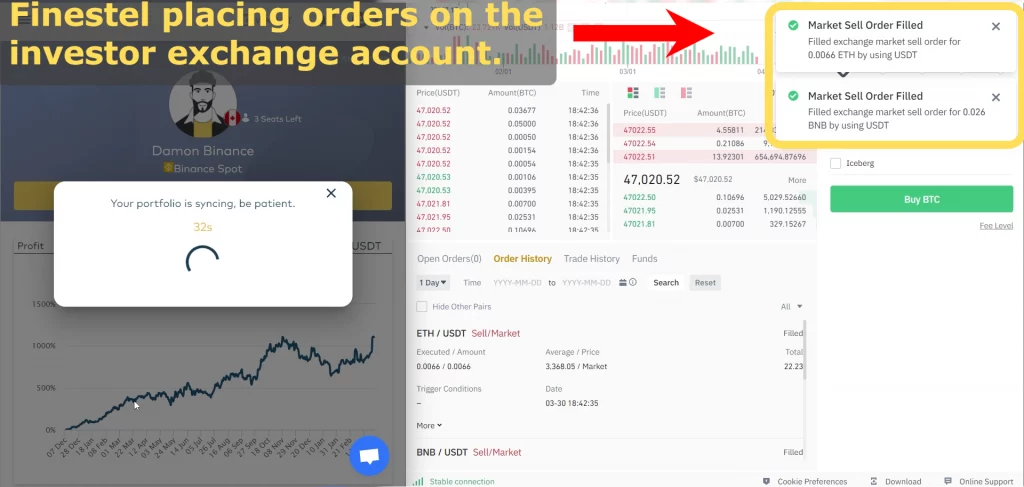 Binance copy trading starts with a 60-second syncing process. In this one minute Finestel reads the investor account's portfolio to find the cheapest way (least trading fee possible) to replicate the copied trader account's portfolio into your Binance spot account. For Binance copy trading, Finestel starts with buying some BNB to use the trading fee discount.
Investors' Dashboard After Copying A Trader
When the synchronization is done, you'll have proportionally the same portfolio as the copied trader. You can see the copied trader account and their performance details on the "My Traders" menu of your dashboard as well as the asset allocation and return of the copied trader on the "Accounts & Stats" menu.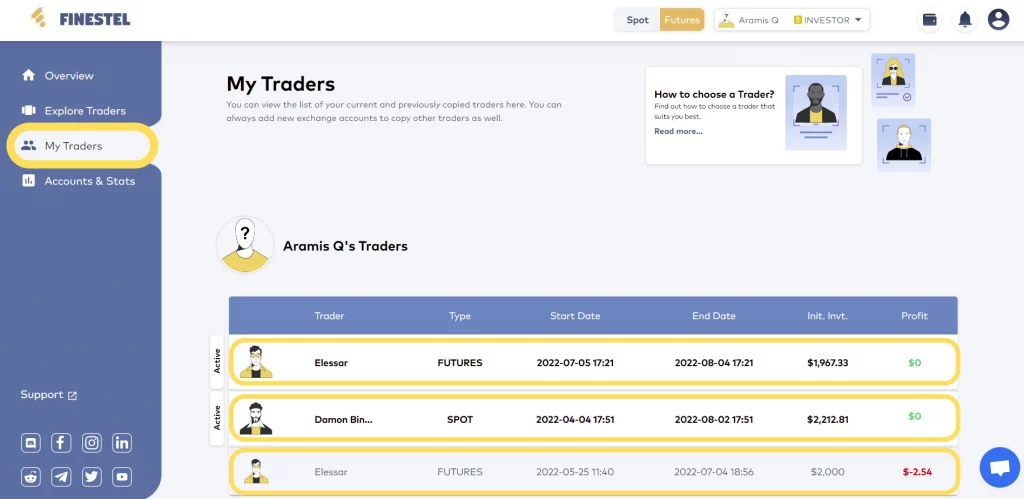 Investor Accounts' Profits & The Copied Trader's Performance Fee
Unlike the monthly and per-copy Service Fee, the trader's performance fee is post-paid. Every 30 days, Finestel will realize the investor Binance accounts' profit and calculate the copied trader's share or the performance fee and then transfer the equal from the investors' Finestel wallet into the trader's.
If your Finestel wallet balance is lower than the copied trader's performance fee, Finestel will ask the investor to deposit the difference. Otherwise, the copy session will be terminated and Finestel will ban your Binance or KuCoin account from copy trading on the platform.
Finestel Wallet
Finestel wallet is a TRC-20 USDT only (currently, there will be far more options available in the futures) wallet, built on Tron blockchain. Depositing and withdrawals into and from the wallet is like any other crypto transactions you've done so far. The wallet contains 3 sections: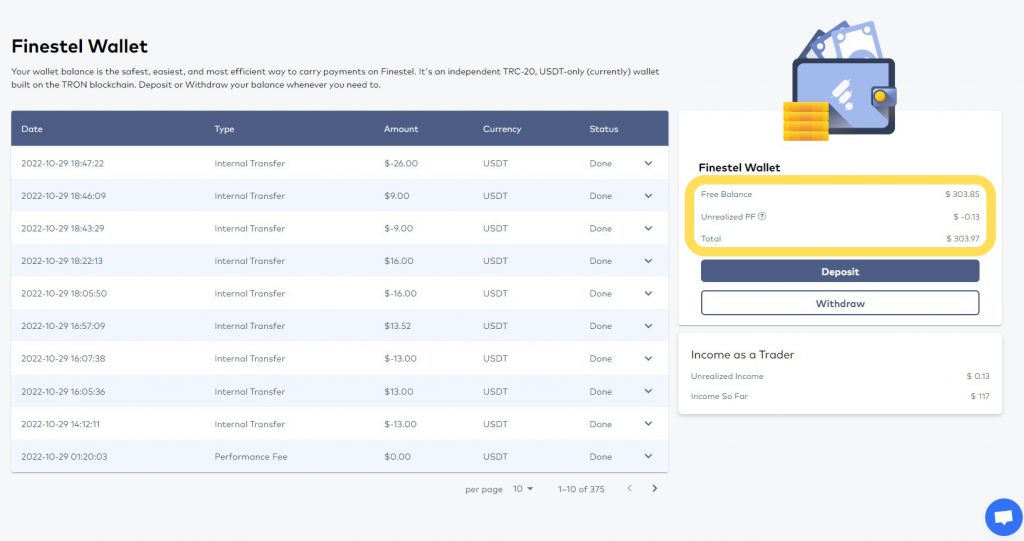 Unrealized PF (Performance Fee) is the performance fee that an investor must pay to the copied trader.
Free Balance is the withdrawable balance.
Total is the summary.
Once you connect a trader exchange account, another section appears in your Finestel wallet, "Income as a Trader.," which contains the performance fees you're waiting to receive and your "Income So Far."
Crypto Portfolio Management via Binance Copy Trading | Introducing Finestel Pro

Binance copy trading using Finestel is not just for investors to have a pro trader's performance on their Binance account or gaining AUM and earning performance fees as a professional crypto trader.
As we said somewhere above, you can connect up to 10 Binance and KuCoin accounts (or sub-accounts) to your Finestel account as investor and trader, simultaneously. This capability was basically designed for crypto portfolio managers who want to manage and maintain multiple crypto portfolios and accounts using only one Binance account; whether for their friends and family fund or their asset management firm's clients.
Managing Crypto Portfolios Using One Finestel Account

Traders can distribute a portfolio in their Binance spot account into 9 other Binance accounts; the Finestel investors that copy you.

Quick note: Binance provides sub-accounts to VIP1 (and above) accounts. These sub-accounts give you all the access a Binance account does, except for withdrawal. To withdraw from a sub-account you must transfer the balance to the master account and then withdraw it. By the way, KuCoin sub-accounts are available for all users. Now, back to Binance copy trading. 

Traders can connect one Binance trader account alongside 9 other investor Binance accounts or sub-accounts with different account balances and then copy themselves!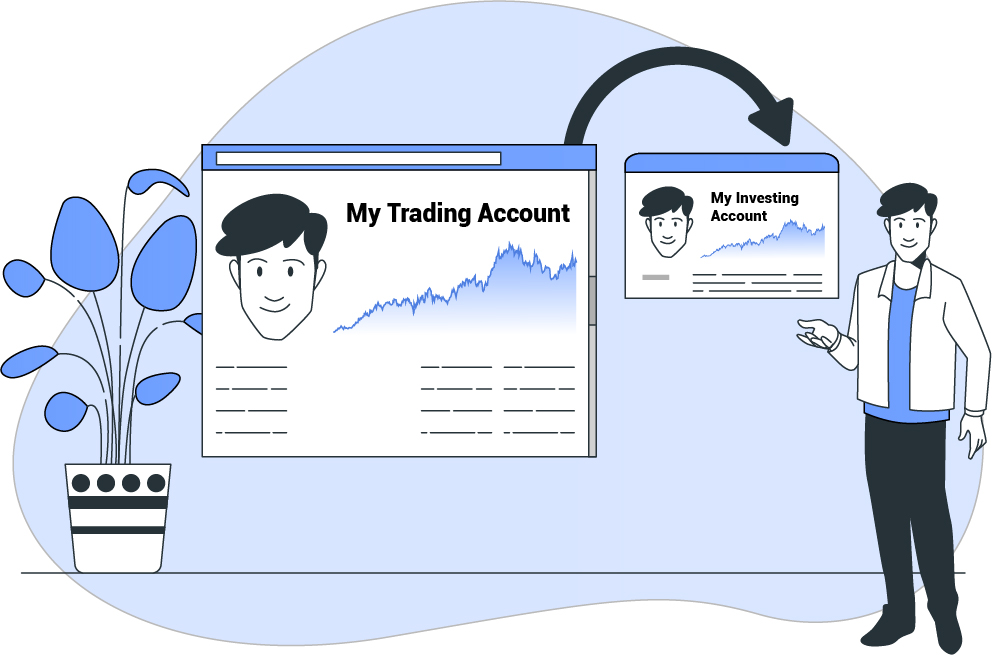 This Binance copy trading model works perfectly for friends & family funds. You may have clients who already invested in the crypto industry but don't know anything about crypto exchanges, trading, APIs, or just don't have the time to spend on crypto trading. 

Now, as a crypto portfolio manager, you can create a Binance sub-account for them and dedicate it to their investment, connect it to your Finestel account, and then copy your Binance master account (the trader account) with it. 

Do you need more? Cuz we have more!
Finestel Pro; A White-label Copy Trading Platform to Build Digital Crypto Asset Management Firms on Top of!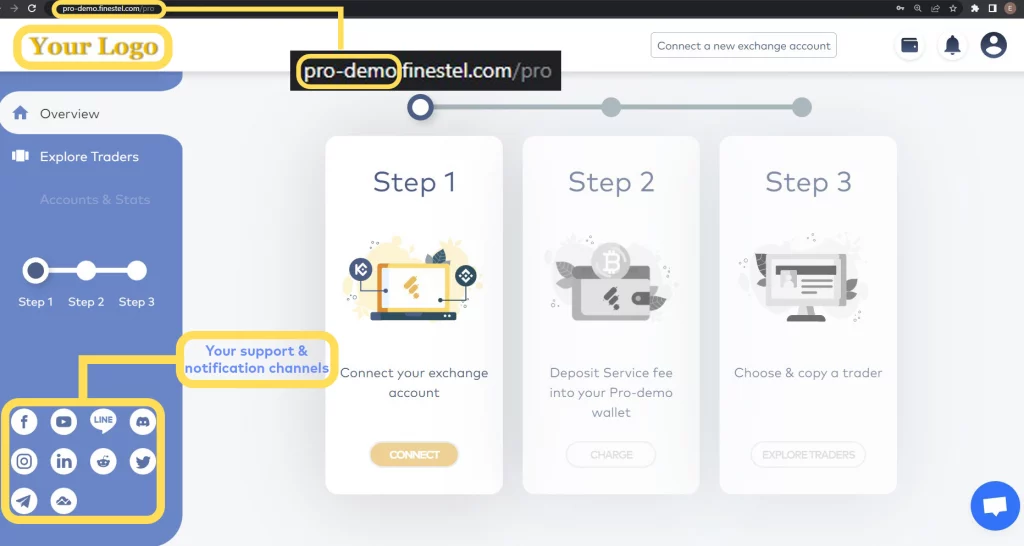 Finestel Pro is a white-label fully customizable copy trading platform that runs on top of Finestel engine and not only has all Finestel capabilities, but also more! Finestel Pro was primarily designed for professional crypto traders, portfolio, or asset managers with high client counts.

If you have a community of investors or clients, you can request for Finestel Pro. If your request is accepted you'll receive a personalized Finestel's white-label copy trading platform under 30 minutes after sending your logo.
Finestel Pro Features
Finestel provides robust reporting, support, and a multi-channel notification system to users. However, as a crypto investment manager you might need a different support, reporting, or even your own pricing model instead of just the performance fee.

Your Finestel Pro dashboard is slightly different than the Finestel dashboard. It is personalized with your logo and personal Finestel sub-domain starting with your brand name (pro-"your brand name".finestel.com). Also:
You can customize your own reporting system, using Telegram bot, discord servers, email, and live chat.
You can customize a personal support system that suits your conditions.
Marketing tools to design referral and affiliate programs.
Your personal pricing models using "Management," "Subscription," and "Performance" fees, or a combination of them.
Wallet and wallet management dashboard.
Client management system.
A trading terminal.
Besides, your clients will only see your digital asset management firms' traders or your firm's crypto trading desk only. Your clients connect their exchange account to your white-label crypto copy trading platform and copy your crypto investment strategies.
Conclusion
Finestel is a powerful yet accurate fully customizable "Proportional Order Replication" engine with 3 crypto investment management services running on top of it, Finestel crypto copy trading, Finestel Pro, and Finestel Exchange (not publicly available). Our goal is to become a versatile crypto investment management hub for everyone in or outside of the industry, from simple crypto investors and enthusiasts up to crypto asset management firms and crypto hedge funds.
Frequently Asked Questions
Does Binance allow copy trading? The largest cryptocurrency exchange does not have copy trading, but it allows third-party copy trading platforms to connect to your account via API access and perform Binance copy trading.

Is copy trading good for beginners? Crypto copy trading is one of the best ways to start learning cryptocurrency trading. Moreover, as long as you copy a reputable trader, the outcomes could be quite lucrative.

Is copy trading free? Nope! Copy trading is like hiring a crypto asset manager. Crypto asset managers and traders usually charge management fees, performance fees, or both, plus the platform's fee.

How do I become a copy trader? Create a Binance or KuCoin account (currently supported by Finestel), create a "trade-only" API key, and use it to connect your Binance account to Finestel and then copy the trader of your choice.

Can copy trading make you rich? Copy trading could be super lucrative if you copy a reliable trader. But, nothing in the crypto space should be considered a get-rich-quick scheme. Besides, it depends on your definition of being rich.

How much do you need to copy trade? Your favorite trader's minimum investment. The minimum investment of a trader is the least USDT value of your exchange account balance, regardless of what crypto assets you're holding.

What trader bot is best in Binance? Profitable crypto trading on Binance does not solely rely on the trader bot configuration you use, and most of it depends on your trading strategy.
You might be interested to read more about Finestel Tutorials.