News and Fundamental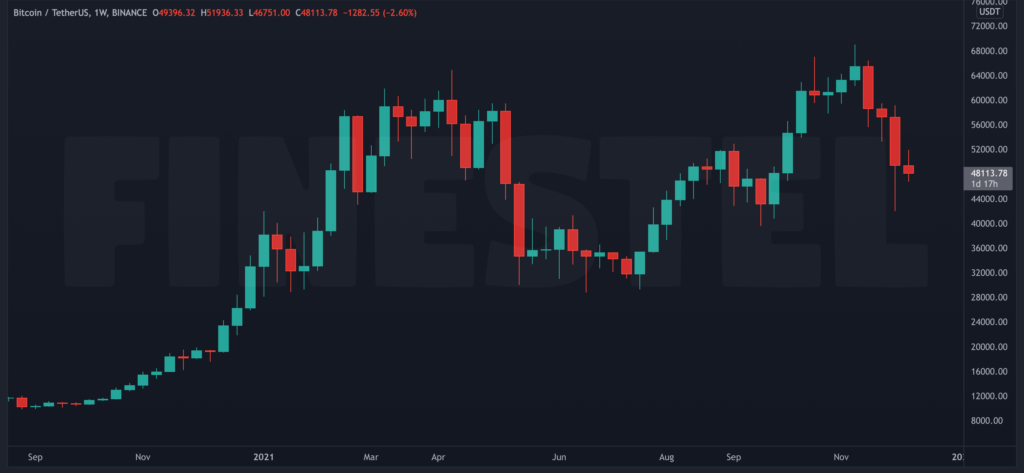 Bitcoin was rejected at $69,000 and has been falling since then to a new local low of around $40,000 on some exchanges. This was due to many reasons, including an overheated futures market and a new variant of the coronavirus.
– Inflation in the United States reached a nearly four-decade high in November, as strong consumer demand combined with pandemic-related supply constraints. Inflation has been a major source of concern for governments around the world, particularly in the United States. With rising inflation and the omicron variant causing panic in traditional markets, Bitcoin may rise as an inflation hedge once more.
– According to a Securities and Exchange Commission filing on Thursday, MicroStrategy purchased 1,434 Bitcoin (BTC) between Nov. 29 and Dec. 8 for approximately $82.4 million, bringing its total holdings to 122,478 BTC. With the recent acquisition, MicroStrategy's holdings are now worth more than $5.9 billion, representing a gain of more than $2.2 billion. They purchased Bitcoin at an average price of $57,477.
– El Salvador has not been deterred from buying the dip despite Bitcoin's recent price drop. El Salvador's pro-bitcoin president announced earlier today that the country has responded to the recent price drop by purchasing 150 additional Bitcoins at an average price of slightly more than $48,500.
Republican Florida Governor Ron DeSantis has advocated for the government to allow businesses to pay state fees in digital assets such as bitcoin. He also stated that the government intends to begin pilot programs to investigate the use of blockchain technology to monitor motor vehicle records and authenticate Medicaid settlements.
– Cathie Wood, CEO of Ark Investment, estimates that merely 5% of institutional money can boost Bitcoin's price by $500,000. She also claimed that cryptocurrency is a new asset class with a distinct correlation than others.
Onchain Analysis
Exchanges Reserves

As mentioned before, the Exchanges Reserves has generally been in a downtrend; but recently, due to the price crash, we have seen two peaks in this metric. According to the chart, during the price shakeouts from $58,000 to $48,000 and $50,000 to $47,000, the Exchanges Reserves had risen, which brought strong fear into the market. But big players didn't stop using this great buying opportunity and accumulated BTC and withdrew their coins to their wallets, which caused the Exchanges Reserves metric to continue its major downtrend.
Hash rate

After Bitcoin registered a new ATH and reached $65,000 for the first time, China banned crypto mining and caused a crash and a drop in the price to $30,000. After that, BTC's hash rate started a downtrend and dropped to as low as 84 EH/s in June. The network's hash rate has increased by 108% since June, as shown in the chart, with the Bitcoin network performing at a rolling seven-day average of 175 EH/s as of Wednesday. Right now, the hash rate has recovered and returned to all-time high levels. This confirms that the miner's migration has been completed after China's ban.
Coins Age Distribution

If we take a brief look at the Sum Coins Age Distribution, we can see that a little distribution has occurred from 2-3-year hodlers during the recent shakeout. This is common in bull runs and there is nothing to be worried about, especially because the other hodlers have been accumulating instead of distributing and increasing their treasuries. 
SOPR

By checking the SOPR metric, we can see that the short-term hodlers have been selling/moving their coins at a total loss during the last week, and the STH SOPR has been below 1 since. On the other hand, the LTH SOPR has been above 1 even after the price crash last week, which dropped the price to the $42,000 level. This means that big players, aka long-term hodlers, haven't gone into loss and are still accumulating instead of distributing, as mentioned earlier.
Open Interest

Bitcoin's slide to $42,000 wiped out its open interest and liquidated a huge number of high-leveraged long positions, which caused the OI's RSI to drop to 38 and cool down the overheated futures market. The funding rate experienced a sharp decline and even dropped below 0 for a short period of time, the same as the Open Interest. Fear is the dominant short-term sentiment in the cryptocurrency market right now. Deleveraging events like this are long-term positive and frequently "give way to more upside" when the prior froth and over-exuberance are replaced with a more cautious trading environment.
Technical Analysis
Bitcoin
Daily Time Frame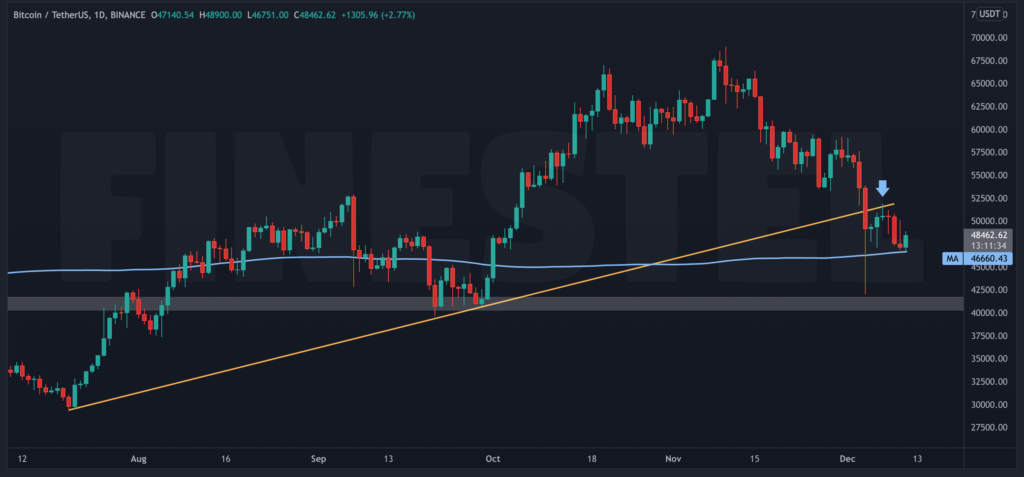 ‌Bitcoin is down 34% since it reached a new ATH of $69,000. The entire market was painted in red because of the crash, and the overall capitalization fell to $2,375 billion, which is a loss of nearly 13%.
In the daily time frame, the price has broken its supportive trendline, turned it to resistance then tested it again (blue arrow) which we can consider as a nice pullback to the trendline which is essential for a valid breakout, and continuation of the price fall. However, BTC has a great support which is its 200-day Daily Moving Average that's currently around $46,000 level. 200-day MA is usually a strong support for the price and we expect that it won't let BTC drop further below. On the other hand, if the price breaks the MA, Bitcoin could drop more and the next support zone will be the $40,000-$42,000 area. Hence, we have to wait to see how the price will react to the MA.
4-Hour Time Frame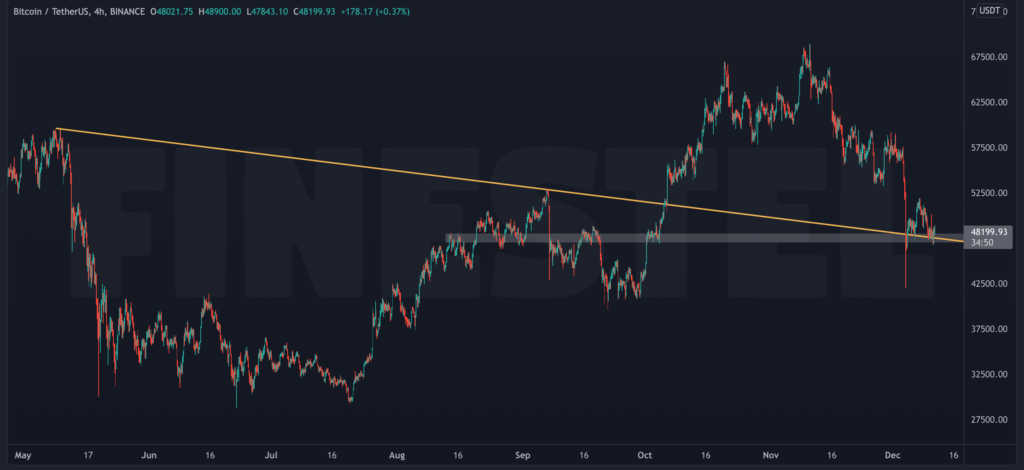 In the 4H time frame, we can say that we are in strong support right now, as this article is being written. First, it is clear that we have a support zone at $47,000-$48,000 (white rectangle) which we are at right now. Next, we have a trendline, which was resistance before but the price had broken it and turned it into a support trendline. It is exactly at the $47-$48K zone right now, which can make this level even a stronger support.
I need to mention that the price is forming a nice double bottom here, which is usually a great reversal pattern to reverse a downtrend to a new uptrend rally. But due to the sentiment, another shakeout isn't inevitable and we may see another drop in the price. BTC may go down to the $40-42K zone once more, which is nothing but a great buying opportunity for hodlers.
Ethereum
Daily Time Frame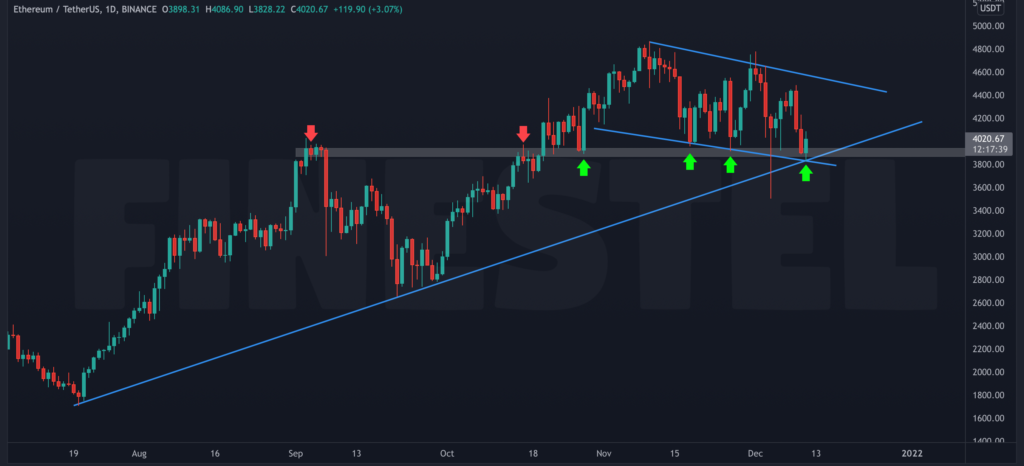 Ethereum has fallen more than 34% from its ATH ($4868) to a new local low of $3173, but it has recovered very well and is currently trading around $4000. ETH is currently above two substantial support levels. The first is the $3800-$4000 area, which was previously a resistance but has since been broken upwards and turned into excellent support. As it is clear, the price has recently been reacting to this support zone very well and has made it an important one. The second is the ascending trendline (blue line), which is another important support for the price and is now almost around $3900. Hence, ETH needs great selling pressure to drop below $3800.
ETH/BTC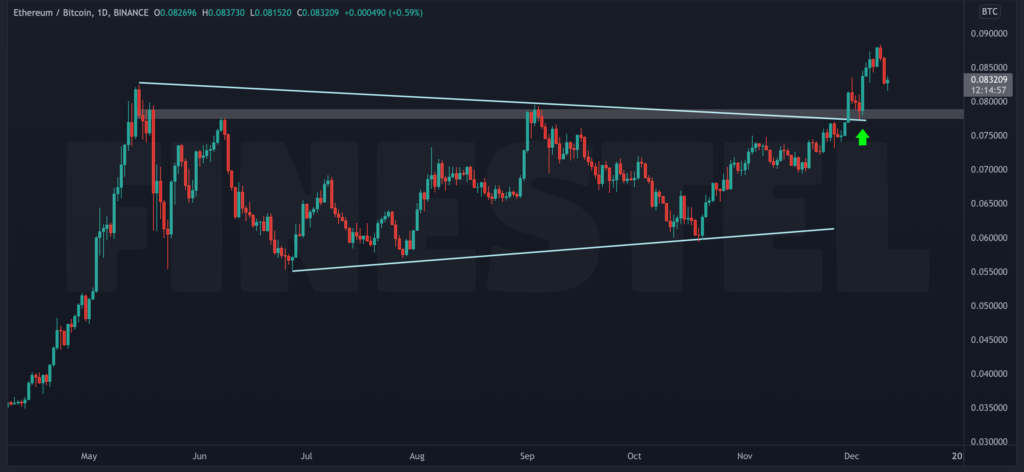 The ETH/BTC chart is so nice and clear. We can see a nice impulsive bullish rally followed by a nice falling wedge as a correction, then a great breakout from above, and after that, a clear pullback to the wedge as a confirmation of the breakout and continuation of the rally. Ethereum has been outperforming Bitcoin recently, and the ETH/BTC pair has risen to 0.0884. ETH has been doing well during the recent price crashes and has shown great strength compared to the other cryptocurrencies. Hence, we can expect higher price levels for Ethereum soon.