News and Fundamental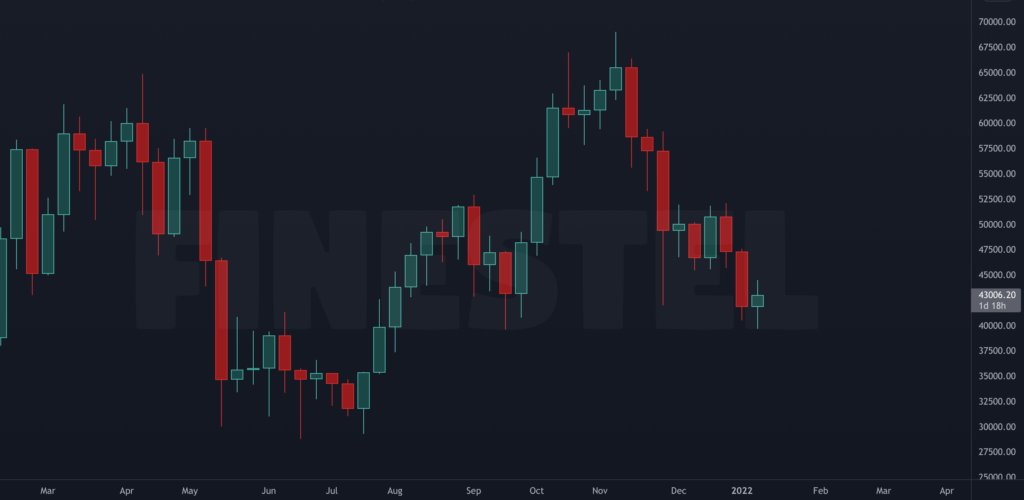 This week, Bitcoin formed a Doji candle with a low of $39,610 and a high of $44,396. Let's check the trending news during the week:
-According to CEO Jack Dorsey's tweet on January 14, the popular payments company, formerly known as Square, is entering the Bitcoin mining sector, and for long-term future ambitions, the business intends to establish an open Bitcoin mining infrastructure.
Thomas Templeton, Block's general manager for hardware, said the company was putting together a team to make mining "more dispersed and efficient in every manner, from purchase to set up, to maintenance, to mining."
-According to Cointelegraph Brazil, Eduardo Paes, the mayor of Rio de Janeiro, intends to invest 1% of the city's budget in Bitcoin (BTC). According to a report by local news agency O Globo, Paes outlined plans for "Crypto Rio," or turning the city into a cryptocurrency hub, during Rio Innovation Week on Thursday. In a panel with Miami mayor and Bitcoin bull Francis Suarez, who began taking Bitcoin as payment in November 2021, the mayor discussed Rio's cryptocurrency ambitions.
-The value of Dogecoin has increased by 20% as Tesla has enabled DOGE payments. Tesla, the world's largest electric vehicle manufacturer, has accepted Dogecoin payments for certain of its products. This comes just a few months after the company ceased BTC payments due to environmental concerns. As a result, the price of Dogecoin skyrocketed.
-According to the latest numbers from the US Bureau of Labor Statistics, the Consumer Price Index (CPI) reached 7% in December 2021, up 0.5 percent month over month. Prior to the announcement, Bitcoin (BTC) was extremely volatile, ranging by over $2,000 from lows of $41,000 to highs of $43,000 on Wednesday. The price continued to rise once the numbers were released, reaching $44,000.
-The Bitcoin Lightning Network has been incorporated into the popular mobile payments application Cash App as part of an upgrade, allowing faster and cheaper Bitcoin (BTC) transactions utilizing the layer-two (L2) payments protocol. Cash App is created and owned by Block (formerly Square), a fintech company co-founded by former Twitter CEO Jack Dorsey and created and owned by Cash App.
-With Chaincode Labs co-founder Alex Morcos and Martin White, who claims to be a lecturer at the University of Sussex, Jack Dorsey has announced intentions to establish a "Bitcoin Legal Defense Fund." The fund will assist Bitcoin developers who are "now the subject of multi-front litigation," according to the release.
-Iran is said to be working to make it easier for importers and exporters to utilize cryptocurrency in international transactions. According to the Mehr News Agency, the Central Bank of Iran (CBI) and the Ministry of Trading have established an agreement to link the CBI's payment platform to a trade system that would allow enterprises to settle payments using cryptocurrency.
The new payment system is likely to be finished "within the next two weeks," according to Alireza Peyman-Pak, Iran's deputy minister of industry, mine, and trade and head of Iran's Trade Promotion Organization, or TPO.
-The State Bank of Pakistan (the country's central bank) and the federal government are apparently considering a total ban on all cryptocurrency ventures. Authorities believe that digital assets are unlawful, can't be used to support trade, and may be used to finance terrorism and money laundering.
-In an effort to address consumer protection and regulatory concerns over nonbank-issued stablecoins, a coalition of American banks has organized to create their own fully regulated stablecoin. According to the statement, the consortium's initial members include New York Community Bank (NYCB), NBH Bank, FirstBank, Sterling National Bank, and Synovus Bank. The consortium also includes a few of fintech companies that will aid in the promotion and acceptance of the new stablecoin, according to the statement.
Onchain Analysis
Hashrate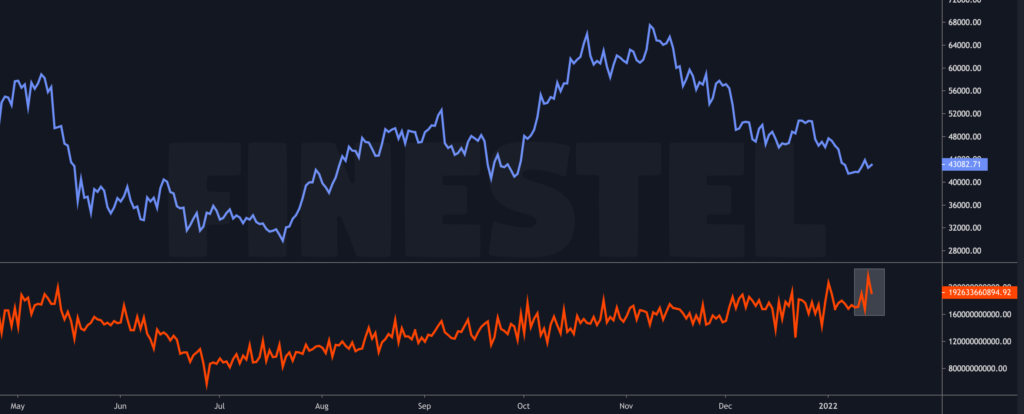 Last week, social turmoil in Kazakhstan, the network's second-largest BTC mining nation, caused an internet shutdown. Despite the loss of a major hash rate contributor, the hash rate only fell 13.4 percent before returning to all-time highs. Meanwhile, despite the market's disappointing performance, Block CEO Jack Dorsey acknowledged the construction of an open Bitcoin mining system, which accelerated the hashrate's rise. The network is more secure than ever.
Miners' Reserves

Most bitcoin miners sold out substantial portions of their assets in a short period of time in June of this year. They had changed their behavior after the price first crossed the $42,000 mark in January 2021. Miners have since altered their minds and begun to HODL more, as shown in the chart above by CryptoQuant. After a few more months of maintaining relatively stable holdings, they began to expand their stakes in early December. As a result, the reserves balance of miners has reached a new six-month high.
Netflow

On January 10th, an aggregated -29K BTC Netflow (outflow) from all exchanges was a noteworthy on-chain event to notice. Since September 19th, 2021, this Netflow has been the greatest outflow. A negative Netflow with this volume generally suggests the market is in the 'capitulation phase.' This massive negative amount of Exchanges Netflow might trigger a new price surge, as it has in the past.
Bitcoin Supply in Loss (Percent)

The Bitcoin Supply in Loss measure had achieved a new ATH of 34 percent on July 20th, when the price plunged below $30,000, and a bullish rally began from there. Due to the recent shakeout to $39,500, the measure has now returned to its previous ATH, indicating that 34% of the supply is again in the red. This might signal that a capitulation event is now taking place, which could lead to a fresh price rise.
Technical Analysis
Bitcoin
Daily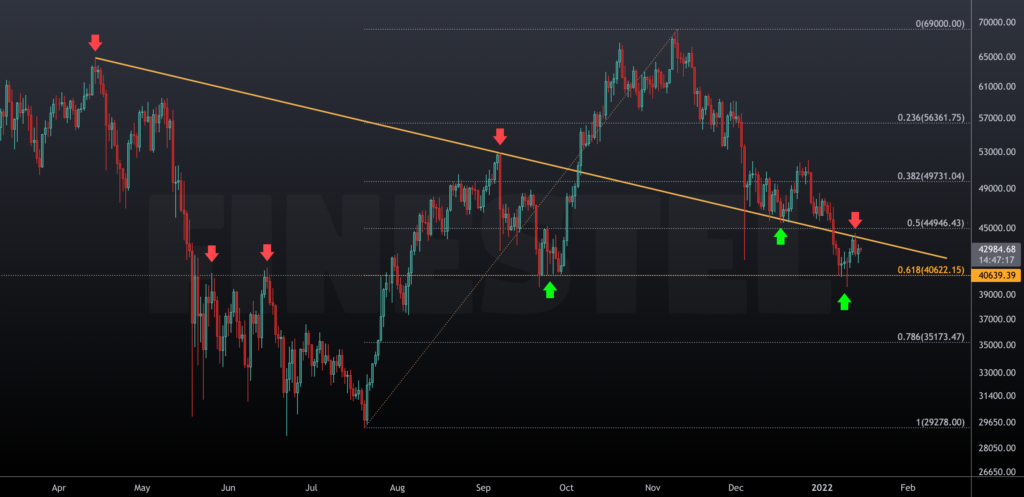 As the chart represents, in early October 2021, Bitcoin broke the yellow trendline, which served as a significant resistance, in early October 2021, and soared towards $69,000. BTC has been moving in a definite downtrend since then, hitting lower lows and lower highs. However, the trendline was tried as new support, but it failed to hold the price, and BTC fell below it, making it a new resistance line. As of now, the price is testing and forming a pullback to the trendline.
We can see that the 0.618 percent zone has been serving as a strong support/resistance based on the scenario if we draw a Fibonacci retracement on the current climb from $40K to $69K. As a result, the $40,000 support zone is the most significant support for the price. However, Bitcoin might see lower prices if this solid support collapses, given the little demand in the spot market.
4 Hour Timeframe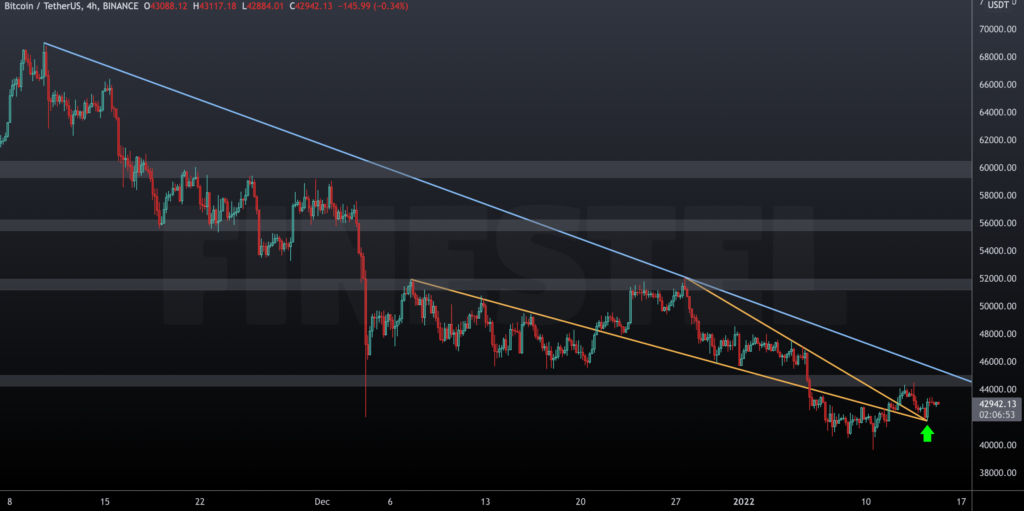 Despite a price increase last week, bitcoin was unable to push beyond $44.5K. As seen in the chart, there are many resistance levels on the road to $50K. BTC was refused by several of them, forming a solid barrier between $44.5K and $45,000.
BTC has broken and retested two bearish trendlines in the 4H period, indicating that the downturn may be over and the cryptocurrency might attempt to breach the $44.5K-45K barrier again in the coming days. In the bigger picture, we have a major blue trendline, which is another strong resistance in the price's path up to the $50K zone.
Ripple(XRP)
Daily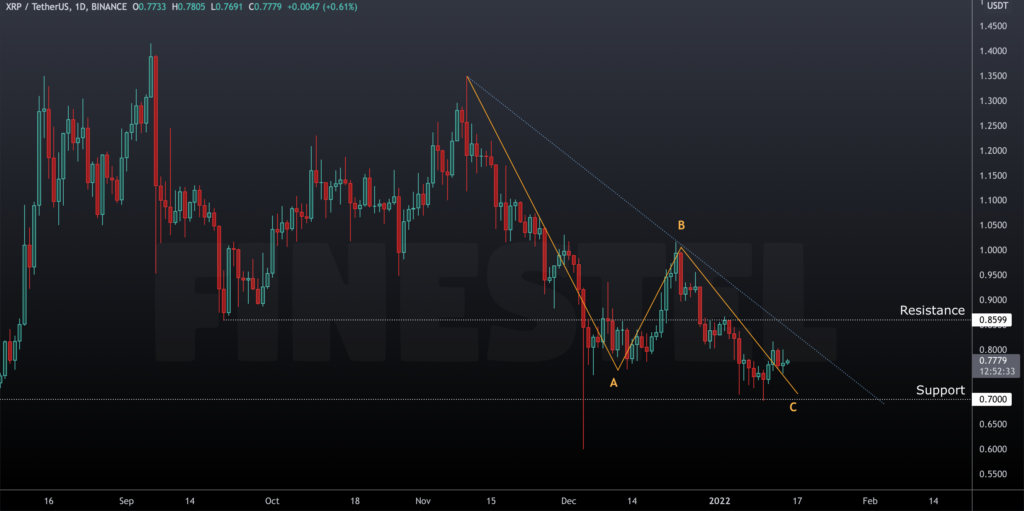 After XRP successfully tested the $0.70 support level earlier this week, the ABC correction seems to be complete. Since then, the price has risen and is now nearing the $0.85 barrier level. Before a significant breakout, XRP may retest the crucial support once more. At the time of writing, the current price action might be seen as a relief rally following a steep decline that began in November.
XRP currently has a neutral bias. Despite the relief rally, it appears that the cryptocurrency will continue to consolidate between the critical levels until a clear breakout can occur. If the rally continues, XRP may attempt the critical resistance level of $0.85. However, it is too early to predict a breakthrough, and the market may continue to consolidate beneath the resistance until enough momentum is gathered to push it higher.