Crypto portfolio tracker apps are software, web-applications, or websites that connect to wallets or crypto exchanges and gather information such as price movements, balance, P&L (profit & loss), and more to provide them to their users on one integrated dashboard.
Using a crypto tracker app, one can monitor multiple exchange accounts without frequent logins/logouts, as many market participants are used to diversifying their crypto holdings into more than one or two exchange accounts for security or risk management purposes.
In this paper, we introduce Finestel and Finestel Pro to you as a free crypto portfolio tracker app (you can use on desktop, tablet, and mobile) alongside the rest of the two platforms' capabilities and how they're available to all crypto market participants – from amateur crypto investors to professional and expert traders.
What Is a Crypto Portfolio Tracker App?
First of all, you might see the term to be called differently, such as crypto portfolio tracker app or coin tracker, but they all carry the same definition.
A crypto tracking app is a form of web-application, website, or independent software that connects to your exchange account or crypto wallet via API access to extract your investment performance or keep certain assets under the radar.
Afterward, the app turns those collected data into reports, pie charts, or other forms of human-readable information.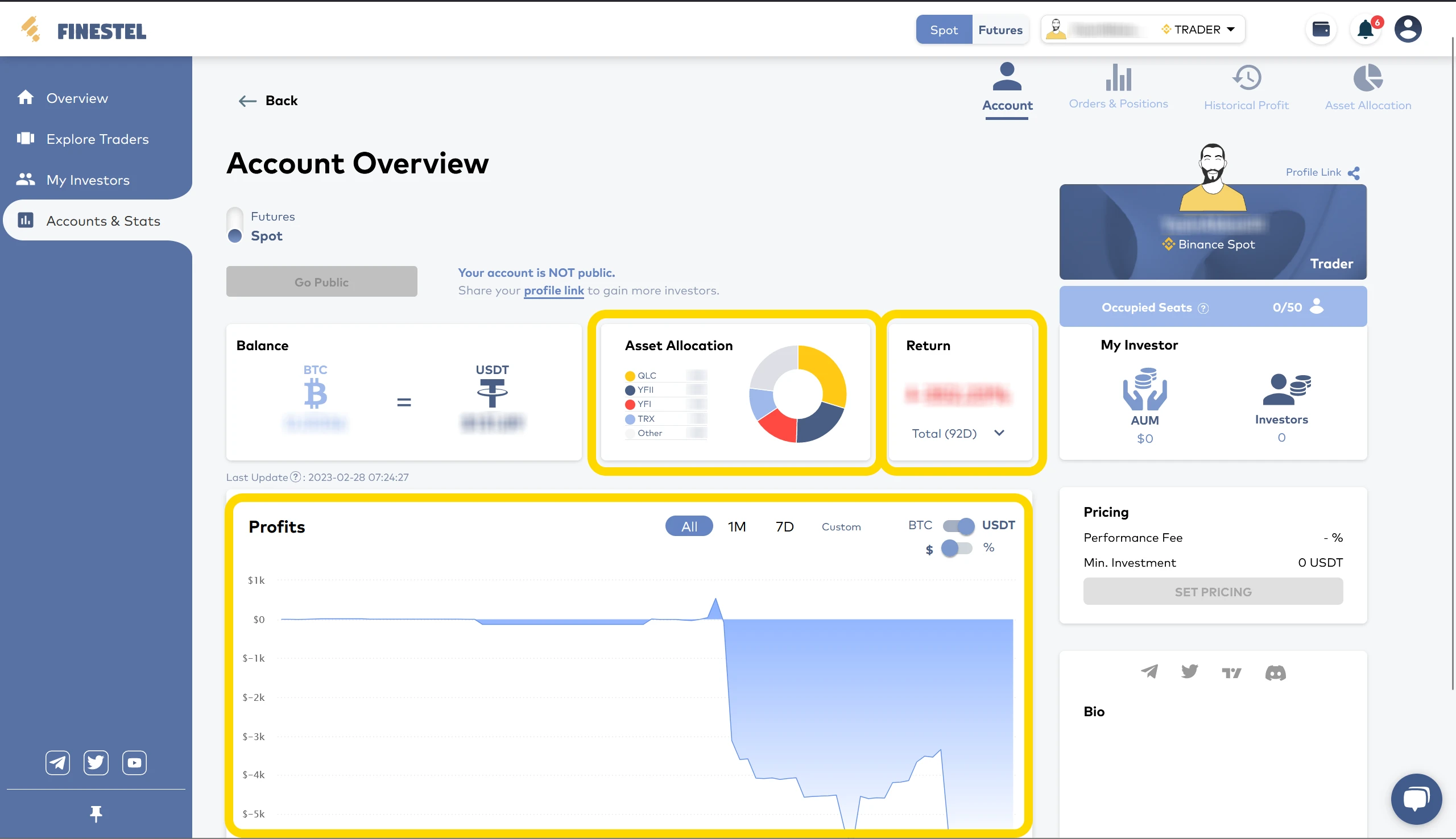 How Does Finestel's Crypto Tracker App Work?
When you connect your Binance, KuCoin, Bybit, or OKX (soon) account to Finestel via an API key (read-only or trade-only API keys), Finestel will read and show your investment status in the forms of charts, reports, track records, and live position and P&L trackers.
Finestel's portfolio tracker helps investors to get rid of logging in and out of their exchange accounts which are neither safe nor pleasant, especially if you adopt all the security precautions like 2FAs, complex passwords, etc.
Below you can see the benefits of using Finestel as a crypto portfolio tracker. But first, I must mention that the portfolio tracking service is freely available on both Finestel and Finestel Pro. If you want to manage crypto portfolios for your clients as well, Finestel Pro is your go-to option. On the other hand, if you want to monitor a handful of your crypto exchange accounts – also copy a trader – Finestel will be a faster choice for you. Get more info by reading our articles about copy trading on different exchanges and all supported in Finestel:
Binance Copy Trading, Binance Futures Copy Trading,  Bybit Copy Trading, and KuCoin Copy Trading.
Features & Benefits Finestel's Portfolio Tracker App
It's virtually impossible to pace up with the volatile 24/7 cryptocurrency markets. That's probably the main reason why so many platforms exist, providing crypto portfolio tracking services. Below is what Finestel can do for you:
Tracking Multiple Exchange Accounts, Simultaneously & Easily
You can connect numerous Binance, Bybit, KuCoin, and soon OKX accounts and monitor all of them by switching between the connected accounts. It literally takes only 2 clicks!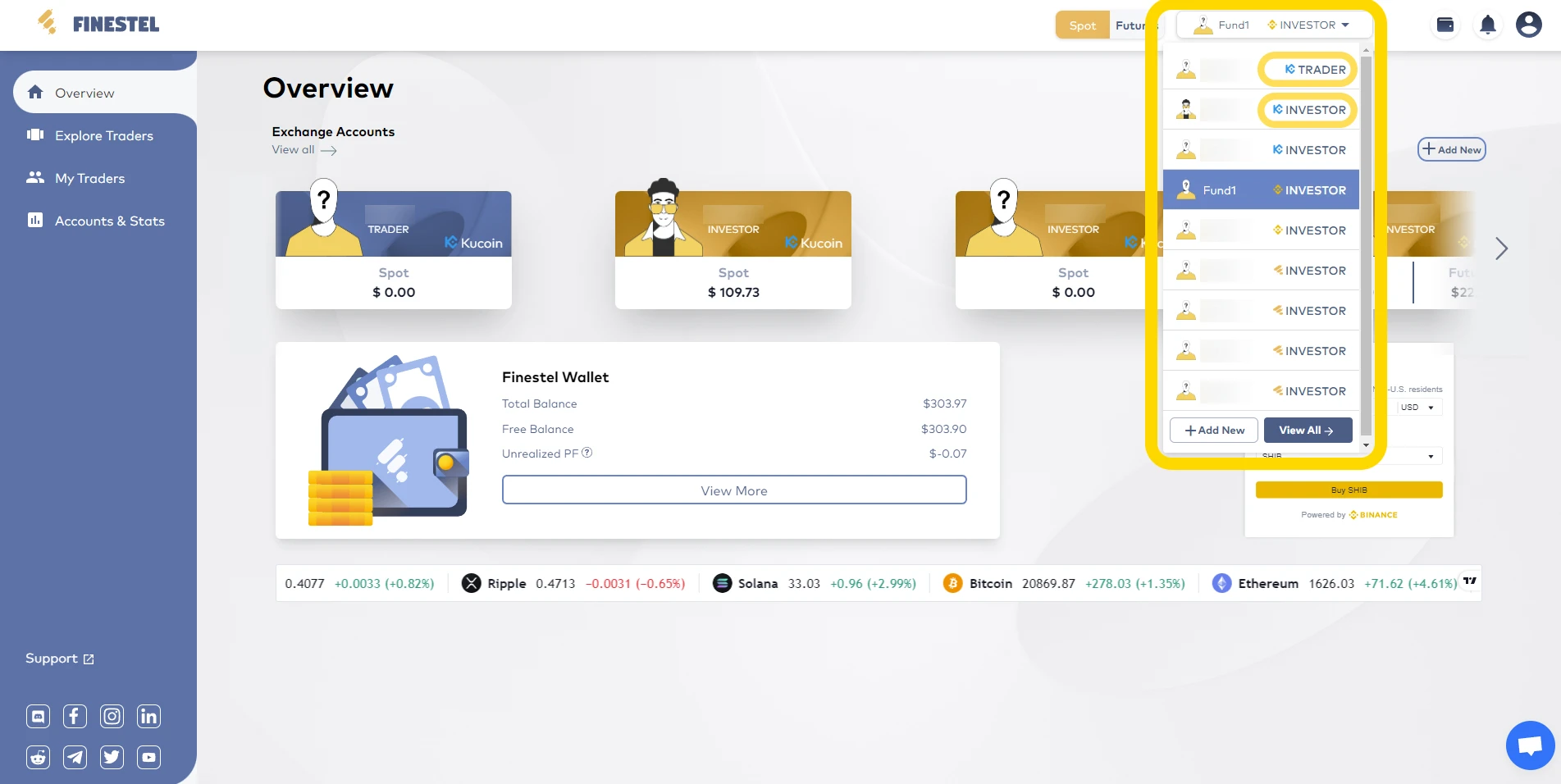 A Robust Reporting System
Finestel and Finestel Pro provide a full-blown reporting system to both connected trader and investor accounts, including:
Account performance overviews for both connected spot and futures exchange accounts:


Performance history (P&L) for both connected spot & futures exchange accounts:


Spot and futures exchange accounts' asset allocations:
Spot and futures exchange accounts' open positions and orders:
Performance Analyses
This service belongs to connected trader accounts, which connect via read-only API keys. However, if you're into using the portfolio tracker only and not copy trading, you can connect your account as a trader (via read-only API key) to get sophisticated details about the connected accounts' performance, such as:
Drawdown

Return in different timeframes and asset bases (BTC or USDT)

Risk level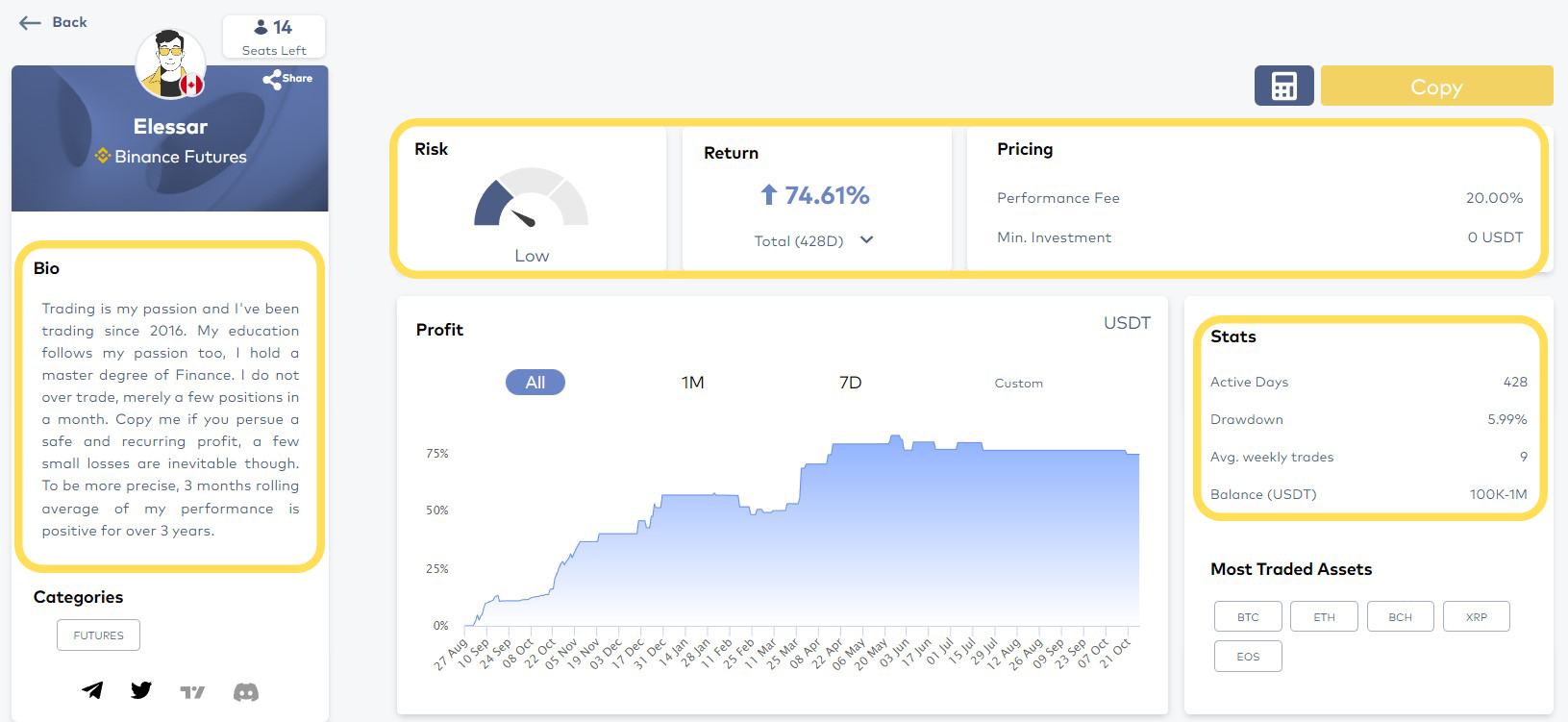 Other Finestel Services
Finestel is not only a portfolio tracker app for cryptocurrencies. Due to the platform's services, its users need a system to track their connected accounts' performance, which is why Finestel has a free built-in portfolio tracker app.
Let's briefly tell you:
What Is Finestel? It's An Advanced Portfolio Tracker Application & Much More!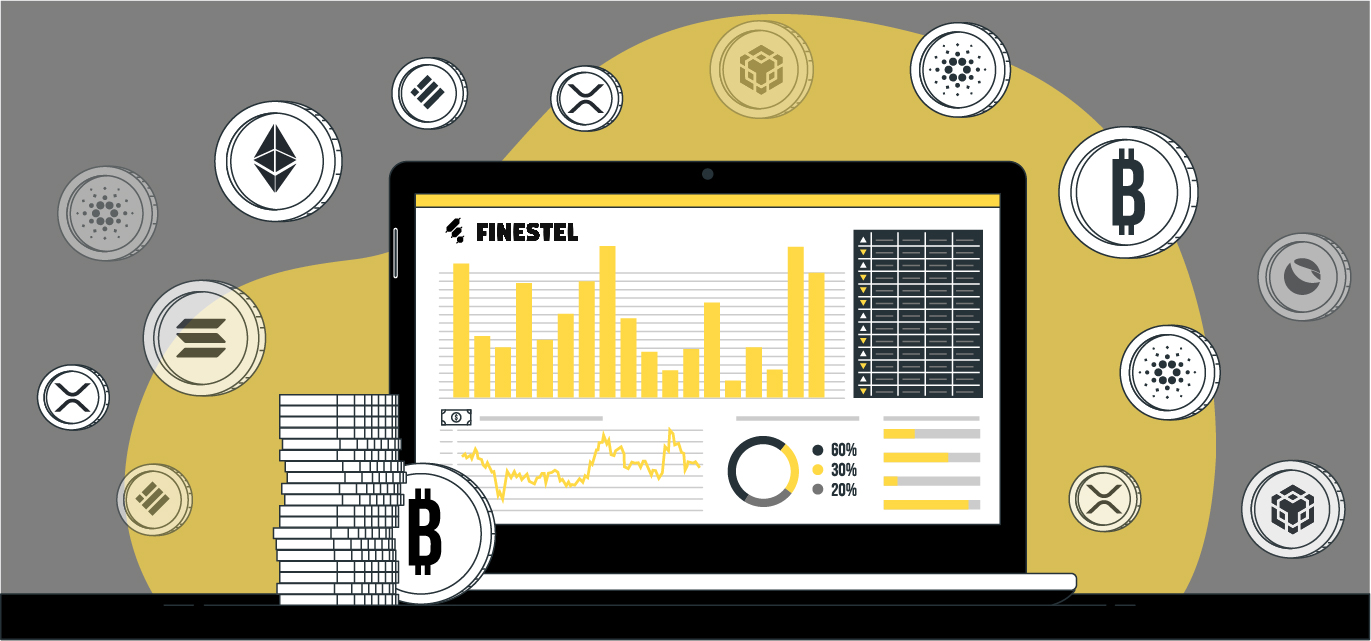 Finestel is a software (a combination of a few partially autonomous bots), running a fully customizable white-label crypto asset management platform on top of itself called Finestel Pro. We'll tell you more about Finestel Pro at the end, but you can also read the A-Z about Finestel Pro article on our blog.
The automated bots are:
Proportional trade replication executor bot (spot & futures copy trading bots)

Live and historical track record reporting bot

Multi-channel notification bot (email, Telegram, in-app)

Fully automated client management bot
Each of the listed bots above is in charge of running a few complex services like autonomous billing systems, automated payment systems, profit calculation, and more. To get more familiar with the crypto trading automation that Finestel provides, please read the article below we've written about trading automation on Binance.
Binance Automated Trading Bots
How Does Finestel's Crypto Portfolio Tracker Work?
Via API access, Finestel collects and processes certain data from your exchange account and then shows them in various forms on the dashboard, and then the users can even extract and download them in CSV format.
So, users can connect their exchange accounts/sub-accounts as a trader (via read-only API keys) to use all the Finestel portfolio tracker service for free. Now, allow me to tell you the how-to:
How to Use Finestel's FREE Crypto Portfolio Tracker
Please remember that for using the Finestel portfolio tracker, you only need read-only API keys to connect. Thus, we'll only talk about read-only API keys. To learn how to create trade-only API keys, please read:
Sign up and log into your Finestel account. On the dashboard, find the button reading "CONNECT" or "Connect a new exchange account."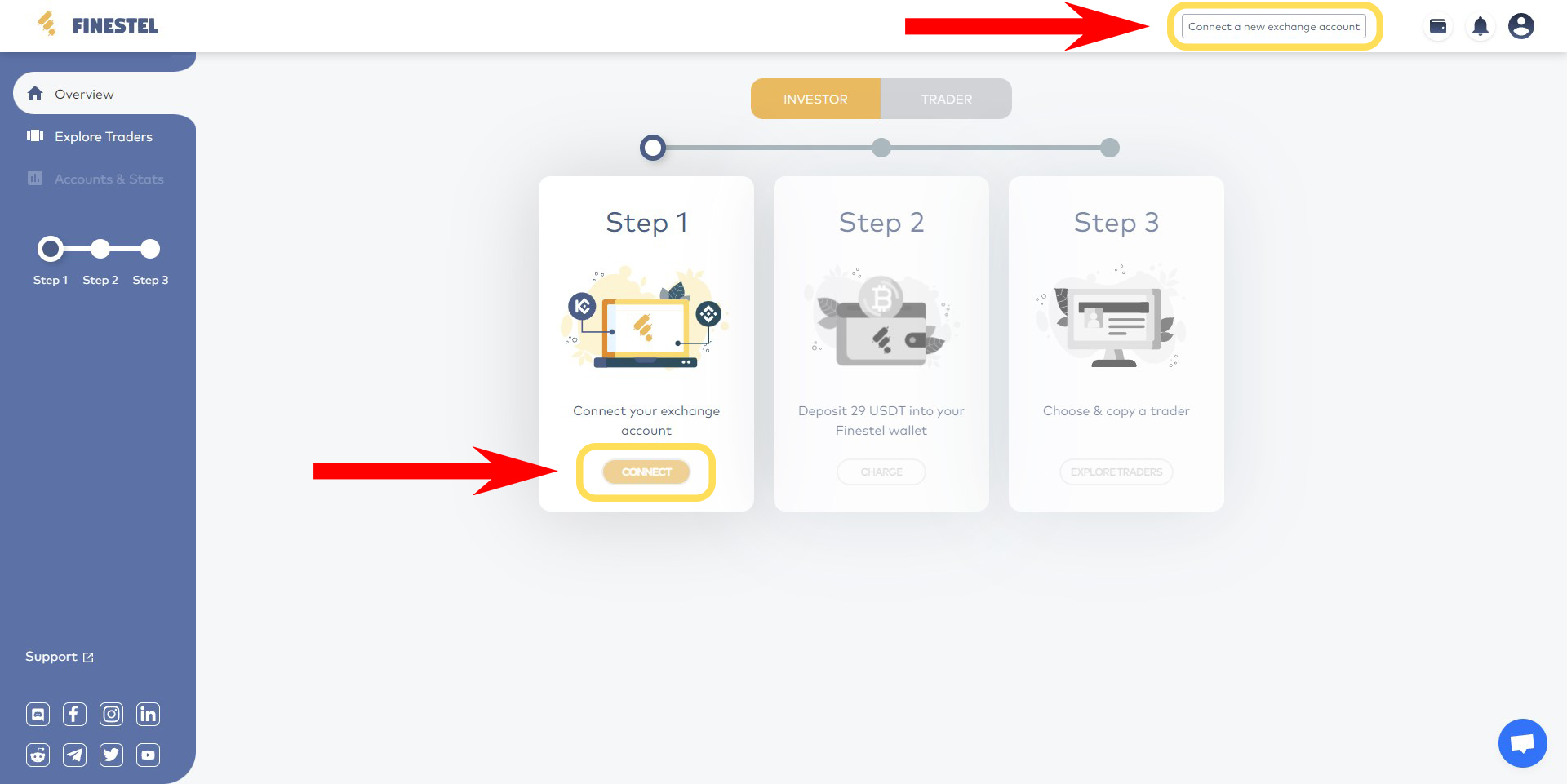 On the next page select the exchange you want to connect and hit the "Connect" button. 
Finestel and Finestel Pro currently support Binance (spot & futures), Bybit (spot & futures), and KuCoin (spot only); there will be more options like OKX, available in the not-so-far future.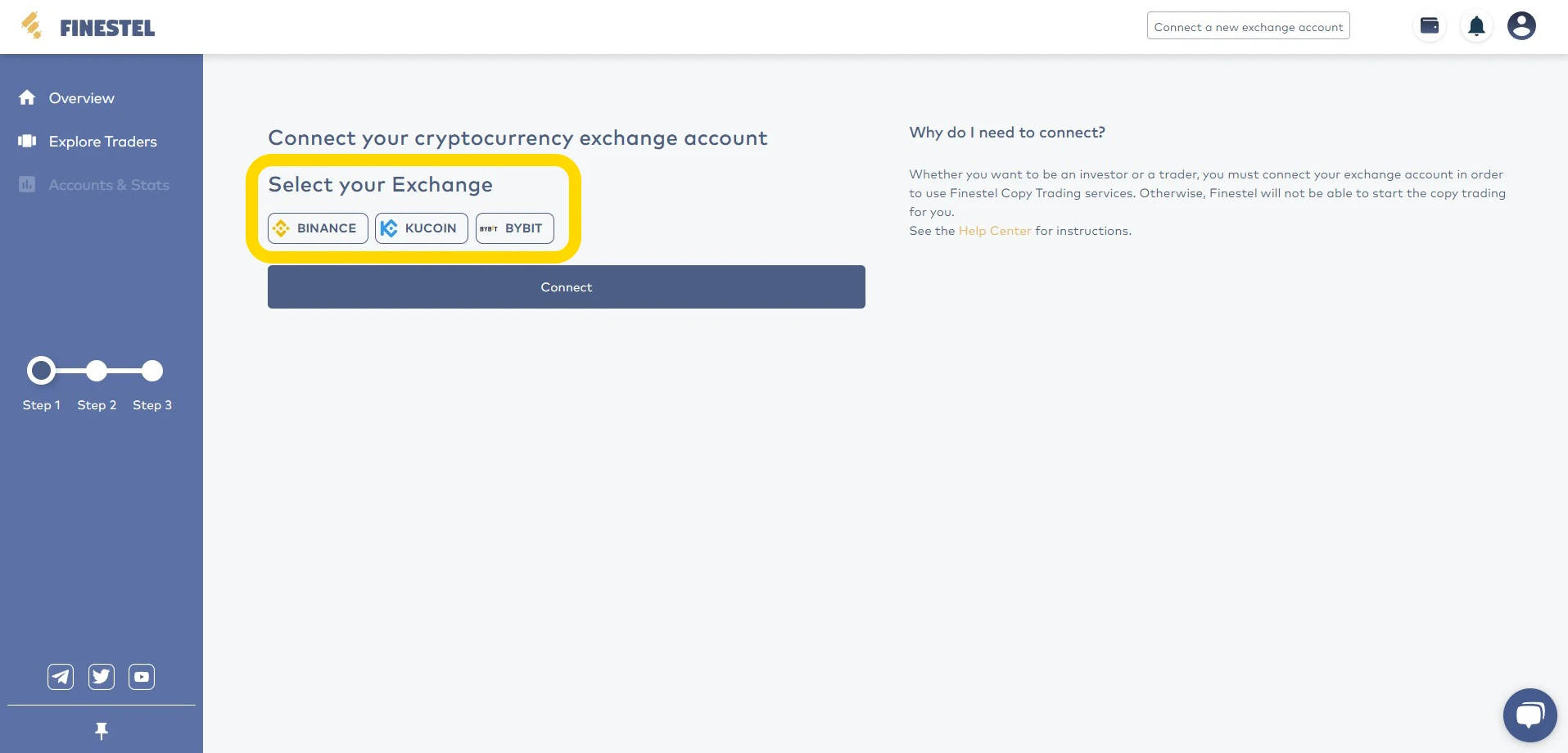 We'll select Binance as the example but the process is fairly the same for connecting KuCoin and Bybit accounts. However, below, we'll tell you how to create API keys on each supported exchange. Alternatively, you can use the guides you see in the image below to get help with the API keys.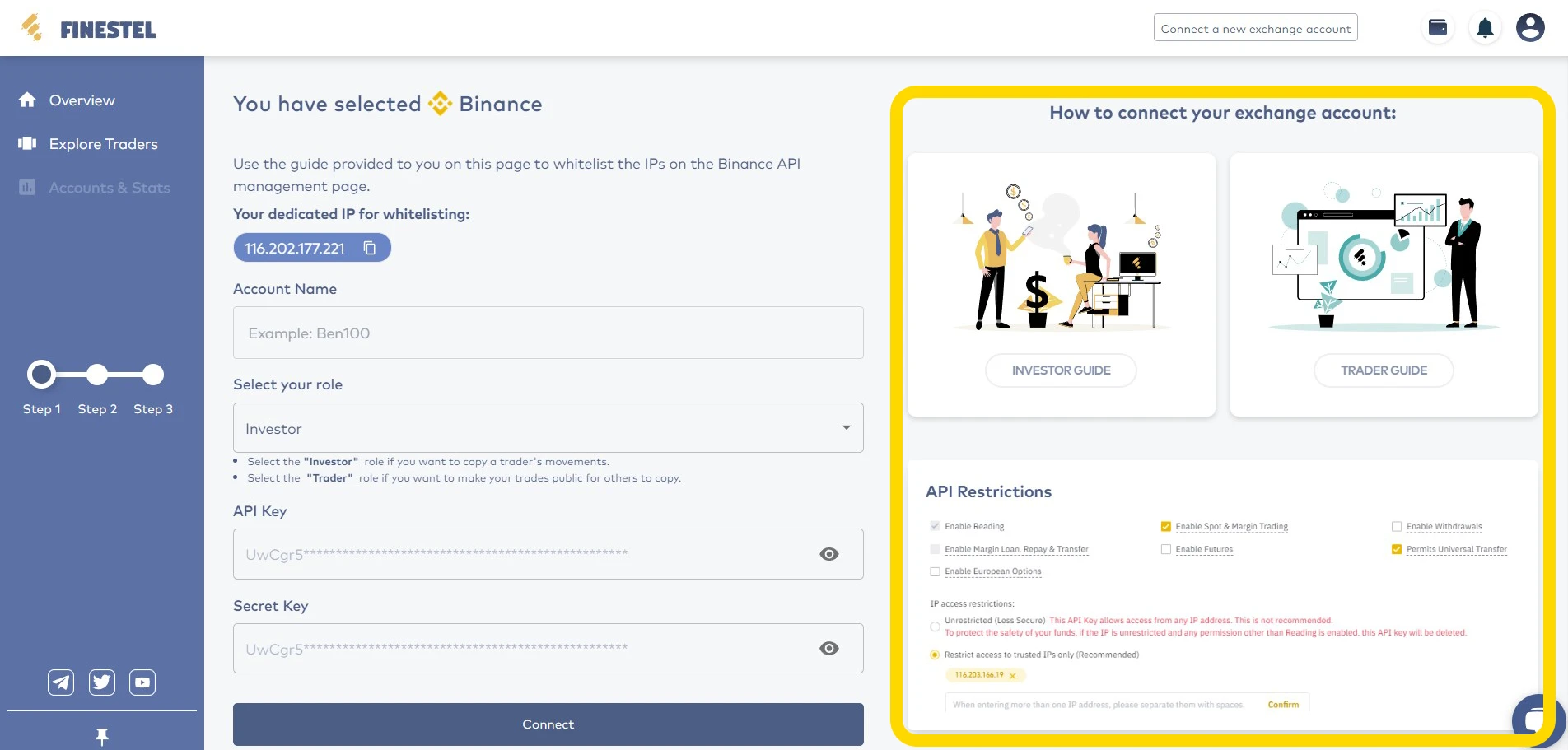 The image below is the step that you name and define the connected exchange account role (trader or investor) for Finestel. Both account roles have the portfolio tracking service but they vastly differ in terms of copy trading services.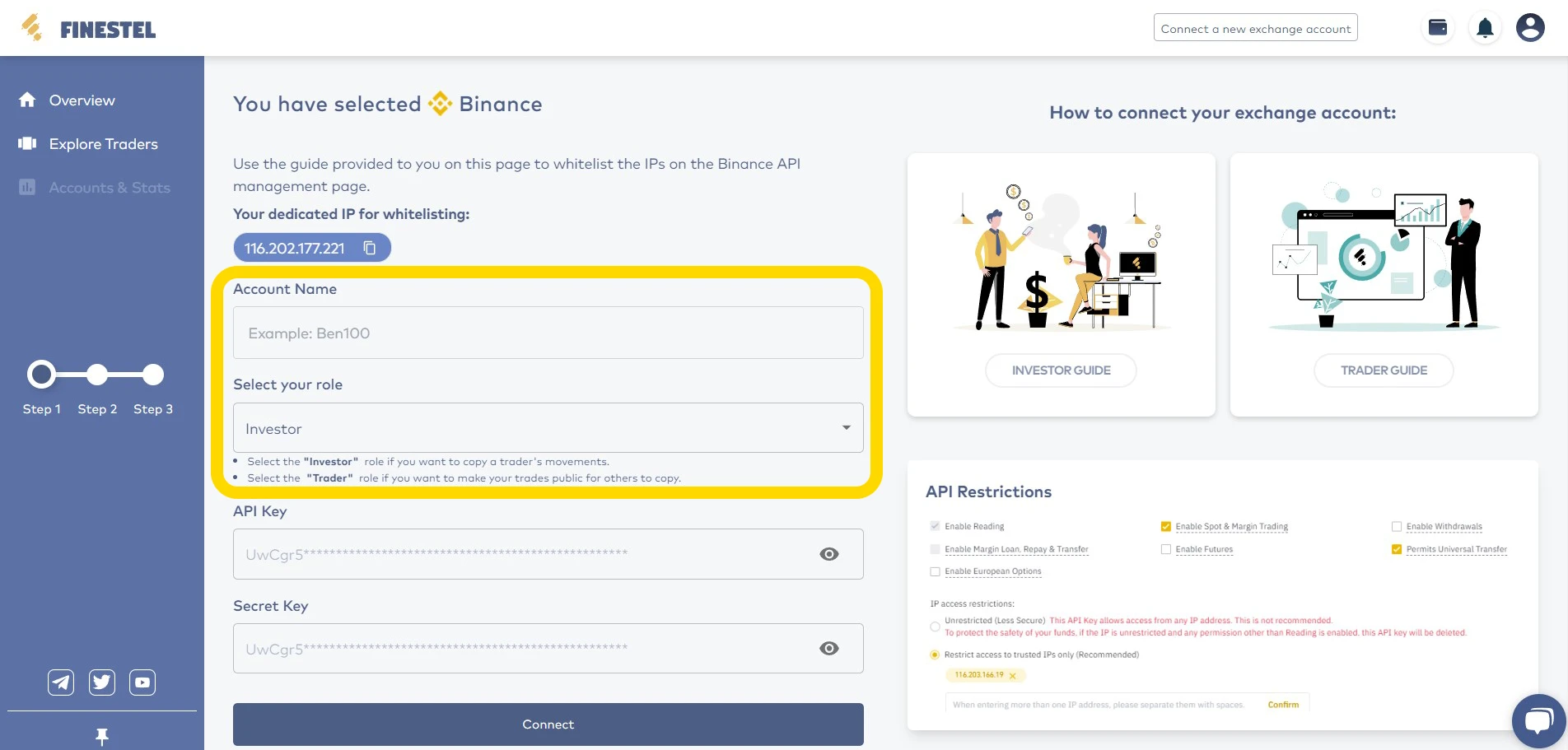 Now you need an API key and its secret key. Let's create them and then get back to here to connect the account using the keys.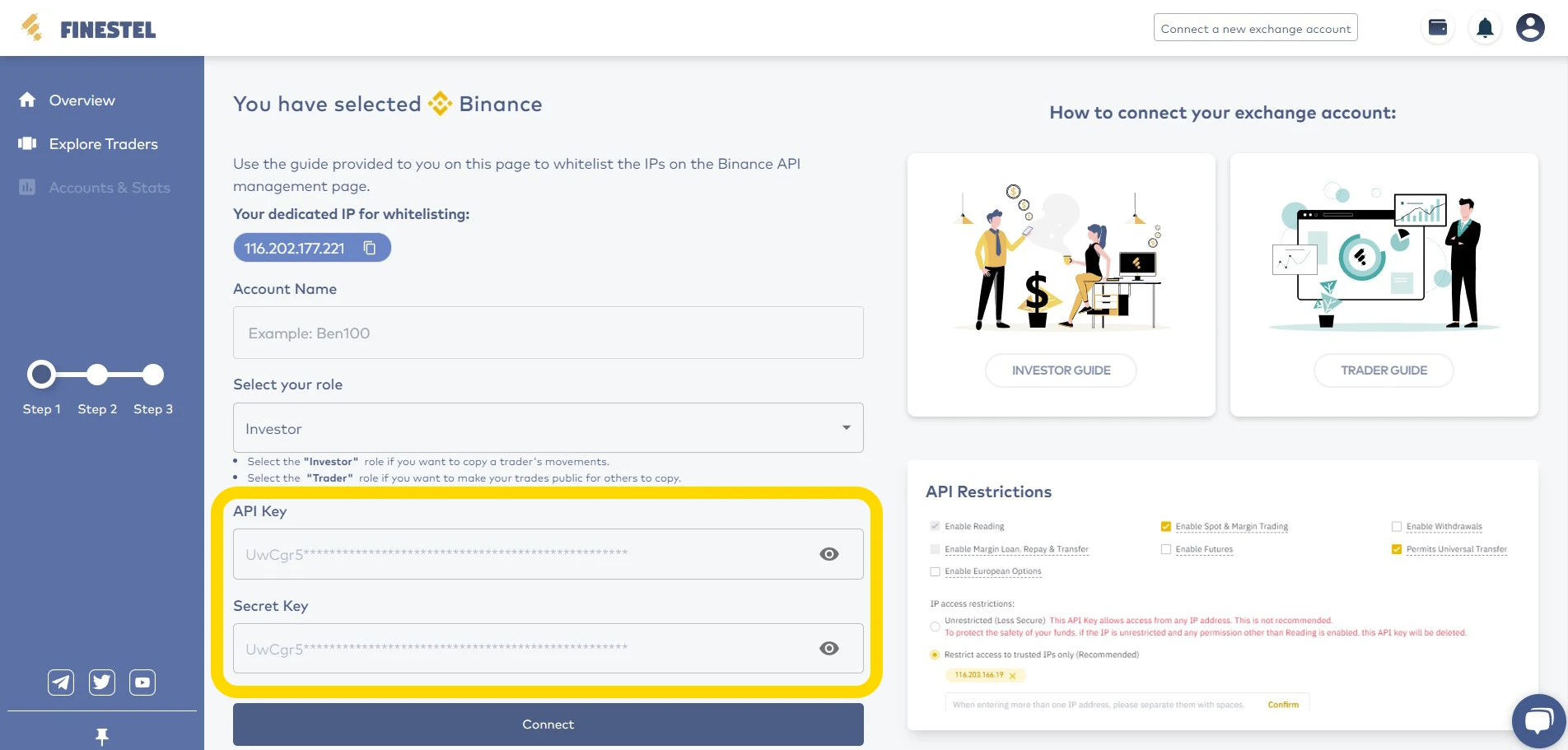 The API Key Configurations for Tracking Your Binance, KuCoin, and Bybit Portfolio on Finestel
To connect your exchange account you need the API key credentials (API Key & Secret Key). Let me mention that the process is exactly the same on both Finestel and Finestel Pro.
Binance Read-Only & Trade-Only API Key Configurations
Binance Read-Only API Keys (Trader Accounts or Portfolio Tracker only):


It's the default API configuration (Enable Reading). So, trader accounts don't need to change anything except for white listing Finestel's IP address on their Binance API Management section.

Bybit Read-Only & Read-Write (Trade-Only) API Key Configurations
Bybit Read-Only API Keys (Trader Accounts or Portfolio Tracker only):


Bybit API keys do not require IP address white-listing as the exchange has already listed Finestel on its known "Third-Party Applications" for API access. So, just find Finestel on the list, name the API key, select the "Read-Only" option, and grant the permissions you see in the image below: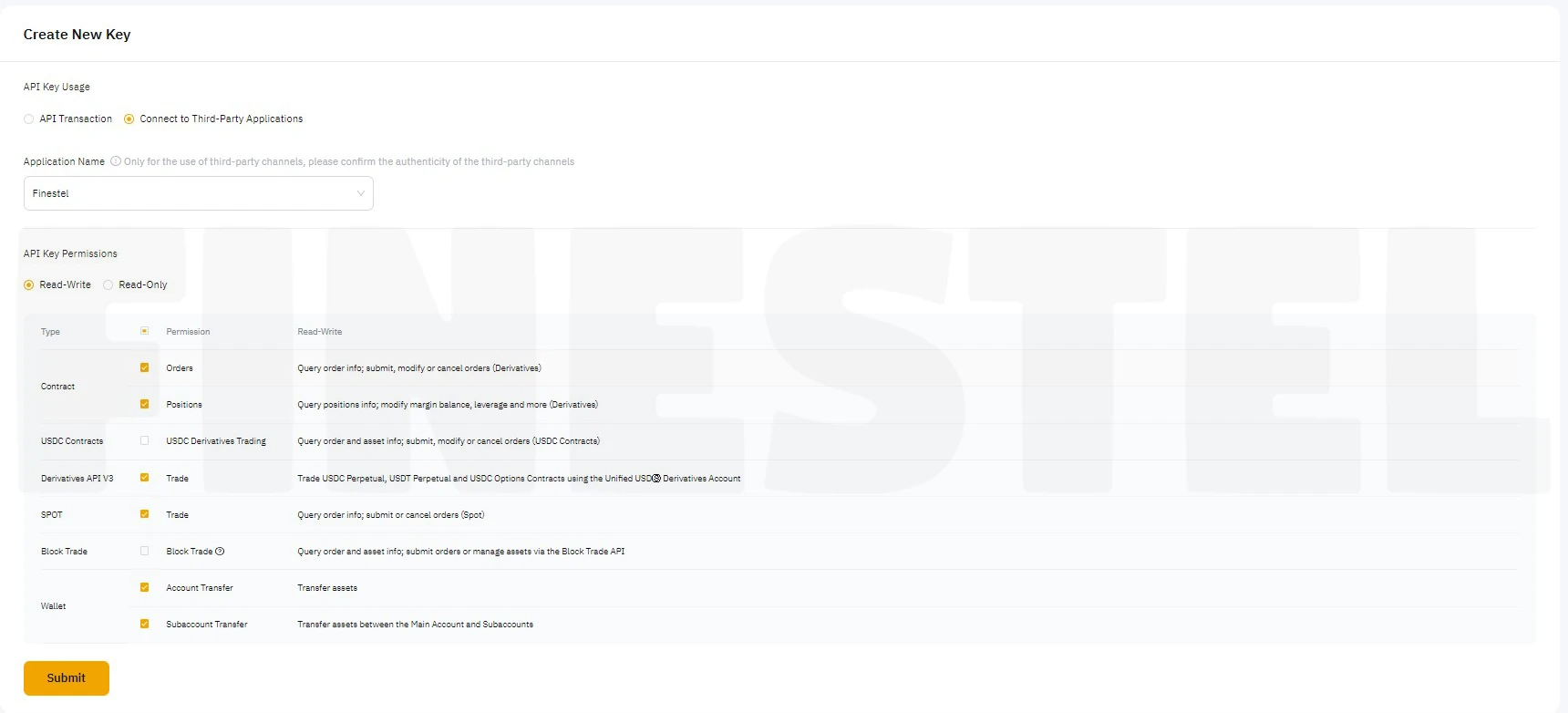 Still, you can use the "API Transaction" and white-list the IP address Finestel gives you.
KuCoin Read-Only & Trade-Only API Key Configurations
KuCoin Read-Only API Keys (Trader Accounts or Portfolio Tracker only):


The read-only API key is the "General" option on KuCoin, which is grayed out and the default configuration. So, traders don't need to change anything on the API management section of their KuCoin account.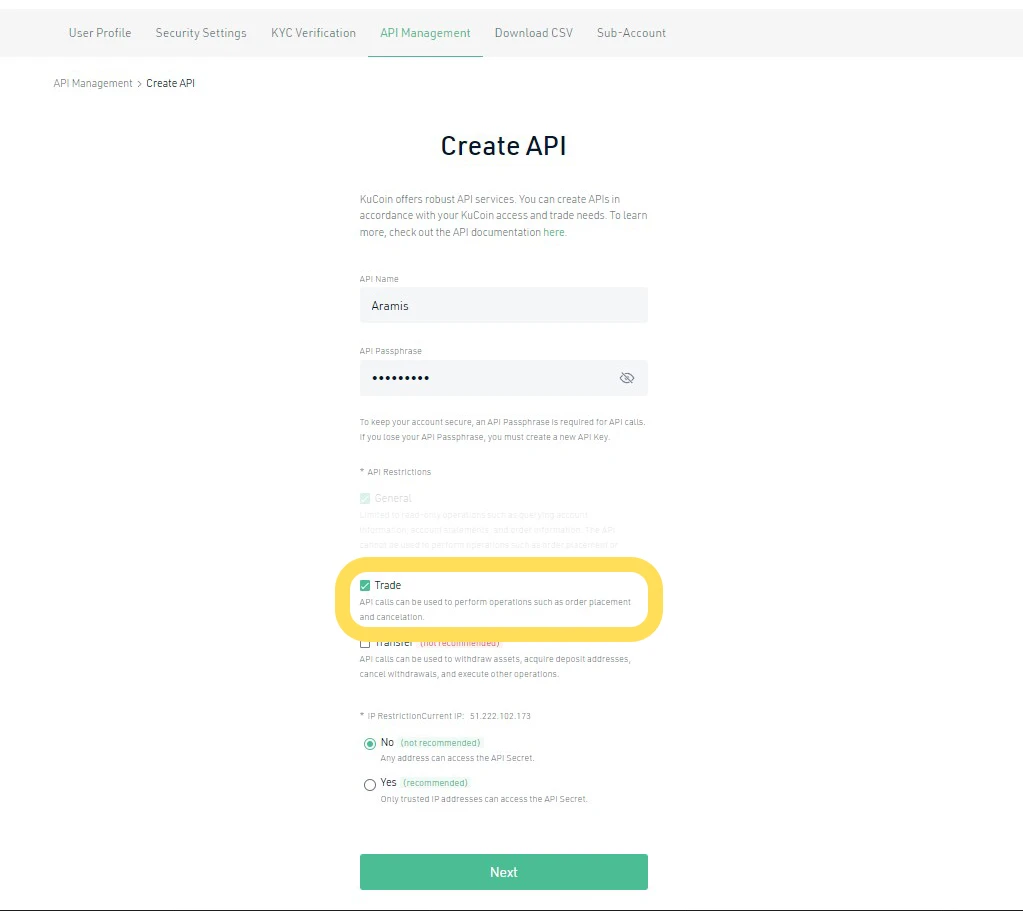 Important Notices
Finestel DOES NOT require the Withdrawal (the Transfer option on KuCoin) API key, neither for investor accounts nor traders. Who or whatever has withdrawal API access to your exchange account, potentially has your funds.
One more thing, crypto exchanges show your API key "Secret" only once and upon creation. If you miss the API key's secret, you'll need to delete the key and create a new one.
Go Ahead & Connect The Account!
Alright, everything's set and you just need to copy and paste the API key and the secret into their fields on your Finestel account and hit the "Connect" button.
Within 60 seconds, Finestel connects to your exchange account and you'll see your account balance on the dashboard.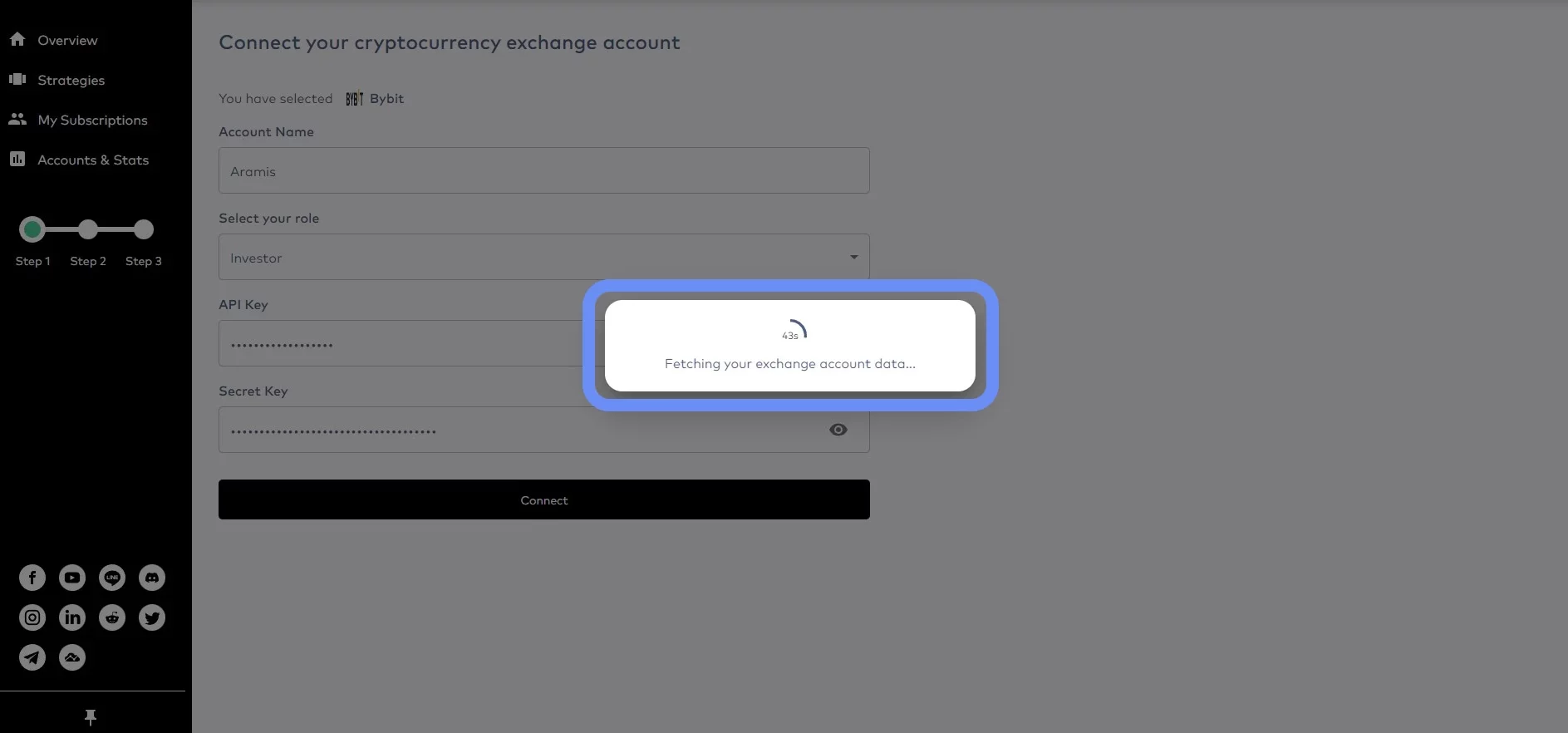 Click or tap on the newly added exchange account card on the dashboard to see the account details. You and your clients are able to see the connected account, investment, or copy trading performance, extract reports, and track futures account open positions, live.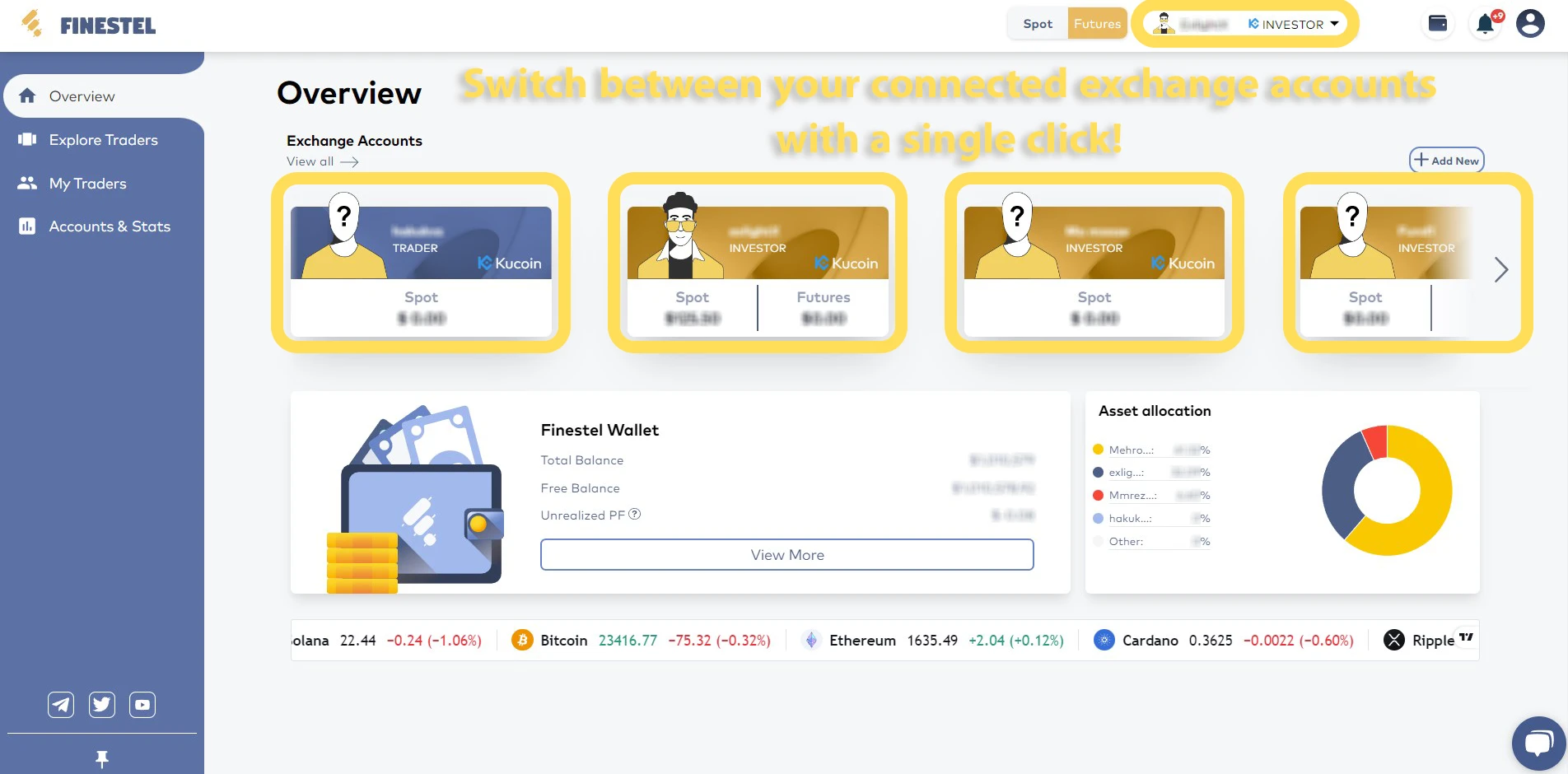 Other Finestel Services – Introducing Finestel Pro
As we said somewhere above, Finestel is software, providing crypto copy trading to the public and a fully customizable white-label crypto asset management platform to professional traders with a community of investors, copy traders, followers, or clients.
Before a brief explanation, let me tell you that you can apply for your own Finestel Pro Dashboard and a Demo to see all the platform corners for yourself.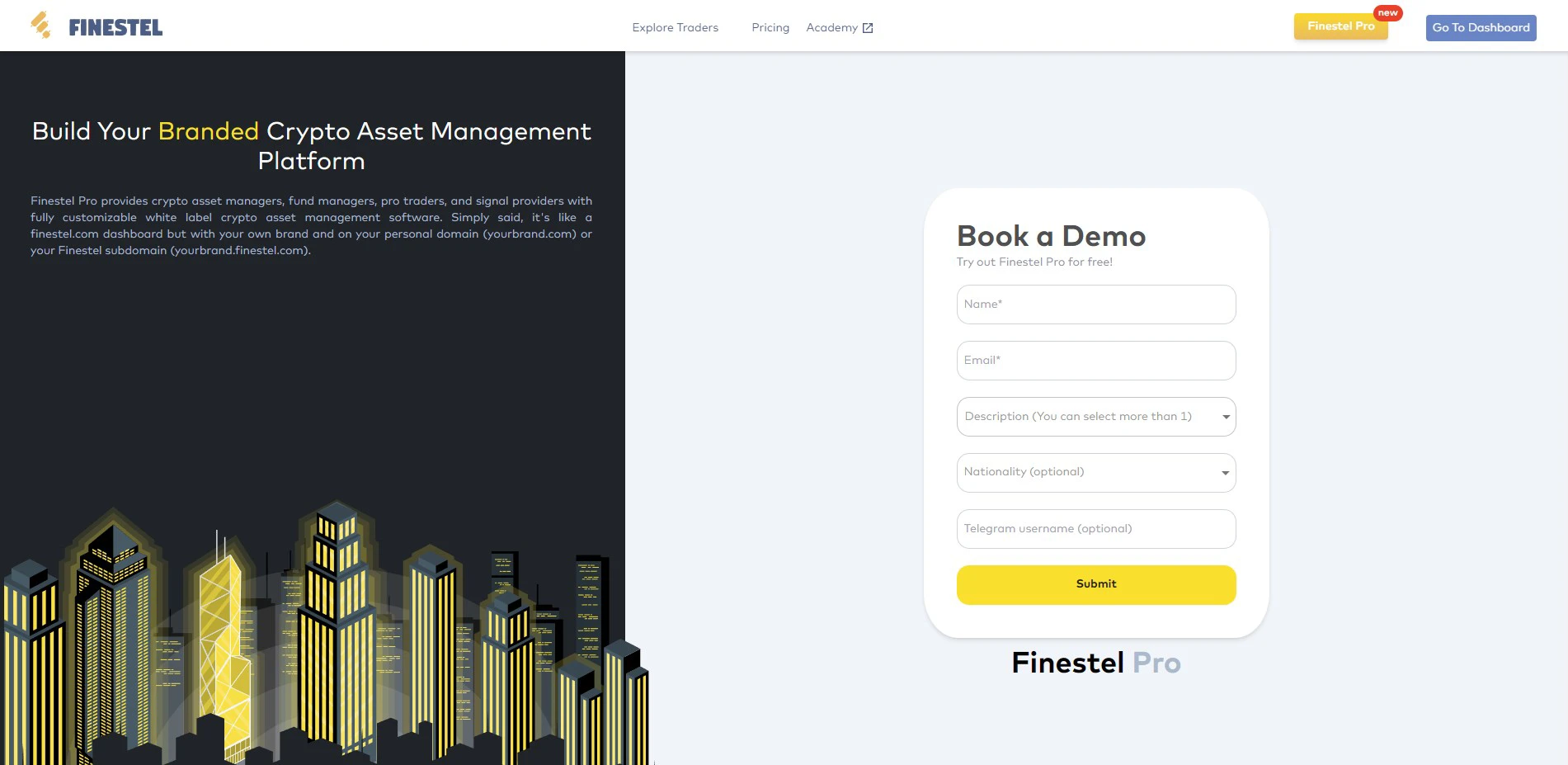 Finestel Pro is a customizable white-label software. A white-label software/product is what you can own with your brand, logo, or other sorts of personalizations on it and also have it under your personal domain address.
Finestel Pro is a highly customizable crypto asset management software.Using Finestel Pro, crypto portfolio managers and pro traders with a community of clients or investors (copy traders) will be able to:
Customize Automated Crypto Portfolio Management Strategies
The white-label owners are able to connect an infinite number of exchange accounts, which make spot and derivatives trading strategies for your clients to copy or invest in. Each trader or strategy could have different pricings and payment cycles, and they could be a private or public service.
FYI, Finestel's bots can execute up to 1 million proportional trade replications in less than a second into a network of investor exchange accounts simultaneously. Moreover, the proportional replications apply to all elements of the trade setup, such as the order set (SL, TP, OCO…) and trade settings (isolated, cross, hedge mode…) on both spot and derivatives markets.
Customize Automated Reporting System
Finestel's robust reporting system is fully customizable and can be integrated with your currently running business' reporting systems. You can build and connect Telegram bots, and email servers or add/remove/modify the parameters and cycles of the reporting system for your clients or yourself.
Customizable Support Channels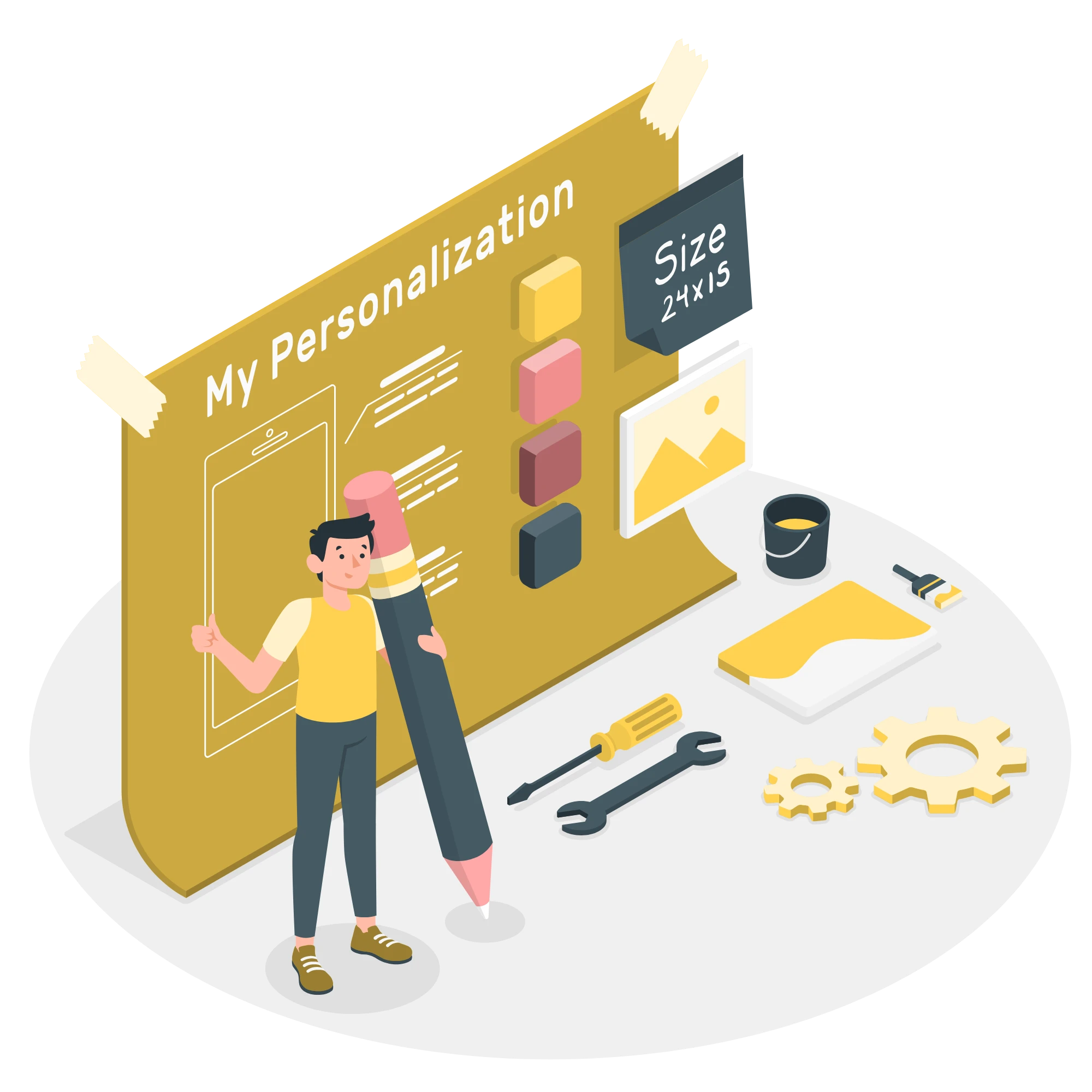 Finestel Pro allows the white-label owner to integrate or customize support channels (automated email ticketing system, Telegram bot, in-app chat). Plus, they will have access to 24/7 support by having access to a dedicated Telegram support group.
Customize Client Management Automation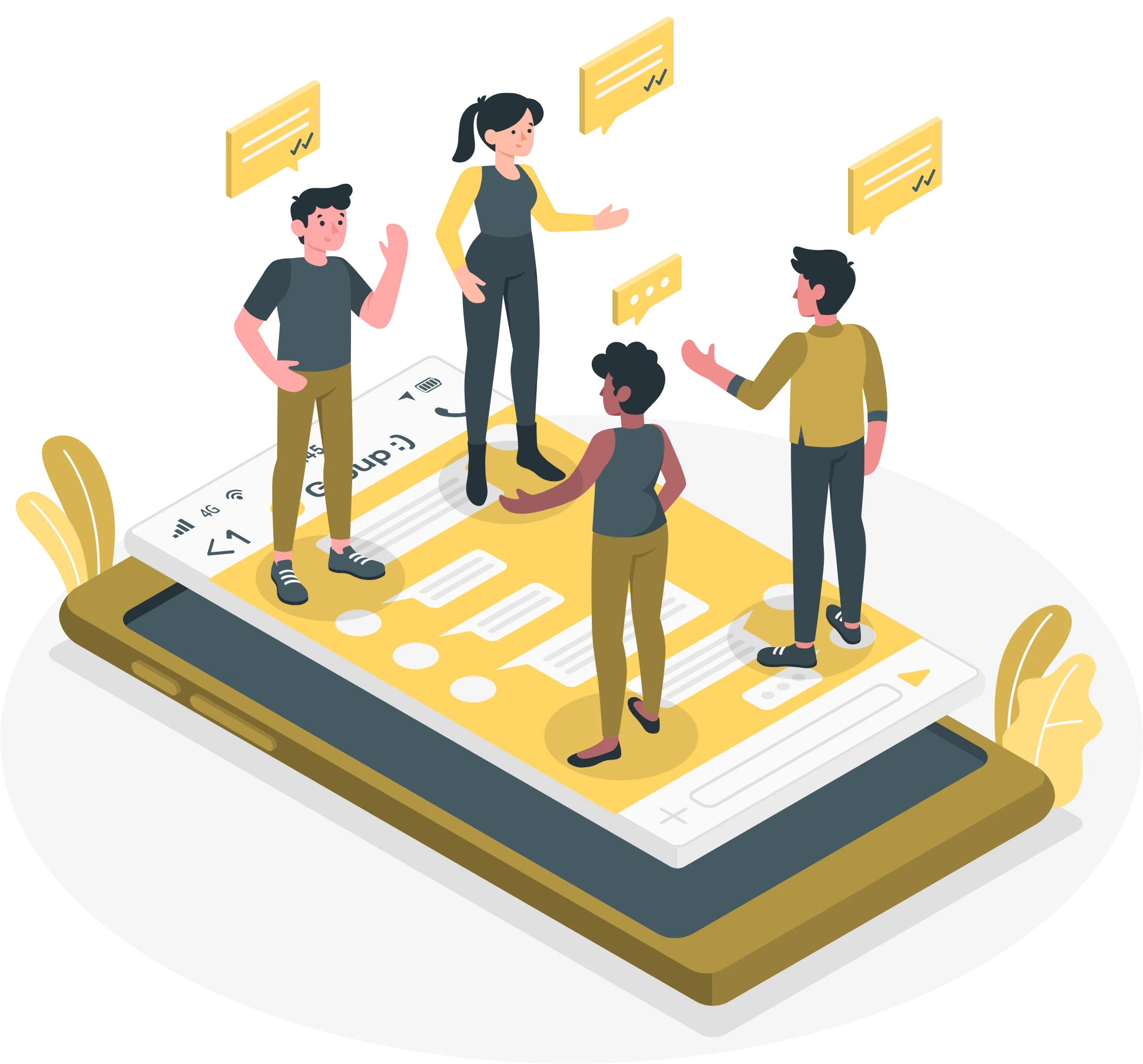 Autonomous billing and payment management systems that are deeply customizable are available for the white-label owner. The system is running on top of a handful of Finestel bots that are able to calculate clients' profits with laser accuracy and also seamlessly.
Customize Automated Marketing Campaigns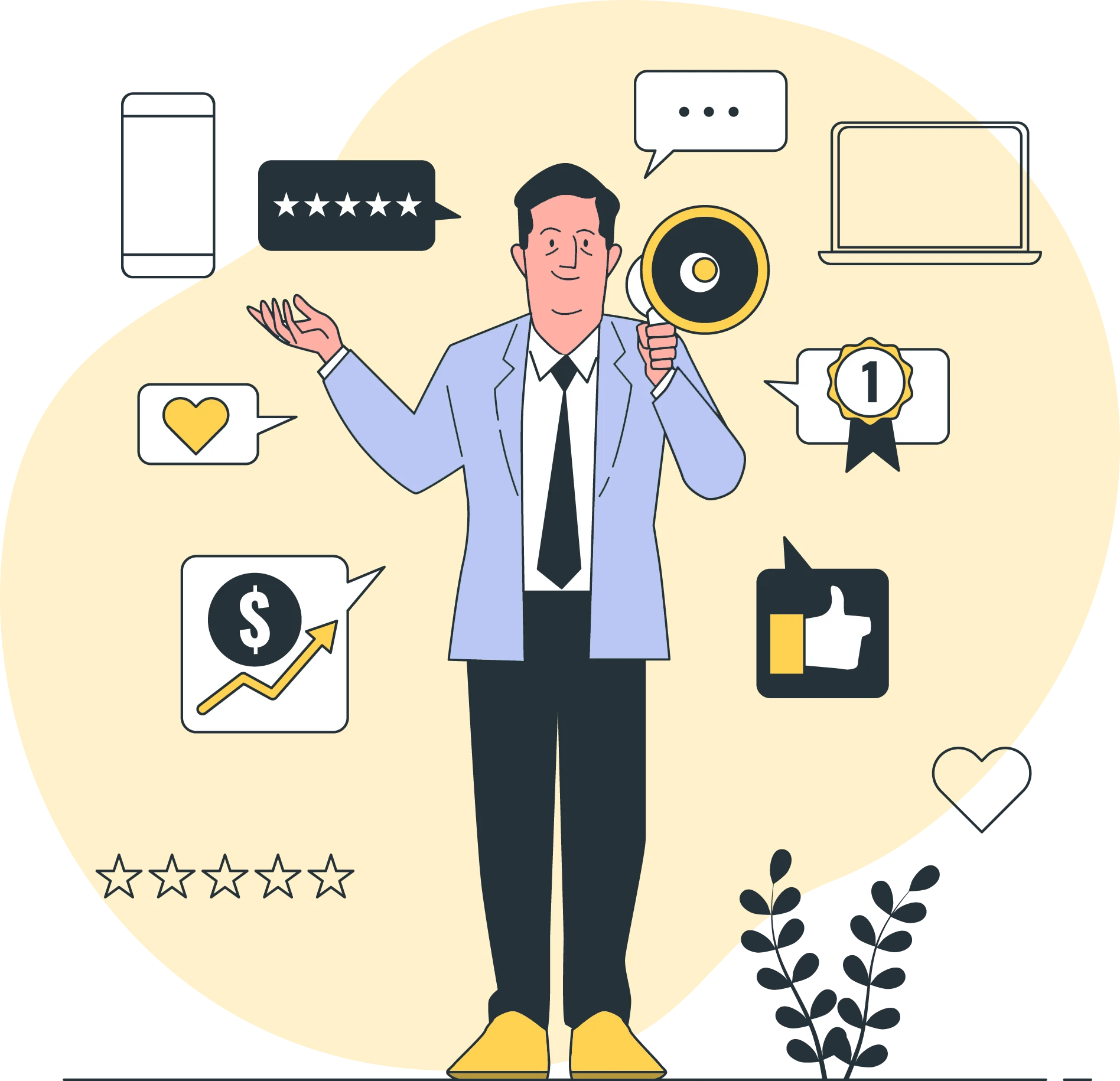 The branded email service, personal Telegram bots, Discord servers, social media channels, or other integrated marketing tools or services, are available on Finestel for running marketing campaigns, there's more though!
The white-label owners have access to run referral models, or even close affiliate deals with other pro traders to list their strategies and then share the gained profits; a kinda win-win-win (owner-trader-client) strategy!
Conclusion
Well, Finestel software is capable of running the final stages of trading automation and providing client management services to the industry's professionals with a community of clients. However, it includes a crypto tracker service for every crypto market participant to enjoy at $0 cost.
Here's a complete infographic about portfolio tracker apps and Finestel's totally free crypto portfolio tracker app.
Click here to download the high-quality image.