Captivating the attention of seasoned financial trading experts, top-tier crypto portfolio trackers have become indispensable tools for managing digital assets across multiple platforms. As these professionals grapple with the complexities of tracking and monitoring their diverse holdings, obtaining comprehensive insights into their assets stored in exchanges and wallets can prove to be a daunting task. This is where the unparalleled benefits of premier crypto portfolio trackers come into play, catering to the unique needs of various traders and asset managers.
In this riveting article by Finestel, we will delve into the world of crypto tracking, showcasing a comparative analysis of the top crypto portfolio trackers. By exploring the cutting-edge products and services available, we aim to simplify the trading experience for these professionals. Join us as we unravel the secrets of the best crypto tracking apps that traders can harness to elevate their game.
What Is a Crypto Portfolio Tracker?
Cryptocurrency portfolio trackers manifest in various guises, such as websites or applications, empowering traders to seamlessly monitor their digital assets' aggregate value and quantity across a multitude of wallets, exchanges, platforms, and blockchains.
A crypto portfolio tracker is an essential tool for cryptocurrency traders and investors to keep their finger on the pulse of their digital assets. As many traders spread their holdings across various exchanges, wallets, decentralized apps, NFT platforms, and more, it becomes cumbersome to manually track each coin's performance. This is where portfolio trackers come in handy. By linking up your accounts through read-only APIs, portfolio trackers provide a bird's-eye view of your crypto net worth.
For example, you can see the real-time value of your Bitcoin on Coinbase, Ethereum in your MetaMask wallet, and Aave staked on Aave all in one dashboard. The tracker calculates your overall gains, losses, and changes in portfolio value over time, taking the hassle out of manual accounting.
You can set price alerts, generate tax reports, and customize the dashboard to focus on the coins you care about most. Whether you're a HODLer or active trader, a crypto portfolio tracker makes it easy to stay on top of your investments and manage your crypto taxes. With your assets spread across platforms, it pays to have a powerful tool to monitor everything in one place.
How to Choose the Right Portfolio Tracker?
Crypto portfolio trackers must include fund value volatility monitoring, comprehensive views and unmatched insights, real-time data, and others based on traders' needs.
According to that, the experiences of other users may be as qualified as studying each platform's advantages. Votes of users who already had examined the best app to track crypto portfolio on Reddit can be considered as a reputable source.
On Reddit, over 140 users and traders voted for the best cryptocurrency tracker app one year ago in what was dubbed one of the most challenging polls of the year. This article aims to review and compare the performance of CoinTracker, CoinStats, Coin Market Manager, Kubera, and Finestel, providing insights into the strengths and weaknesses of each platform.
Tips for Using a Portfolio Tracker Effectively
A portfolio tracker can help traders monitor their investments and make informed decisions. Here are some tips for using a portfolio tracker effectively:
Keep it up-to-date: Regularly update your portfolio tracker with any new investments, sales, or changes in your holdings. It will provide an accurate view of your portfolio's performance and asset allocation.
Establish alerts: Configure alerts for significant price movements, news, or events related to your investments. It will help you stay informed and make timely decisions.
Monitor asset allocation: Use the portfolio tracker's asset allocation tools to ensure your investments are diversified and aligned with your risk tolerance and investment goals. Rebalance your portfolio as needed.
Track performance: Regularly review your portfolio's performance against relevant benchmarks or indices. It will help you evaluate your investment strategy and make adjustments as needed.
Use watchlists: Create watchlists for potential investments or sectors you are interested in. It will help you monitor opportunities and make informed decisions when adding new assets to your portfolio.
Take advantage of research tools: Many portfolio trackers offer research tools, such as analyst ratings, financial statements, and news feeds. Use these resources to stay informed about your investments and the broader market.
Set goals: Establish clear investment goals and use your portfolio tracker to monitor your progress toward achieving them. It will help you stay focused and motivated.
Review fees and expenses: Use your portfolio tracker to review the fees and expenses associated with your investments, such as management fees, trading costs, and taxes. Seek opportunities to minimize these costs and improve your overall returns.
Stay disciplined: A portfolio tracker is a tool to help you make informed decisions, but it's essential to maintain discipline and stick to your investment strategy. Avoid making impulsive decisions based on short-term market fluctuations.
Battle of the Crypto Portfolio Trackers: Which One Reigns Supreme?
Ready to learn about top crypto portfolio trackers? By studying and comparing the following platforms, you can identify the platform that best meets their requirements: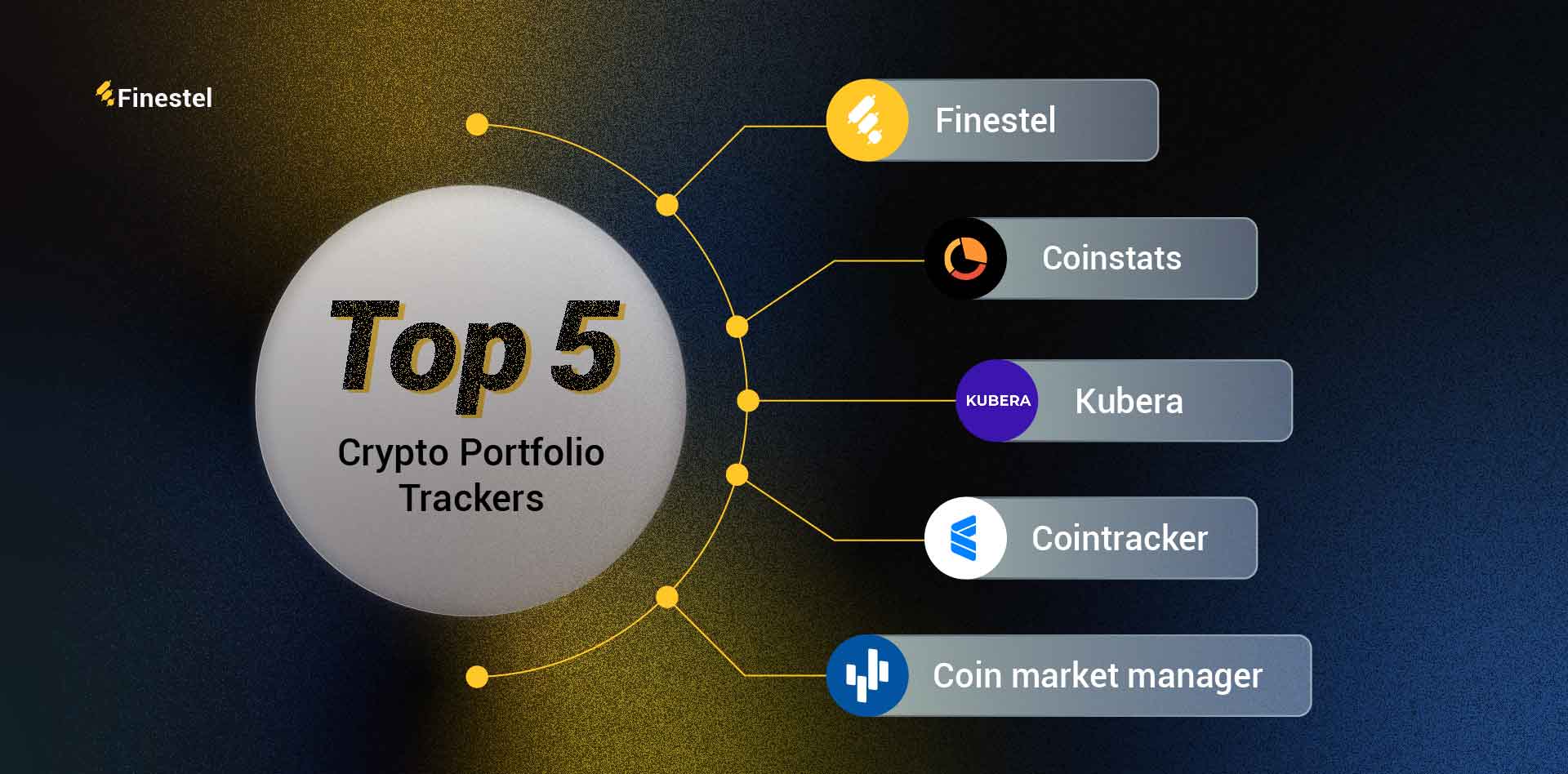 1. CoinTracker
CoinTracker has over 440,000 downloads and tracks over $50 billion in crypto assets. It is a tax-compliant product from companies like Coinbase, OpenSea, Turbotax, and H&R Block.
If you use Google Sheets for your accounting and generate different reports on your assets, CoinTracker is of the top crypto portfolio trackers.
CoinTracker has been used as a report-making assistant by accountants, professional traders, and even delegated investment agents for years.
CoinTracker supports over 500 exchanges, wallets, and blockchains.
Best for: Traders who want to have a whole view of capital taxation.
Pricing
Free (Track up to 10k transactions for free)

Starter: $9

Hobbyist $59

Premium $199
Features
It is one of the best cryptocurrency portfolio tracker apps for preparing tax information
By using it, you will fully comply with cryptocurrency tax laws
Real-time monitoring for portfolio allocation, investment performance, and market value
Monitor your crypto portfolio anywhere
Improves the cost basis method of accounting
Tracking portfolios automatically
Pros
File annual tax returns immediately after generating tax reports.
Portfolio management using CSV files exported from exchanges
Track how your portfolio performs at a time with it
It automates capital taxes. Additionally, it supports over 10,000 cryptocurrencies
Asset data is generated in real-time
Cons
 It does not support different trading, such as margin trading, derivatives, and the future
2. CoinStats
Over one million people use this cryptocurrency portfolio tracker with only one dashboard.
Traders who trade on CEX platforms such as Kucoin or DeFi platforms such as UniSwap should consider this app the best way to track their crypto portfolios.
CoinStats is an ingenious portfolio tracker that integrates all the tools professional traders need to obtain a dominant overview of their assets using mobile phones or browser extensions without opening several websites.
Best for: Day traders, both companies and individuals
Pricing (12 months)
Free (Tier 1 Plan)

$9.99 month (Tier 2 Plan)

$399 lifetime subscription
Features
Up to 20% APY (Annual percentage yield)
An analytics tool for cryptocurrency is included
Quarter security audit to make sure of a portfolio security
Access to the latest news of the last 24h on the dashboard
Coinstats Midas: The latest product of the platform is currently in BETA testing. This tool notifies NFT buying activity and determines which wallets perform the best over time
Able to automatically participate in DeFi liquidity mining
Pros
An excellent crypto portfolio tracker
It calculates every time you make the transaction a coin's profit and loss
Your Profit & Loss is calculated based on recent trades and your current holdings
Any OS and device are compatible, plus a Google Chrome extension Moreover, it is compatible with the Apple Watch
High-level security features
Live crypto price data
Cons
Cluttered dashboard
Using mobile apps can be confusing for beginners.
Some critical features are only available in the pro and premium versions
3. Coin Market Manager
Coin Market Manager is the best app to track crypto portfolios using analytical features and journaling tools. This platform supports lots of exchanges and assets. You can track assets and connect exchanges with one platform.
This portfolio tracker helps users improve their cryptocurrency portfolio and decide through journaling, another great feature of Coin Market Manager.
While it supports over 1000 coins, it has become one of the world's most popular apps because of its journaling feature, which is one of their most popular features.
Reviewing your past research with this tool will give insight into why some trades have done well while others have not.
Additionally, suppose you have a watchlist for specific trends and want to be alerted to any changes affecting the asset you are trading. In that case, Coin Market Manager can help you make better trading decisions with its minimal eye-catching dashboard UI.
Best for: Professional traders having expert crypto portfolio tracking capabilities
Pricing
Free trial of 14-days

Basic: FREE

Professional: $49.99/month

Enterprise: $59.99/month
Features
CMM Unlocked (Free Forever)
Automated journaling, which records trades automatically (includes Manual Trade Journal)
Unlimited Verification Pages
20 extra exchange slots
Live Browser Tab Balance
Pros
Robust portfolio tracker
Simple and minimalistic user interface
The FREE version includes beneficial features
Cons
It does not have a mobile app
Only six crypto exchanges are supported, including Bybit, Binance, Bitmex, Deribit, Bittrex, and FTX (may be suspended)
4. Kubera
Kubera is an easy-to-use personal finance platform that combines your crypto portfolios, DeFi, NFTs, stocks, ETFs, and even traditional financial items in one place.
The platform is ideal for traders who do multiple types of investments. It is compatible with cryptocurrency exchanges and wallets, including Trezor, MetaMask, and The Ledger.
Kubera tracks numerous assets, with $15 billion checked daily. It offers various services, including banks, brokerages, crypto, DeFi, NFTs, and real estate.
Moreover, they provide traders with high privacy and security, so there is no sneaky data mining, ads, or upselling, and their encryption is top-of-the-line. And, they have a cool "dead man's switch" feature that sends traders' financial info to any specified person if something happens to the account owner.
Best for: Extended portfolios, including cryptocurrencies and NFTs, in one place
Pricing
Personal plan: $150/year or $15/year
Family plan: $225/year
Both plans have 14-days trial for $1
Features
Automatic recognition of investable assets
Automatic calculation of cash balance in all accounts
Unfunded Commitments
Calculation of precise rate or returns (IRR)
Multi-Currency Support, even for US residents
Community in-touch: Discord channel
Dead Man's Switch for Wealth Records
Pros
Brings Cryptocurrencies and traditional investment into one place
Offering a vast domain of connectivity
As the simplest design and user interface as Microsoft Excel
Tracks the value of any asset, even automobile, land, or home
Cons
Despite the free trial, no FREE version
superfluous cumbersome functions of traditional assets for crypto traders
No Android app
Limited Number of supported crypto exchanges
Impossibility of exchanging cryptocurrencies via the app
5. Finestel
In the realm of cryptocurrencies, Finestel stands out as an exemplary portfolio-tracking solution that meets the needs of both traders and investors. The platform offers exceptional services, allowing users to meticulously monitor proficient traders and emulate their strategies in the spot and futures markets.
Finestel sets itself apart by seamlessly integrating with top-tier cryptocurrency exchanges such as Binance, Kucoin, ByBit, and OKEX, Gate.io (soon) to facilitate a comprehensive and automated process.
Unlike other trading platforms, Finestel enables users to align their assets with those of the targeted trader or even replicate their strategies from the moment they are created.
Finestel also serves as a robust, high-speed, secure, and efficient portfolio tracking tool, providing professional traders with a single, consolidated dashboard to manage, monitor, and track a broad range of assets at various locations in real-time.
Finestel has developed an exceptional product to demonstrate its commitment to versatility and adaptability. As a white-label offering, this solution allows asset managers, investors, and professional traders to establish their distinctive brand identity.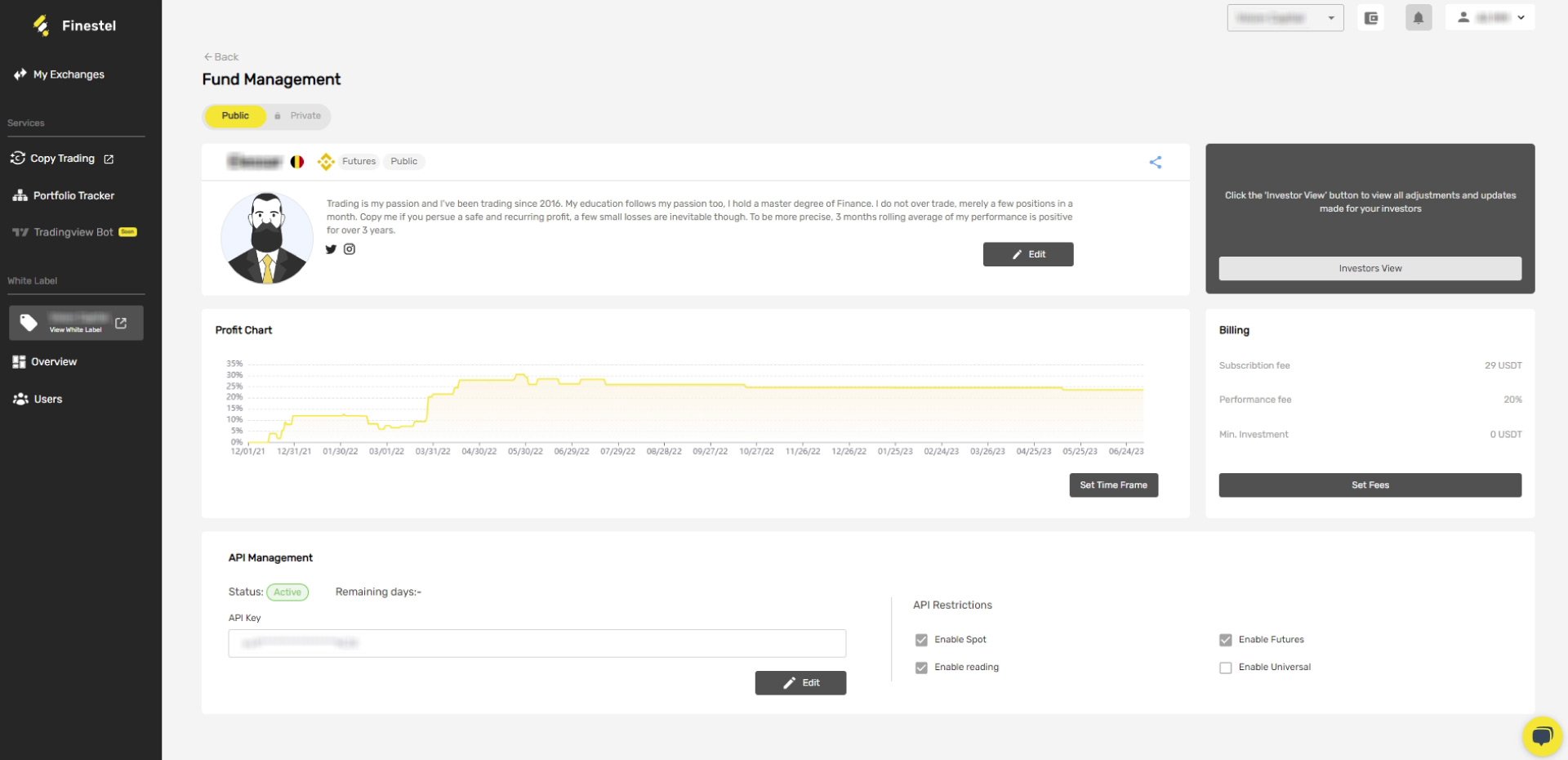 Best for owner of an up-and-running crypto asset management business.
Pricing
FREE
DEMO for Finestel white label service
Features
Multi-layer security
Supporting SPOT and Futures on crypto exchanges together
Finestel Pro: customizable white-label crypto asset management software
One-click copy trading
Pros
Unlimited funds to be managed by traders
precise configuration for copying portfolios
Easy-to-use and simple interface
It's in the list of top Binance portfolio trackers
Cons
Few supporting crypto exchanges
Only SPOT trading on Kucoin is supported
Top Crypto Portfolio Trackers for Mobile Devices
Both CoinTracker and CoinStats have released mobile applications for Android and iOS devices. By eliminating the constraints of using purely desktop or web-based solutions, this commendable development addresses the demand for on-the-go asset tracking.
Users can now use the mobile application to manage their assets anytime and anywhere.
Besides the platforms mentioned above, iPhone users can explore the impressive features of the Kubera application. It ensures that Apple users can access comprehensive features and tools for monitoring their digital assets.
Best Way to Track Crypto Portfolio: 2023 Summary
In a single sentence, describing the best way to track crypto portfolios is difficult. In the trading world, there are a variety of traders actively seeking opportunities to ramp in, and each trader may have a particular strategy for growing the wealth and assets of the company.
A person may devote all of their attention to Bitcoin, another to Altcoins, and still another to DeFi or NFT.
Even though market activities are clear on charts, you may find arbitrage opportunities between different platforms depending on how much you expand your portfolio.
As an investor or trader, the best way to track crypto portfolios is to find the most suitable portfolio-tracking platform and implement your strategy.
Here is a table for comparison at a glance:
Name
Auto Sync
Mobile App
Exchanges/Wallets Supported
Pricing
CoinTracker
YES
iOS and Android
Binance, FTC, Okex, Bitstamp, Deribit, CoinSpot, etc
Free,

Starter $9,

Hobbyist $59,

Premium $199

CoinStats
YES
iOS and Android
Binance, Kraken, Kucoin and 400+ more
Free (Tier 1),

$9.99/month (Tier 2),

$399 one-time payment (Life subscription)

Coin Market Manager
YES
NO
ByBit,Binance, BitMEX ,Deribit, etc
14-Days Trial,

Basic:FREE,

Pro:$69.99/Month,

Enterprise:$89.99/Month

Kubera
YES
 iOS Only
Most stock brokerages, crypto exchanges, and banks
Personal plan: $150/year or $15/year

Family plan: $225/year

Both plans have 14-days trial for $1

Finestel
YES
NO
Binance, Kucoin, ByBit, OKEX (soon)
FREE
Conclusion
In conclusion, the rapidly evolving landscape of cryptocurrency trading demands versatile and efficient portfolio trackers to cater to the diverse needs of traders. As we have explored various top crypto portfolio trackers, each offers unique features and strategies to suit different trading styles and preferences.
Among these outstanding platforms, Finestel stands out as the best free crypto portfolio tracker, providing a comprehensive and user-friendly solution for managing digital assets. Its robust features and real-time data make it an invaluable tool for traders seeking to optimize their cryptocurrency portfolios without incurring additional costs.
By harnessing the power of Finestel or any of the other top crypto portfolio trackers discussed in this article, traders can elevate their trading experience and make informed decisions in the ever-changing world of digital assets. As the cryptocurrency market continues to mature, staying ahead of the curve with the right tools and strategies will be crucial for success.
FAQ
Can I Use Multiple Crypto Portfolio Trackers Simultaneously?
Yes, it depends on your need to collect and track your distributed assets at a glance.
How Do I Choose The Best Crypto Portfolio Tracker For My Needs?
First, determine your assets' classification, then meet your need by choosing a crypto portfolio tracker that works as simply as possible for reporting.
Are There Any Free Crypto Portfolio Trackers Available?
YES, Finestel is FREE and of the top crypto portfolio trackers ever that traders can manage their assets onto.
Are There Any Fees Associated With Using A Crypto Portfolio Tracking App?
Not per check but by subscription, YES. Although a few crypto portfolio trackers are graceful as FREE, some have pricing plans for a specific period.