Trading is a full-time and difficult job that only a few people can do and make a good performance. Professional traders who participate in copy trading platforms have the opportunity to share their experiences and skills with novice traders, creating a mutually beneficial relationship. This approach to trading has become increasingly popular, as it allows for knowledge sharing and collaboration among traders, ultimately leading to better outcomes for all involved.
These measures start with landing on the right copy trading platform. Here on Finestel, we will discuss and narrate a holistic view of cryptocurrency copy trading, especially making Binance copy trading platforms comparison. First, we will walk you through the technicalities and show you how to link your account to a strategy provider. Then, you will learn about a brief overview of copy trading and the ways to benefit. Finally, we have chosen the top 5 Binance copy trading software and thoroughly reviewed each.
Introduction to Copy Trading and Its Benefits for Pro Traders
Copy trading is the process of automatically replicating a trader's trades on an exchange account or third-party software, which are then transferred to the accounts of their clients or investors who mirror them. In advanced models, the replication of trades is done proportionally, encompassing all aspects of the trade setup. This comprehensive approach allows for automated asset management, streamlining the process for both professional traders and their followers.
For professional traders who are active on copy trading platforms, this process has several advantages. The first benefit is that traders can earn more profit by expanding their follower base. As the number of followers grows, the trader's trading volume also increases, which can lead to a surge in their income.
Another advantage that traders can gain from this process is an enhancement in their reputation and credibility in the trading industry. With more followers, traders can augment their reputation and credibility in the trading industry and become known as successful traders.
Moreover, traders can earn more profit from the fees they receive from their followers. As the number of followers increases, traders can receive higher fees and, consequently, augment their income.
Overall, copy trading platforms provide an excellent opportunity for professional traders to boost their income, reputation, and credibility in the trading industry.
How Does Binance Copy Trading Platforms Work?
Copy trading apps connect to Binance using an API (Application Programming Interface); an API is what two or more pieces of software, computers, or applications talk to each other through. There are two types of API configurations for connecting a Binance account to a copy trading platform. The first is a trade-only API configuration, which is used by investors who want to copy the trades of professional traders. This API access allows the copy trading app to place or cancel orders in the investor's account based on the trades made by the copied trader.
The second type of API configuration is a read-only API configuration, which allows the copy trading app to read and copy orders, portfolios, or positions from the connected trader account. Copy trading platforms typically use this to copy the trades of crypto trader bots, asset management firms, or professional portfolio managers. By using a read-only API configuration, the copy trading app can replicate the trades of the professional trader without having the ability to place or cancel orders in the investor's account.
How to Get Started with Binance Copy Trading
To copy trade with Binance is simple and almost similar on different platforms and apps; all you have to do is listed below:
Open an account: The starting point to use Binance copy trading is to refer to the Binance website and register and open an account.
Account verification: To use services provided by Binance, your account must be approved and verified. You will be asked for identity documents to use Binance copy trade services.
Make a deposit: Top up your account for using copy trade services.
API link: Click on the profile icon menu. From there, select the "API Management" option. You will need to verify your Binance credentials, and once you have done so, you will see a button labeled "Create API."
Log in to your copy trading platform account and navigate to the API settings section.
Enter your Binance API key and secret key into the appropriate fields.
Choose the permissions you want to grant the copy trading platform. For example, you may choose to grant read-only access or trade-only access.
Save your API settings and test the connection to ensure that it is working properly.
Top 5 Binance Copy Trading Platforms Comparison
Binance cryptocurrency exchange does not offer a copy trade platform but allows third-party copy trade platforms to use the services. Here in this article about Binance copy trading platforms comparison, we first detected each platform's features; then we mentioned the advantages and disadvantages of using each platform.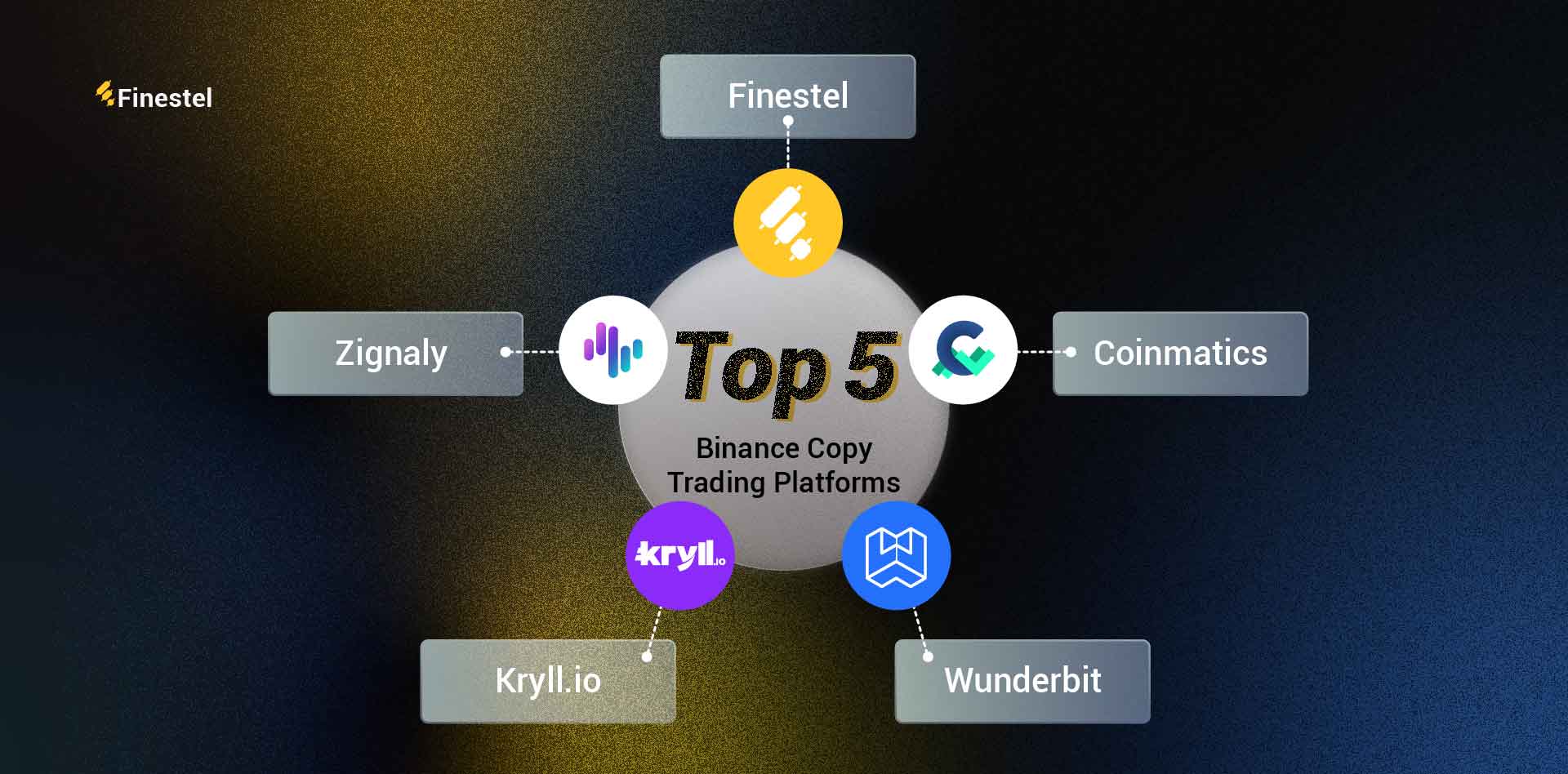 1. Binance
Binance has recently (Oct 2023) launched a copy trading feature that allows users to copy the trades of experienced traders. This aims to provide an educational platform and allow traders to monetize their strategies.
Key Features:
Two investment modes: Fixed amount or fixed ratio copying
Traders can earn 10% profit share from copy traders
Copy traders can follow up to 10 lead traders
Transparency into lead trader stats and performance
Fixed Amount Mode:
This mode allows copy traders to choose a specific dollar amount they want to allocate to copying a lead trader's portfolio. For example, a copy trader could designate $1,000 to copy a lead trader's trades. As the lead trader executes trades, the copy trader's account will mimic those trades proportionately based on the $1,000 allocation. This provides control over the capital at risk when copying other traders.
Fixed Ratio Mode:
In this mode, copy traders allocate a percentage of their account balance to mirror the lead trader's portfolio. For example, a copy trader could select 20% as the ratio. If their account balance is $10,000, $2,000 would be proportionately used to copy the lead trader's trades. As the account balance fluctuates, the capital allocated to copying will change accordingly to maintain the 20% ratio. This dynamic allocation allows traders to follow lead traders' strategies as a percentage of their capital.
The fixed ratio mode enables more flexibility compared to fixed dollar amounts. It adjusts the allocation dynamically based on account balance swings. However, the fixed amount mode enables more control over the maximum capital at risk when copying other traders. The two modes provide options for copy traders to choose their preferred account management method.
Pros
Learning opportunity for novice traders
Flexible investment options
Community interaction
Cons
Lead trader's strategy leakage
Eligible Regions: The feature is initially available in a few eligible regions, but it will likely expand to more users over time.
2. Finestel
Finestel provides innovative copy trading solutions on futures and spot markets for cryptocurrency traders on the Binance exchange. Their technology allows both new and experienced traders to leverage the skills of others or manage funds for investors.
Below are overviews of Finestel's basic copy trading bot service and their more advanced white label platform. These solutions help Binance users replicate trades, share strategies, and build professional asset management businesses on the world's largest crypto exchange.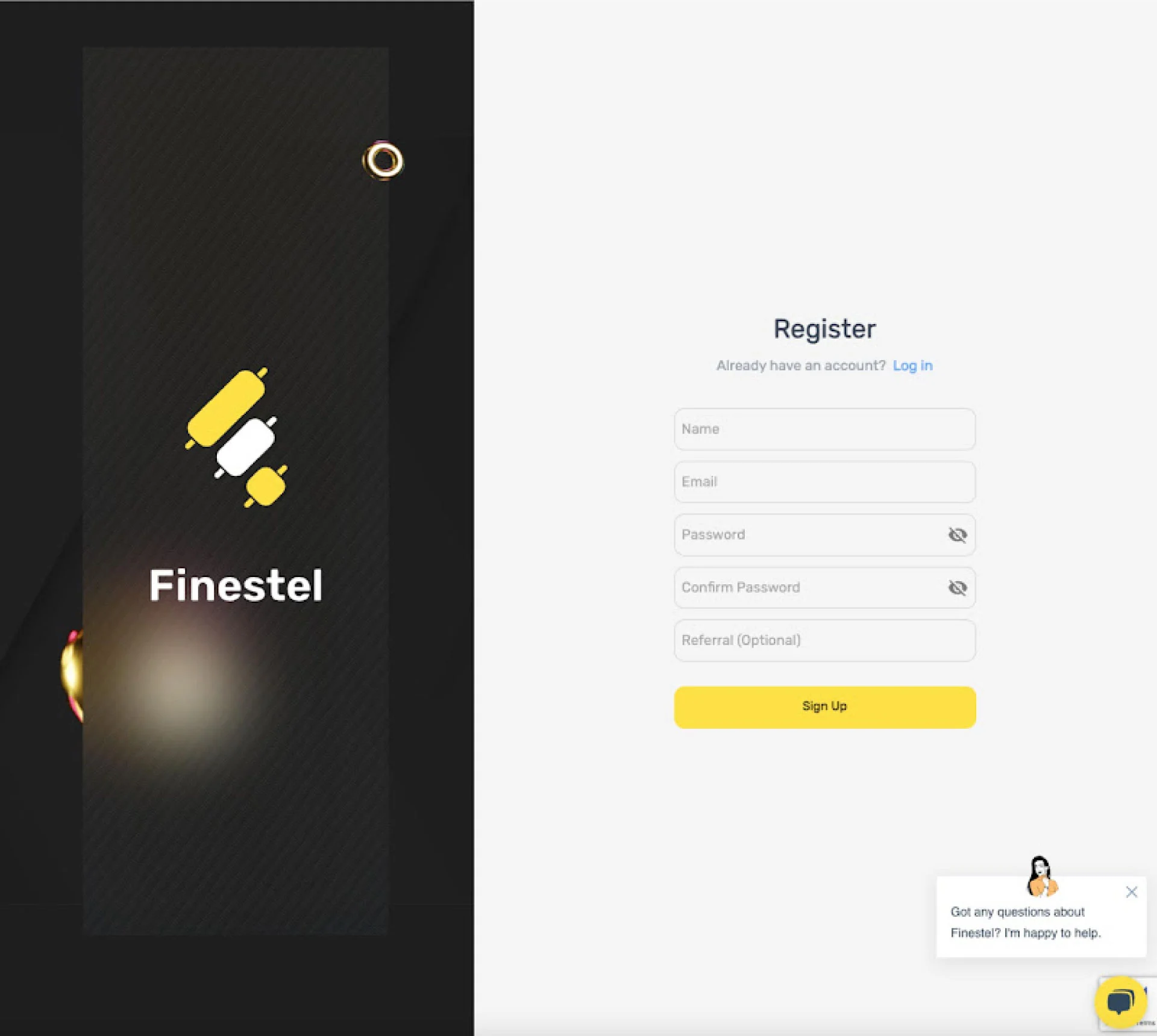 1. Finestel Copy Trading Bot (as a Service)
Finestel offers a powerful copy trading bot that allows traders on Binance to share and replicate their strategies easily. The bot works through the Binance API to instantly and accurately copy all trades from a master trader's account into followers' accounts proportionally. This provides a seamless way for traders of all levels to leverage the expertise of more successful peers.
The Finestel bot is highly reliable, executing copies with minimal delays or differences. It also gives traders useful risk management tools to help protect both master and follower funds from losses. For smaller traders just starting, the basic bot service is a great, affordable option. However, experienced money managers with larger operations may prefer the more advanced white label solution.
2. Finestel White Label Copy Trading
The
Finestel white label platform
is an all-in-one solution tailored for professional asset managers on Binance. Rather than building infrastructure from scratch, the turnkey system handles everything from technical plumbing to administration.
Key features include advanced portfolio tracking of Binance accounts, a powerful admin dashboard, performance analytics, and flexible pricing models. Traders can customize pricing structures for different strategies based on subscription fees, performance fees, and more.
Billing, accounting, customer support, and more are fully automated through the white label platform. It also provides sales and marketing tools to help partners grow their businesses. This includes a multi-level referral program, customized emails, and a Telegram bot – all branded under the trader's name.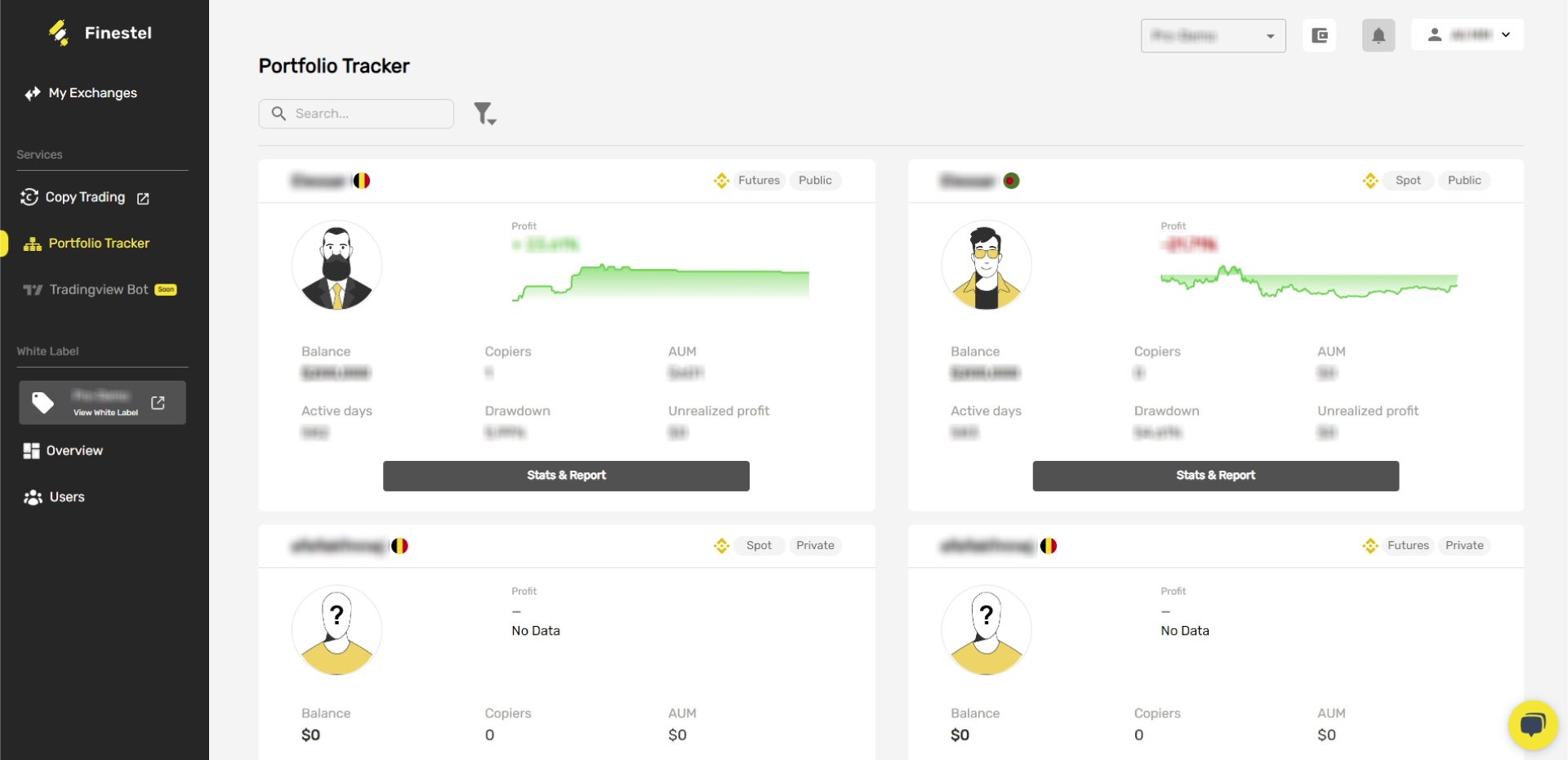 In summary, Finestel's white label solution removes all the back-end work so Binance traders can focus on their strategies. It gives experienced money managers a complete turnkey product for launching and scaling a professional crypto asset management business on Binance.
Key Features
The Trustpilot score for this copy trading platform is 4.4, and the reviews are positive. Regarding numbers, Finestel is gaining popularity in the crypto copy trading market, especially Binance copy trading. Security-wise, Finestel uses preventative measures against any security breach by utilizing 2FA authentication and data encryption. Finally, the traders can link all of their different exchange accounts. Finestel supports Binance spot and futures trading, Kucoin, and ByBit spot & derivatives, and OKX as well.
Pros
Simple interface
White label social copy trading for investment managers
Client management dashboard
Comprehensive portfolio tracker
Flexible billing
Crypto MLM software
Full branded integration
Development on demand
Cons
No support for MT4 and MT5
3. Wundertrading
Wundertrading copy trading software connects novice traders and professional traders. Wundertrading is primarily famous for offering a straightforward interface to users. Its supported exchanges include Binance (Spot and Futures), KUCOIN, BITFINEX, Derbit, Bitget, BitMEX, OKX, WOOX, BYBIT, Coinbase Pro, MEXC Global, Kraken, Huobi, Gate.io. Also, in this platform, the traders can use cryptocurrency trading bots, and the traders can automate scripts provided by Tradingview.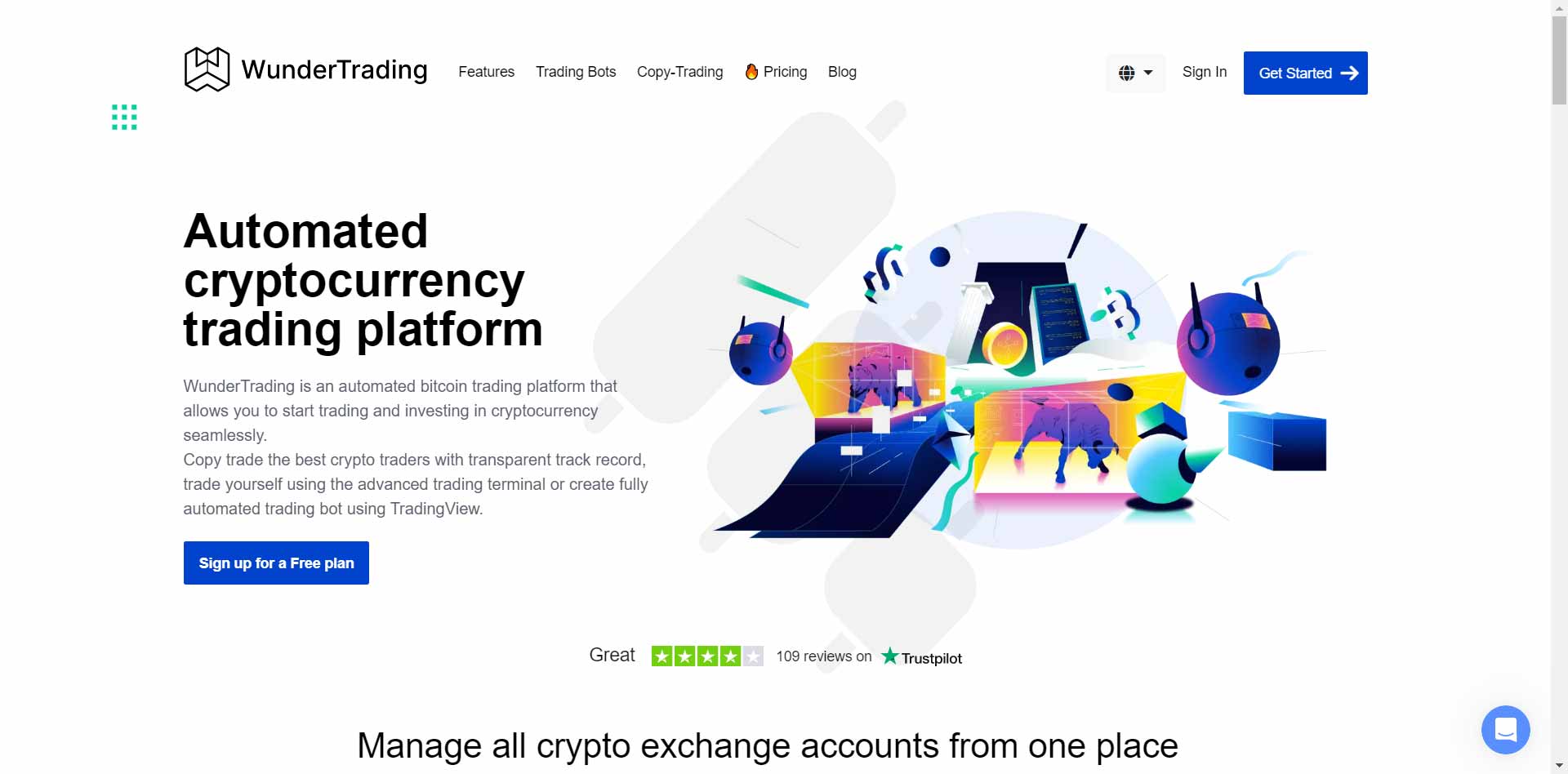 Key Features
The score of Wunderbit on Trustpilot is 4.2, which is acceptable. Like many other copy trading platforms, it is subject to local regulations. Additionally, the number of traders on Wunderbit exceeds 60,000, and the trading volume surpasses $380M.
Technically speaking, the parameters that a trader accesses are transparent, and they have access to all the necessary features. Regarding security, there are no reports of the website being down or data leakage about Wunderbit.
More and above that, the traders can activate the 2FA security on their dashboard on Wunderbit. Simplicity is a must, and Wunderbit is famous for its simple and easy-to-use platform and dashboard. Finally, the traders can link their exchanges to their Wunderbit dashboard. The exchanges that traders can connect to are varied, including Binance, Binance futures, BYBIT, and OKX, to name a few.
Pros
• A simple and easy-to-use interface
• Offering a variety of exchanges for copy trading
• Advanced analytical tools for automatic trading
• Advanced security features
Cons
• Lacking a mobile app
• Limited technical features for advanced traders
• A limited number of traders
• Changing services fee
• Weak portfolio tracking system
4. Kryll.io
Kryll.io is another copy trading platform that we reviewed. They started the business in 2018, and they are located in France. Their motto is "what you see is what you trade"; however, they did not explain the concept on their website. With reference to the Binance copy trade, the traders can choose the Binance marketplace on Kryll.io. The traders can activate spot trading and margin trading on Kryll.io. Also, the US. citizens can enjoy Binance US. copy trading on Kryll.io. Besides Binance, traders can link their accounts from cryptocurrency exchanges like Coinbase, Bybit, Kraken, and Kucoin.
Moreover, on kryll.io, traders can develop their strategy on cloud software, which is active 24/7. Their main focus is on building strategies, and they claim that the strategy editor is the core feature of the platform. In addition, they introduce a block panel, where traders access all copy trading tools together with a strategy editor. Finally, they have their native utility token named Kryll, whose rank on Coinmarketcap is 777.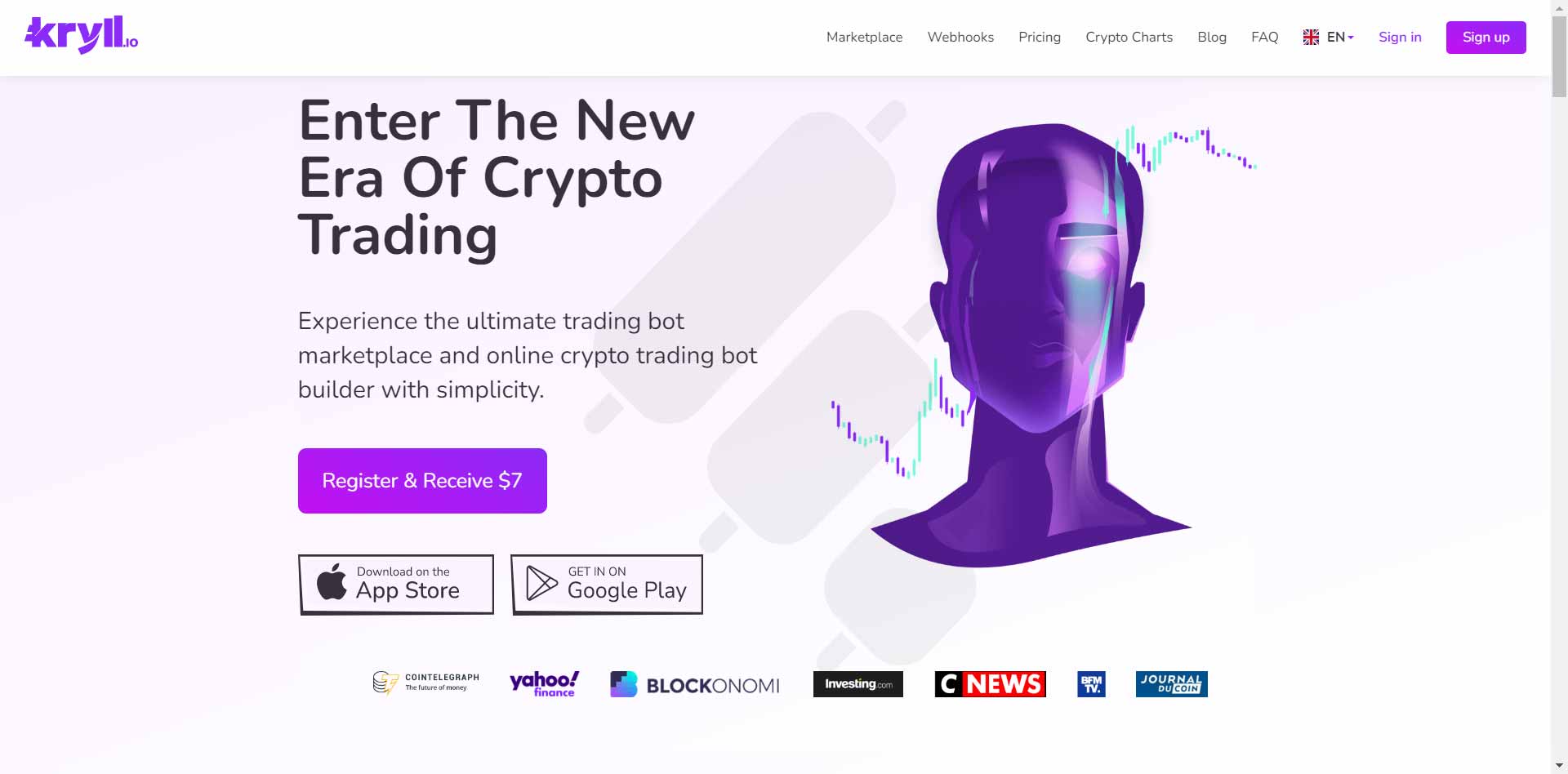 Key Features
Their score on Trustpilot is 4.2, which is satisfying, and there are no fraud or data leakage reports. However, they do not provide an about us page; hence, we have no information about the number of traders and investors on this platform. Their main focus is on strategy editor options, and it seems this platform is mostly used for strategy trading. They do not provide a free demo account; users should verify their account to use the features. Finally, on kryll.io you can choose blocks and develop a customizable strategy.
Pros
• A strong trading strategy builder
• Available in multiple languages
• Covering technical analysis tools
• A wide range of trading bots
Cons
• A complicated interface
• No demo account is available
• Poor customer support
5. Zignaly
The Zignaly crypto copy trading platform is a well-known platform and was founded in 2018.  Zignaly platform started its copy trade journey with Binance and Kucoin. Then, they started to add other exchanges like Bitmex and OKX.
One of the features that the Zignaly platform offers is RSA in Binance cryptocurrency wallets, where the API keys are encrypted. Finally, the Zignaly platform headquarters do not undertake risks, and they do not support Binance US. and the traders inside the US. Cannot link their Binance account.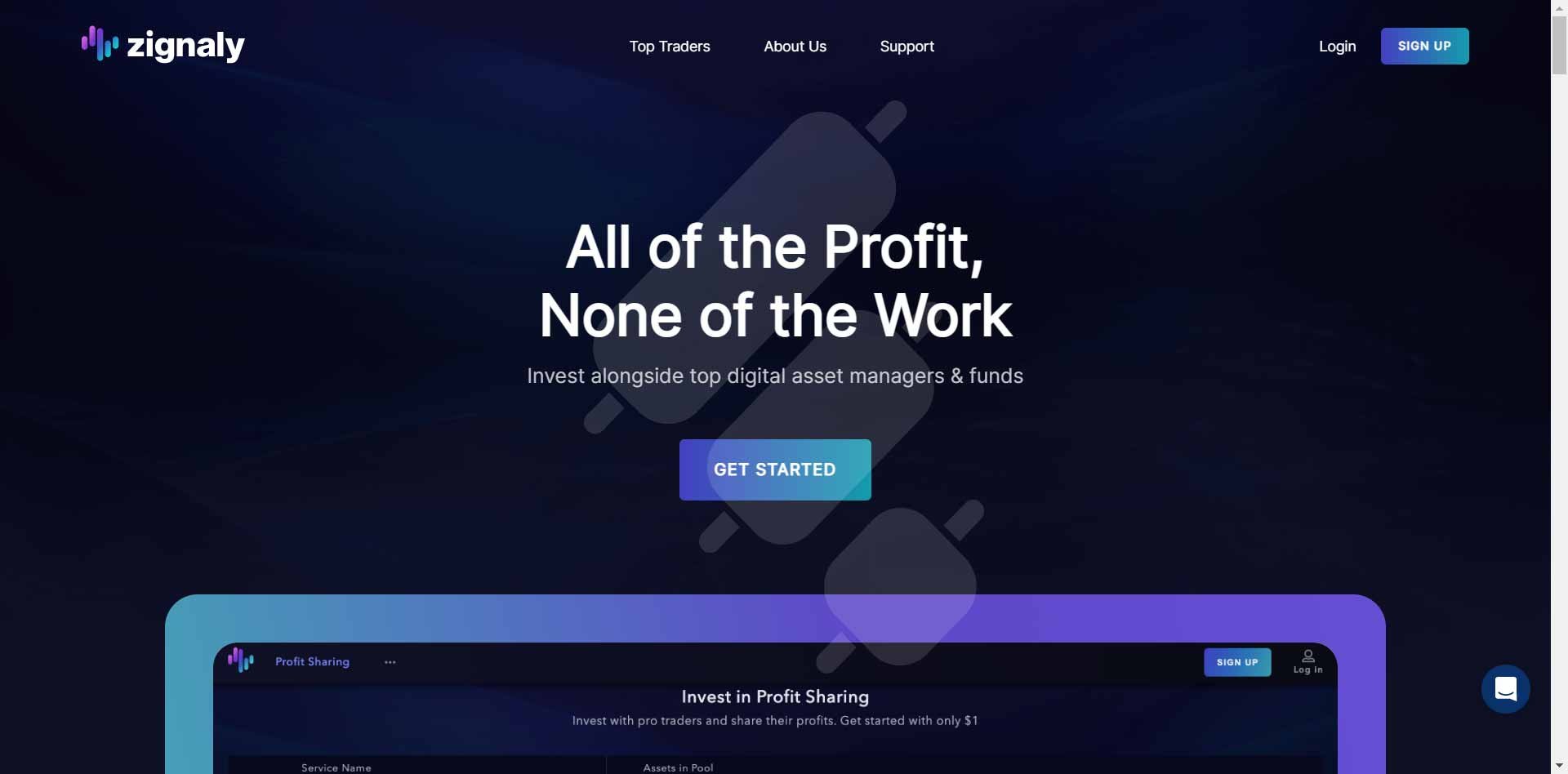 Key Features
The Zignaly score on Trustpilot is 3.9, which is satisfying, and there are no fraud reports, nor are they on a red list. Regarding the number of traders, they have 70,000 users with a trading volume of $1.7 billion. In addition, the interface on Zignaly is simple, the platform operates on a 24/7 basis, and the support team is available too. Finally, they allow you to develop your strategy and create and use trading bots. For more information, please check out the Zignaly review article.
Pros
• Diversity of Exchanges
• Profit-sharing feature
• Free features for beginners
• Simple interface
• Trading bots diversity
Cons
• Overwhelming information
• No mobile app
• US citizens not allowed
• Subscription fee
• Poor trading bots
Coinmatics
Coinmatics is a crypto copy trading platform located in the Netherlands. Traders can link their exchange accounts from Binance Spot, Binance Futures, OKX, and BYBIT. The minimum price on Coinmatics is relatively high, and the amount for traders is 500 USD and 150 USD for subscribers.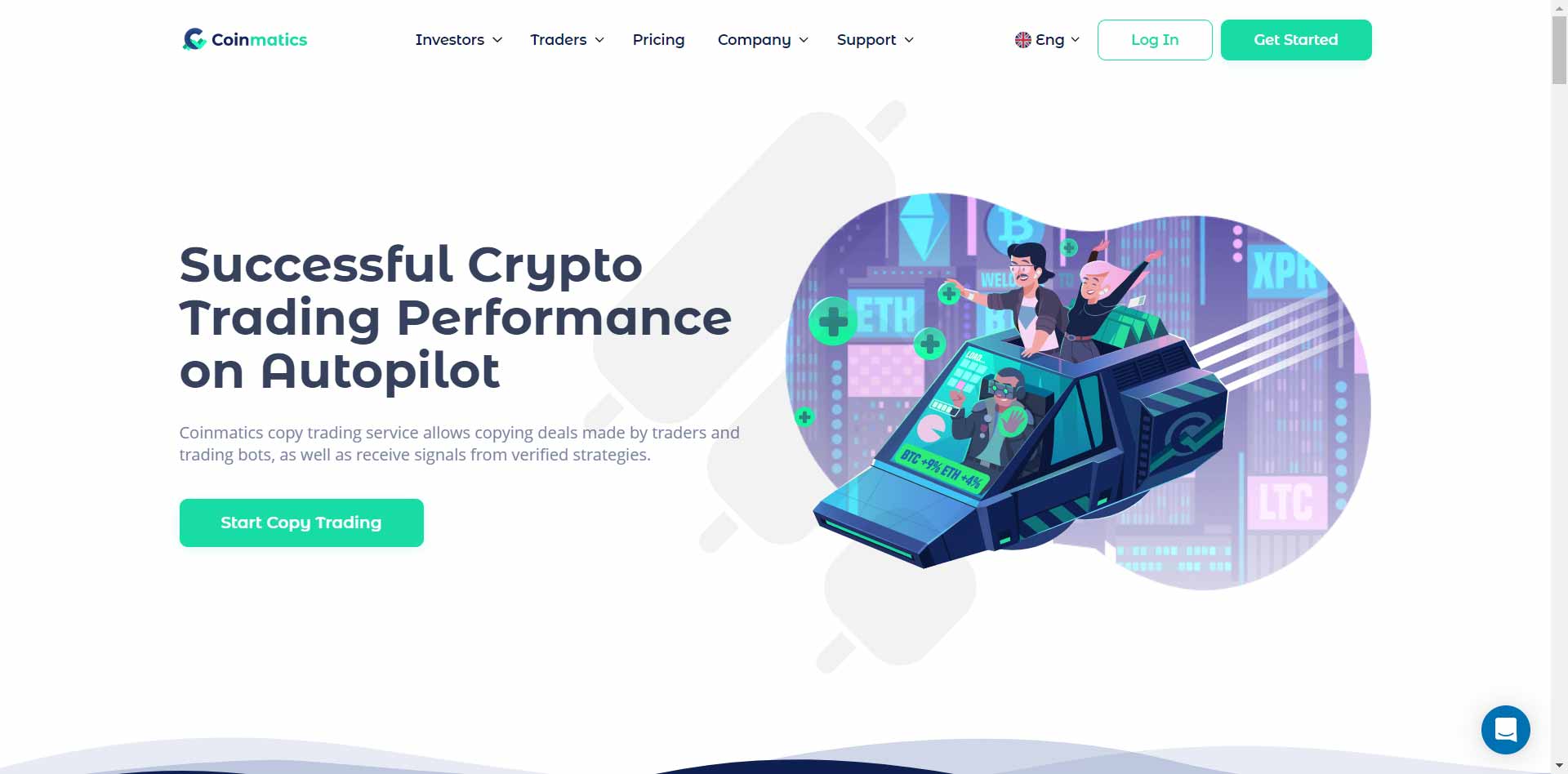 Key Features
There are some complaints about this copy trade app regarding the high prices. The Trustpilot score for this broker is 2.5, which is defined as poor. Speaking of the numbers, the order replication on Coinmatics has been reported in less than 2 seconds. The number of users on this platform exceeds 60,000, and they claim to manage more than $50M annually. The trading volume on Coinmatics surpasses $2.3B.
Pros
• Extra technical tools for pro traders
• Free demo account
• Simple interface
• Customer support
Cons
• High subscription fee
• $50 minimum deposit
• Limited account types
What Is the Most Profitable Crypto Copy Trading Platform?
To answer this question, several factors must be considered in the Binance copy trading platforms comparison. Some of the factors include the trader's appetite for risk, and some of the factors pertain to technical parameters offered by crypto copy trading platforms. Each platform listed above provides unique features that each trader or investor may find most suitable for themselves. For instance, Zignaly offers a profit share plan that may suit traders.
On the other hand, Finestel is more technological, and investors can customize their portfolios on request. Finally, Kryll.io is a good option for those seeking strategy trading. Generally speaking, several factors make a copy trading platform profitable, and one should have a holistic view in choosing a platform.
Binance Copy Trading Platforms Comparison, 2023 Summary
Platform
Supported Exchanges
Pros
Cons
Launch Date
Trustpilot Score
Binance
Binance futures
Learning opportunity for novice traders, Flexible investment options, Community interaction

 

Lead trader's strategy leakage, Eligible Regions
2023
–
Finestel
Binance spot, Binance Futures, Kucoin, Bybit, OKX
Simple interface, white label social copy trading for investment managers, client management dashboard, comprehensive  portfolio tracker, flexible billing, crypto MLM software, full branded integration, development on demand

No support for MT4 and MT5

2021
4.4
Wundertrading
Binance, Kucoin, Bitfinex, Derbit, Bitget, BitMEX, OKX, WOOX, Bybit, Coinbase Pro, MEXC Global, Kraken, Huobi, Gate.io
Simple interface, varied assets, advanced tools
No mobile app, service fee, weak portfolio tracker
2021
4.2
Kryll.io
Binance US., Coinbase, Kraken, Kucoin
Strategy builder, technical analysis tools
Complicated interface, no demo account, poor Customer support
2018
4.2
Zignaly
Binance, Bitmex, Kucoin, OKX
Diversity of exchanges, simple interface, trading bots
Overwhelming information, no US. traders, Subscription fee
2018
3.9
Coinmatics
Binance Spot, Binance Futures, OKX, Kucoin
Free demo account, strategy builder, simple interface
No margin, $50 minimum deposit, limited account types
2018
3.2
Conclusion
In this article, we have addressed the features that work well, especially with one of the best crypto trading platforms, Binance. The reason for choosing Binance was the fact that Binance is the most popular and the most important exchange in the world. There are dozens of copy trading apps worldwide; however, we have selected the top 5 crypto copy trading platforms. In addition, we did a thorough overview of Binance copy trading platforms comparison. In addition, the features were discussed, and the pros and cons were scrutinized. Finally, the best way to choose copy trading platform is to do a self-research on the subject and make an informed decision.
FAQ
What is the best crypto copy trading website for beginners?
The answer to this question depends on your needs, but according to the research, a beginner-friendly and simple platform for beginners is Coinmatics. However, if you are a pro trader, on Kryll.io, you can create your own strategy for trading. Also, for those who seek trading bots, Zignaly will finally satisfy them. Finally, asset managers and pro traders can enjoy Finestel customizable and comprehensive copy trading and asset management technology.
Is Binance copy trading profitable?
There are many factors that determine your profit in copy trading. These factors are a risk management system, a secure and fast-copy trading platform, and the trader you choose to follow. Overall, other indicators that determine the profitability of copy trading are time constraints, the capital amount invested, and the cryptocurrency market.
What are the fees associated with using a copy trading platform on Binance?
The fee amount varies among the platforms. However, it starts with a minimum of $20 on Coinmatics and $50 on Zignaly. Also, the subscription fee on Wunderbit varies, and the plan includes Basic ñ $9.95; Pro ñ $24.95; Premium ñ $44.95. On Kryll.io, they have a versatile plan that depends on the amount customers trade on their platform; for instance, if you trade $1000, the subscription fee for one month is $10. Finally, the service fee for investors on Finestel is $29, and the traders can enjoy a $0 service fee.