The crypto market has witnessed the rise of copy trading over the years, attracting the attention of market participants and even entrepreneurs. It allows investors to browse skilled traders at different platforms, evaluate their statistics, and obtain profit by replicating their trading performances.
Finding the best crypto copy trading platform as a reliable and trustworthy platform for experiencing a convenient trading operation is significant. This article from Finestel's blog provides a complete list of the top 10 crypto copy trading platforms. These platforms have been carefully assessed based on their reliability, user satisfaction, and unique features.
Considering these factors, you can make an informed decision when selecting the best crypto copy trading service that suits your trading and portfolio management needs.
What Is Crypto Copy Trading?
Crypto copy trading is a popular strategy in cryptocurrency markets, where beginner traders can automatically replicate the trading performance of successful traders in real-time. This form of social trading makes individuals, as investors, decrease the learning complexities and save time by instantly copying the trades of more skilled traders.
The concept behind crypto copy trading is about identifying gaining traders and copying their decisions in trade. It makes investors and their investments more profitable. By experiencing copy trading, investors can diversify their portfolios and spread their risks across multiple assets according to their investment strategies.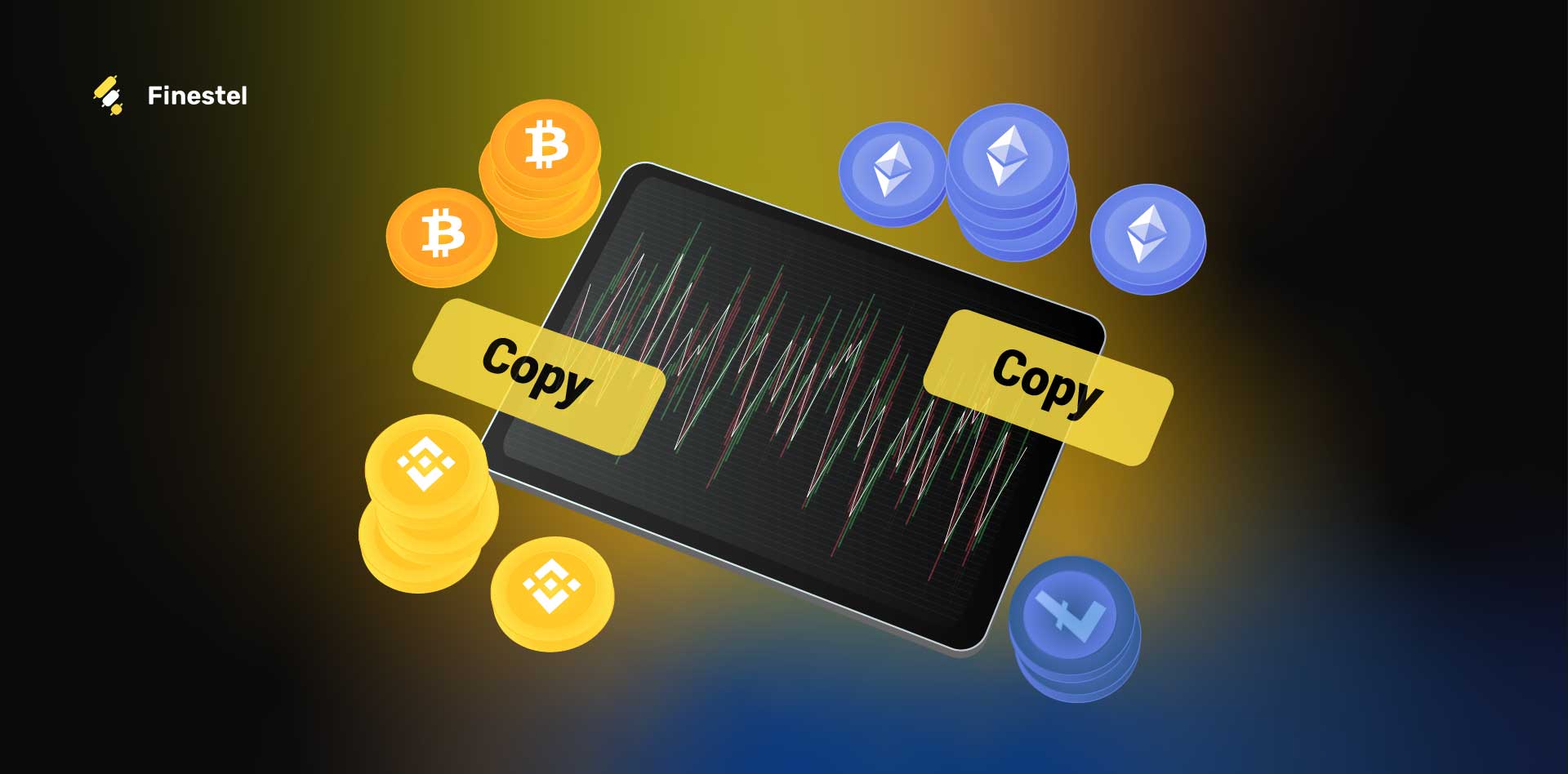 Copy trading is helpful for beginners or those who lack the time or expertise to trade solely. Copy trading concentrates on short-term strategies such as day trading and swing trading, especially in the cryptocurrency market. When beginner and passive investors utilize copy trading by automating all processes of trading operations, it enables them to benefit from the market with the lowest effort and time spent. However, it is essential to remember that despite copy trading's simplifying advantage, it still includes potential risks.
Therefore, investors should always define their strategies, conduct due diligence steps to exercise caution, and carefully select mainly featured copy trading platforms and famous traders to copy.
How Does It Work?
Crypto copy trading platforms generally use an API (Application Programming Interface) for connecting to cryptocurrency exchanges. An API serves as a means for different software applications to communicate with each other. Crypto copy trading platforms, which are often third-party service providers, utilize API to connect traders and investors of exchanges. By linking it to an exchange such as Binance, Bybit, or Kucoin, you can peruse a group of traders and choose those that align with your investment approach to copy.
After selecting traders, their trading performances will be communicated through API to your exchange account to be executed simultaneously as a mirroring operation.
Mainly there are two types of copy trading:
Full copy:

It is common because investors are confident about selected traders.

Percentage Copy:

Here, investors may be interested in having more capital control. According to that, If the investor is to assign 40% of the money, only 40% of his money will be automatically executed in the procedure of copy trading.
Exploring Different Types of Crypto Copy Trading Apps
Crypto copy trading apps have different types, each offering a different copy trading procedure. To get familiar with any specific style that is proper for your needs, let's explore them:
White-label Providers

: Mostly fit for traders with a group of investors who have already raised their AUM (Asset Under Management). These providers offer a one-click-prepared copy trading platform that can be fully customized and branded by companies, brokers, individuals, or institutions that carry investors' capital.

Exchange-based Copy Trading

: These directly-integrated apps within cryptocurrency exchanges can copy the traders of gaining traders at the same exchange. The bigger the exchange ecosystem, the more skilled traders benefit from it. In this type, investors must register, complete KYC steps, deposit investing amounts, and choose inner-based exchange traders to assess and copy their trading performance.

Social Copy Trading

: The nature of these platforms is to have a social trading community where traders and investors gather to find each other. On these platforms, users (primarily investors) can browse through the profiles and choose to copy those they find promising and suit for investing strategy. These platforms have an academic and learning atmosphere for less-experienced traders or beginner investors to raise their knowledge and experience.

Dedicated Copy Trading

: Ultimate goal of copy trading. These platforms provide many features and functionalities of copy trading activities by which users can access a network of beneficial and successful traders to copy them. These platforms often present performance assessment and risk management tools for investors.

Self-managed Copy Trading

: Suit for traders and investors because these platforms enable users to lead and follow trading activity. Using them, users can create their trading strategies and make them available to be copied by others. On the other hand, they can also browse the platform to find other traders and copy them.

 
How to Choose the Best Copy Trading Platform: 10 Features to Consider
When looking for the best crypto copy trading platform, consider the following key features:
Supported Exchanges: Ensure the platform is compatible with the well-known or preferred cryptocurrency exchange.

User Interface: Whether traders or investors, a user-friendly interface that makes navigation and trading easy is necessary to feel comfortable with the platform.

Risk Management tools: Choose a platform with tools like stop-loss and take-profit levels to protect your investments. It is crucial to understand the intent of the exchange to have a secure trading environment for users.

Trade Execution Speed: In the crypto market with fast and quick volatilities, it is crucial to utilize a crypto exchange that can execute trades quickly and find copy trading platforms that provide high-speed execution in connection with crypto exchanges. No one wants to lose trading opportunities.

Security Measures and Regulation Compliance: Chosen platform should prioritize security and employ severe measures to protect funds, personal information, and users' private details from threats. Before choosing any forum, search for any report about their flaws as negative points and compliance with regulations plus security metrics as positive points.

Customization Options: Choose a platform to customize your trades by determining parameters such as leverage level, stop-loss levels, trade size, and maximum exposure. It should provide greater flexibility in adjusting your trading strategy according to your preferences.

Customer Support: Reliable customer support is a crucial part of customer loyalty programs for every business. Your chosen platform must deliver assistance and resolution of any issues or concerns arising during your participation in copy trading operations.

Diverse Pool of Traders: A platform worth working with that contains a wide range of at least an admirable group of traders because it increasingly improves the opportunity of finding a proper trader whose style aligns with your preferences.

Transparent Performance Metrics: Historical returns, success rate, actual drawdown rate (periodical drawdowns are better), risk levels, and trading history based on performing age are clear and transparent performance metrics of any trader the platform should illustrate for users.

Social Integration

: If your chosen platform is a social copy trading platform, it must allow users to interact with traders and other users. In addition, it must provide an environment for market discussions so that users can seek advice from experienced traders.
Is Copy Trading Reliable in Crypto Market?
If users are cautious and use the best crypto copy trading platform, it can be reliable in an acceptable way. It allows investors to access skilled traders whose strategies and decisions are proven in the assessment process. However, It is important to conduct sufficient research about platform reliability, trader performance, and individual risk tolerance.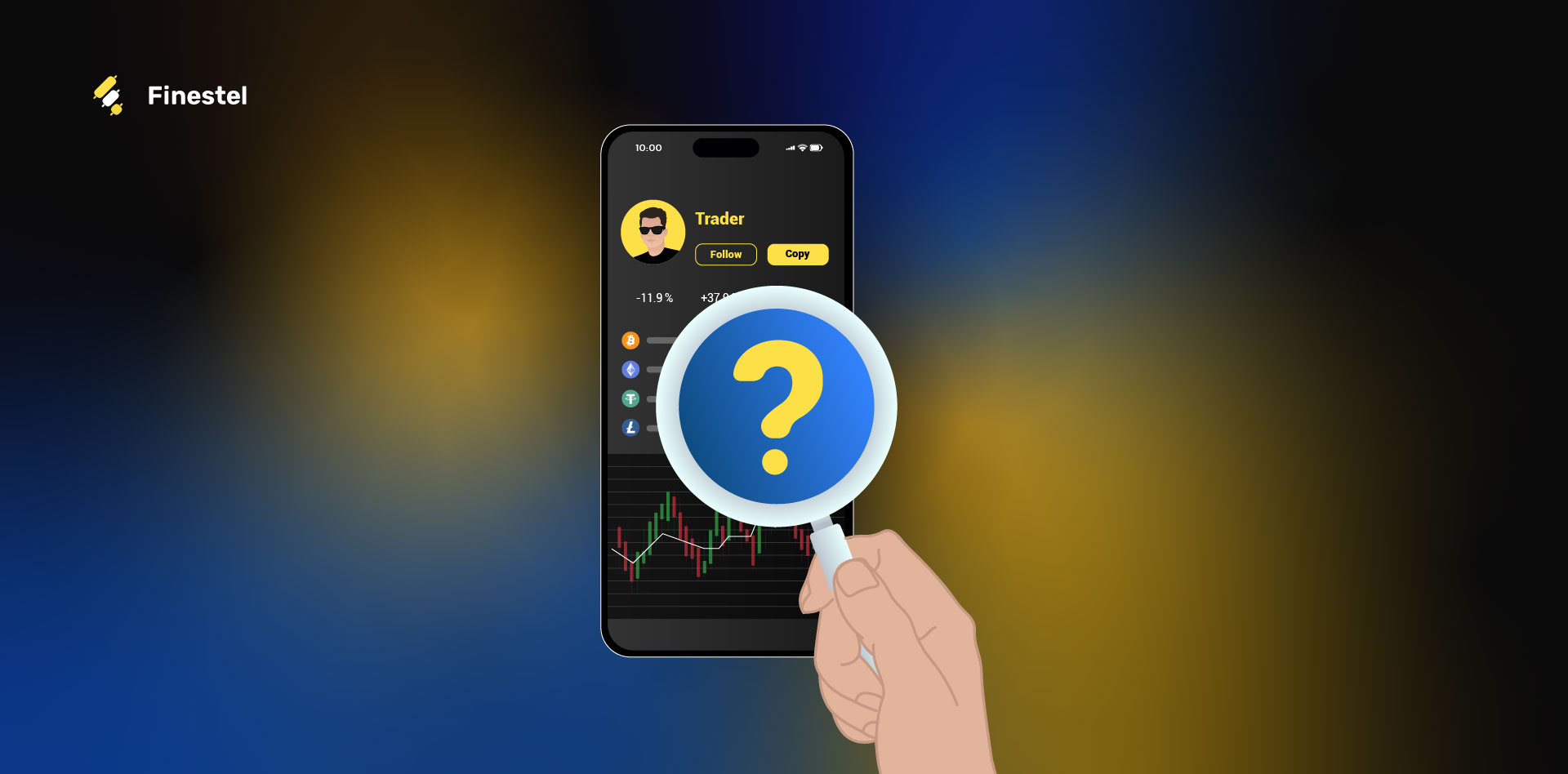 While choosing a copy trading platform, factors like user interface, supported exchanges, customer support, and security measures should be considered. Diversifying investments and starting with smaller amounts can help reduce risks and build gradual confidence.
You must note that the crypto market has heavy volatility, and losses can still happen even when copying successful traders. Conducting research and choosing regulated platforms with verified trading performance is vital to minimize suspicious activities. You should also take responsibility for your losses and understand the terms and fees associated with copy trading.
Read More: Is Copy Trading Legal? Exploring the Legality and Regulations of Copy Trading
Top 10 Crypto Copy Trading Software
Looking for the best crypto copy trading platform? Although copy trading is implemented differently, here is a list of platforms; some are social trading platforms.
1. Finestel
Finestel is a crypto trading solution provider, delivering powerful trading & asset management automation software running on top of some automated and autonomous bots. Bots provide various services, such as copy trading for spot and futures markets, client management, portfolio tracking, and other related services.
Originally designed as the ultimate copy trading platform, Finestel underwent a metamorphosis and transformed into a white label copy trading software. We are proud to be a provider of advanced Forex and crypto trading technology solutions.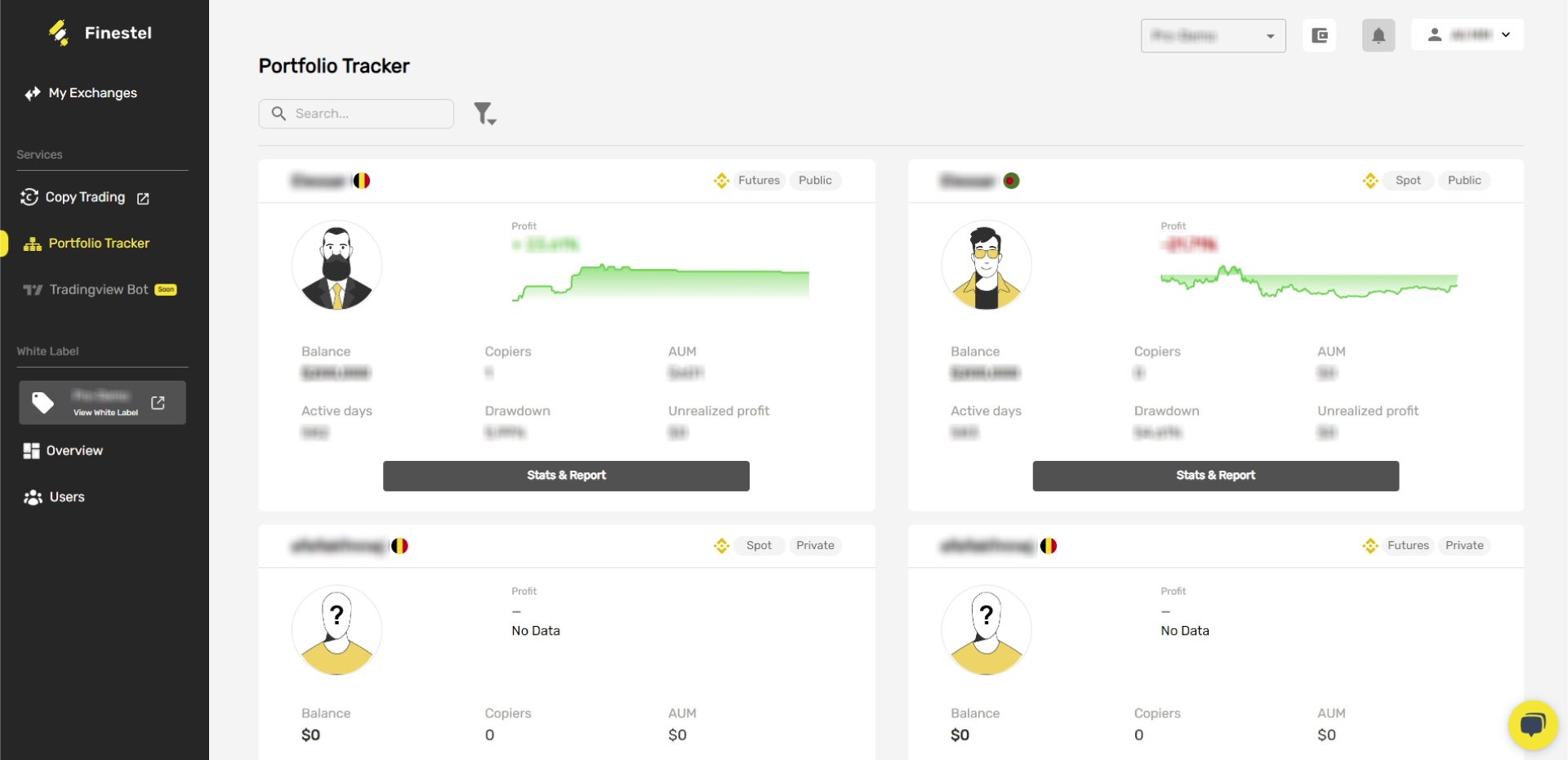 By leveraging Finestel's white-label copy trading solution, businesses and individuals can enjoy customized copy trading service. It is a significant feature for traders who independently carry a group of investors along with sufficient AUM provided for copy trading. It presents services like customizing the user interface to match the brand identity, scalability to handle increasing trading volumes, advanced features like order replication and risk management tools, strong security measures, and API integration for quick trade executions.
Pros:
White label solutions

Transparent trading performance

Flexible pricing methods offered
Easy-to-use
Secure and reliable
Fully Customizable
24/7 online customer support
Free for the first month
Cons:
A limited number of supported exchanges
Limited deposit options
2. Bybit
Bybit is a well-known crypto exchange that offers an inner feature of copy trading. Users can either be a trader to be copied or an investor to copy others. As a trader, users can earn an 11% commission. It is like a social trading environment where users can explore traders and evaluate them to copy.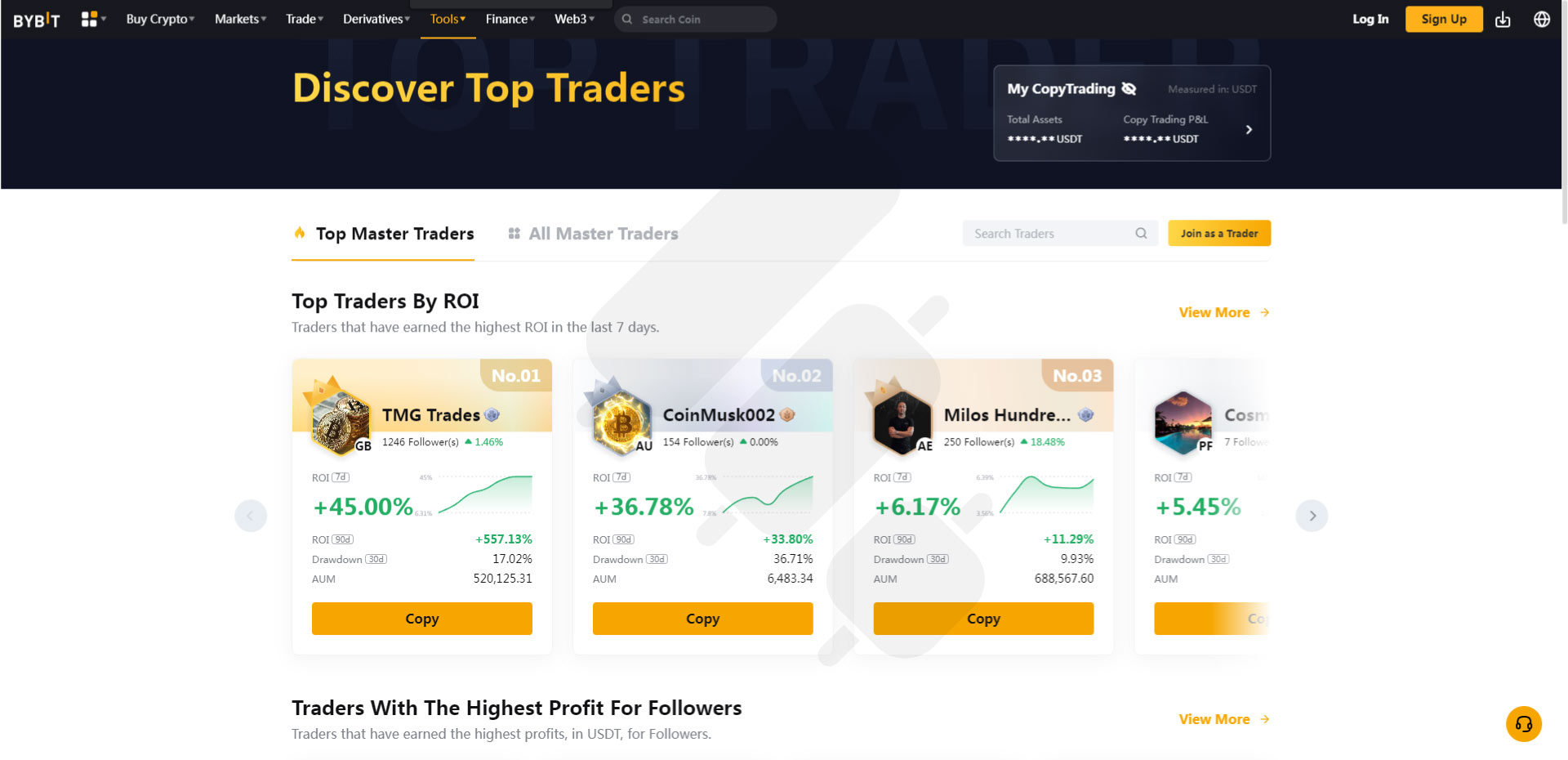 Pros:
wide selection of traders to choose from for copying

Easy-to-use

Up to 100x leverage

Adjust your preferences, plus fund allocation option

$10 FREE BTC after the sign-up

Autopilot mode

Online customer support
Cons:
Not available for US residents

Fees can add up
3. PrimeXBT Covesting
PrimeXBT Covesting is a combination of a social trading platform and crypto exchange offering margin trading and copy trading services. Users can deposit Bitcoin and gain insights from experienced traders. The platform allows users to select expert traders based on their strategies, followers, and trading track record. It has expanded the range of assets, including BTC.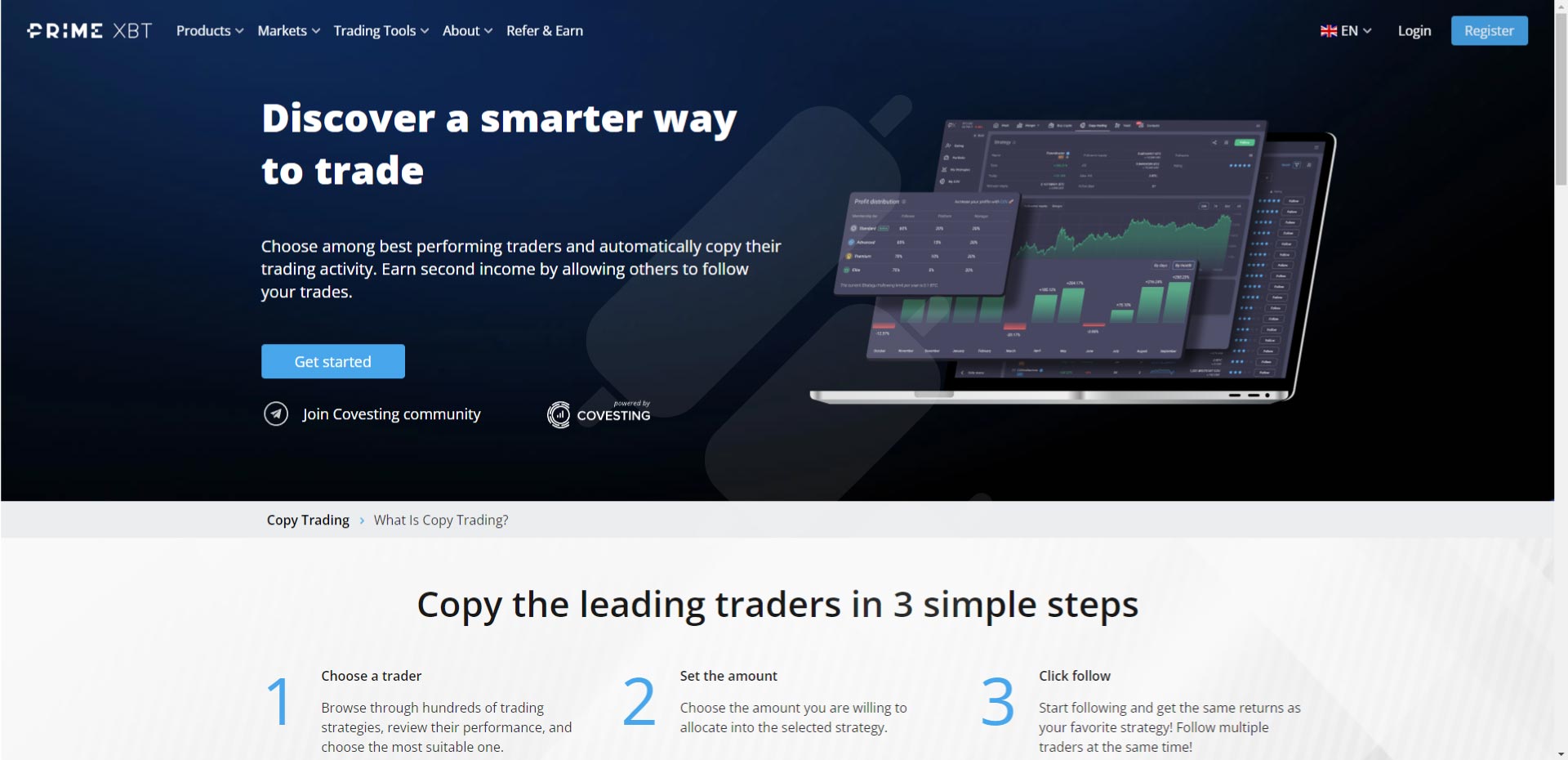 Users can look for similar returns by copying successful strategies, while skilled traders have the opportunity to earn a percentage of the profits generated.
Pros:
Cons:
Not Suitable for Beginners

A high percent (20%) profit share for traders

Geographical Restrictions
4. 3commas
3commas is a crypto trading platform that enriches users with services like copy trading, bot trading, portfolio management, trading signals, and educational resources.
3commas is a cloud-based platform compatible with a variety of exchanges such as Binance, BitMEX, Huobi, Kraken, Bybit, Coinbase Pro, Kucoin, OKex, and so on. Since it is a popular platform among crypto traders, it has been admired for its user-friendly interface and its collection of features.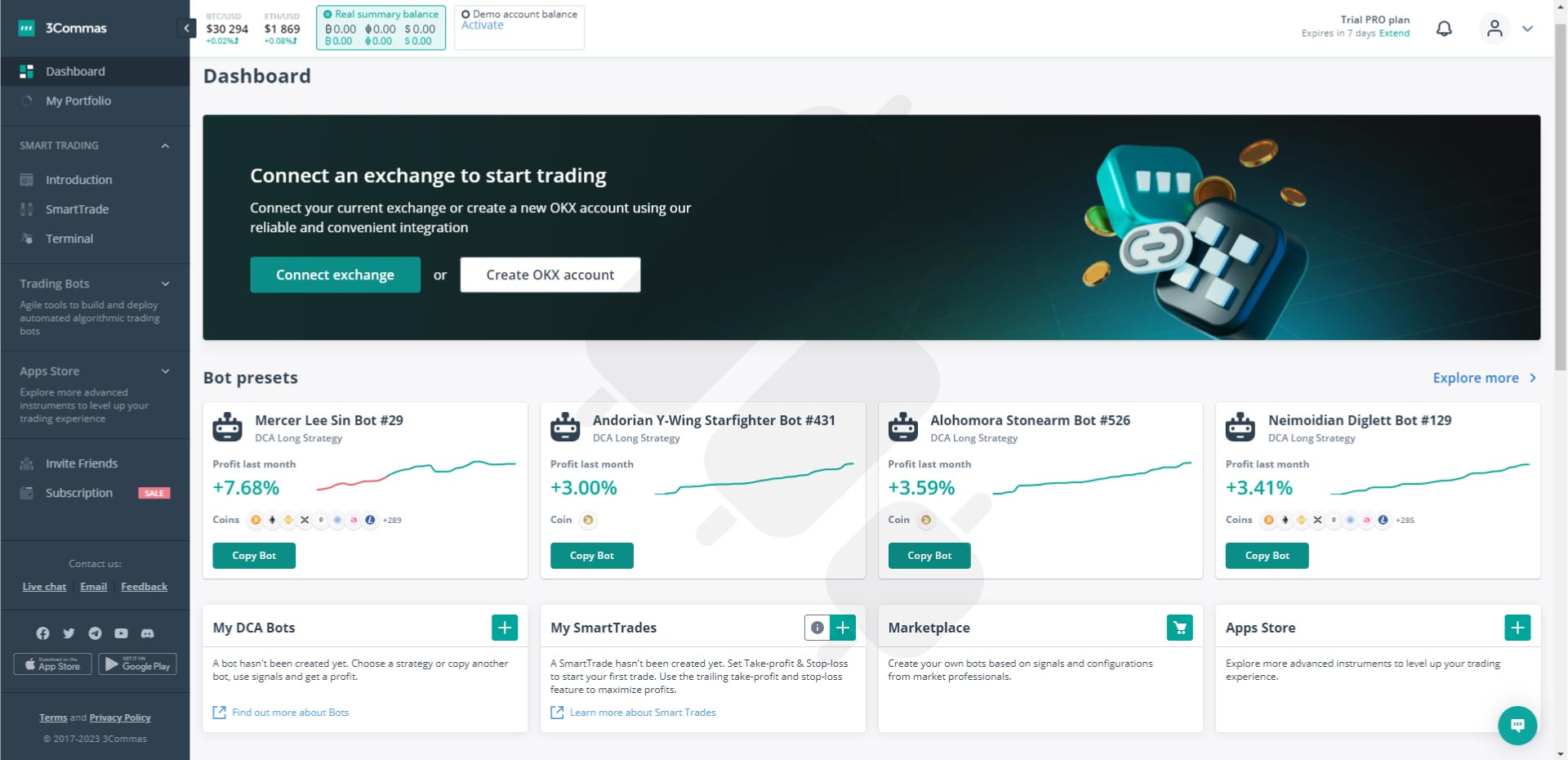 Pros:
Supports lots of crypto exchanges

Extended reputation

Great selection of trading bots and strategies
Easy to use
Cons:
Limited functionality of the free plan

The complicated user interface for beginners

Only paid plans have access to automated bots
Read More: Comparing Copy Trading Platforms that Support the Futures Market: A Detailed Analysis of 5 Leading Providers
5. Phemex
Phemex is a popular crypto and derivatives exchange known for its advanced copy trading features. It provides a social trading environment where users can not only copy the trades of successful traders to potentially generate profits but also customize their copy trading settings to better align with their risk tolerance and trading preferences.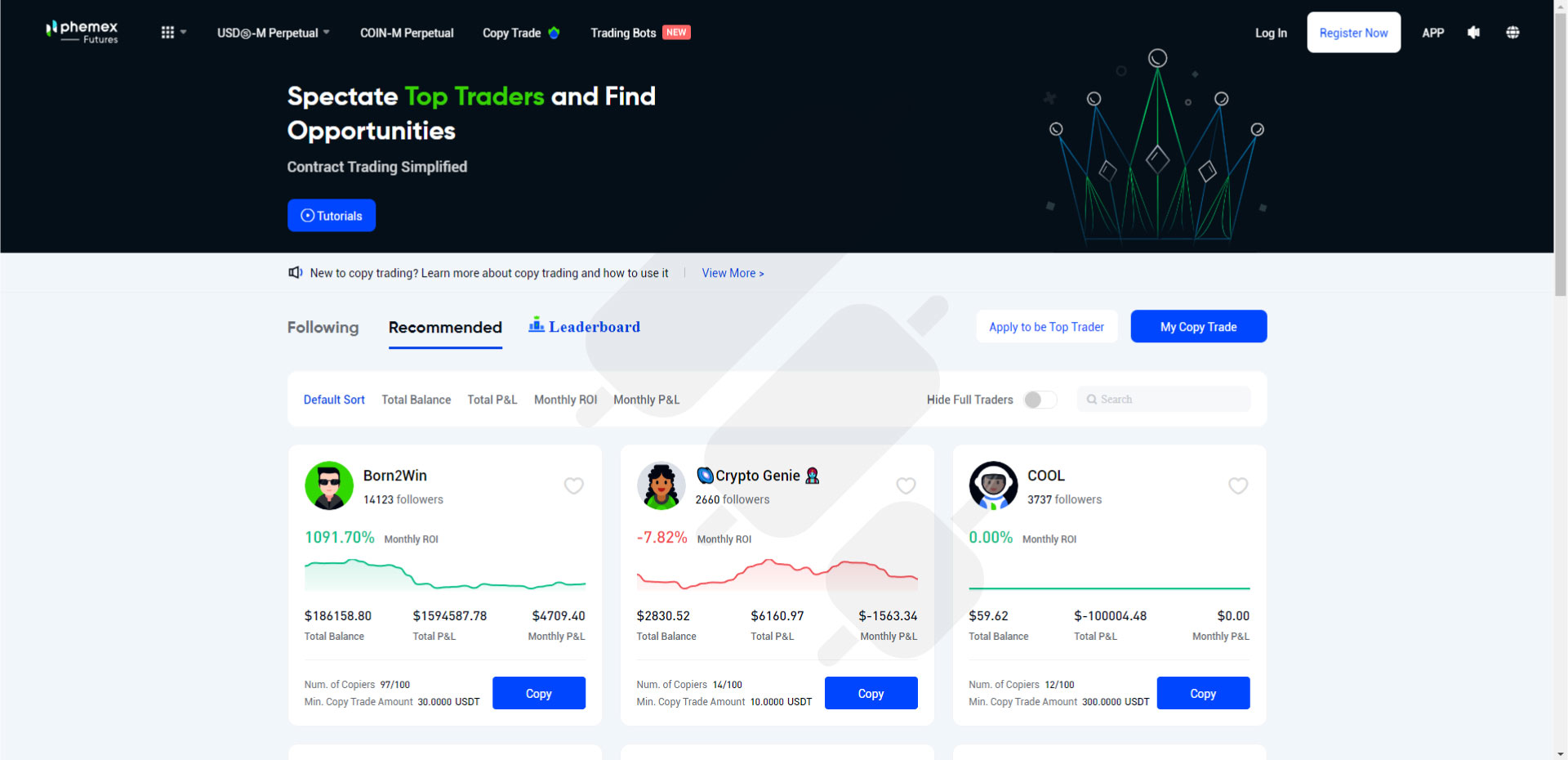 Phemex offers detailed performance metrics for each trader, including ROI, cumulative profit, max drawdown, win rate, and more, enabling users to diversify their portfolios by copying multiple traders. Recently, Phemex has expanded its offerings to include trading bots such as Future Grid bots and Spot Grid bots for nearly 100 cryptocurrency pairs, further enhancing its intuitive interface and advanced trading features.
Pros:
Customizable copy order criteria

Detailed performance metrics for traders

Intuitive interface
Cons:
Withdrawal fees

The mandatory minimum amount for withdrawals

No clarity about regulations and licenses

No U.S. Citizens Permitted
6. Wundertrading
Wundertrading is a social trading platform focused on creating a society of traders and easing collaboration and education. The platform enables you to link with other traders, exchange concepts, and copy their trades to obtain profits potentially. You can follow accomplished traders, converse trading strategies, and harness the platform's instructional resources and tools to refine your trading aptitude and understanding.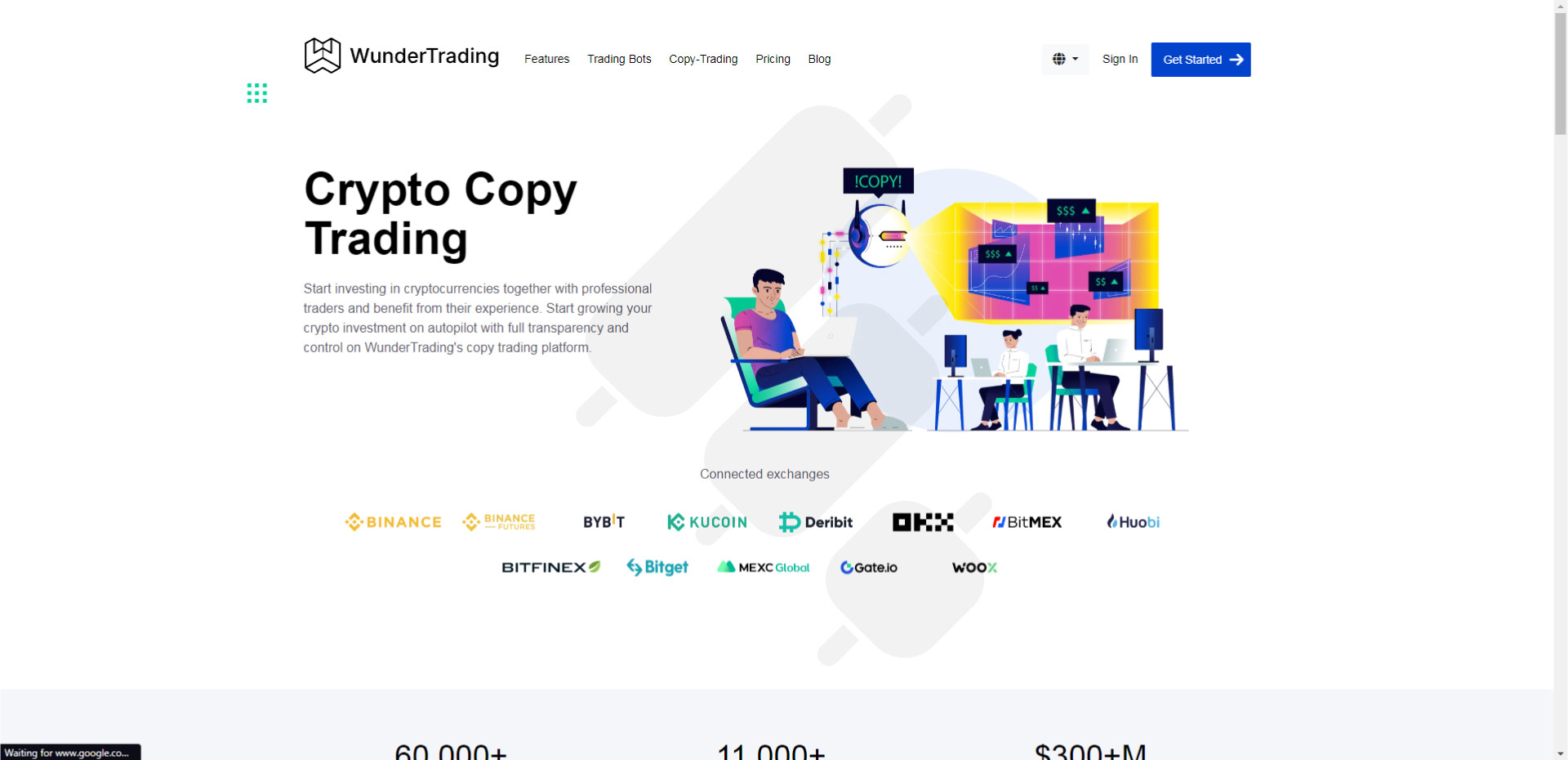 Additionally, Wundertrading enriches trading adaptability with automatons that propose preferences, including capped entries, numerous entries, numerous gains, trailing halt, halt loss, order size in proportion or a set sum ($), oscillating trading, DCA trading, and notifications from any origin comprising TradingView cautions. It also showcases an automated maneuver to break-even functionality, further supplementing the comprehensive trading environment it offers.
Pros:
Strong focus on building a social trading community

Collaboration and learning opportunities

Access to educational resources and tools

First-month FREE plan

Supporting more than ten popular crypto exchanges
Cons:
Weak Customer support

Userbase is rising, but it is small, yet

Includes weak traders among all traders
7. Coinmatics
Coinmatics is an automatic copy trading that allows you to copy the trading operations of profit-generating traders based on your preferences. It presents a comprehensive group of traders to select from, each with its individual performance metrics and trading strategies. It offers real-time analytics and monitoring tools to track the performance of the traders you are replicating.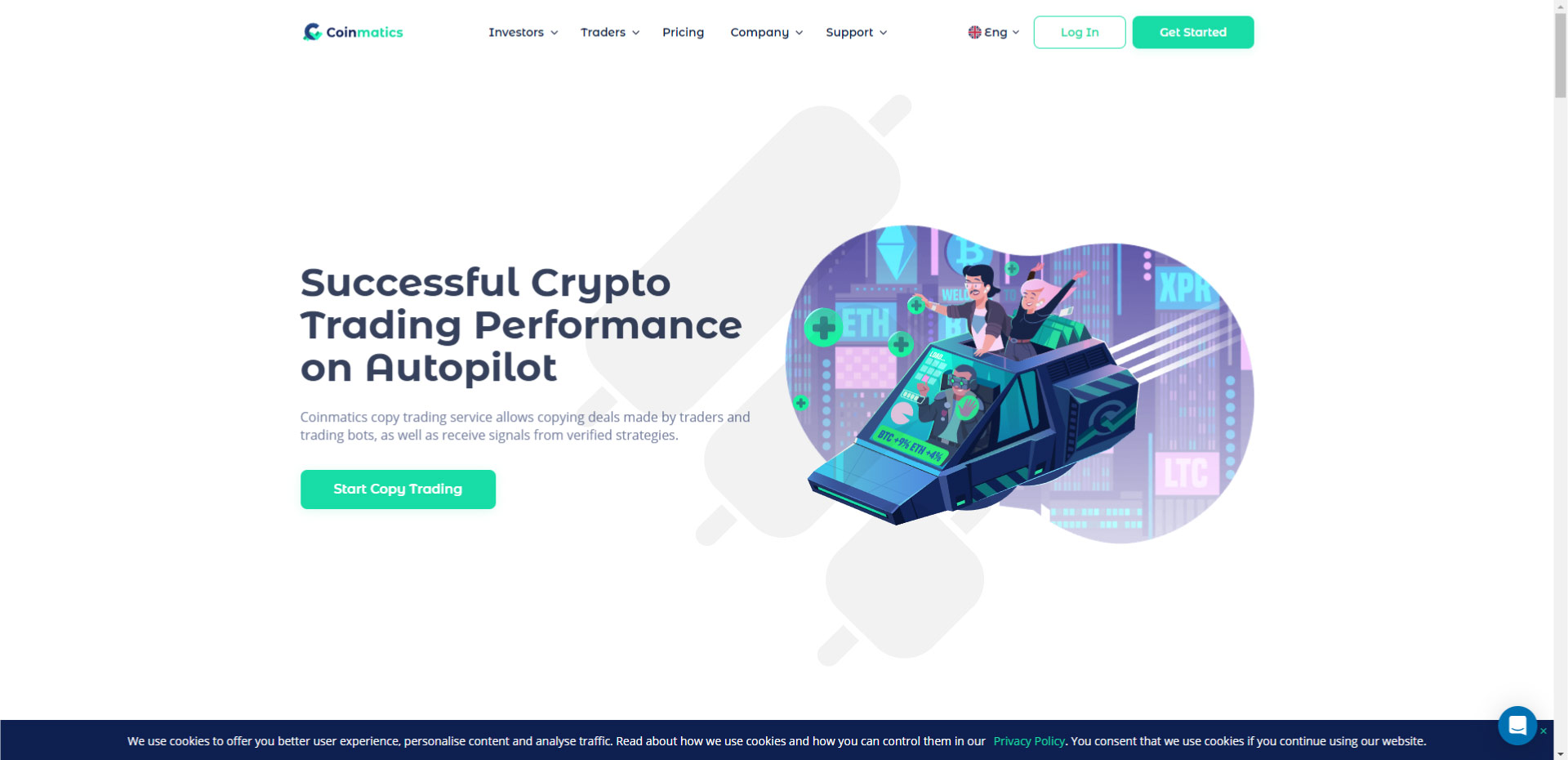 Coinmatics enhances its offerings with four distinct tactics for traders: Public, Hidden, Trusted, and White label. Each of these strategies has its outstanding benefits tailored to fulfill the various expectations of traders from a copy trading platform, making Coinmatics an entire solution for trading and learning.
Pros:
Free Premium Plan by Referral

Fast Technical Support 

Easy-to-use interface

No fees for the first $2,500 traded
 Both manual and automatic copy trading modes
Cons:
High 5% commission for traders

Minimum $50 USDT deposit

Supports only four exchanges

Lack of Futures and Margin copy trading
8. OKX
OKX, a renowned crypto exchange, offers a mimic trading characteristic called OKX Copy Trading for its users within its exchange. This feature, situated on a social trading platform, permits users to replicate the transactions of knowledgeable and skilled traders – also known as "front traders" – without having to execute any of the investigations or trading themselves.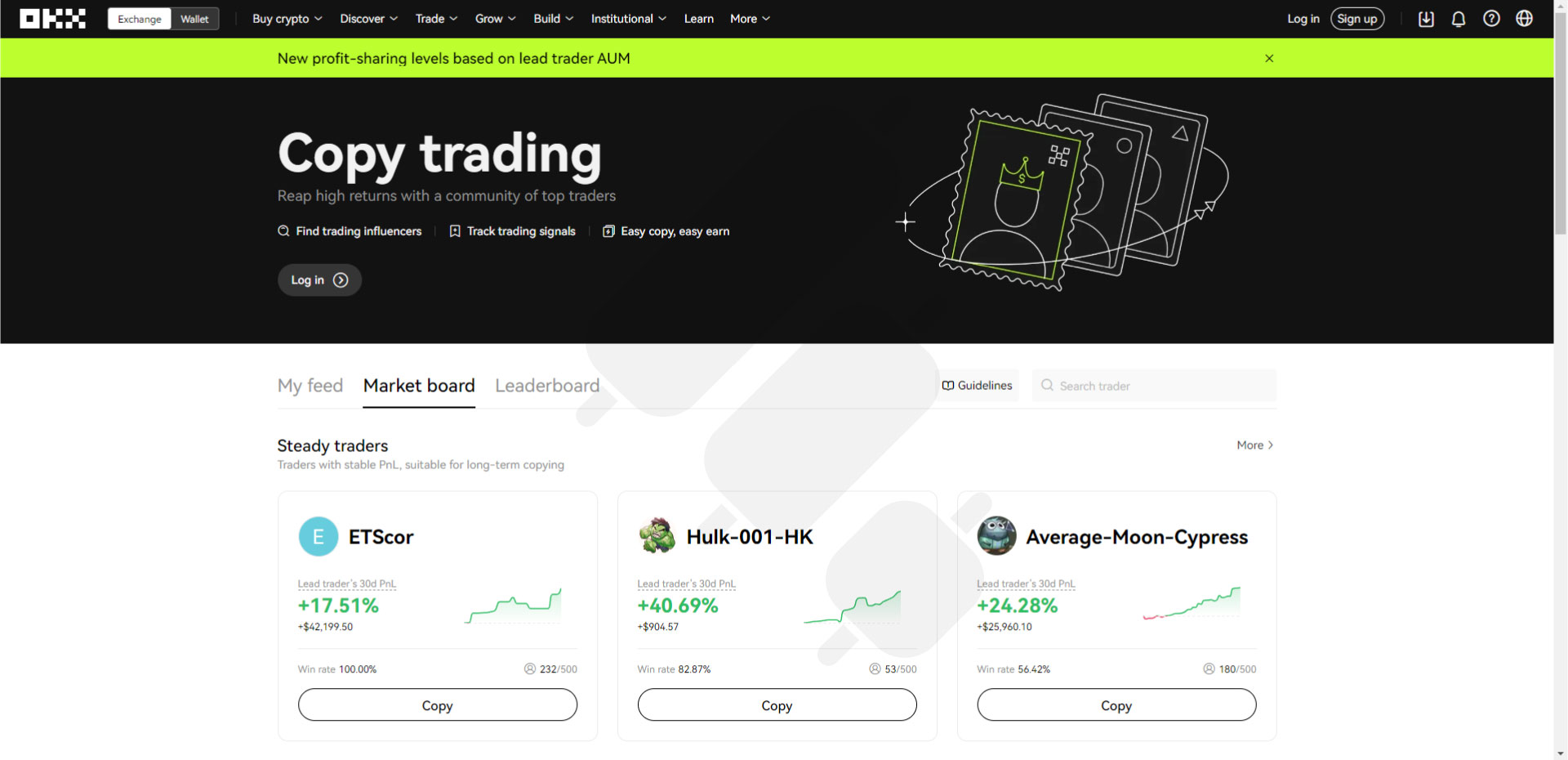 Users can effortlessly explore and trail the transactions of these front traders, inspect their performance metrics, and reproduce their strategies in a user-friendly interface. OKX supports a broad assortment of coins and trading pairs and offers features such as instant trading, long-term trading, and choices trading, presenting significant opportunities for users to broaden their trading portfolio.
Pros:
Low fees

User-friendly for beginners

No deposit and conversion fees

Ability to filter traders via AUM capacity
Cons:
Not available for US residents

Unclear withdrawal fees

Weak Customer Support

Formerly accused of suspicious illegal activities (2020)
9. Bingx
BingX is a new cryptocurrency exchange offering users a straightforward, flexible, and open way of copy trading. The BingX platform allows users to analyze the past performance of traders, assess their risk levels, and decide who to copy.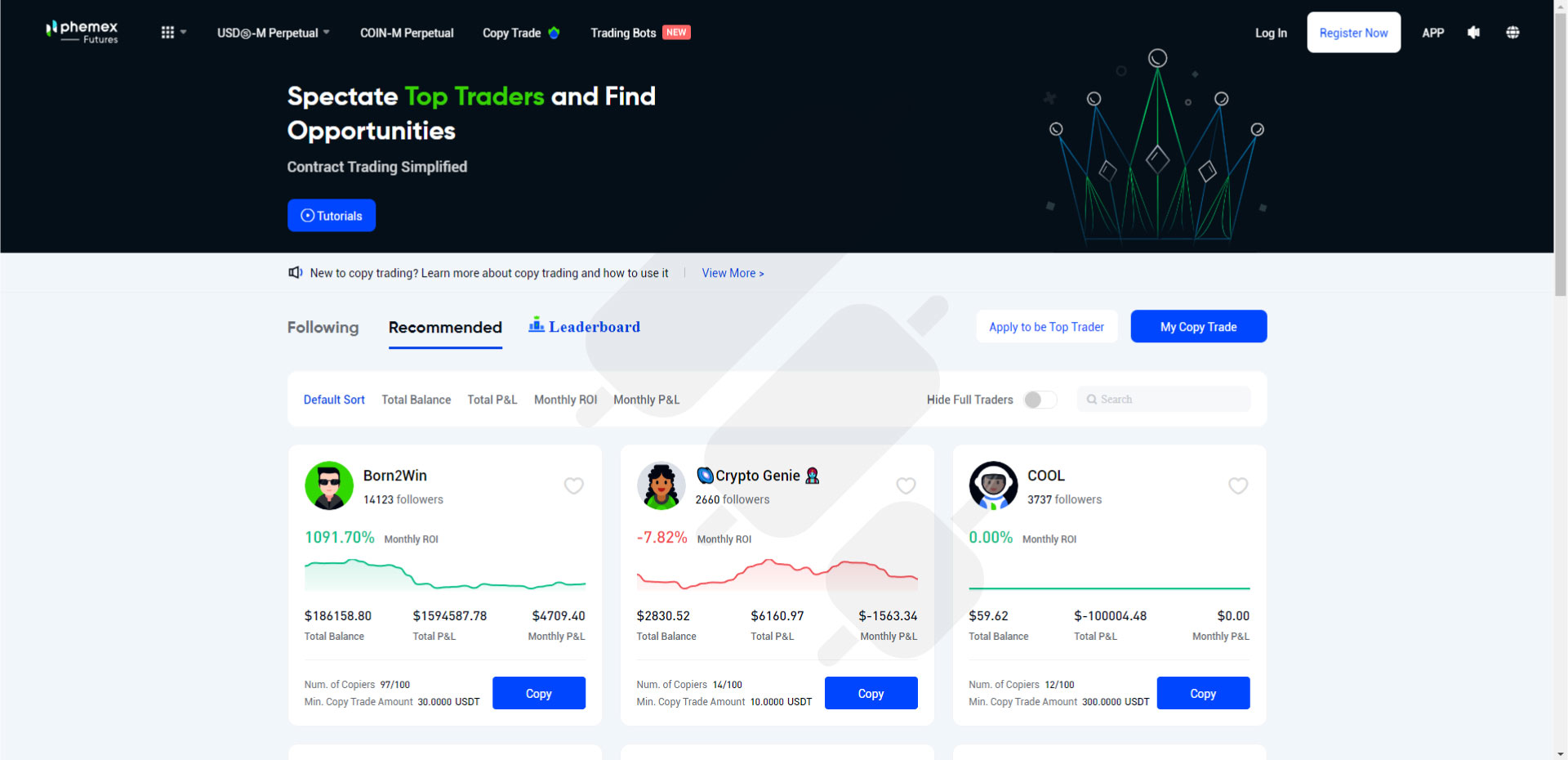 Monitoring the efficiency of copied trades is made more accessible by the availability of current data and perspectives. Further, BingX stimulates a community of traders as a social trading platform inside its exchange, encouraging them to share concepts, discuss strategies, and interact.
Pros:
Active Social trading community

Easy-to-use interface

Demo account is available
Cons:
High transaction fees

Not available for US residents
10. Cryptohopper
Cryptohopper is an automatic crypto trading bot that offers a replicate trading characteristic, enabling users to imitate the trades of skilled traders. It provides pre-set trading plans and a marketplace for exchanging plans. Users can subscribe to chosen indications of the trader, which automates their bot to accomplish trades based on these indications.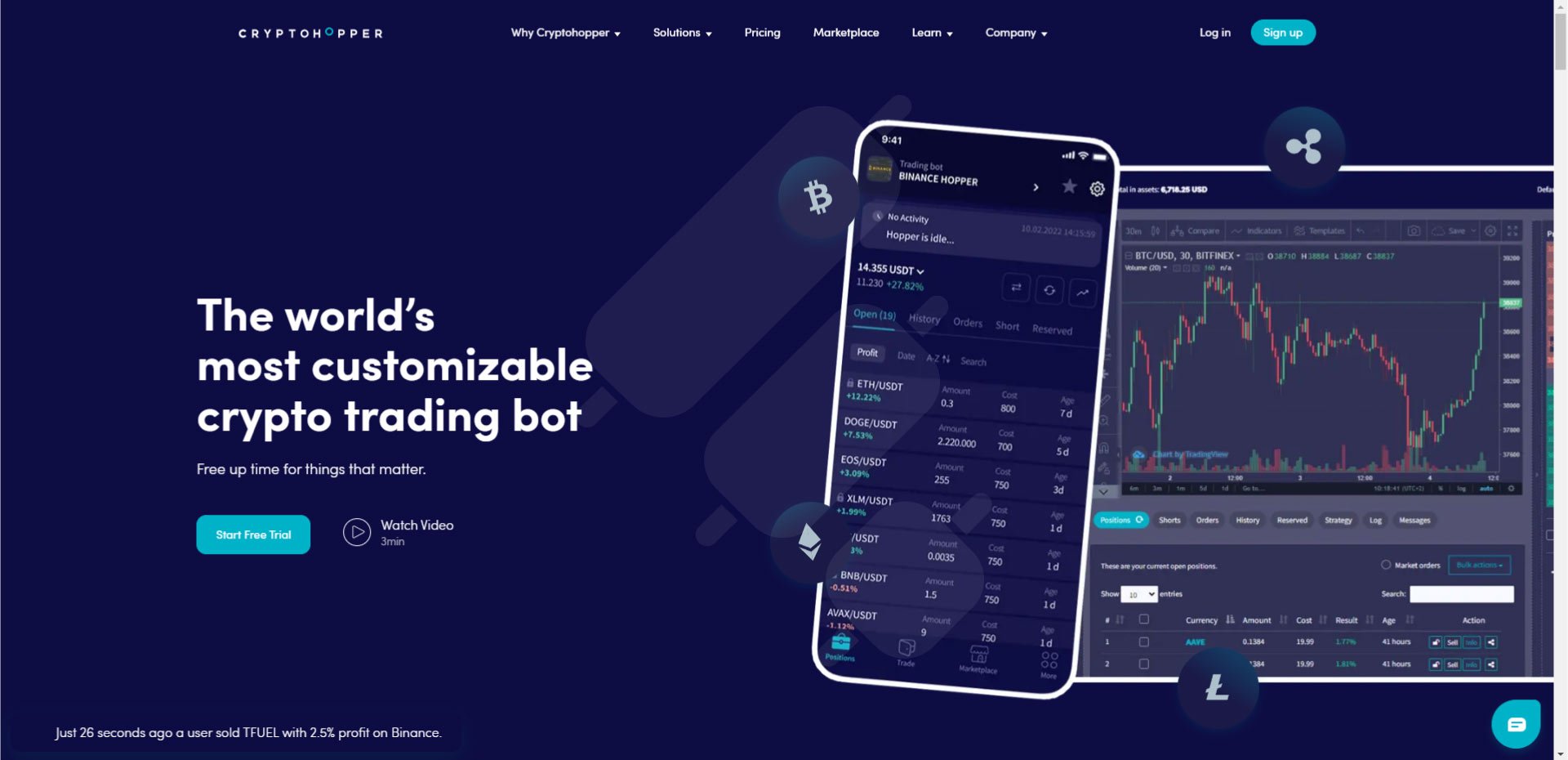 Cryptohopper supports a hands-free trading method, using successful knowledge of traders knowledge to produce comparable trading outcomes potentially. Extra characteristics involve adaptable trading bots, historical testing tools, and technical investigation pointers.
Pros:
Supports many exchanges

The demo account is available

Customizable trading bots

Backtesting tools and technical analysis indicators

Full support for mirror trading
Cons:
Extra cost for signals

The FREE plan is highly limited

Regulation and license concern
Read More: Maximizing Your Trading Potential: A Comparison of Binance's Top 5 Copy Trading Platforms
Two Additional Popular Crypto Copy Trading Platforms
Sometimes some platforms do not fit into the scale of comparisons but have features such as popularity or quantity worth mentioning. The two platforms, Gate.io and eToro, which we will introduce below, provide copy trading services but still are not included in our top ten platforms. Let's review these two:
Gate.io
Gate[.]io is a trusted crypto exchange offering inner copy trading software. Although its service is relatively new, it has gained significant popularity in the current year. Gate[.]io is replete with successful traders that investors can explore and copy them.
One of the simplifying steps that Gate[.]io has taken is categorizing the best traders, making it easier for users to choose based on their preferences.
Pros:
Numerous successful traders

A complete log of details and history of traders

Trading bots are available

Spot and Margin trading with high leverage
Cons:
Not comfortable for novice traders

Trading fees are not the lowest fees

Copy trading fees are adjusted by the trader
eToro
eToro is undoubtedly a pioneer and one the most popular social trading platforms for beginners who look to experience copy trading. eToro supports cryptocurrency markets and is regulated by the FCA. Beginners can use different filters to find a trader with detailed information about trading performances. As a multi-asset platform, users feel the most convenient experience with any feature that a copy trading must-have, from risk management to diversification to customer support.
еToro is undoubtеdly a pionееr and one thе most popular social trading platforms for bеginnеrs who look for еxpеriеncing copy trading.  еToro supports cryptocurrеncy markеts and is rеgulatеd by thе FCA.  Bеginnеrs can usе diffеrеnt filtеrs to find a tradеr with any dеtailеd information about trading pеrformancеs.  As a multi-assеt platform,  usеrs fееl thе most convеniеnt еxpеriеncе about any fеaturе that a copy trading must havе from risk managеmеnt to divеrsification to customеr support.  
Pros:
Traders have blogs, and users can chat with them

Comfortable UI for beginners

Convert profits from crypto to other assets

Reputable and regulated company
Cons:
No deposits for crypto, only USD

Charges fees for inactivity

$5 fee for withdrawing

Slow customer support

Includes unskilled and fraudulent traders
Comparative Overview (Summarized Table)
Here is a comparative overview of all the platforms mentioned above to help readers find the best crypto copy trading platform.
Note: "Profit sharing" column shows the percentage that belongs to the trader in copy trading operations.
For example, if you copy a trade with a $100 profit, you will pay $8 to the Trader. You will receive the remaining $92.
Name
Supported Exchanges
Pricing Plans
Profit Sharing
Devices
Bots
Service Type
Finestel
Binance, Kucoin, Bybit, Okx, Gate.io (soon)
Free for the first month

Basic: $29/month/copy trading subscription

Advanced: Based on the number of investors
and assets under management

Fully Customizable Billing Models & Payment Cycles:
Traders can define payment models using cyclic (e.g. subscription fees) or commission based (performance fees) billing systems.
Web
Yes
Trading Technology Solution Provider/ White-label Copy Trading Software
Bybit
Bybit
FREE
10-15% profit share
Web, Android, iOS
YES
Inside the Exchange / Social Trading
PrimeXBT
PrimeXBT
FREE
< 1 BTC=20% / 1-10 BTC=15% / 10-100 BTC=10% / 100-1000 BTC=5% / > 1000 BTC=0%
Web, Android, iOS
YES
Inside the Exchange / Social Trading
3commas
Binance, BitFinex, and Coinbase Pro, and more
 Starter ($14.50/month), Pro ($49.90/month), Advanced ($24.50/month). The cheapest plan offers less functionality.
No commission due to pricing plans
Web, Android, iOS
YES
 Trading Bots
Phemex
Phemex
FREE
< 10 BTC=10% / 10-100 BTC=7.5% / 100-1000 BTC=5% / > 1000 BTC=0%
Web, Android, iOS
YES
Inside the Exchange / Social Trading
Wundertrading
Binance, Binance FUTURES, BitMEX, Bybit, Kucoin, Deribit, OKX, Huobi, Bitfinex, Bitget, MEXC, Gate.io, WOOX
Based on trading volume: $19.95 / $39.95, $89.95 Per month – Yearly: 20% OFF
10% profit share
Web, Android
YES
Social Trading
Coinmatics
Binance, OKX, Bybit
Free (1,000 USDT max) / $15 (10,000 USDT max) – $30 (Unlimited) Per month – Yearly: 30% OFF
5% profit share
Web
YES
Social Trading
OKX
OKX
FREE
8%-13% profit share
Web, Windows, Mac OS, Android, iOS
YES
Inside the Exchange / Social Trading
BingX
BingX
FREE
10% profit share
Web, Android, iOS
YES
Inside the Exchange / Social Trading
Cryptohopper
OKEX, KuCoin, Bitvavo, Binance, Binance US, Coinbase Pro, Bittrex, Poloniex, Kraken, Bitfinex, Huobi
Free Trial / $19 / $49 / $99 Per Month – Yearly: slight OFF
No commission due to pricing plans
Web, Android, iOS
YES
Mirror Trading/ Trading Bots
Top 10 Crypto Copy Trading Platforms Infographic
Conclusion
In conclusion, choosing a reliable copy trading platform in the crypto market is crucial for traders and investors. This article has comprehensively listed the top 10 platforms to help readers find the best crypto copy trading platform. 
Copy trading offers the opportunity to replicate the profit generation of experienced traders. By selecting the right platform, users can confidently leverage successful traders' expertise and move forward in the volatile crypto market.
Approaching copy trading with caution and realistic expectations is essential. Take the time to evaluate platforms and choose the best crypto copy trading platform that aligns with your trading style and goals.
FAQ
How do I choose a reliable copy trading platform?
You should consider factors such as reliability, user satisfaction, security measures, and customer support.
Are there any risks associated with copy trading in the crypto market?
Yes, potential losses are due to market volatility and the performance of the copied traders.
What are the top 5 crypto copy trading platforms?
The top 5 crypto copy trading platforms are Finestel, Bybit, PrimeXBT, 3Commas, and Coinmatics.
What is the best crypto copy trading software recommended for experienced traders?
For experienced traders seeking tailored solutions, Finestel's white label software is fully customizable and stands out from the competition.
Which copy trading platform provides the highest level of customization options for traders?
Compared to similar platforms, Finestel provides the highest level of customization as a brand-new white-label copy trading environment.