Copy trading can be beneficial for both professional and novice traders. Traders can benefit from higher profits and a larger audience. Simultaneously, novice traders can benefit from lower risks and access to successful traders. The futures market is known for its high-risk nature, which can be challenging for new traders and profitable for expert traders, but using copy trading platforms that support the futures market will be a win-win transaction for both.
In this article, we will explore the top 5 copy trading platforms that support the futures market, examining their features, fees, and user ratings. Whether you are a professional trader looking to expand your audience or a novice trader looking to learn from the best, these platforms offer a range of benefits that can help you achieve your trading goals.
Only you can determine your choice of attitude. Choose wisely, choose carefully, choose confidently!
Charles R. Swindoll
What are Copy Trading Services that Support the Futures Market?
Copy trading services that support the futures market provide investors with a powerful tool for replicating the strategies and actions of successful traders. By automating trades and replicating the actions of experienced traders, copy trading makes it easy for investors to access the wisdom of the most successful traders in the futures market.
This not only saves time on research but also helps to reduce the risks associated with trading in this high-risk market. With the help of copy trading service providers that support the futures market, investors can benefit from the success of professional traders and avoid disastrous consequences, all while maximizing their potential profits.
Expert traders can also benefit greatly from copy trading services that support the futures market. By sharing their successful trading strategies and actions with other traders, expert traders can expand their audience and increase their profits.
Copy trading services provide a platform for expert traders to showcase their skills and attract new followers, which can lead to increased profits and a larger community of like-minded traders.
Additionally, expert traders can use copy trading services to diversify their portfolios and reduce their risks by replicating the trades of other successful traders. This can help to reduce the risks associated with trading in the futures market and increase the chances of success.
Why Crypto Futures Market?
A futures market is an auction market in which participants buy and sell commodity and futures contracts for delivery on a specified future date. Futures are exchange-traded derivatives contracts that lock in future delivery of a commodity or security at a price set today. 
Futures contracts are standardized agreements traded on regulated exchanges, enabling traders to speculate on future price changes or underlying asset price movements.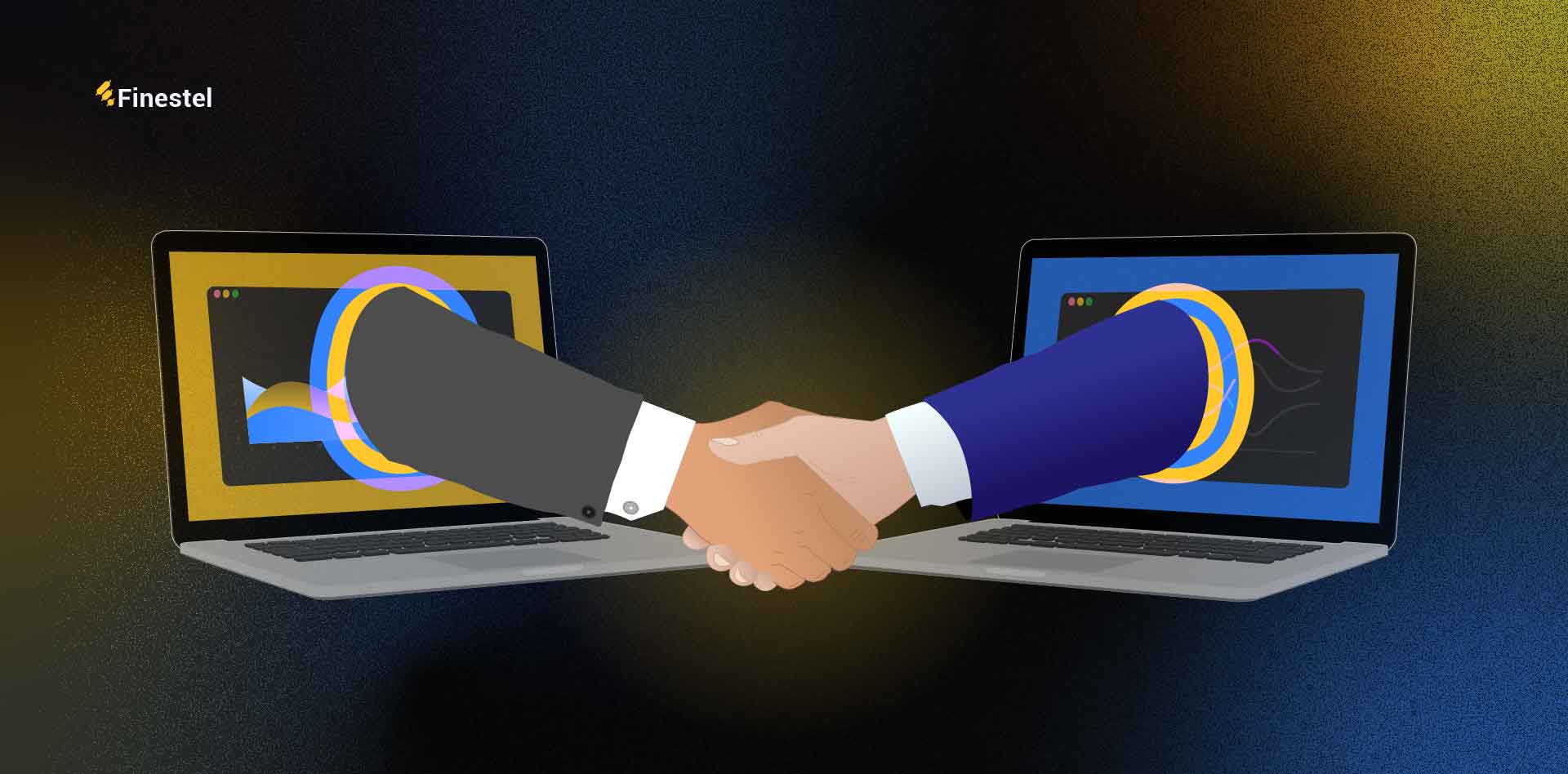 The crypto futures market has become increasingly popular in recent years due to the high volatility and potential for significant profits. By trading futures contracts on cryptocurrencies, traders can speculate on the future price movements of these assets and potentially earn significant profits. Additionally, the crypto futures market provides traders with a way to hedge their positions and mitigate their risks, as futures contracts allow traders to lock in prices for future transactions. This can be particularly beneficial in the highly volatile crypto market, where prices can fluctuate rapidly and unpredictably.
Overall, the crypto futures market offers a range of benefits for traders looking to capitalize on the potential of cryptocurrencies and manage their risks effectively.
Differences Between USD-M and COIN-M Futures
USD-M and COIN-M are two types of futures contracts. The "M" in both phrases stands for "margin," which refers to the amount of collateral required to open and maintain a futures position. The main difference between the two is the underlying asset used for settlement.
USD-M Futures are settled in US Dollar. This means that the value of the contract is always equivalent to the US dollar, providing traders with a stable trading environment.
COIN-M Futures, on the other hand, are settled in the underlying cryptocurrency asset. For example, if a trader buys a Bitcoin COIN-M Futures contract, the settlement will be in Bitcoin.
Overall, the use of USD-M Futures in copy trading software can provide traders with a reliable and stable trading environment, which can help to reduce risk and improve trading outcomes. By settling in USD, traders can focus on their trading strategies and achieve their investment goals with greater confidence and ease.
Futures vs. Spot Markets: Key Differences
One of the key differences between futures and spot markets is the timing of the transaction. The transaction settles immediately in the spot market, while in the futures market, the settlement will occur at a future date.

The amount of leverage involved is one of the most important differences between futures and spot markets. The futures markets involve more risk and greater leverage, meaning profits and losses can be higher. On the other hand, spot markets involve no leverage, and hence, the gains and losses are much lower.

If you want to use leverage in a spot market, you must first buy crypto coins and pay a transaction fee according to the exchange. On the other hand, futures markets have sufficient funds in their lending pools, which means they can offer higher leverage.
Key Features to Look for in Copy Trading Platforms that Support Futures Market
User-friendly Interface: The interface must be intuitive, easy to use, and understandable, with clear performance metrics to monitor the performance of the signal provider. The broker's trading platform should provide up-to-date charts, indicators, news feeds, and other necessary data.
Reliable Execution and Low Fees: The crypto copy trading platform. Any trading platform must be able to protect traders' funds, data, and trades at all times. Reputable platforms will have undergone rigorous security checks and tests and be compliant with various industry regulations.
Advanced risk management Features: The risk management features of the platform include a system that lets users manage their money to limit their risk exposure. The platform must let traders set limits on the maximum open trades per signal provider and the maximum exposure and drawdowns.
Diversification: Copy trading platforms should provide users with a considerable range of access to markets and assets and the capability to diversify their portfolios. These platforms should also offer a range of exchanges, allowing users to copy trades from multiple exchange platforms and diversify their investments across different markets.
Transparency: Transparency is key when it comes to copy trading platforms. The platform should provide detailed information on its signal providers' performance and in-depth risk management data. This data should include the number of open trades, the performance of each trade, and the drawdowns of individual signal providers.
Let's Compare the Top 5 Futures Copy Trading Platforms
You're not alone if you're overwhelmed by the number of cryptocurrencies and traders in the market. Copy trading can be a great way to start, and our guide can help. We've compiled a list of the top 5 crypto copy trading platforms providing futures, each with advanced features and tools to help you replicate the trades of successful traders and potentially increase your returns.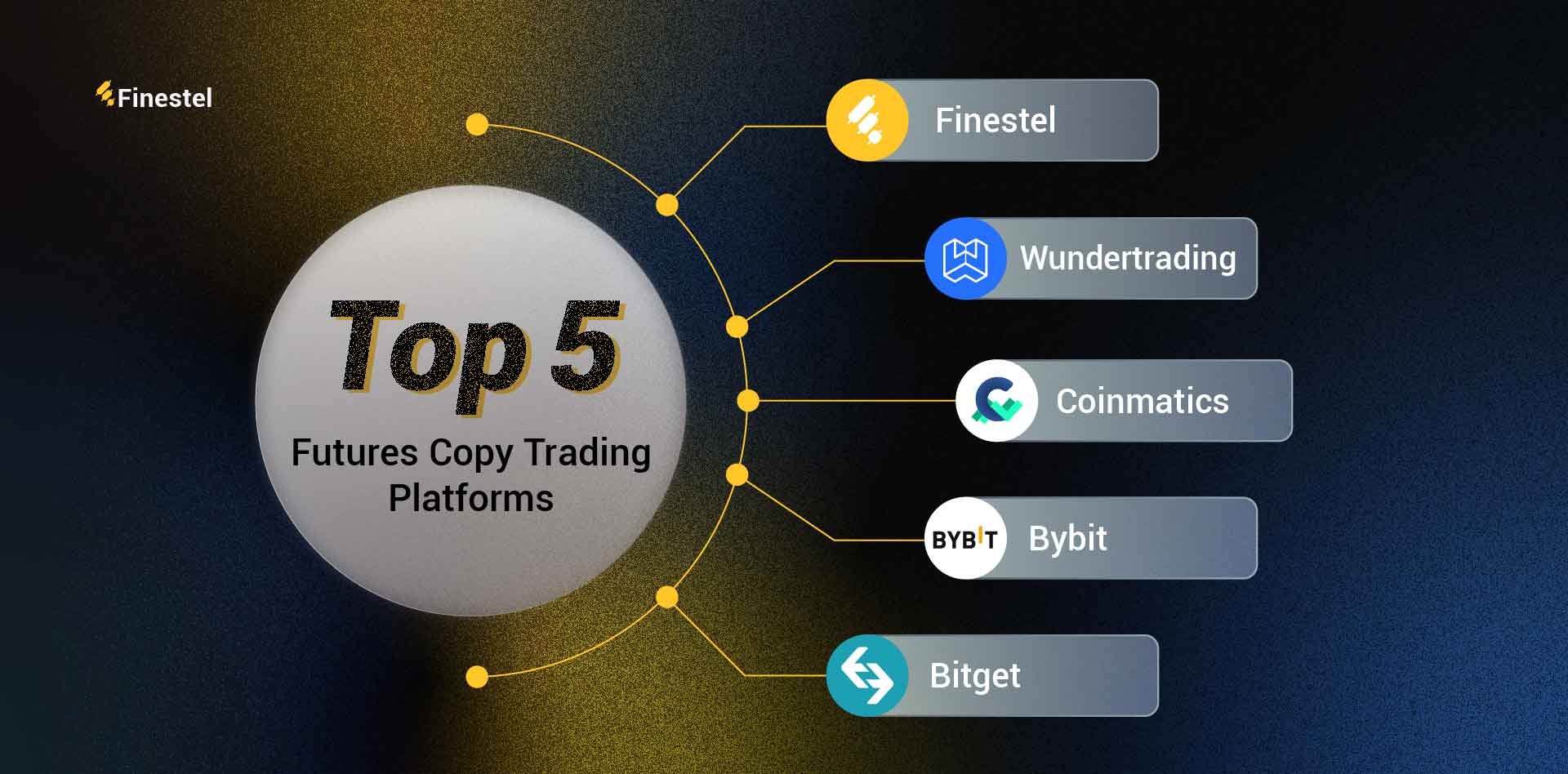 Bybit Futures Copy Trading
Supporting over 280 cryptocurrencies, 15 trading pairs, copy trading, spot trading, and futures copy trading are the pros of ByBit.
By becoming a Master Trader on Bybit, you can showcase your trading skills and potentially earn profit-sharing from followers who copy your trading strategy. This provides an opportunity for skilled traders to monetize their expertise and attract a larger following while enabling followers to benefit from the success of experienced traders.
Pros
100x leverage for crypto futures.
Robust security protocols for funds.
Customizable copy trading features.
Cons
Limited trader information is available.
High fees compared to others.
Limited pricing flexibility.
Finestel Futures Copy Trading
Finestel is a crypto trading solution provider, delivering powerful trading & asset management automation software running on top of some automated and autonomous bots. The bots provide services such as copy trading in the spot and futures market, client management, portfolio tracking services, and more.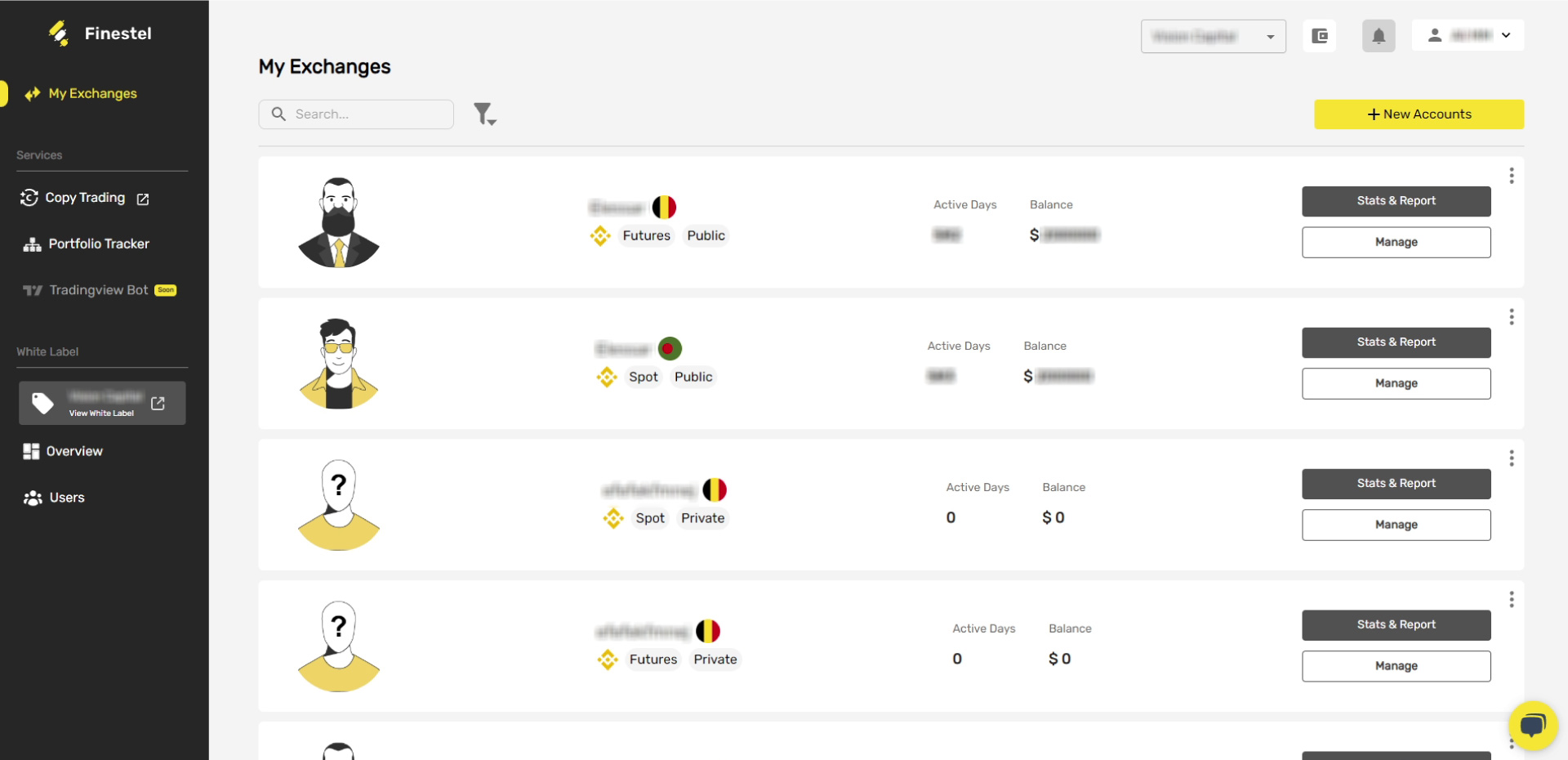 Pros
Cons
Supports fewer exchanges than competitors.
A limited number of proficient traders.
Bitget Futures Copy Trading
Copy trading on Bitget allows users to clone experienced traders' strategies and profit from their success. All traders need to do is choose a professional trader, set the copy rate, and watch the copy trading algorithm automatically mirror their trades.
Pros
Wide range of trading strategies.
Access to diversify analytics and data.
Cons
Copied strategies may not apply to special situations.
Wundertrading Futures Copy Trading
Everyone can become an investor in the crypto market with complete transparency and security on WunderTrading. With the help of professional traders and over 60,000 users, 11,000 BOTs, and a monthly turnover of over USD300M, you can jumpstart your investment growth with the platform's auto-pilot system. Enjoy a user-friendly experience with WunderTrading's simple copy trading platform.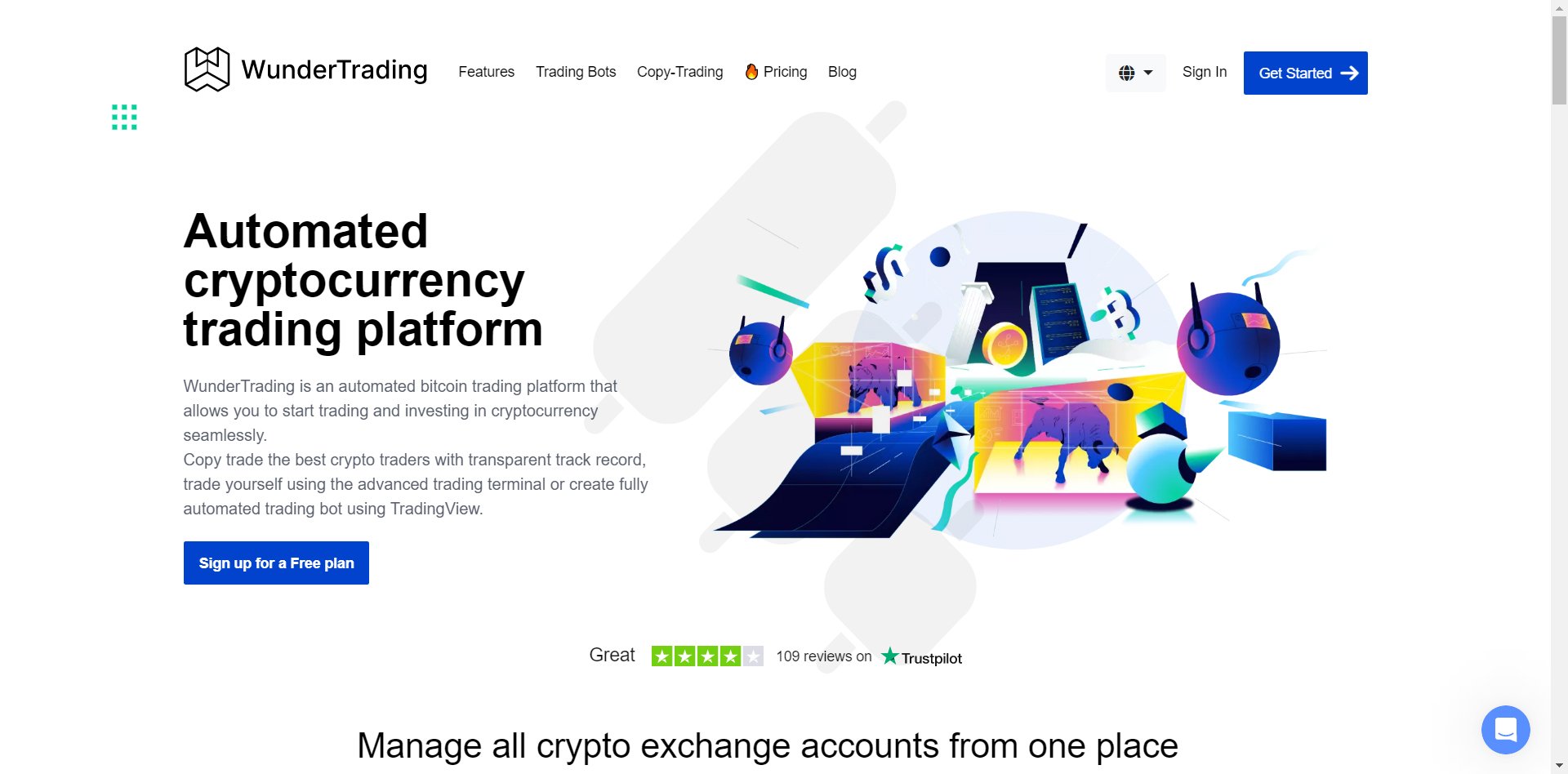 Pros
Low-cost
Easy to use
Educational resources
Cons
Monitoring copied traders can be challenging.
Finding the best traders to copy can be difficult.
Coinmatics Futures Copy Trading
Coinmatics is a social trading platform delivering a copy trading service that provides a service in which the investors can replicate the performance of crypto traders and traders can share their strategies. Depending on whether the trader wants to copy their trades, the trade will execute automatically, and they can benefit from it.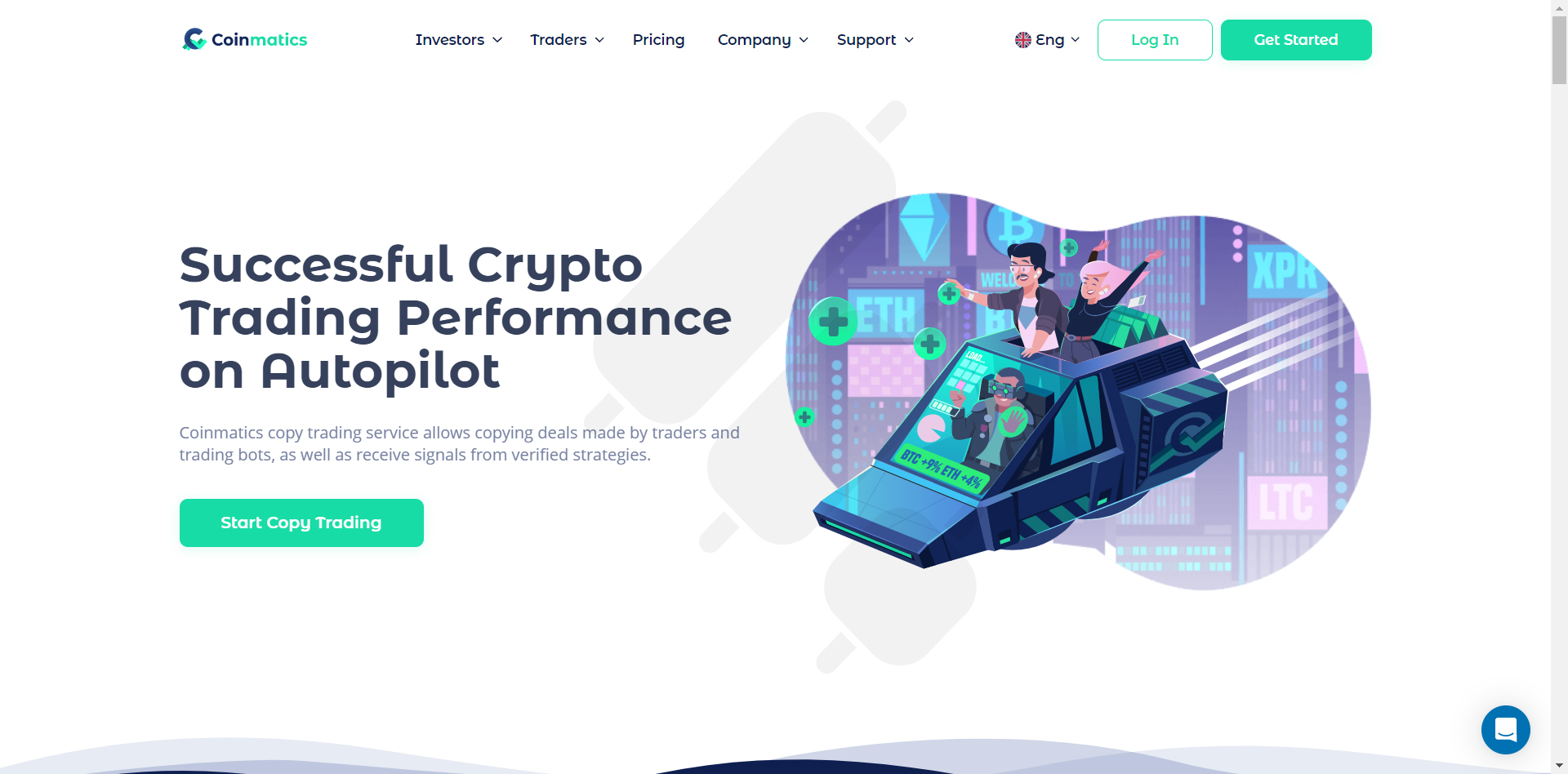 Pros
Diverse trading strategies are available.
Advanced analytics and monitoring tools.
Risk management features offered.
User-friendly platform interface.
Cons
Risk of mimicry
Limited choice of traders
Investment loss
No access to advanced strategies
Best Copy Trading Platforms that Support Futures Market; 2023 Summary
Comparing Crypto copy trading platforms that support futures

| Platforms | Supported Exchanges | Minimum Deposit | User-friendly Interface |
| --- | --- | --- | --- |
| Bitget | Bitget |  USD 10.00 | No |
| ByBit | ByBit |  USD 100.00 | Yes |
| Coinmatics | BINANCE, OKX, BYBIT(S&F) | USD 100.00 | Yes |
| Finestel | BINANCE, KUCOIN, BYBIT(S&F), OKX | No limits | Yes |
| Wundertrading | BINANCE, KUCOIN, BITFINEX, Derbit, Bitget, BitMEX, OKX, WOOX, BYBIT, Coinbase Pro, MEXC Global, Kraken, Huobi, Gate.io | USD 10.00 | Yes |
Conclusion 
The world of trading has seen a massive upswing in recent years as more and more traders begin to dabble in the markets to either make a quick buck or establish a long-term portfolio of investments. 
Copy trading platforms allow traders to copy the strategies of more experienced and successful people in the trading world. 
All crypto copy trading platforms that support futures trading mentioned earlier offer something unique and can be the perfect choice for traders of all levels. Whether you're a novice or an experienced trader, there is sure to be a platform out there that will meet your needs. So do your research (DYOR) and find the one that best fits your requirements before diving into the world of futures trading.
What are copy trading platforms that support the futures market?
Copy trading services that support the futures market are great for expert traders to showcase their skills in futures trading and attract new followers, which can lead to increased profits and a larger community of like-minded traders.
Is Copy Trading A Good Option For Trading In Futures Markets?
For those interested in trading the futures markets but feeling overwhelmed by the learning curve, copy trading is an alternative to manual trading to mimic the strategies and trades of experienced traders without learning the ins and outs of the market. On the other hand, it is also the best way for professional traders to test strategies and earn profits.
What Metrics Should I Take Into Account When Selecting A Futures Copy Trading Platform?
There are many factors to consider when selecting a futures copy trading platform, including:
Number of supported exchanges, coins, and skilled traders
Reliable execution and low fees
Risk management features
Diversification
Transparency
Integrated Portfolio Tracker