The cryptocurrency market is arguably the most volatile worldwide. Considering the rapid price fluctuations of crypto assets, most market participants would be better off seeking the help of professionals. With copy trading, investors can profit from this lucrative market with almost no advanced knowledge, time, and effort. On the other hand, successful traders can also capitalize on their profitable strategies via copy trading platforms. This article conducts a detailed Coinmatics review exploring the capabilities of this widely-used social copy trading platform.
In this article, we aim to thoroughly review Coinmatics by introducing its services and features, analyzing its pricing and fee structure, and pointing out its strengths and weaknesses. Moreover, we take a look at forums and websites such as Reddit and Trustpilot to figure out what traders and investors have to say about Coinmatics. After evaluating user experience, we compare Coinmatics to some of its best alternatives, including Finestel.
What Is Coinmatics?
Coinmatics is a social crypto copy trading platform aiming to facilitate gaining profits from the crypto market. With a massive community of more than 60 thousand users worldwide, Coinmatics is one of the household names in the crypto copy trading space. Launched in 2018, the company's peak assets under management have reached over $50 million and its annual trading volume is around $2 billion.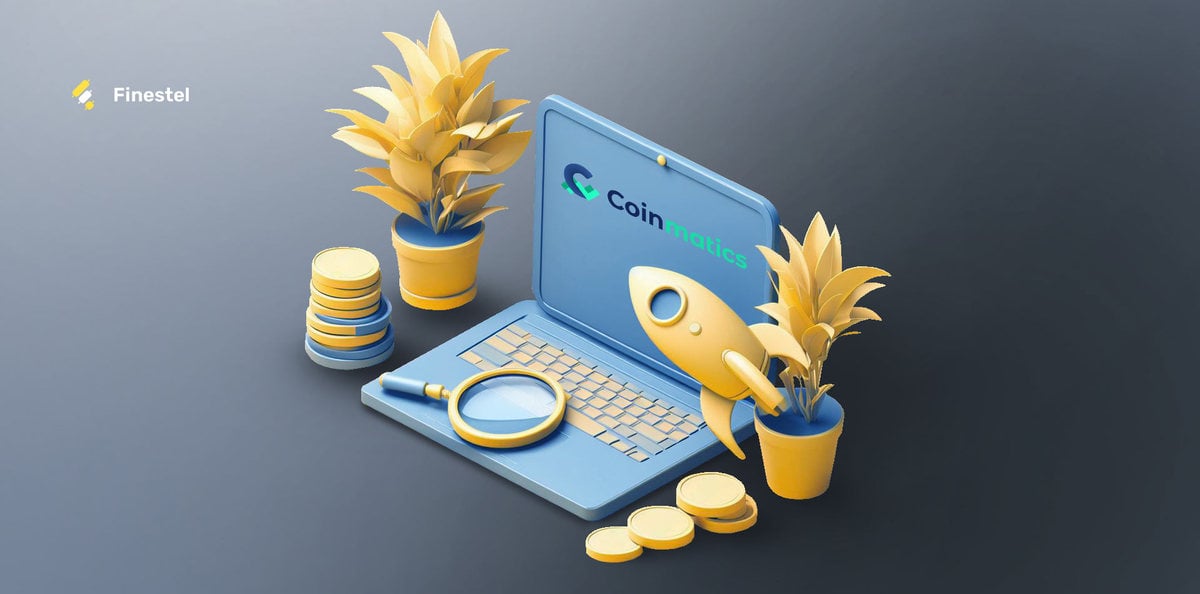 While Coinmatics offers a wide range of features and services, it is mainly built around copy trading. Successful traders join Coinmatics to magnify their profit and increase their AUM by attracting high net worth investors. Meanwhile, by copying profitable traders and strategies and replicating their trades, investors can gain exposure to the crypto market and earn passive income. 
Before you delve into further details about Coinmatics, have you ever wondered whether is social trading profitable?
What Are the Key Features of Coinmatics?
Coinmatics offers a variety of features to both traders and investors. In the following sections, we introduce these features and briefly explain their functionalities. As a result, readers will gain a basic level of insight into how Coinmatics works.
Social Copy Trading Platform
Coinmatics provides its users with a social copy trading platform to utilize. Traders working with coinmatics are listed on the platform. Investors can check out their performance metrics, such as their profit and loss records, risk measures, assets under management, etc. This transparency and implementation of a leaderboard consisting of top traders in different categories provides investors with the opportunity to choose the most suitable trader or strategy to copy.
Smart Terminal
Traders can utilize Coinmatics smart trading terminal. The platform allows traders to trade multiple exchange accounts on a single interface, making managing several accounts more accessible and efficient. It also allows users to track and control everything that happens to their orders.
Crypto Signals
Crypto signals are automatic messages that inform Coinmatics users about potential trades. Signals are sent when traders execute positions on exchanges. The Telegram subscribers can then decide whether they want to copy the trade manually or not.
Find the most reliable and the best crypto Telegram signals groups and channels with our help.
Crypto Trading Bots
Crypto trading bots are specialized software programs that automatically place orders on exchanges. Bots use algorithms that are based on various indicators and market conditions to execute trades automatically.
Pros & Cons of Coinmatics
An objective, unbiased platform review should include the benefits and drawbacks of working with the platform. Some of the main pros and cons of Coinmatics are listed below.
Pros
User-friendly interface

Free demo account

Decent customer support

Extra technical tools on smart terminal

Spot and features copy trading

Cons
Limited number of plans

$50 minimum deposit

Limited customization options

Relatively basic (not suitable for professional traders)

Frequent withdrawal issues
Customer Reviews: Is Coinmatics Legit?
In order to choose any financial product, you should extensively analyze what other users have to say. Two of the most insightful websites to look for reviews about platforms such as Coinmatics are Trustpilot and Reddit. In this section, we focus on what traders and investors have posted about Coinmatics on these two websites.
Note that while conducting research through mediums like Trustpilot, Reddit, and other online forums, you should beware of fake reviews. There are always great reviews that are promotional and, conversely, bad reviews made by competitors and rivals. Some users might also lack the knowledge to write a solid review.
Moreover, some might even misunderstand what the platform actually offers and is responsible for. These misunderstandings can also lead to subpar reviews. Therefore, remember to evaluate online reviews in an unbiased manner and pay attention to the specific points users have stated.
Coinmatics Trustpilot Reviews
Trustpilot is one of the best online sources for reviews about different platforms. There are more than 70 Coinmatics reviews made on Trustpilot. At a quick glance, it is evident that the results are mixed. While 33% of users have rated Coinmatics with 5 stars, more than 40% are absolutely dissatisfied with the platform, giving it the minimum rating. As a result, the overall rating of Coinmatics on Trustpilot is only 2.5 stars, which is not great.
There are a variety of positive reviews about Coinmatics on Trustpilot. Some point to the fact that Coinmatics is a very simple, easy-to-use platform for copying platforms. Others have stated that the platform is constantly being improved with frequent updates. Users also seem content with the online customer support.
On the other hand, many users are also dissatisfied for several different reasons that are worrying. These include stealing customer funds allegations, delayed withdrawals, and incompetent copy traders. The inability to withdraw funds is especially very concerning as it indicates potential fraud. Moreover, judging by the large number of negative reviews, there is likely something fishy going on and risk-averse investors would be better off avoiding Coinmatics.
Coinmatics Reviews on Reddit 
There are not many Coinmatics reviews on Reddit. Yet, those few posts are also quite mixed and once again weigh more on the negative side. There are, again allegations and rumors about the platform not paying its customers. Some are also complaining that their accounts got closed for various irrelevant reasons. Therefore, while rival businesses can always try to make competitors look illegitimate online, users should be very careful when joining coinmatics and fully understand the risks associated.
An Overview of Coinmatics' Pricing Plans
Coinmatics has three different pricing plans, each offering a range of different services. To make an optimal decision about which one is most suitable, you should first evaluate the included features. Here is a brief summary of the pricing plans according to the Coinmatics website:
Free Plan:

The basic plan is completely free on Coinmatics. It is best suited for users with limited experience in the crypto trading field, or the ones who want to try out the platform's basic features and interface. The Free plan includes the following features:
Copy Trading Limit: 1,000 USDT

Spot Copy Trading

Analytics Tools

Ticker Alerts

Portfolio Tracker
Lite Plan:

Coinmatics Lite plan is the go-to plan for casual traders. It includes all the features of the Free plan plus:
Copy Trading Limit: 10,000 USDT

Futures Copy Trading
Premium Plan:

Coinmatics Premium is the most expensive plan on the platform. Professional users and traders with large assets under management should opt for this one. The Premium plan offers all features in Free and Lite plans in addition to:
Unlimited Copy Trading

Auto Alignment, Coin Black List, Stop Loss

Prioritized Copying

Strategy Free Trial
A complete breakdown of the pricing plans is presented in the table below, divided by monthly and annual payments. Note that users get a 30% discount if they pay annually.
Payment Frequency
Free
Lite
Premium
Monthly

$0 / month

($0 / year)

$15 / month

($180 / year)

$30 / month

($360 / year)

Annual

$0 / month

($0 / year)

$10.5 / month

($126 / year)

$21 / month

($252 / year)
Coinmatics Alternatives: Are There Better Choices?
Considering the weaknesses and negative reviews about Coinmatics, we should determine whether there are better alternatives. While finding other choices heavily depends on your profile and your requirements, we introduce a few alternatives suitable for both traders and investors. These options include two social trading platforms for casual users and one private copy trading software for professionals.
Finestel: The Ultimate Customizable Copy Trading Software
Finestel is an innovative trading technology solution provider based in Canada. In case you are a profitable trader who already has a community of followers and investors looking for a reliable copy trading service, Finestel is for you. With our cutting-edge copy trading technology, you can efficiently manage your clients' money. There are also additional services like portfolio trackers, automated billings, and performance analytics included. Our copy trading service is divided into two plans:
Copy Trading Bot:

This plan is suitable for traders with a limited number of investors and assets under management. Our copy trading bot replicates your trades in your followers' accounts at lightning speed.
White-Label Copy Trading Software:

For traders with more than 10 clients or considerable AUM, we recommend using our white-label asset management software. With this plan, you can offer your services under your own brand and website, with an almost fully customizable interface and features.
Moreover, traders with a profitable strategy who are searching for investors and additional AUM can use Finestel's private strategy marketplace. You can add your strategy and its track record to the marketplace to showcase it to our private investors and attract more investments. Real-time updates to your track record will allow you to always improve your results and potentially gain more capital
Investors who are already working with a profitable trader can also suggest Finestel to the trader. With our robust copy trading software, customization options, and wide range of advanced tools and features, your asset manager is likely to migrate to Finestel. You can form a partnership on our website and privately invest your funds with your trader of choice while having no concerns about operational or technical issues that may threaten your assets.
WunderTrading: A Copy Trading Platform for Everyone
WunderTrading is one of the best social crypto trading platforms available. It serves approximately 80,000 users worldwide, with more than $320 million in monthly trading volume. Wundertrading's copy trading platform allows traders to add their strategies and trading accounts to the marketplace and look for copiers.
Yet, while the platform has a large number of users, it is not specifically appropriate for serious traders running a professional asset management business.
Investors can also use WunderTrading to find profitable traders. The platform's transparency in demonstrating master traders' track records and implementation of leaderboards can assist investors in identifying the most suitable trader for them to follow.
To learn more, you can read the Wundertrading review.
Zignaly: Advance Social Trading Platform
Zignaly is one of the leading social trading platforms in the cryptocurrency space. It connects traders and investors with various profiles through features like copy trading, signals and more. Zignaly is massively popular worldwide, with more than 430 thousand users and a whopping trading volume of around $5 billion.
Zignaly's social copy trading platform, ZigDao, uses AI to rank traders who beat the market. The ranking system is done based on a parameter named the Z-Score. Artificial intelligence calculates the Z-Score from a wide range of important factors like risk metrics, profitability, etc.
With its large customer base, it is one of the best choices for traders looking for a decent copy trading service and numerous investors. On the other hand, with features like the Z-Score, investors can easily find profitable traders and select the most suitable considering their risk tolerance and financial goals.
If you're interested in learning more about Zignaly, you can check out our Zignaly review article for an in-depth analysis.
Conclusion
To wrap things up, Coinmatics is a popular social trading platform for traders and investors looking for basic copy trading. Meanwhile, many risks and weaknesses have been pointed out by users on online websites like TrustPilot and Reddit. Therefore, after evaluating Coinmatics and its features, we introduced a few alternatives for both traders and investors, including a private copy trading solution for professionals, Finestel.
Finestel is arguably the best alternative to social copy trading platforms like Coinmatics. With sophisticated features, customization options, white label software, and of course, our advanced copy trading technology, Finestel is the optimal choice for serious crypto traders and asset managers. Investors can also recommend Finestel to their asset managers and create a trustworthy partnership with Finestel. Finestel relieves traders and investors from the headaches associated with technical issues or lack of customization possibilities.