With the daily growth of popularity in digital assets and the crypto market, the number of people attracted to this market is increasing daily. As investors may need more experience and knowledge of the market and the ability to analyze charts, crypto copy trading would be a good solution. We can consider crypto VIP Telegram channels as a subset of social crypto copy trading methods. The platform's availability and numerous users allow traders and investors to share or exchange information.
"Crypto signal Telegram groups" are online forums where trader share their ideas, strategies, and trades online. Crypto trades founded these communities on social media platforms like Discord, Telegram, WhatsApp, and Twitter. The privilege of Telegram is that admins can handle groups with thousands of users. This ability best meets the needs of signal provider traders and investors who follow them.
In this article, we are investigating the importance of choosing a reputable crypto telegram trading groups.
Because as much as this method could be advantageous, choosing the wrong Telegram groups might be dangerous. Exerting inaccurate information in our trades dangerously results in significant losses. So, we invite you to accompany us in the next few minutes.
What Are Crypto Signal Groups?
Crypto signals telegram groups aren't the same as crypto copy trading, but there are some similarities. Traders usually create Crypto signal groups on Telegram to share information, their assessments about the market, analysis, and signals. These Signal groups provide investors with sell or buy signals, including entering the price, taking profit, stopping loss, and other information.
Finding crypto signals Telegram groups seems easy, but finding a reliable group is another story. For a novice investor, it is going to be a costly, time-consuming, and expensive procedure to become a pro trader. So, it is not logical that they present their precious knowledge for free in the crypto signals telegram group. They launch VIP crypto Telegram channels or groups to share their invaluable information with those who intend to trade like a pro.
Copy Trading vs. Signal Groups
Signal groups and Copy trading are two popular options for traders to make informed decisions in the financial markets. Copy trading involves replicating the trades of a successful trader, while signal groups provide traders with trading signals, which suggest when to enter or exit a trade. Both methods aim to help traders achieve better trading outcomes but differ in their approaches and benefits.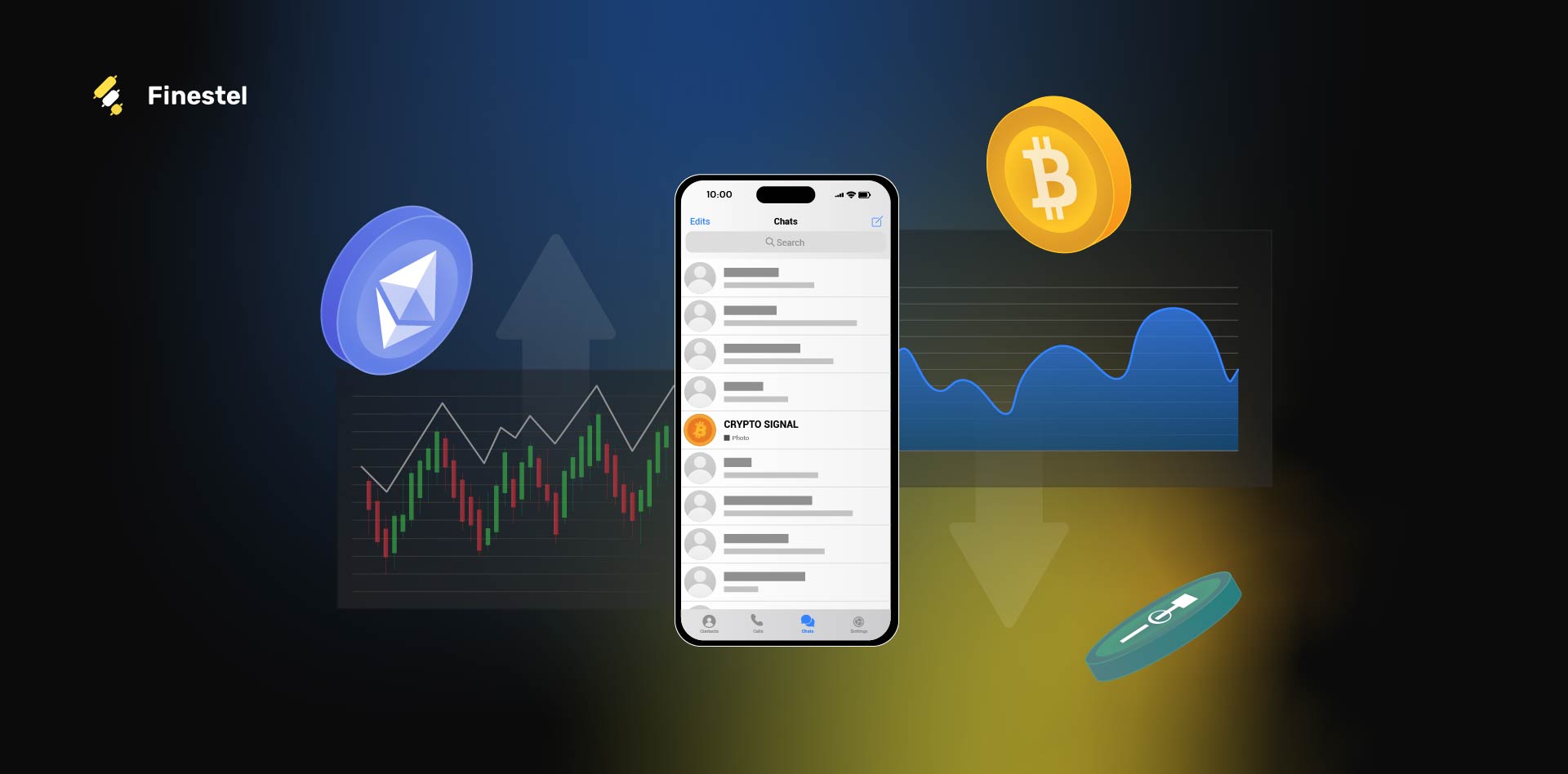 Deciding whether to use copy trading platforms or Telegram VIP signal groups is a personal choice that depends on individual trading goals. Both options have their advantages and considerations to keep in mind.
Copy trading platforms offer the convenience of automatically replicating trades experienced traders make. This can be particularly beneficial for those who lack the time or expertise to trade actively. These platforms provide a wide selection of traders, allowing users to set their own rules and funds according to their preferences. However, it is crucial to carefully select and monitor the performance of the traders being copied to ensure their strategies align with your goals.
On the other hand, Telegram signal groups provide trading signals and analysis from experienced traders, often at a lower cost or even for free. These groups offer a more interactive experience, allowing users to ask questions and discuss with other members. However, it's important to note that the quality and reliability of the signals can vary. It is advisable to conduct independent research and verification before executing any trades based on the signals received.
Ultimately, the choice between copy trading platforms and Telegram signal groups depends on factors such as your trading style, level of experience, and risk tolerance. It's essential to consider these factors and make an informed decision that aligns with your individual needs.
How to Identify Trustworthy Crypto Signal Groups
The number of followers and the rate of signal accuracy are key factors in identifying the best crypto signals telegram group. However, there are more factors that investors must care about. Users of social media platforms and Telegram also leave comments and share their opinions in forums. The number of positive comments possible can be a good index for identifying whether the Telegram channel is good.
It is better to follow more than one or two signal provider channels and check the same instruments and pairs. The signal provider channel or group with the highest ROI and signal accuracy ratio is a good endorser. Take a look at indicators and candles, and having the least knowledge of technical analysis would help verify the trustworthiness of the channel or the group.
The Importance of Verified Track Records in Crypto Signal Groups
A verified track record shows a history of performance over time. The best signal providers document their past calls and results, allowing members to evaluate the success rate. Verified statistics like the percentage of winning trades, average return, and risk metrics help users make informed decisions. Transparency from signal providers builds trust in the community.
Signals become less credible without evidence of real trading outcomes. Some groups simulate hypothetical returns or cherry-pick only winning trades to showcase. This lacks integrity and misrepresents actual performance. Traders should research a group's track record and reputation before joining.
The volatility of crypto markets means no signal provider is perfect. However, positive long-term returns based on a proven process demonstrate skill. Losses and mistakes are inevitable, but transparency around both wins and losses is key.
In summary, crypto trading signals build influence through demonstrated merit. Savvy investors choose groups with verified track records of risk management and consistent profitability. A commitment to transparency and performance statistics offers the credibility traders seek in uncertain markets.
Understanding the Characteristics of Genuine Signals in Crypto Trading
Crypto trading signals are becoming increasingly popular among traders as they provide insight into market trends and potentially profitable trades. However, not all crypto trading signals are created equal, and it is crucial to understand the characteristics of genuine signals to ensure successful trading outcomes. Here are some key characteristics of genuine signals in crypto trading:
Firstly, genuine signals are based on a thorough analysis of the market and the underlying asset. The signal provider should understand the technical and fundamental factors affecting asset price. The signal should be supported by sound reasoning and analysis rather than just speculation or hype.
Secondly, genuine signals are transparent and have a track record of accuracy. The signal provider should be able to provide clear and detailed information about their trading strategy, past performance, and risk management measures. Traders should also look for independent reviews and testimonials from other traders to verify the accuracy and reliability of the signals.
Identifying Red Flags: Signs of a Potential Pump-and-Dump Scheme in Crypto Signals
Pump and dump is an investment scam where scammers buy cheap crypto, promote it to raise the price, and then sell it for a profit. When the admin of a crypto trading Telegram group is a scammer, they can manipulate your investment without regard for your gain or loss. If a telegram crypto signal provider suddenly increases the price of an asset significantly, it may be a red flag for a pump-and-dump scam. Scammers rely on the effect of the higher price on novice followers.
They are giving the impression that results in a significant rise in demand for that particular worthless cryptocurrency. Remember, DYOR. Over ten thousand cryptocurrencies and tokens have lots of zeros after the decimal. When a signal provides them, it is your turn to become suspicious. Consider it a red flag when signal provider groups promote worthless crypto in a concerted effort. Not all signal providers are scammers, so DYOR and analysis market data do not lose a profitable opportunity.
Top 5 Crypto Signals Telegram Groups
There are plenty of crypto signals telegram groups, but many of them need to be verified, or essential to take time to survey them.
But for the convenience of our audiences, we compiled the top 5 crypto signals Telegram groups. Each has a fine reputation for reliability and accuracy in their previously provided signals. They are significantly committed to suggesting successful risk management strategies and diversification. However, we do not indicate these crypto signals in Telegram groups. Still, we recommend studying these groups' performance for those interested in entering the crypto market and taking positions first.
#1 Rocket Wallet Signals
Rocket Wallet Signals is a Telegram-based service that provides crypto VIP signals for spot and margin trading—founded in September 2020. There are four paid VIP channels, including crypto VIP signals, VIP updates, VIP insights, and VIP chats, primarily focusing on trades and market updates.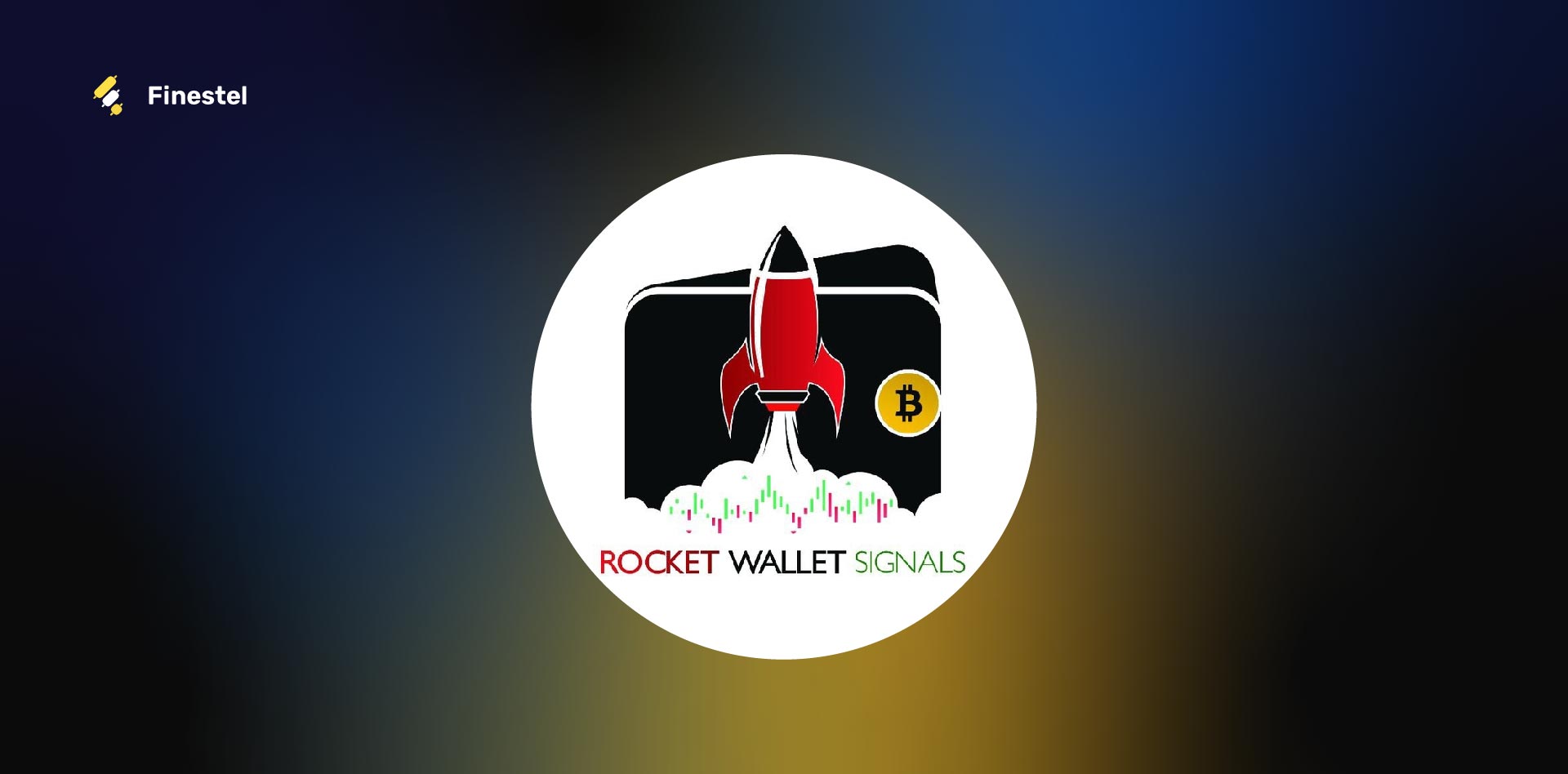 Trades and market updates are the main focus of the VIP group, where decisions are also communicated live to the members. The messages sent to the main channel have been forwarded from the VIP channel after targets have been met. This means the information is obsolete as the entry is gone and mainly serves as proof of the VIP signal for the public community.
Rocket Wallet Signals Bot regularly shares the latest profit reports and other meta-information that members of all channels can access. What sets Rocket Wallet apart from most signal groups is that it provides a moderated VIP Chat group to discuss ongoing signals, trends, or general questions about cryptocurrencies. The team behind Rocket Wallet tries to leave no questions unanswered.
#2 MYC Signals
MYC Signals is one of Telegram's reputable groups. This Telegram channel provides crypto VIP signals and market analysis for its crypto trader subscribers.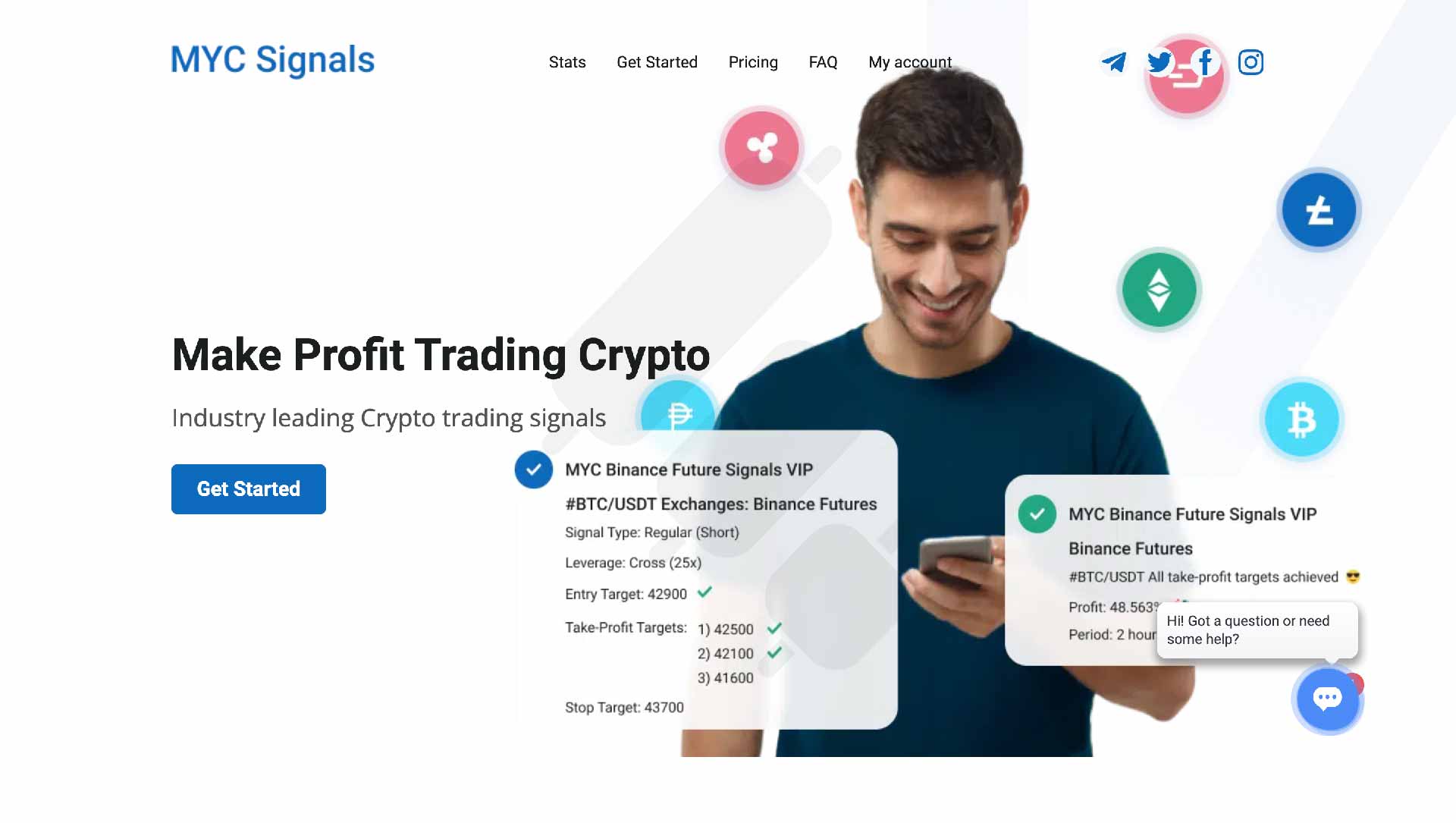 Three membership packages are available for users priced at $60, $120, and $150.The signals follow a swing trading strategy, and 1-2 suggestions are sent each week to premium members. This costs $60 per month. Next, there is an altcoin spot trading service, which comes with 3-5 signals per week. This also follows a swing trading strategy but costs $120 per month.
For more experienced traders, there is a crypto futures signal service at $150 per month. This follows a day trading strategy that supports both long and short positions.
Alternatively, for $225 per month, members can access all three plans. Do note that MYC Signals does not offer free signals or a trial. MYC Signals gives its members an average of 50-70 monthly signals and trading ideas; however, the 24/7 customer service helpline is a bonus.
#3 Pro Crypto Signals
Pro Crypto Signals is one of Telegram's oldest and most established crypto signal groups, having been around since 2018. The services offered by Pro Crypto Signals include alts/BTC/USDT signals, risk management, trading strategy, automated trading (optional), perfect trade setups, an energetic and friendly support team, and a premium chat room.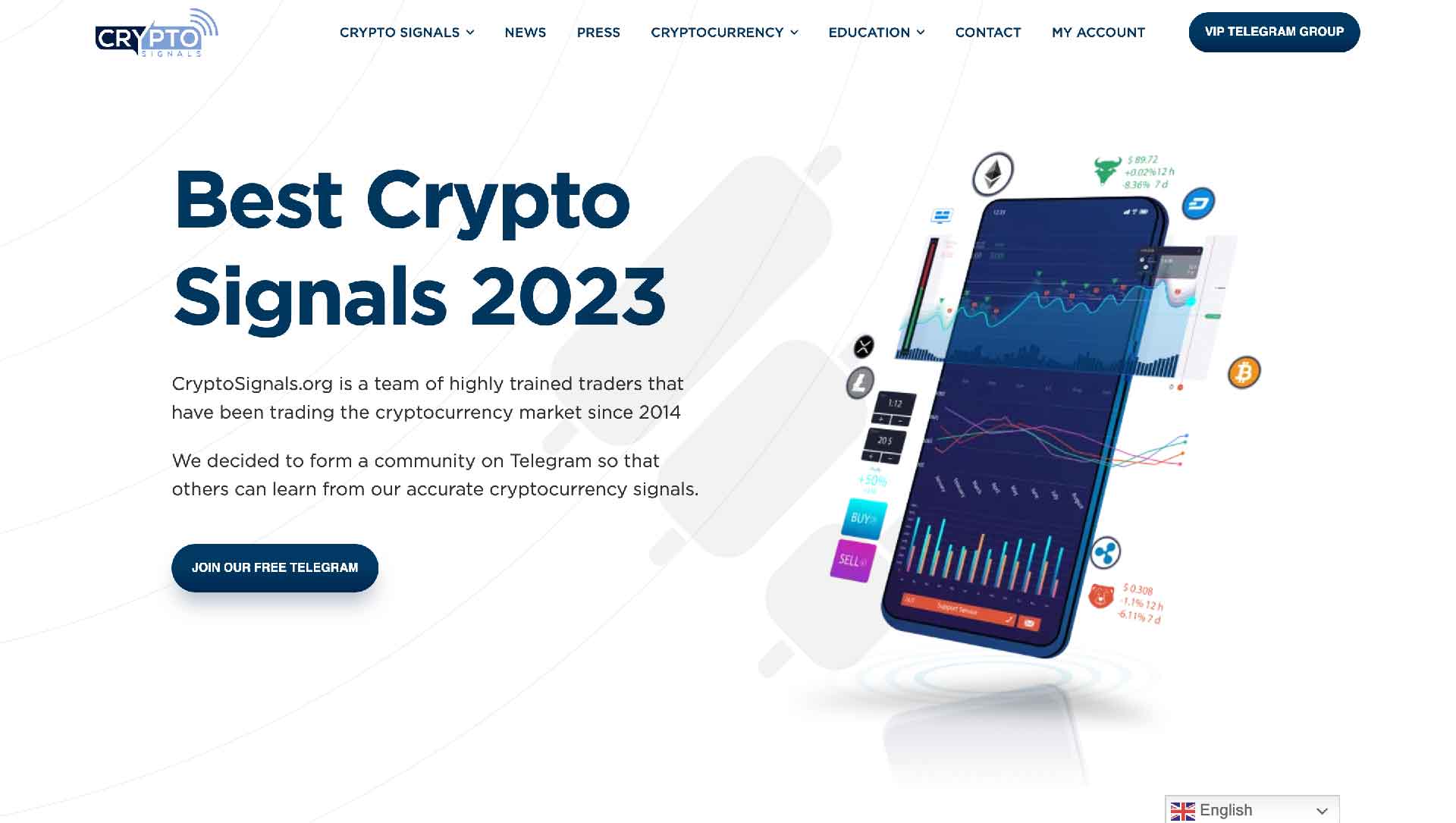 Users receive around 100 signals per month on average. Pro Crypto Signals offers different subscription plans for users, including a monthly fee of $200, $600 for six months, and $1,200 for 12 months subscription.
#4 Crypto Quality Signals (CQS)
Crypto Quality Signals is another reliable Telegram signal provider group that offers market analysis for cryptocurrencies. The group has been around since 2018 and claims to have an accuracy rate of over 80%. Crypto Quality provides a free trial, which allows users to test the service before committing to a subscription plan. Crypto Quality Signals is an excellent way for beginners to get started in cryptocurrency trading, providing them with the information they need to make informed decisions.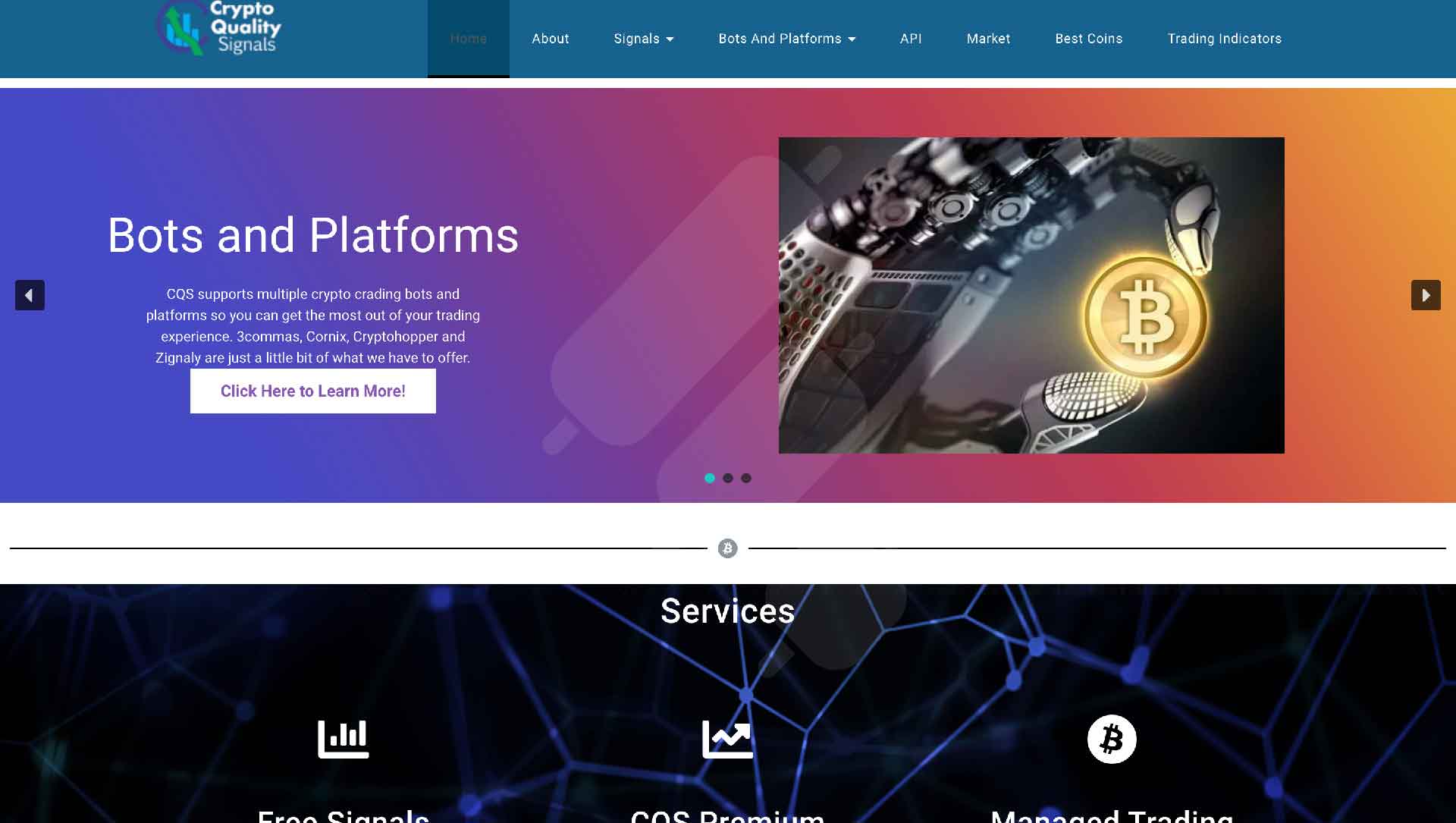 This platform has both free and premium subscription plans. It offers two Premium packages. CQS Premium Gold, with $30 monthly, offers the full potential of CQS services, including exclusive signals, separate channels, news and alerts, and personal advice and support. CQS Premium Silver, with $10 monthly, offers less content but still allows access to short and mid-term signals and integration with trading bots.
In addition to providing trading signals and market analysis, Crypto Quality Signals also offers a referral program that allows members to earn a commission by referring their friends to the service.
#5 CoinSignals
CoinSignals is a major crypto signal provider on Telegram, having started operating in 2019. The platform operates through telegram, and the automation is based on Artificial Intelligence (AI) and Machine Learning (ML). With an impressive track record of 89% accuracy, CoinSignals offers three types of signals – BTC-based pairs, USD-based pairs, and USDT-based pairs. Despite delivering over 100 signals per month for different cryptocurrencies, consistency is generally on the higher side.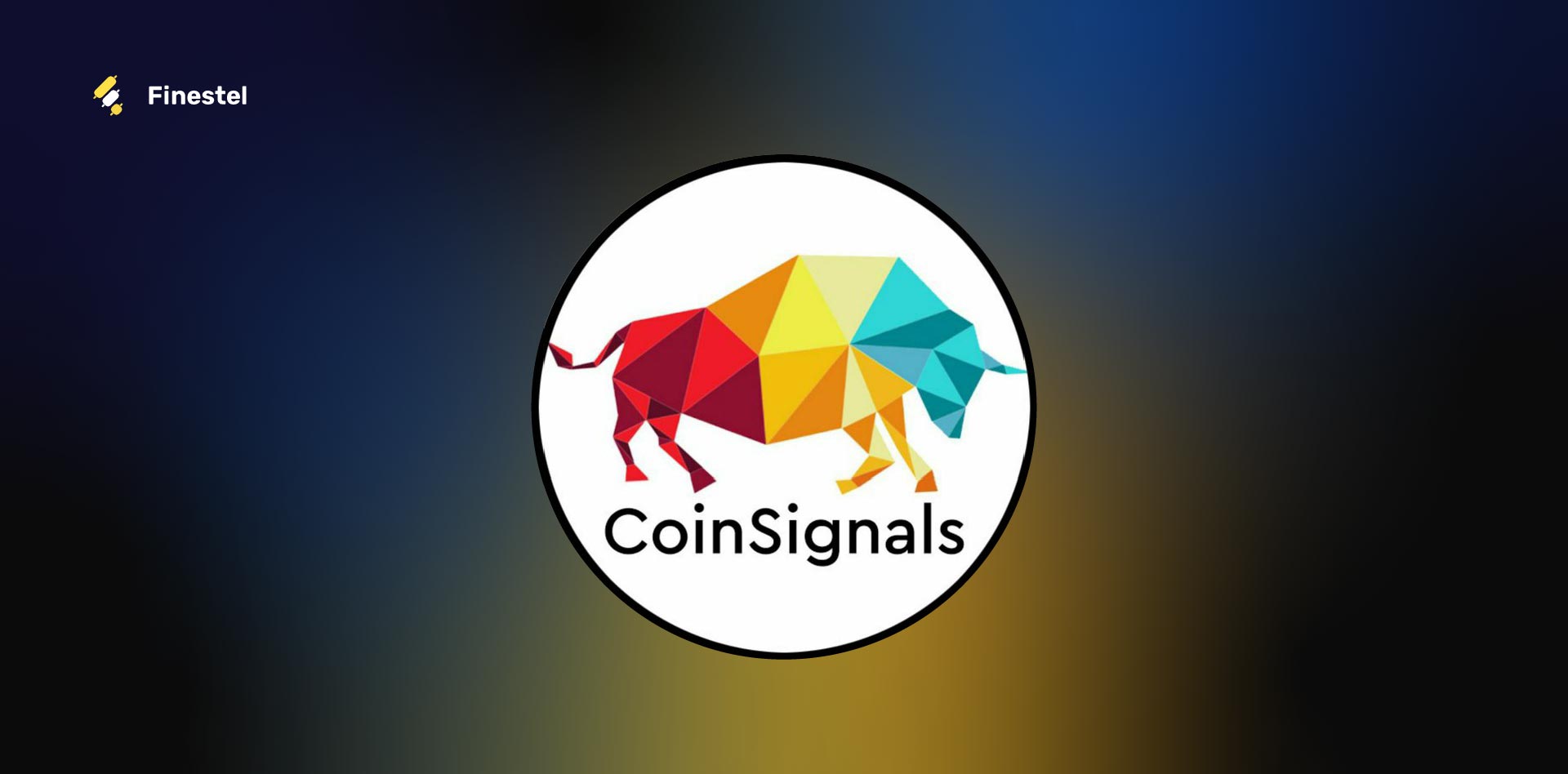 CoinSignals also has a free crypto signal channel that provides market news and basic signals but no customer support or other premium features. Automated trading is supported, allowing users to connect their API keys and use the service's advanced bots to trade on supported exchanges.
Although CoinSignals offers free crypto signals, this comes with basic data points. If you want access to its premium signals, you must sign up for a monthly, quarterly, or annual plan. This will cost you 0.01 BTC, 0.03 BTC, or 0.1 BTC. From what we can see, CoinSignals doesn't appear to offer a money back guarantee, so it would be best to start with the 1-month plan.
Finestel's Telegram Crypto Trading Bot Is Here to Boost Signal Providing
At Finstel, we are dedicated to providing advanced crypto trading technology solutions that transform the way traders operate. Our latest breakthrough is a revolutionary approach to delivering and executing cryptocurrency trading signals through our cutting-edge white-label copy trading software. Our innovative copy trading solution ensures unparalleled accuracy and precision for traders, networkers, analysts, signal providers, and any other businesspeople running a crypto trading-related business.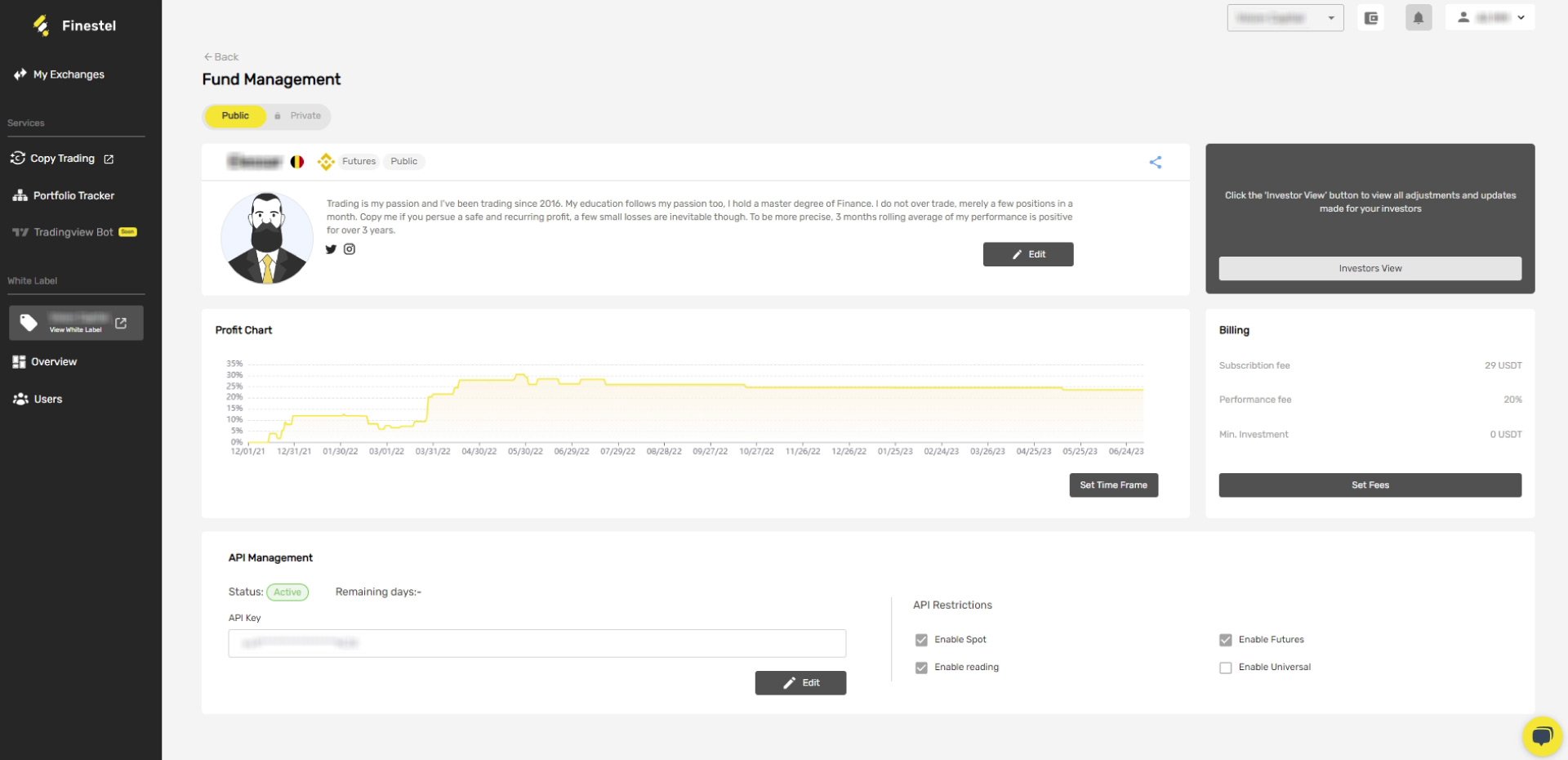 As a leading crypto copy trading software development company, Finestel allows traders to transform their social media presence into a legitimate investment management business. The customizable white label interface links platforms like Telegram, Twitter, and Discord into one seamless copy trading experience.
One of Finestel's most useful features is the Telegram bot integration. The bot has become an invaluable key feature for efficiently managing a copy trading business, especially for those who have a community of clients on Telegram.
For investors, Finestel offers the opportunity to earn passive income by referring trading signal admins to use the platform, as you get a portion of Finestel's income from their activity through your referral code.
What Does Finestel Telegram Bot Do?
Finestel's crypto trading Telegram bot can empower traders, investment managers, signal providers and their clients & users in multiple ways.
Here's what it's able to do:
1) Portfolio Tracking:
Finestel's crypto trading has a Telegram portfolio tracker bot within. The bot enables easily automated investment, trading, and portfolio tracking reports (of your connected exchange accounts on Finestel) directly in your Telegram account. You can customize schedules to receive daily, weekly, or monthly reports containing key performance metrics for all connected exchange accounts. This simplifies monitoring returns across your multiple portfolios in one place.
2) Fully Customizable Clients Reports:
This feature is for those Finestel users and partners that already run a crypto investment management business (like trading signal providing) and have integrated their business on top of Finestel's copy trading service or white label copy trading solution. They will receive reports of their trading status (exchange errors, partial filling of orders, etc.), their clients' activities (sign-ups, new subscriptions, cancels, etc.) and much more.
You get complete visibility into your client base and operations through the bot's administrative dashboards and automatic report delivery. This streamlines administration.
3) Signal Providing Automation:
Our Telegram bot includes a specialized workflow to make broadcasting your trading signals and tips incredibly easy. Just enter the key details like entry price, stop loss, take profit, etc., in our formatted template. With one click, the bot then instantly generates and publishes your full, detailed, branded signals across all connected Telegram groups and channels. This saves loads of time while allowing you to push signals at scale.
By the way, you don't need to integrate your whole signal-providing business on Finestel to use this feature.
4) Signal Execution Automation:
Beyond broadcasting signals, Finestel's Telegram bot also enables seamlessly executing your trades directly from Telegram on:
a) Your (admin) exchange account + b) also on your clients' multiple exchange accounts concurrently.
So, to use the first feature (a), you must have connected your exchange account to Finstel via trade-only API access.
To use the 2nd (b), here's where you should manage your signal business on top of Finestel's white label copy trading. Here's the procedure: Your clients will connect their exchange accounts on your branded social copy trading platform, and whenever you enter a signal in the bot-> Finestel executes it on your exchange account. If your clients have copied that master exchange account of yours on your copy trading software, that very trade (order) will be executed on their exchange accounts in a hundredth of a second, too. Voila!
5*) Your Own Branded Telegram Bot
This is a game-changer for a lot of white label owners. You can offer some non-administrative functions (reporting, portfolio tracking, billing, etc.) of the same Finestel bot to your clients, with your name and brand on the bot, not Finestel's!
How to Set up Finestel's Bot:
After connecting an exchange account in Finestel's admin dashboard settings, you can activate Finestel's Telegram bot.
We've provided the guide to activate a part of Finestel's crypto bot capabilities (ask the support for more):
1. Access the Settings
Log in to your Finestel white label dashboard
Go to Settings > Notifications
Scroll to the Telegram Bot section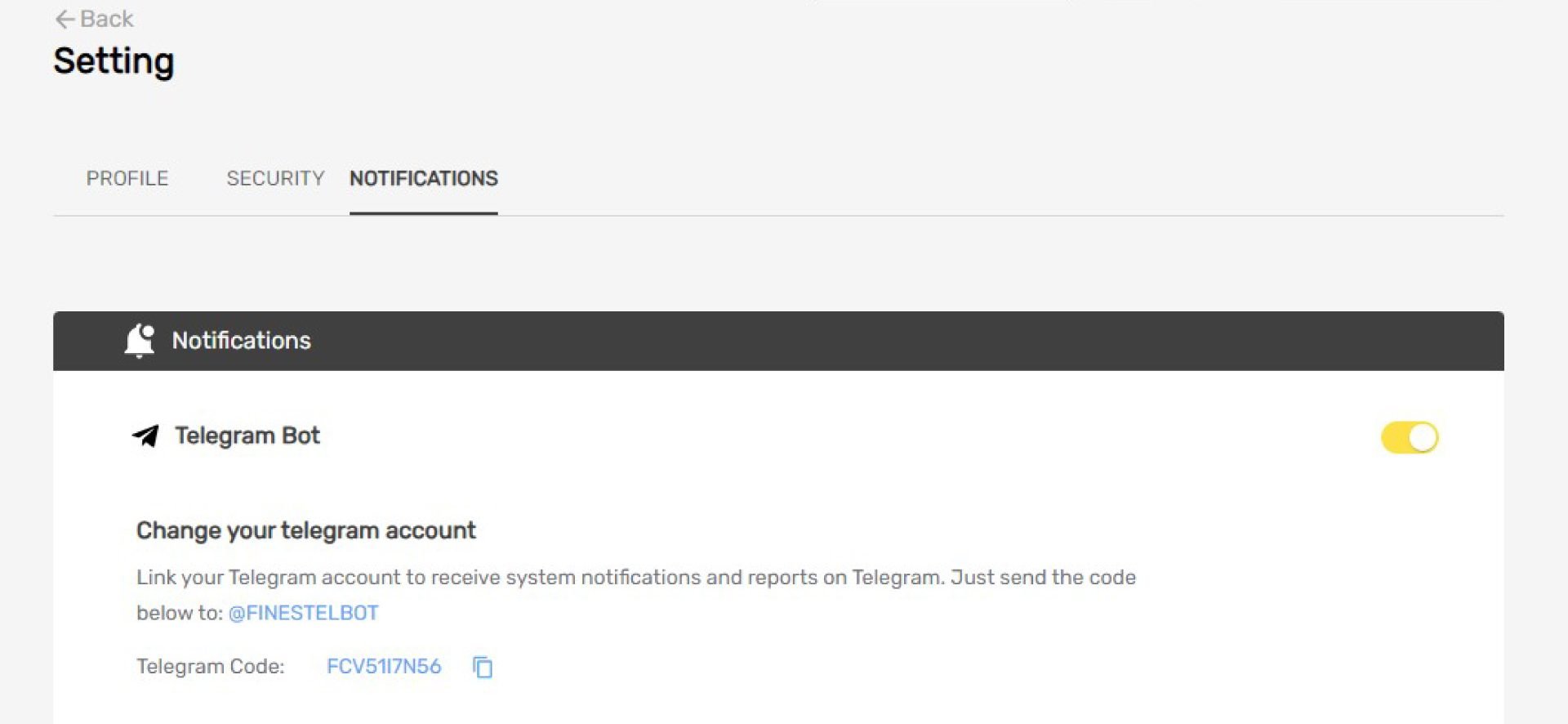 2. Activate the Bot
Toggle "Telegram Bot" to ON
The bot will now be enabled for your account
3. Choose Notification Types
Decide which alerts you want to receive via the Telegram bot:
New Investor – Notified when a new client signs up to copy your trades.
Cancel Copying – Notified if any existing copier cancels their subscription.
Exchange Errors – Alerted about any exchange connection issues.
Order Placements – Notified when any order is placed.
Filled Orders – Alerted when an order is filled.
Cancelled Orders – Notified when an order is cancelled.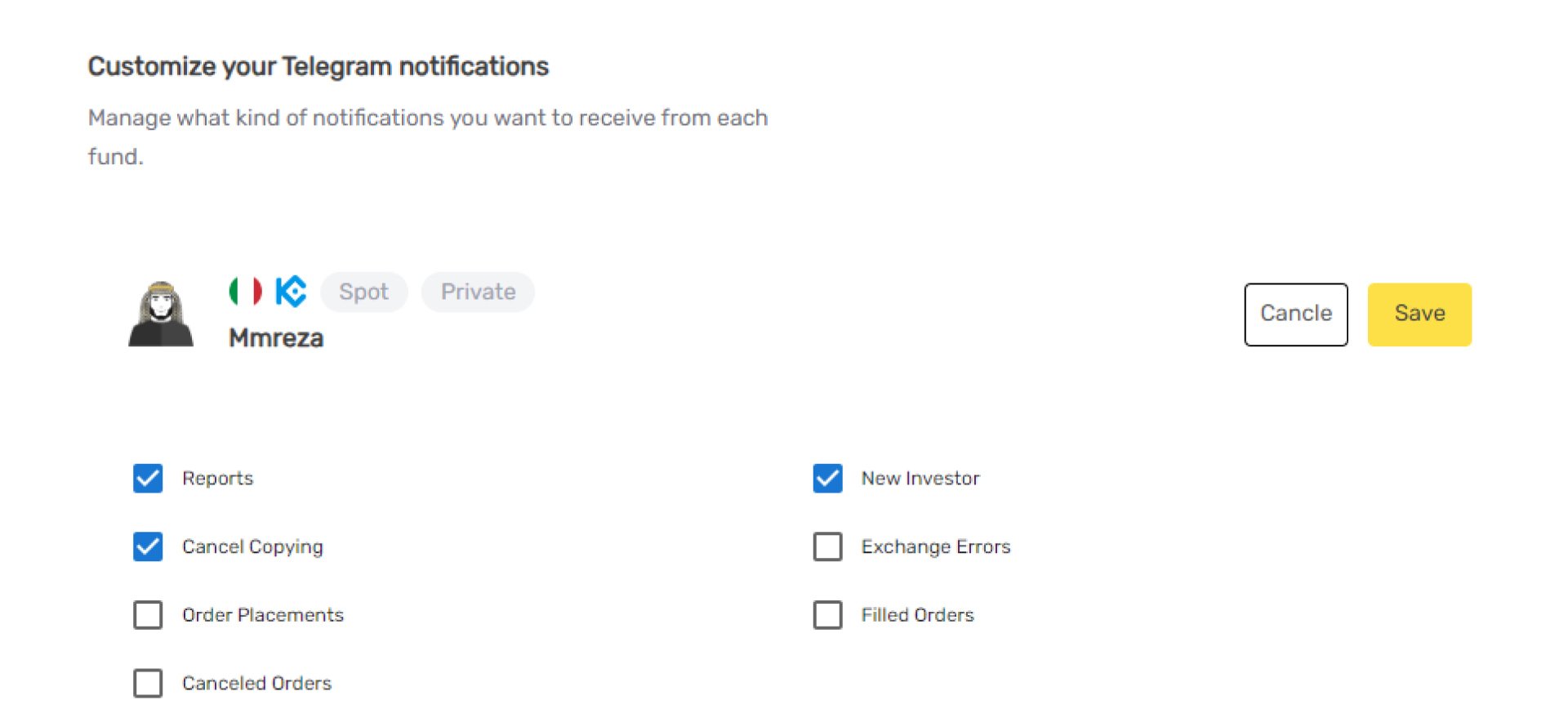 **To run your branded Telegram bot for your business, contact us via the chat icon on the right below corner, or message us on Telegram for a faster answer. You'll find other ways to contact us here.
Balancing Autonomy and Dependence: Finding the Right Approach in Crypto Signal Groups
The main role that Crypto signal groups try to play is to offer newbies valuable insights into the crypto market and its trends for future potential profitable trades. Traders are aware that they must always balance their autonomy and dependence in the volatile crypto market. Because only investing some of the signals in signal groups is accurate when some help traders make informed deals.
The least understanding of the crypto market and succeeding strategies is necessary for traders. Besides, the provided signals help traders to have a balanced combination of autonomy and dependence on the knowledge of other traders.
A more accurate sight of the volatile market requires traders' deep research on more than one or two signal provider groups. However, there are other methods to guarantee their benefit, but at least they achieve a piece of more reliable information to perform their trades. This way, traders can verify the accuracy and evaluate the risks and benefits of each trade. Plus, with transparency and a track record of accuracy, the signal providers should provide detailed information about their signals.
Traders must expand their knowledge about risk management strategies and diversification to cut or minimize potential risks in their trades. Remember that putting all eggs in a basket might threaten their funds. Traders should invest some of their capital in one trade than relying solely on signals from one group.
Top 5 Crypto Signal Groups Infographic
Conclusion
With the rapid and significant growth in the crypto market, more and more comes in the eyes of those looking for a way to have a passive income. Not everyone is a pro trader; they must enter the market and learn through trial and error. That is why the market of crypto trade witnesses a daily increase in the number of novice traders. Until they become professionals, they need help from traders to get signals for taking an adequate profit in each of their trades.
Crypto and social crypto copy trading have been discussed earlier in Finstel's articles. In this article, we surveyed the crypto signals Telegram groups. Using provided signals by these Telegram groups requires careful verification in their record tracks and the least knowledge about the market. It helps trader keep their funds safe. With plenty of these crypto signal trading groups on Telegram, those needing more accurate VIP signals can compare more than two reputable groups to achieve the best possible result.
Traders should take the time to comprehend the essence of genuine signals. Besides, they must practice efficient risk management strategies and diversification to cut or minimize potential losses. Novice investors must have a balanced approach to autonomy and rely on their knowledge and dependence on the provided signal groups. The key to traders' success is a deep understanding of the markets and trading strategies to make informed trades. Following these approaches assist traders in navigating the dynamic and volatile crypto market more effectively and increase their chances of success.
FAQ
What are crypto signal groups?
Crypto signal groups are signal provider channels or groups on social media platforms like Telegram. Admin or traders behind these groups share their information with investors. These groups might provide accurate information or end great losses to their subscribers.
How can I join top crypto signal groups?
Usually, joining these channels or groups is relatively easy.
But some VIP crypto telegram channels or VIP crypto telegram groups might charge interested investors expensive costs.
Are the signals provided in crypto signal groups reliable?
It highly depends on the reputation of the channel or group.
If there are other forums where subscribers can leave their comments, it would be helpful for newcomers. We can trust their assessments and perform their signals in our trades. It demonstrates the importance of researching by subscribers.
Is there a fee to join these crypto signal groups?
It depends on the specific crypto signal group you are interested in joining. Some crypto signal groups may be free to join. Some others may require a subscription fee or payment for access to premium services.
Are copy trading platforms more reliable than crypto signal groups?
Copy trading platforms are generally considered more reliable than crypto signal groups. It is because they are regulated under the laws of the countries they operate in. Conversely,  crypto signal groups on Telegram offer anonymity when they don't take responsibility for the potential losses of their subscribers.