Cooking up profits in the crypto markets requires some key ingredients. While skill and intuition are important, one of the most essential elements is automation. Especially for short-term traders, minimizing emotion and human error through automated systems can lead to significantly better results.
In this CryptoHopper review article, we'll explore how to leverage trading bots and algorithmic systems to grow your crypto business. These tools now drive a majority of trade volume in the space. When used properly, they can help you systematically execute strategies, manage risk, and remove bias from decision-making.
We'll take a deep dive into the CryptoHopper review, We'll explain exactly how bots work and what parts of the trading process they can automate. We'll also look at how combining CryptoHopper with algorithmic systems can enable fully automated crypto asset and portfolio management.
What Is Trade Automation?
Trading automation refers to hiring/developing one or a set of automated algorithms – commonly known as trading bots – to test, build, and execute trading strategies in an automated manner.
Trading automation can be applied to different stages of trading, starting from automated trading strategy backtesting to automated alerts and data recording, signal bots, and usually ending up with automated trade execution.
However, two more stages have been added to the list of automated trading system stages, the automated copy trading and automated client management that Finestel provides; two groundbreaking ideas capable of taking crypto asset management to a different level. Let's see how these systems are built.
Background on Crypto Trading Automation
The crypto markets never sleep, with prices fluctuating 24/7 on exchanges worldwide. This fast-paced environment offers opportunities but also risks for traders. Manual trading can be time-consuming, emotional, and error-prone. Automated trading bots emerged to optimize the process.
Trading bots are software programs that connect to exchanges via APIs and can monitor markets, execute pre-programmed strategies, and manage trades around the clock without human intervention. Bots enable traders to implement rules-based trading plans, limit emotional bias, and scale their efforts.
Leading crypto exchanges like Binance, FTX, and Coinbase offer basic built-in bots. Third-party platforms like Cryptohopper and Finestel provide more advanced tools to build, backtest, and automate custom trading strategies. With the right automation, traders can systematically grow profits while minimizing mistakes.
Popular Crypto Trading Strategies to Automate
From simple algorithms like dollar-cost averaging to advanced technical models, traders use various strategies to profit from crypto volatility. Trading bots excel at automating rules-based tactics.
Popular examples include arbitrage – capitalizing on asset price discrepancies across exchanges, market making – providing liquidity and earning on bid-ask spreads, and trend following – using momentum indicators to trade in the direction of trends.
Bots can also automate more complex strategies like algorithmic trading – executing automated orders based on technical signals and machine learning models. Portfolio automation ensures balances match targets. No trader can monitor markets 24/7, but well-programmed bots can run these strategies around the clock.
CryptoHopper Review; Building Automated Trading Systems 
Trading bots (automated trading systems) can be built through coding from scratch or modifying available pre-written codes. However, a simpler, yet maybe the best way to build the best crypto trading bot is using trading automation or auto trading platforms. Namely, CryptoHopper.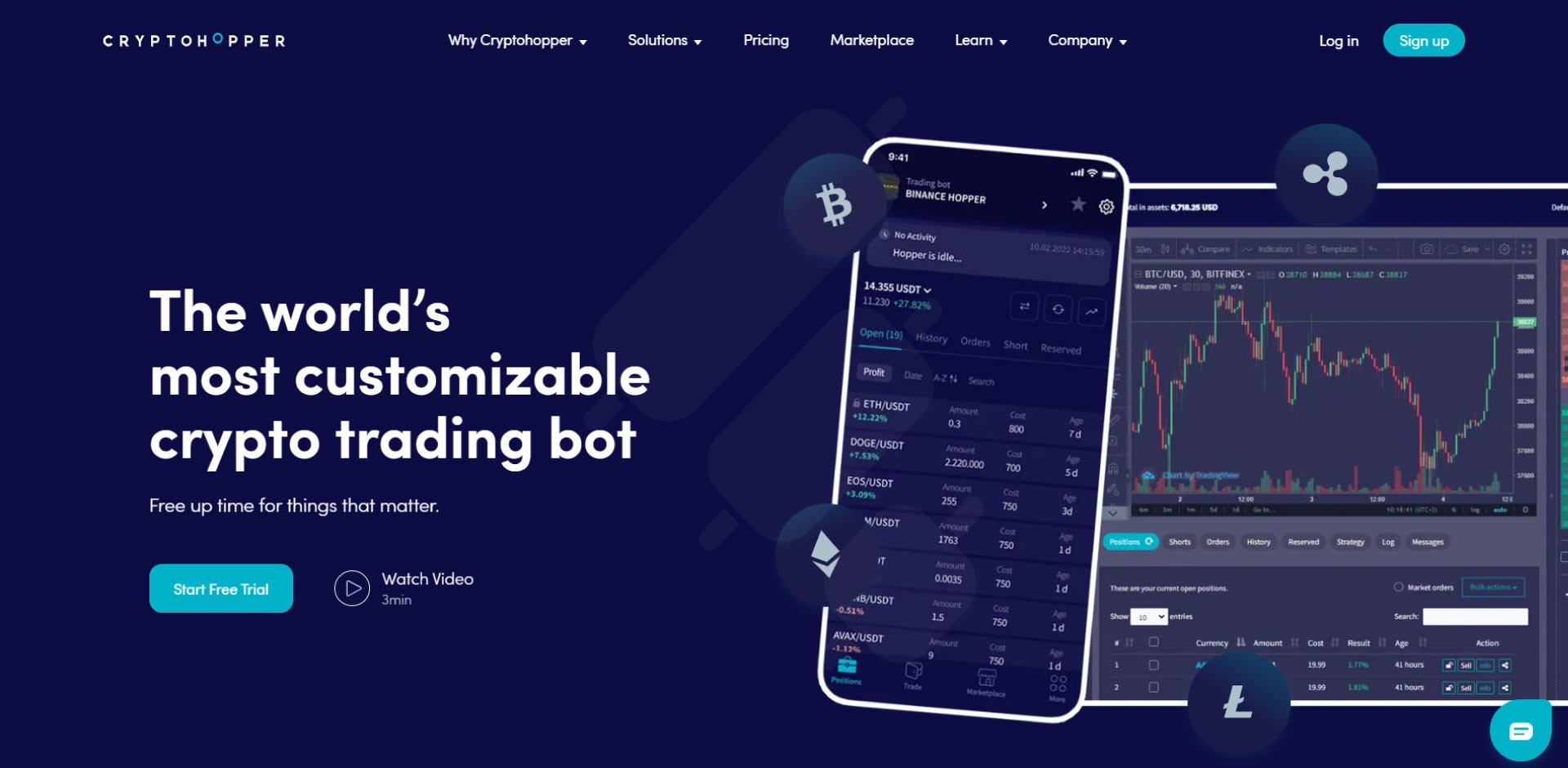 Where Does CryptoHopper Help in Trading Journeys?
CryptoHopper is an auto trading platform where you can build and run trading bots via defining automated algorithms using conditions, triggers, and rules.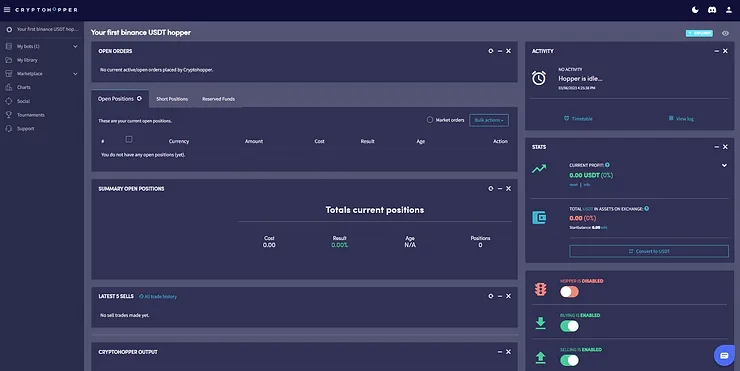 Trading automation platforms, whether an independent platform like CryptoHopper or as a service on crypto exchanges like Bybit or KuCoin, are interfaces that market participants build and run trading bots on.
Third-party trading bot platforms like CryptoHopper connect to exchange accounts via API access to execute the conditions you define for them; they can handle quite a lot!
Those conditions will implement your trading strategies in the form of trade setups on your connected exchange accounts/sub-accounts.
Cryptohopper Key Features Review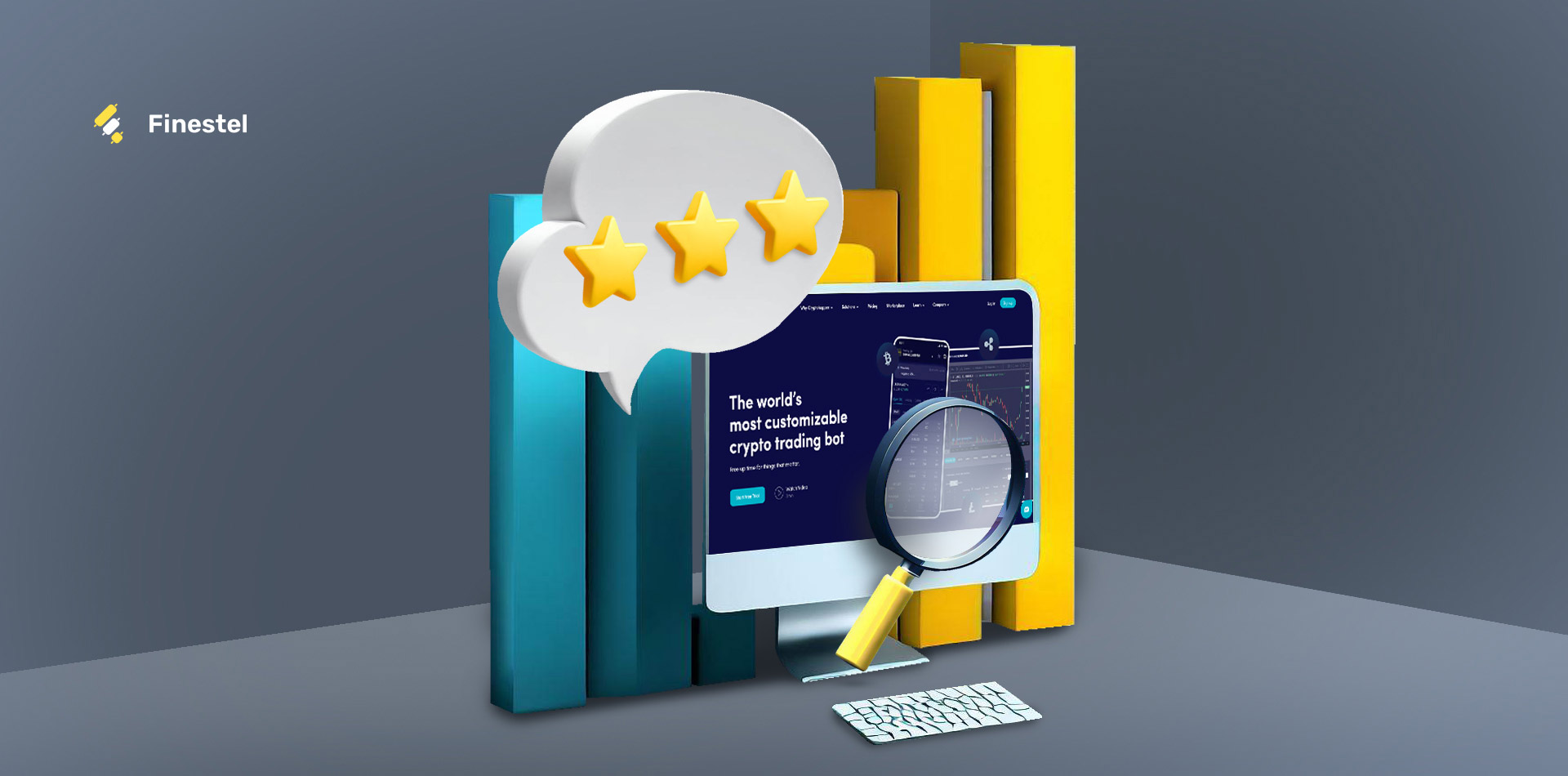 Automated trading based on your customized settings – set it and forget it!
Arbitrage between exchanges to take advantage of price differences
Market making to earn commissions on each trade
AI tools to develop, backtest, and optimize your own strategies
Trailing stops to lock in profits and limit losses – smart!
Paper trade risk-free before putting real money on the line
Easy-to-use strategy designer so you don't need coding skills
Backtesting to identify your most profitable (and risky) strategies
A Brief Tour of CryptoHopper's Tools & Services
Although the platform is flooded with trading automation tools, it's unbelievably user-friendly.
Right after signing up, you get to select and connect your exchange account via an API key. You'll have access to paper trading (Simulated funds) and copy other available bots (social trading) or build from scratch on further steps, also to "Skip onboarding" and land straight on the dashboard; loved the aesthetics, BTW.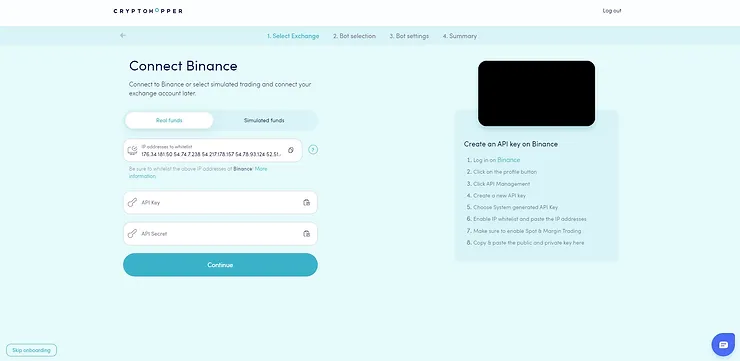 The dashboard starts with the "Your first hopper" menu, which is a trade automation interface. Other than the numerous options you have to build your algorithm with, you have access to apply in-depth configurations, see and export your trade history, run complex backtests, and get detailed performance statistics.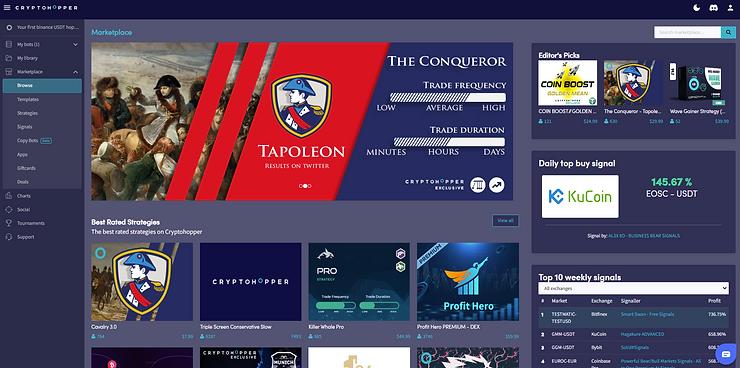 Additionally, you can track and monitor your hoppers, buy or hire services such as bot templates, trading signals, and strategies, copy bots, and more on the "Marketplace" menu, see the charts, and even socialize with other participants on the "Social" menu!
Cryptohopper Pricing Plans
Cryptohopper offers a variety of pricing plans, starting at $19 per month. The more expensive plans offer more features and higher trading limits. here is the CryptoHopper pricing review:
| Plan | Price | Features |
| --- | --- | --- |
| Free | $0 | Paper trading, 200 live trades per month |
| Pioneer | $19 | 500 live trades per month, 5 templates, 5 strategies |
| Trader | $49 | 1000 live trades per month, 10 templates, 10 strategies |
| Pro | $99 | 2000 live trades per month, 20 templates, 20 strategies |
| Enterprise | $299 | Custom pricing, custom features |
Cryptohopper also offers a 14-day free trial, so users can try the platform before they commit to a paid plan.
Overall, Cryptohopper is a powerful and feature-rich cryptocurrency trading bot. It is a good choice for both beginners and experienced traders.
Where Does Finestel Come to Play?
Finestel is a crypto trading service provider, consisting of a few automated and autonomous bots and a fully customizable white-label product for the industry's professional traders with a community of clients or investors.
Finestel is a white-label copy trading web application, which means one can have their brand and personalizations on it and provide it to their customers as their own platform.
Technically speaking, Finestel runs on top of a combination of automated algorithms providing automated and autonomous crypto asset management and client management services.
By the way, you can apply for the instructions to set up your own Finestel white label and get a demo link to see all the platform corners and available personalizations for yourself. 
Pro crypto traders with a community of clients order a personalized Finestel, list their connected "Trader" exchange accounts or crypto trading "strategies" on their branded platform, and then their clients can copy those strategies using their connected "Investor" exchange accounts.
What Do Finestel & CryptoHopper Have to Do Together?
The two platforms are not comparable really. Trading automation is usually applied in multiple layers and far more than just placing/canceling orders on an exchange account.
Both Finestel and CryptoHopper handle stages of trading automation but their approaches definitely differ.
Pro traders use CryptoHopper's automated systems to test and build trading strategies and then get them automatically executed on their exchange accounts.
Finestel delivers automation for proportionally distributing those strategies into a network of investor exchange accounts followed by a client relationship management system, but all that is fully personalized and customizable to the white-label owner's preferences.
Programming Your CryptoHopper Bot
The key to profitability with Cryptohopper is properly programming your trading bot using clear logic and strategy. Cryptohopper uses an easy drag-and-drop designer to build bots without coding expertise.
Strategies are set up using "IF, THEN" logic. For example, you can set rules like "IF Bitcoin price hits $30K, THEN buy 0.1 BTC". You add indicators, set criteria for entry and exit points, stop losses, and more. The bot then executes the programmed strategy 24/7.
With algorithmic trading, you can automate complex systems like scalping, arbitrage, portfolio rebalancing, and more. The platform includes tools for backtesting to validate strategies before going live.
Technical analysis is also vital for effective bot trading. Cryptohopper provides access to over 90 candlestick patterns and 30 indicators to identify trends and signals. You can customize the bot using RSI, MACD, Bollinger Bands, and other analytics tools.
The key is coding a strategy optimized for prevailing market conditions and your risk tolerance. Bot trading is not magic – results depend on the underlying logic. Precise programming is crucial for trading bots to make smart decisions and grow your portfolio around the clock.
With the right scripting, Cryptohopper enables traders to execute profitable strategies without the stress of manual 24/7 trading. Automation can lead to consistency, but it all starts with carefully planning the rules and logic for your bot.
Conclusion
Automation is transforming crypto trading, opening new possibilities for traders. Platforms like Cryptohopper and Finestel provide powerful tools to systematize your approach. Whether you're a pro investor or new to the game, leveraging trading bots can remove the stress and emotion from decision-making.
The key is finding solutions tailored to your strategy and risk tolerance. Cryptohopper's customizable bots can automate intricate trades around the clock. Finestel takes it further, letting you run an entire fund via its white-label crypto asset management ecosystem.
Together, these platforms enable next-level portfolio automation. You can execute profitable copy trading, manage collective investments, and scale your crypto business. Let the robots crunch the data so you can focus on big-picture strategy.