Crypto copy trading is a relatively new concept that can take the crypto investment management industry to a new level. This paper, though, is about Binance Futures Copy Trading alone, which is one of Finestel's applications.
Content Menu
Briefly About The Futures Market
Copy Or Get Copied, That's The Question!
But Why Crypto Copy Trading?
Hire Professional Crypto Traders on Your Exchange Account Using Finestel!
Binance Futures Copy Trading via API Connections & Finestel Exchange
A Brief Tour on Finestel Dashboard
Finestel Wallet
Binance Futures Copy Trading via Proportional Order Replication
How to Copy A Binance Futures Trader on Finestel?
Hit The Copy Button
The Trader, Crypto Portfolio or Asset Manager Side of Finestel | Introducing Finestel Pro
Finestel Pro | A Fully Personalized White Label Crypto Copy Trading Platform
Frequently Asked Questions
Briefly About The Futures Market
The Futures Market is a type of derivatives market that was primarily invented for "hedging." Producers and manufacturers, business owners, traders, and so on, use "long & short contracts" to protect their profit, capital, or investment from market price fluctuations. These contracts are tradable assets, like Bitcoin, stocks, Gold, etc., and crypto futures trading have been available on top crypto exchanges since a few years ago.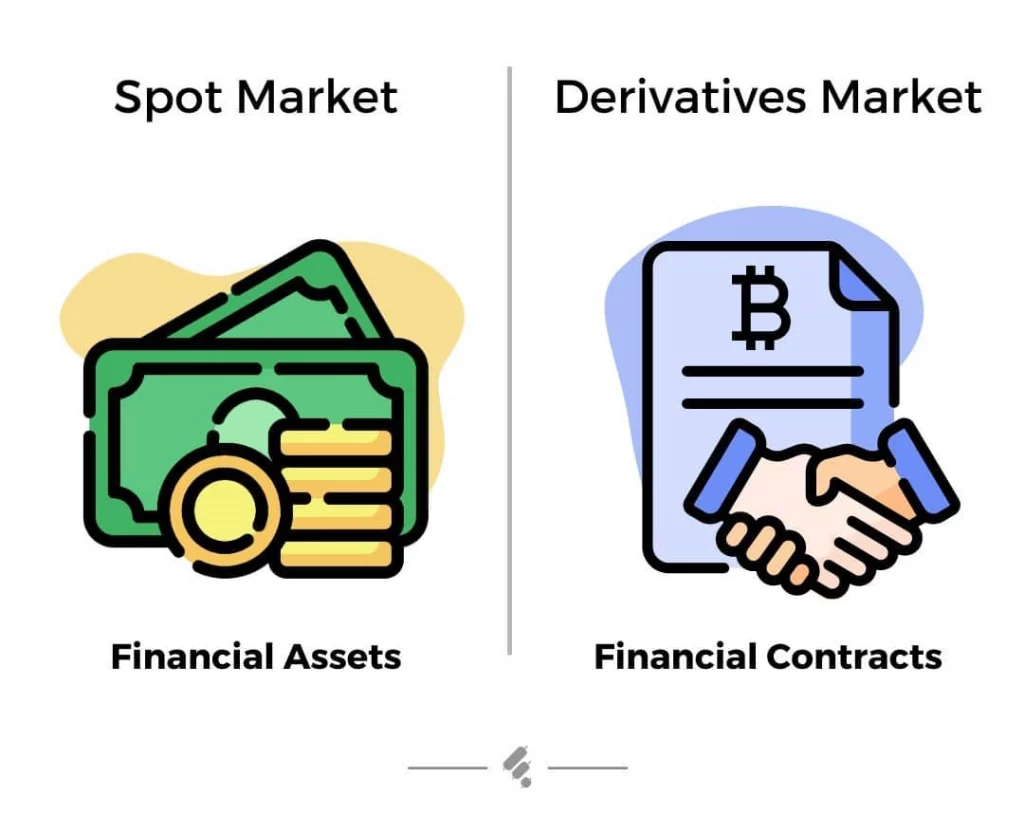 Since this article is dedicated to Binance Futures Copy Trading, we'll talk about Binance only. We also have another full-guide for KuCoin, another popular crypto exchange that Finestel supports for spot market copy trading; and stay tuned to see more popular exchanges and crypto market types on Finestel.
Copy Or Get Copied, That's The Question!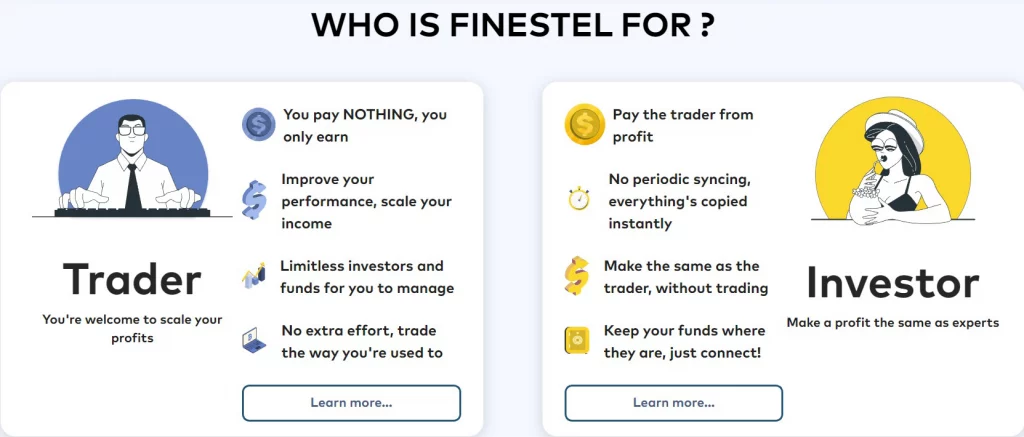 If you search whether you should copy a trader or not, negative results are not rare if not the majority. Some people are completely against copy trading and among them, some believe you should train yourself and trade on your own.

Well, one of the main reasons for all that negativity around the concept is that profitable traders are really rare, especially in the volatile crypto market. Why? Because trading is a seriously complex practice, mainly because not everyone is capable of controlling their emotions and following the trading strategy, being aware of their biases, understanding risk, etc., etc., etc.

HOWEVER, if you have those capabilities, have one digit drawdown records, and your total return is positive, congrats! Copy trading is a great choice for you to gain AUM (Assets Under Management) & investors and potentially multiply your profits. Finestel is not just for investors (copy traders) to copy an expert, it's literally for every crypto enthusiast; from newbies to hedge funds.
But Why Crypto Copy Trading?

Because trading is freaking hard. Profitable crypto trading requires a combination of various analyses (technical, fundamental, on-chain, etc.), trading strategy developments, backtests, and more. On top of those, is the emotions control, number one weak point of all traders, by far.

Yes. Profitable trading depends way more on the trader than the trading strategy, indicators, your dog, or SHIB's $1 Club. Trading is far more than Fibonacci and trend lines. Trading is a manner, a school of thought, not the buy or sell you toss on your cell phone!
They say "buy low, sell high" but they never say far more than the "low & sell" happens between the "buy" & "high."
Hire Professional Crypto Traders on Your Exchange Account Using Finestel!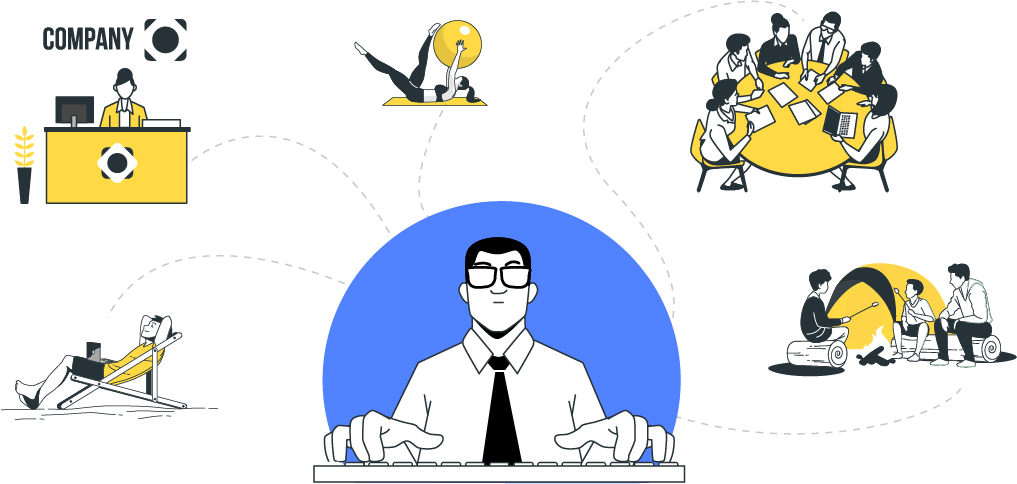 Copy trading is not much different from trading itself, especially when it comes to risk. Copy trading is the process of replicating one exchange account's orders and/or portfolio into multiple others, simultaneously and proportionally. Or, using the copy trading platform on a crypto exchange and directly copy traders. AKA, Custodial & Non-custodial copy trading.

So, there's still somebody trading on one end, right? That somebody could be a trader or trader bot (ATS) that is actively trading using a trading strategy, developed based on the trader's risk profile and financial condition. Now, if you copy them, the same strategy applies to your balance almost immediately. That, my friend, is why you must know your risk tolerance and your expected reward or profit to choose the best crypto trader for your conditions to copy.
Note: Finestel Exchange is still not available for the public but it's under the final tests and will be available soon. We will update this section of the article afterward.
So, crypto copy trading makes it possible for crypto investors and enthusiasts to trade their crypto assets like a professional trader, but without going through all the technical stuff & even trading; it won't be inaccurate to say you can hire professional crypto traders or asset managers for your Binance account using Finestel.
Binance Futures Copy Trading via API Connections & Finestel Exchange
Finestel provides both of the crypto copy trading models we've explained above: 
You can connect your Binance account via trade-only API access – as an investor – and copy the traders, or via read-only – as a crypto trader, asset, portfolio, or fund manager – and gain investors and AUM. More details on Binance APIs are further below.
Alternative to the APIs, you can deposit the funds you've dedicated to copy trading into Finestel Exchange and copy a trader with all or a portion of your Finestel exchange balance, straight away.
API Configurations For Binance Futures Copy Trading
It's important to mention that Finestel accounts are neither "Trader" nor "Investor." It's the connected exchange account's API configuration that enables Finestel to either copy from or replicate into.

Crypto asset managers, portfolio managers, or as we call them, traders, connect their exchange accounts via read-only API access, which is Binance's default API setting (The "Enable Reading" option). The image below:

Investors, on the other hand, connect via trade-only API access. The first option, "Enable Spot & Margin Trading" is for copying Binance spot market traders and to copy Binance Futures traders, investors must checkmark the "Enable Futures" option, as well.

By the way, we also have a guide for copying spot traders on Binance:
The Steps Below Show How to Connect Both The Trader & Investor Binance Accounts to Finestel:
First up, create a Finestel account and log in. On the dashboard, find the button that reads "Connect" or use the box on top of the page (the image below).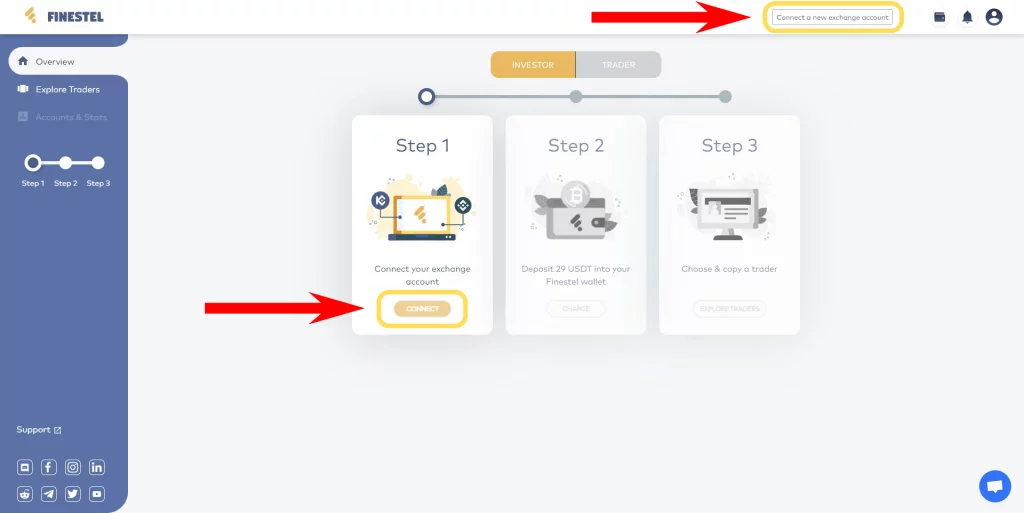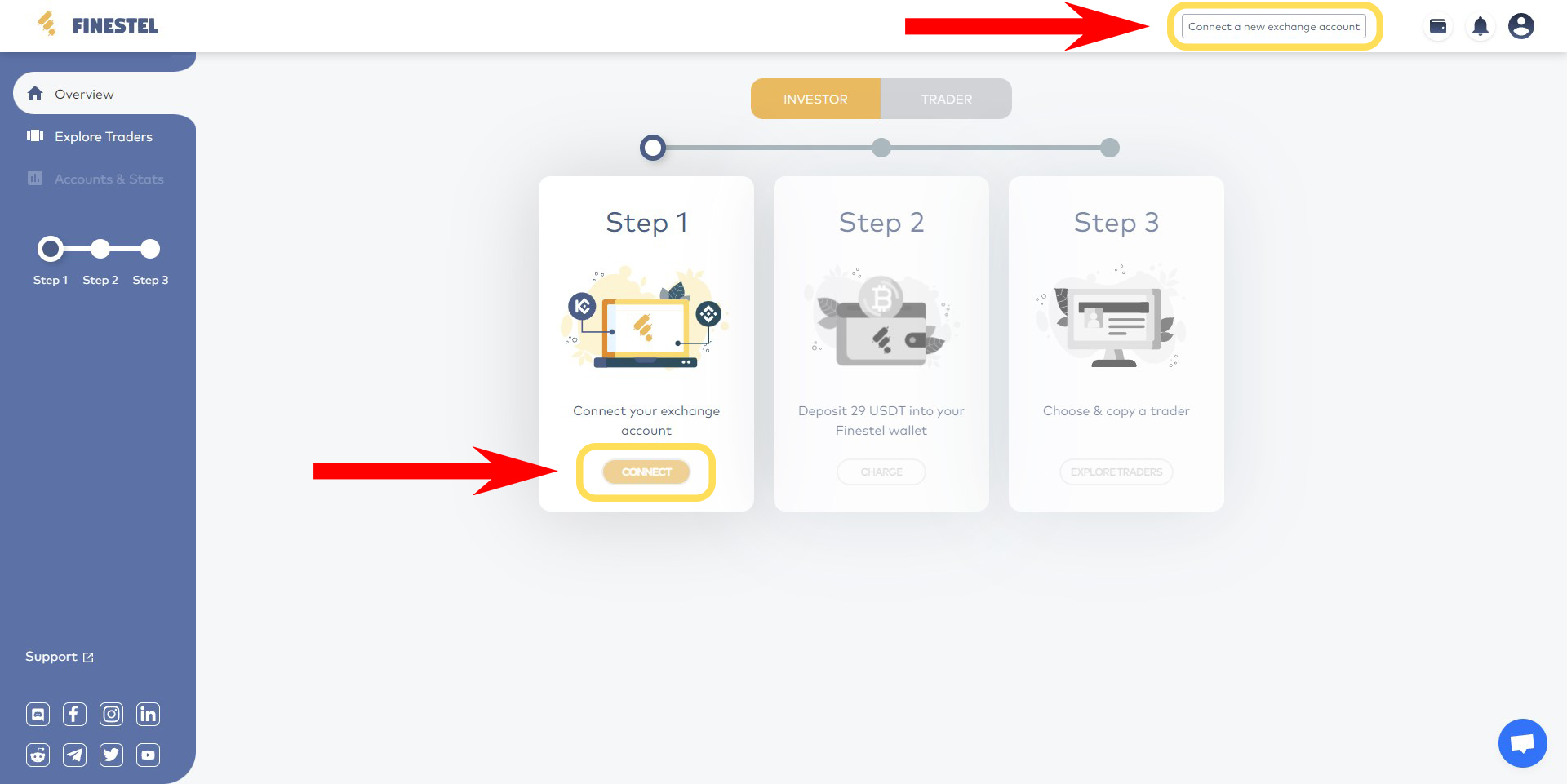 You can connect up to 10 Binance, KuCoin, and Bybit accounts to your Finestel account and if you need more just contact us and after a review, we can give you access to connect much more.

Why would someone connect 10 exchange accounts to Finestel? Why would somebody even have 10 Binance accounts? You'll find out further below.

On the next page you need to select the crypto exchange you want to connect. Finestel currently supports copy trading for Binance spot & futures, Bybit spot & futures and KuCoin spot only. Stay tuned for more popular exchanges; drop your suggestions in the comments please.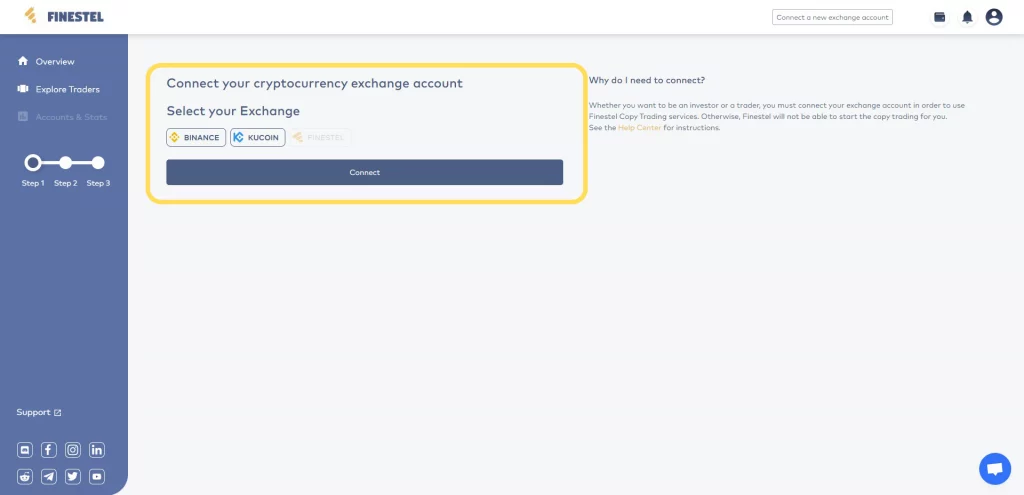 Moving forward, select a name for the Binance account you want to connect and then select a role. You can have trader and investor exchange accounts connected to your Finestel account, simultaneously.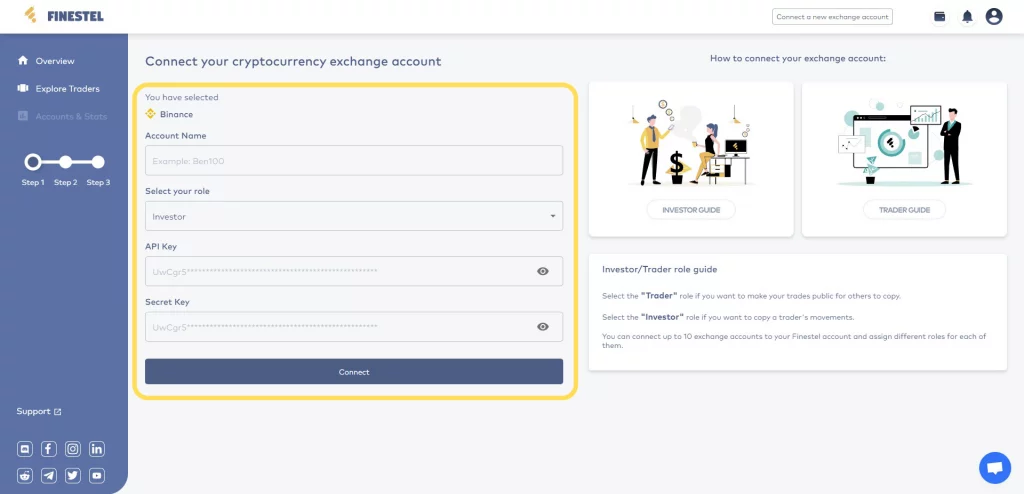 You can copy traders with your connected investor Binance accounts, while your connected trader Binance accounts are gaining investors and AUM; OR… even copy yourself!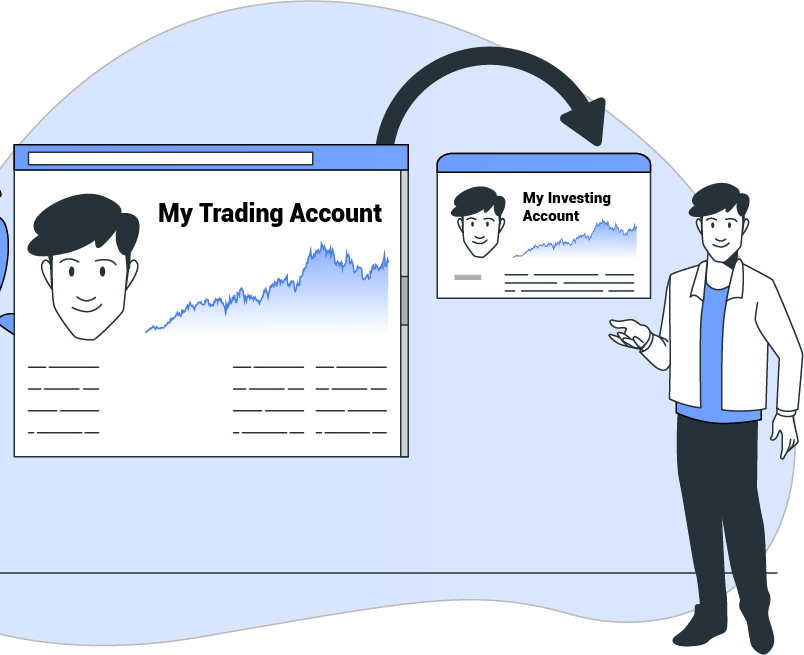 The Difference Between Connecting Trader & Investor Accounts
This is where the traders and investors go their separate paths. If you select Trader, you must configure read-only APIs.

Investors in contrast, configure and connect trade-only APIs and Finestel will replicate the copied trades into your connected exchange account, after they copy a trader.

Next up, you need to create an API on your Binance account. Log in to your Binance account and select the "API Management" section in the profile icon menu. After verifying your Binance account's credentials you'll see a "Create API" button.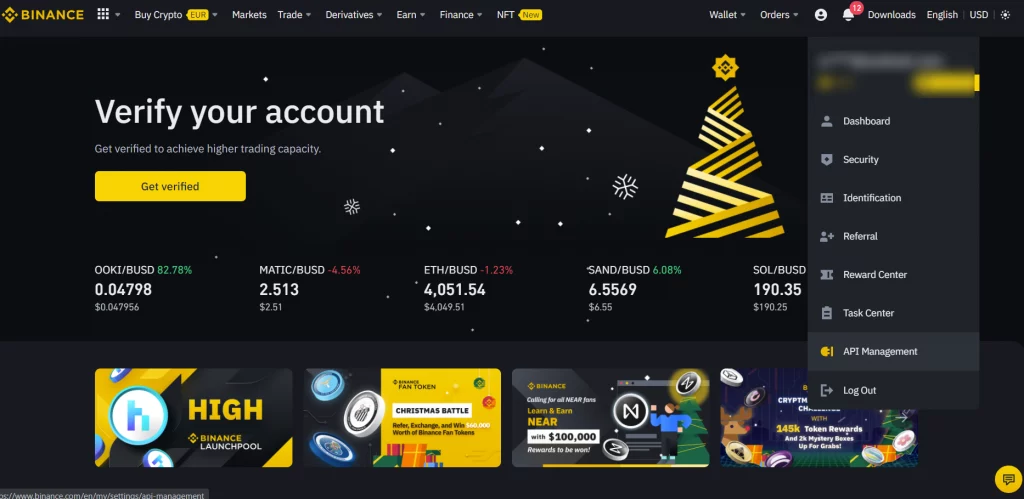 The default Binance API setting is read-only (Enable Reading), so trader accounts don't need to change anything. But if your account role is Investor, hit the "Edit" button on the top right corner of the API settings box and checkmark "Enable Spot & Margin Trading," which is for Binance spot market copy trading only.

For Binance futures copy trading you must mark the "Enable Futures" checkbox as well.

Now just click save and you'll have your Binance API key and the secret, copy and paste them into their fields on your Finestel account and hit the connect button; just like the 2 images above.
Quick but important: 
Finestel does not support margin trading. 
IP restrictions must be set to "Unrestricted" and because of that Binance will deactivate your API after 90 days; they will notify you via email before that, though. So, remember to get back to the API Management section of your Binance account, once you received the email to keep the API activated. Otherwise, Finestel will lose connection to your Binance account.
Most crypto exchanges show you API secret only once and when you create it. If you miss or lose your API secret, you need to delete the API on your Binance account and create a new one.
Warnings:
Do not grant "Withdrawal" API access to Finestel. Whoever has withdrawal API access to your Binance account, potentially has your account balance.
Do not trade on the Binance account that you're copying a trader with. You may end up losing money or even getting liquidated.
A Brief Tour on Finestel Dashboard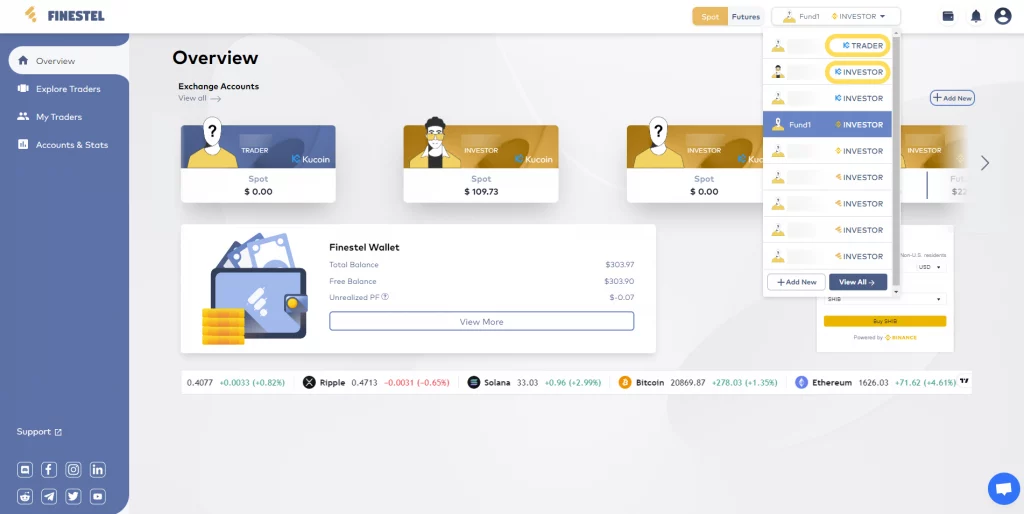 To start off, Traders' and Investors' Finestel dashboards are slightly different. If you connect both investor and trader exchange accounts and switch between them you'll see the dashboard changes immediately.

Once you connect your first investor exchange account Finestel adds the "My Traders" menu to your dashboard. This menu is where you can see the traders you copy and those you used to copy.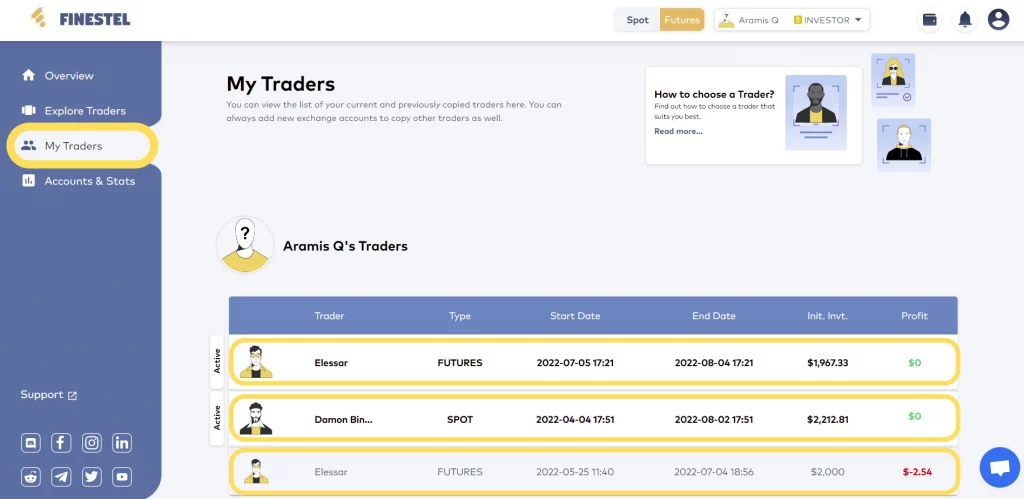 The My Traders menu shows you the traders you currently copy alongside those you used to copy with all the details you might need.

The Accounts & Stats menu gives you all the details you need to know about the connected exchange accounts as well as giving you access to edit your profile. You can see the asset allocation of your spot account, return, and the trader you copy. Also, you can monitor the open positions in your futures account in real-time.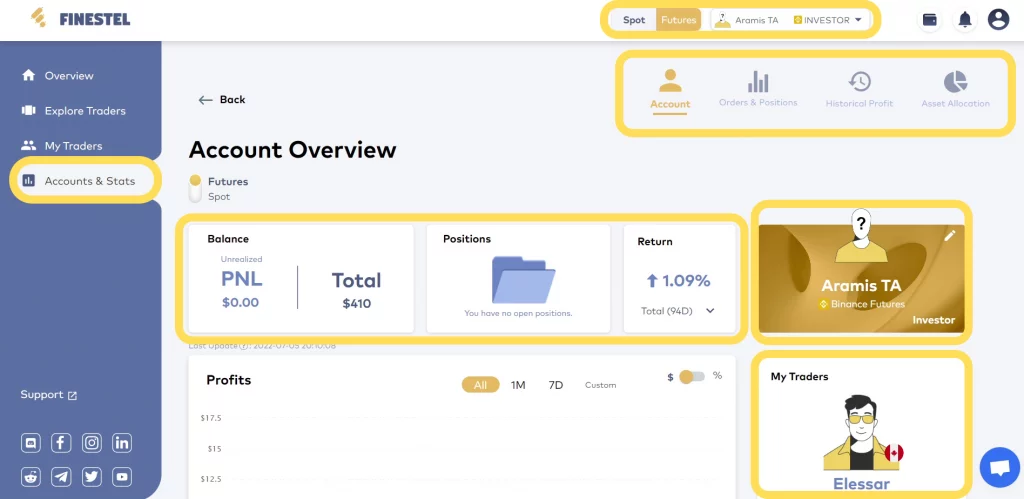 Moreover, on the Accounts & Stats menu, the Orders & Positions, Historical Profit, and Asset Allocation icons are where you can extract all the details about the connected exchange account performance.
Finestel Wallet
Finestel wallet is the medium that investors pay the monthly service fee and the copied trader's performance fee with, and trader accounts collect their earned performance fee.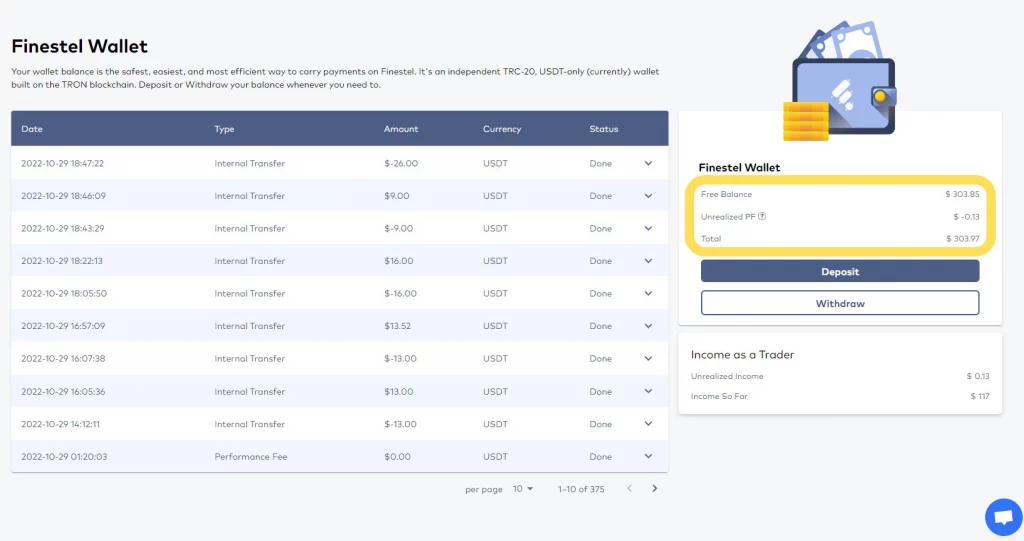 This wallet is currently a USDT only TRC-20 wallet that is built on the TRON blockchain and has 2 main sections and a summary.
Free Balance:
The free balance is the withdrawable balance that you can take off your wallet any time you want or use to pay the fees.
Unrealized Performance Fee:
This is the fee that either investors owe the copied trader or traders are waiting to receive from their investors.
Total:
The summary of the two balances.
Binance Futures Copy Trading via Proportional Order Replication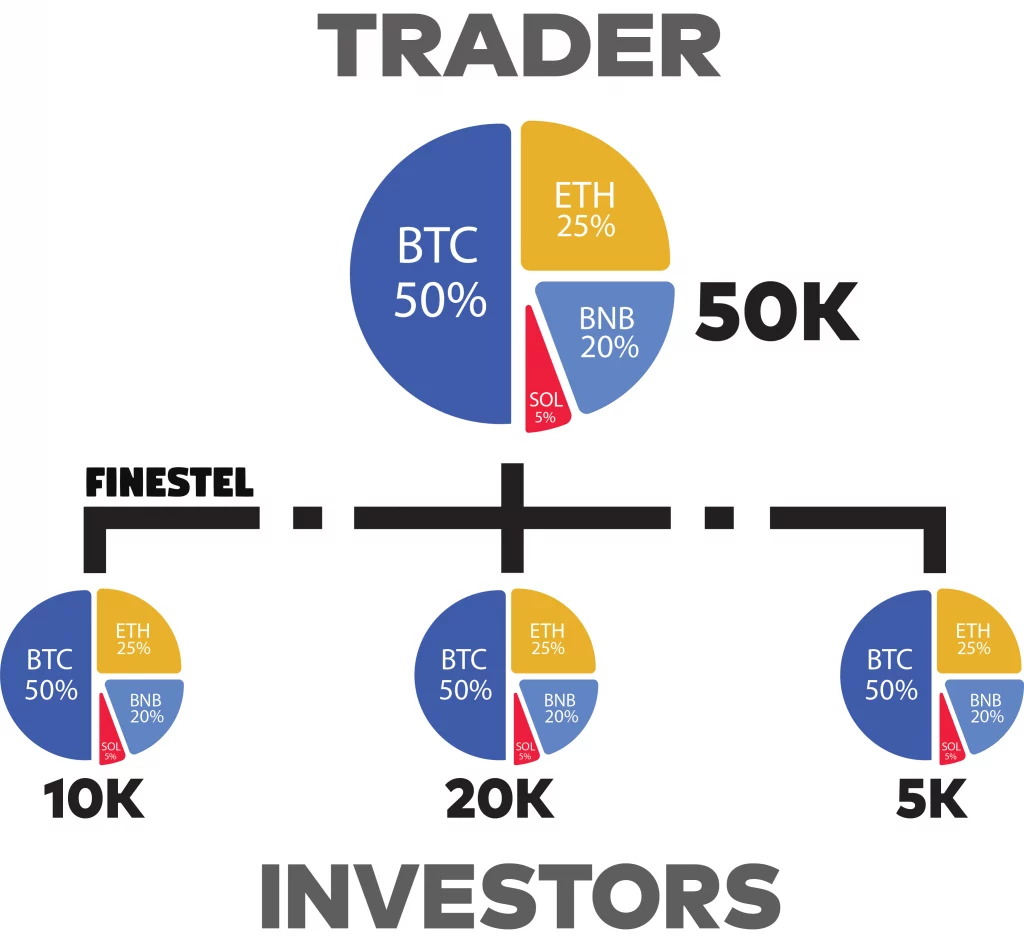 Proportional Order Replication is what makes Binance futures copy trading possible. To break down this 3-word combination, let me start with the word "proportional."

When the copied trader places an order on their Binance futures account, all their investor accounts receive the same exact order with all the details such as the SL (stop-loss), TP (take-profit), and leverage. However, the amount of the order that Finestel replicates into the investor accounts that copy the trader, depends on each investor's Binance futures account balance.
Example:
Imagine Ben is a futures trader and trades with $10,000 Binance futures account balance. Amy and I copy him with $5000 and $1000 Binance futures account balances, respectively.

If Ben places a $1000 worth of Bitcoin long order, the worth of the replicated orders in Amy's Binance account will be $500 and mine will be $100.

So the amount of replicated order for the investors' accounts depends on the ratio of their Binance futures account balance to the copied trader's. The video below is a demonstration of Finestel's proportional order replication for Binance futures copy trading.

The image below is a part of this YouTube video that shows the Binance futures order replication process.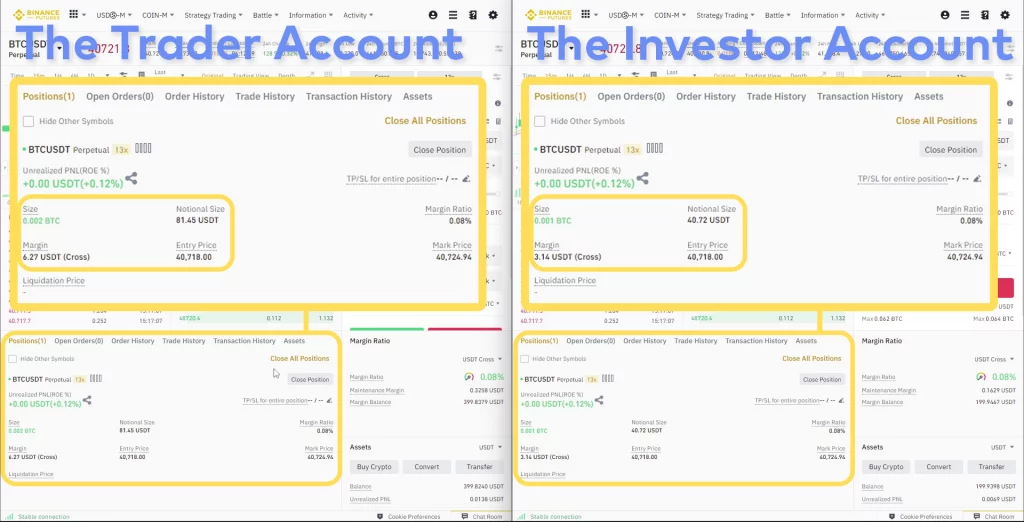 Important:
The spot market copy trading starts with a 60-second syncing process; you can see it in the video below:
But, when you copy a futures trader, Finestel will not replicate the copied trader's open positions and orders for pairs that already have an open position. In other words, unlike the spot market copy trading, Finestel will not sync your Binance futures account with the trader after you copy them.

The reason is that the copied trader's open positions might be close to their SL or TP and replicating them could harm the investors' balance. So investors will only receive fresh new orders and therefore, new positions from the copied Binance trader account.
Finestel can copy and replicate more than 10000 orders in less than 0.01 of a second from one trader account into infinite investor accounts.
How to Copy A Binance Futures Trader on Finestel?
Spot & futures markets are completely separate on Finestel. To copy a Binance futures trader flip the switch on top of your Finestel dashboard from "Spot" to "Futures," and then head over to the "Explore Traders" menu on the dashboard.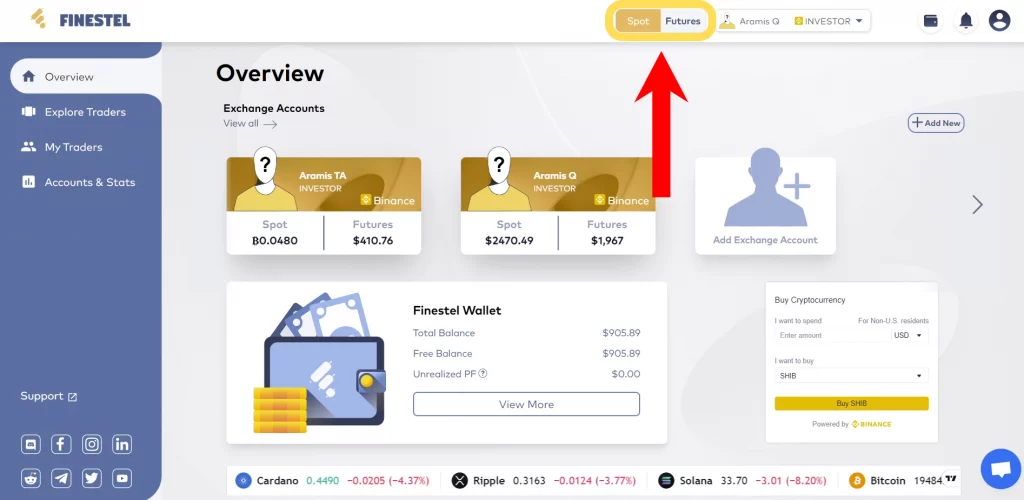 On the Explore Traders page, select the FUTURES category, compare the traders using the mini cards and to dig more hit the "VIEW TRADER" button to land on the trader's profile.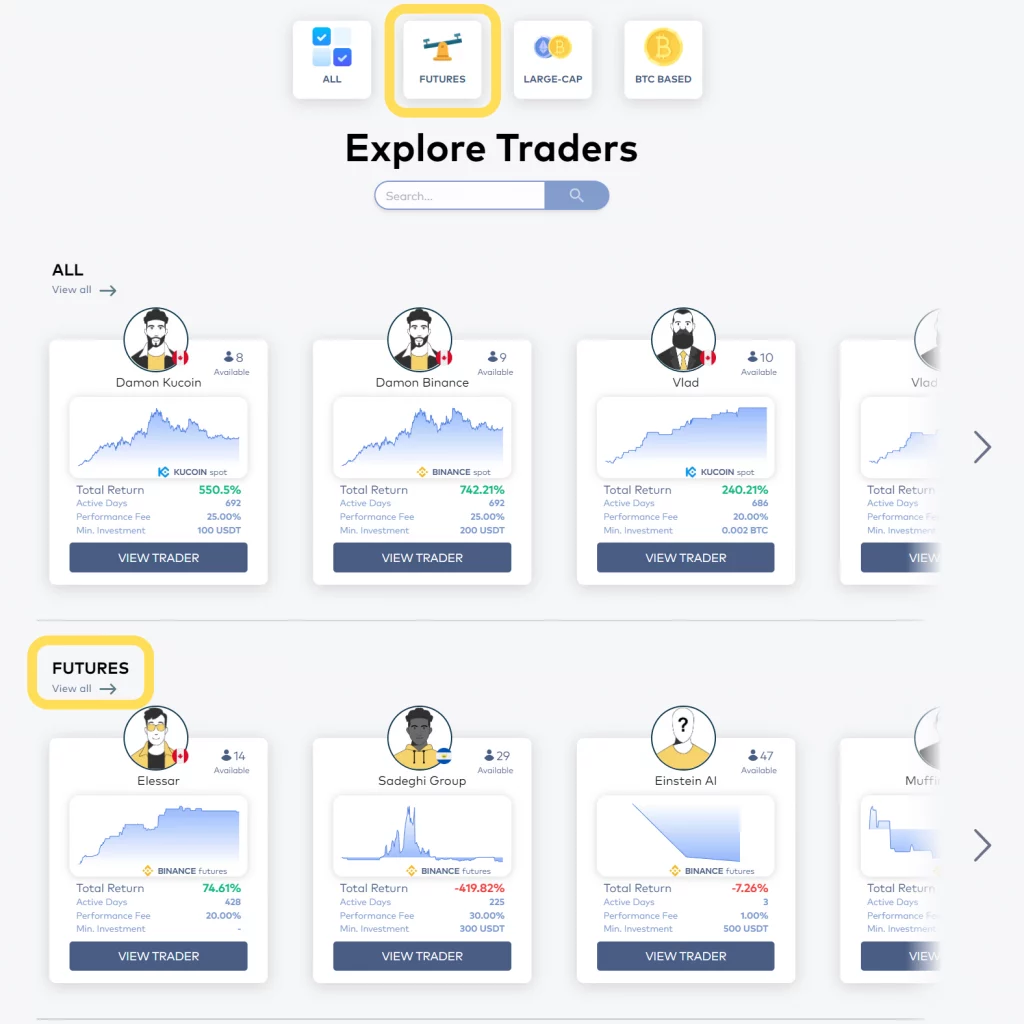 Finestel traders' profile contains crucial information about the trader that you want to ponder on before copying the trader.
Trader's Profile Sectors
Bio: Most traders tell you about their trading model and strategy or trading experience in this section.

Social Media: You have access to the trader's Telegram channel, group, or channel. Their Tradingview account, Twitter, and Discord channel.

Risk: To put simply, the trader's risk level depends on the amount of fluctuations you see in their "Profit" history chart.

Return: The trader's return, which is available in 4 fixed timeframes and total, shows their profit since the trader connected their exchange account.

Pricing: The trader's "Performance Fee" is their share of your profit and the "Minimum Investment" is the minimum BTC or USDT (depending on the trader's preference) value of your Binance account balance, no matter what coins or tokens it contains.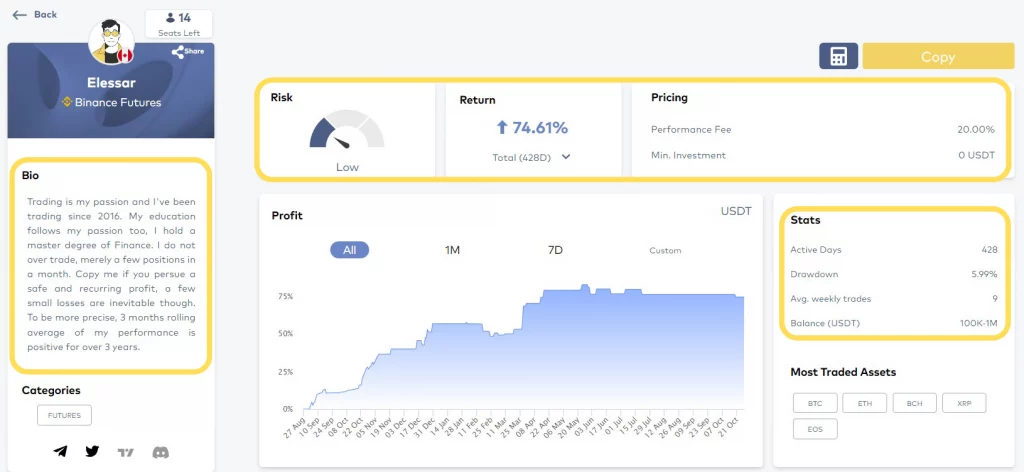 Trader's Profile Statistics
This might be the most important section of the trader's profile that investors want to spend some time on. The trader's statistics contains:
Active Days: The duration that the trader account has been connected to Finestel.
Drawdown: The biggest drop in the trader's profit chart after a profit peak.
Avg. Weekly Trades: The number of trades the trader makes per week, on average.
Balance (USDT): The exchange account balance range that the trader trades with.
Most Traded Assets: The crypto assets that the trader traded the most.
Profit Chart: Investors can check the trader's performance history using fixed frames or the custom time frames using the calendar. Plus, investors can drag & select a part of the chart and see the trader's performance in different durations.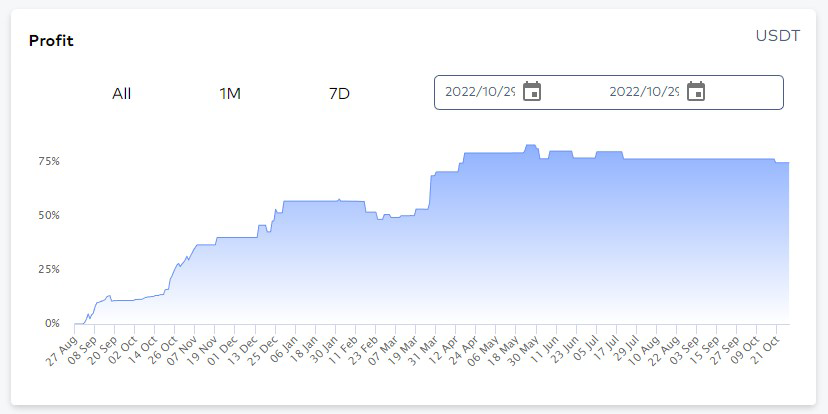 Choosing a profitable trader to copy could be tricky. The video below can help you with that:
The Profit Calculator
Investors can see how much profit the trader would have made for them, if they'd copied them since a specific date (using the calendar) and with $1000 exchange account balance or more.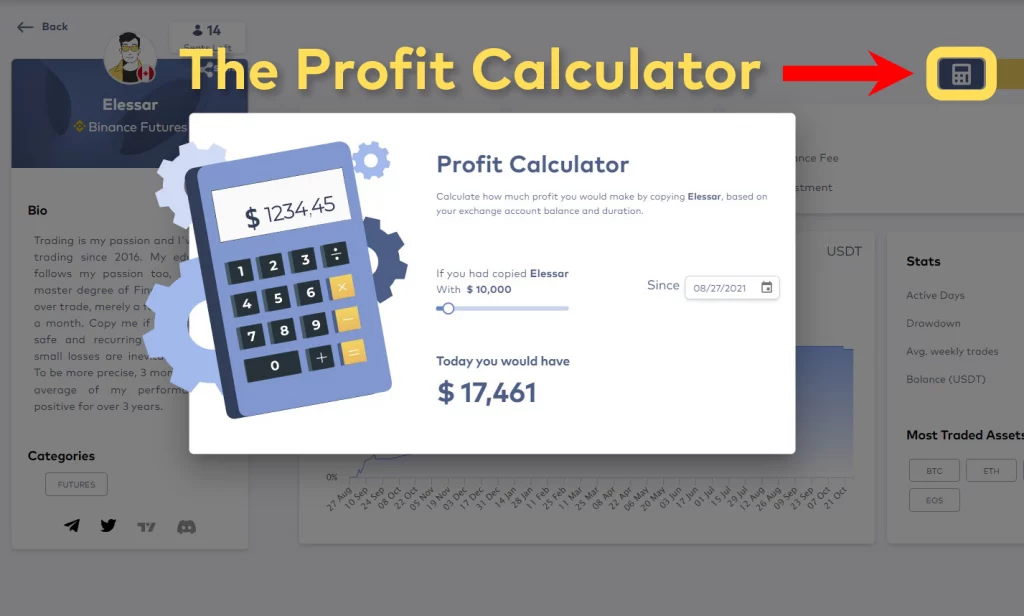 Hit The Copy Button
Once you select the trader that suits your financial conditions best, just hit the copy button on their Finestel profile.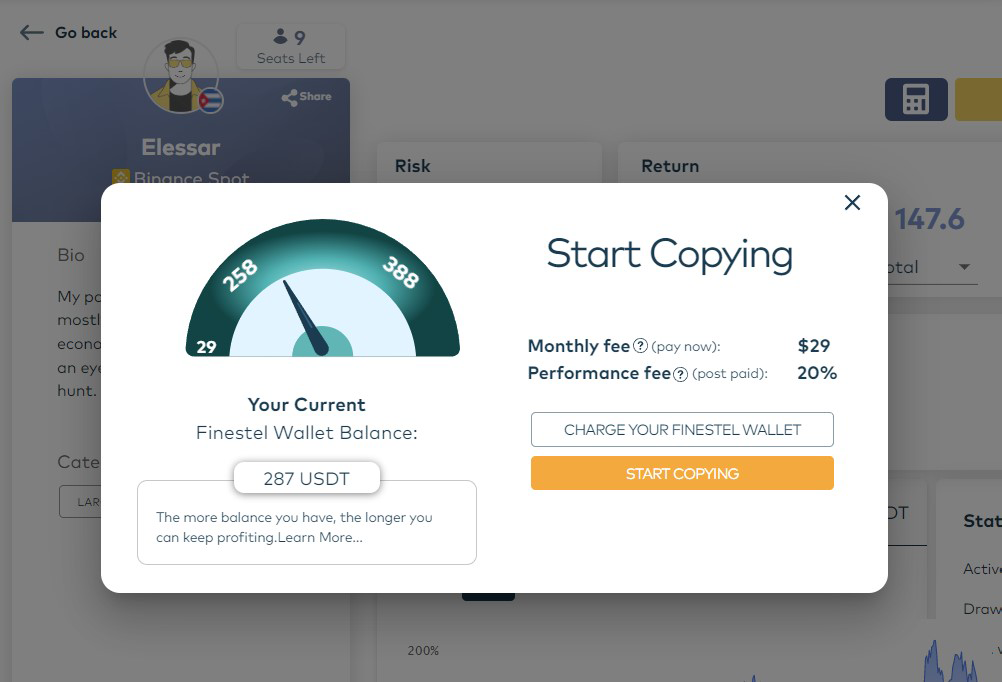 Finestel will ask you to pay the $29 "Service Fee." This is the platform's fee, which investors pay on a monthly basis and for copying each trader. Unlike the service fee, the copied trader's performance fee is post-paid.

Every 30 days, Finestel will realize the investors' profit in their exchange accounts and calculate their copied trader's performance fee and ask the investors to charge their Finestel wallet for the payment, if their Finestel account balance is lower than the copied trader's performance fee.
The Trader, Crypto Portfolio or Asset Manager Side of Finestel | Introducing Finestel Pro
The word "Trader" is a general term that we use for crypto asset managers, portfolio managers, fund managers, etc. Behind a connected trader account could be a crypto trader, trader bot, or even a crypto asset management firm; let's dig deeper.

After signing up on Finestel, you can connect up to 10 crypto exchange accounts, straight away. Besides, if you need to connect more than 10 exchange accounts, you can use Finestel Pro, which I'll tell you about, further below.
Who Uses 10 Crypto Exchange Accounts?
So, why would someone want to connect 10 exchange accounts? Before answering that question let me tell you that you can connect both trader and investor accounts simultaneously to your Finestel account.

This feature was specifically designed for crypto asset, portfolio, fund managers, and professional crypto traders. Using this feature, you can manage multiple exchange accounts or portfolios with different balances, on a single dashboard.

Crypto traders can distribute multiple crypto portfolios and funds or futures trading strategies across a network of exchange accounts or investors community using only one Binance, Bybit or KuCoin account and their Finestel account. This network could consist of one friends & family fund, could be the communities of clients of a crypto asset management firm.
Private & Public Trader Accounts
After connecting an exchange account, traders need to take two more steps. First, defining their pricing, and second, choosing whether to be private or public on Finestel.
Trader Accounts' Pricing
The Accounts & Stats menu is where you set your pricing. The Performance Fee is your share of the profits you've made for your investors, which Finestel will realize every 30 days. And the Minimum Investment is the minimum value (BTC or USDT) that the investor exchange accounts that want to copy you must have.
Public & Private Accounts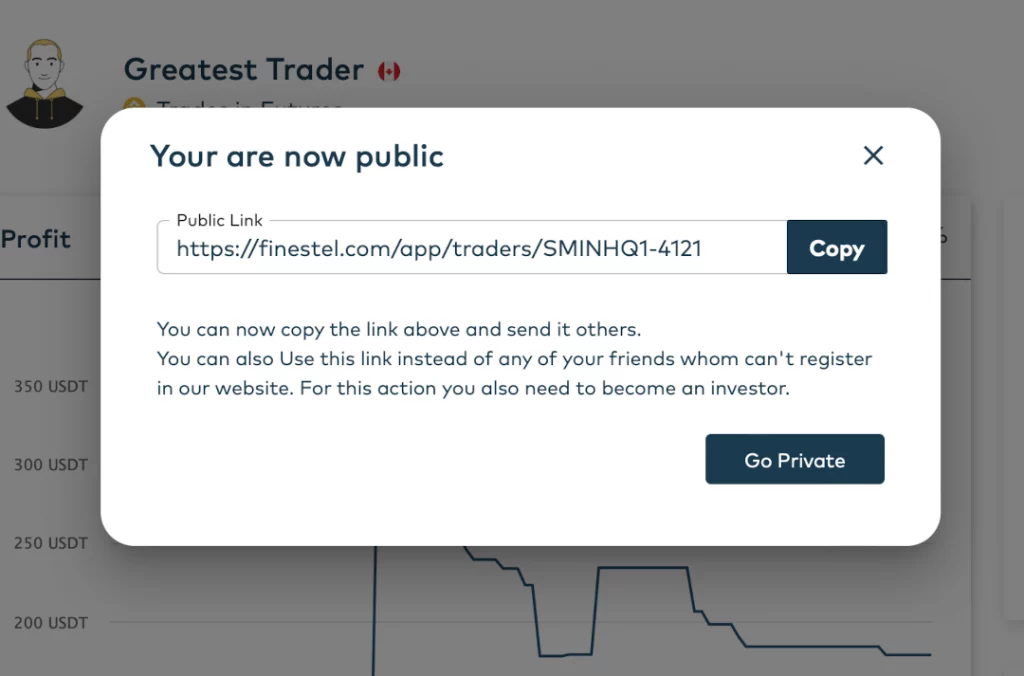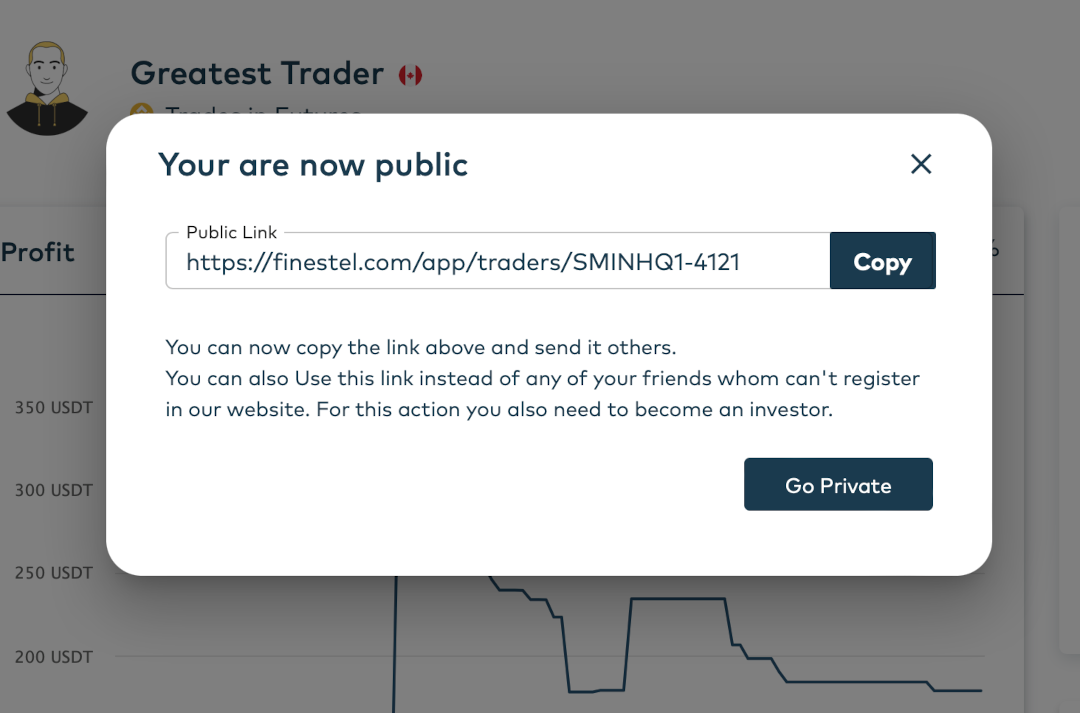 Trader accounts are private by default, meaning Finestel will not list your trader account on the Explore Traders menu after connecting it. There are traders who want to provide crypto copy trading services to their private community of clients or investors only.

Private traders can provide services such as Binance futures copy trading to their private investors using their Finestel profile link.
Advantages of Upgrading a Private Trader Account to Public
Upgrading your connected trader account to public has advantages such as getting listed on the Explore Traders menu and becoming available for Finestel traders to copy. Also, Finestel promotes public trader accounts with good trading performance on its social media channels and homepage.

To upgrade your account to public (100% free) go to the Accounts & Stats menu of your dashboard and hit the "Go Public" button and the rest of the process is simple enough to skip explaining.

Additionally, just like the private mode, you can embed your profile link on your social media channels, website, or blog to gain investors from outside of Finestel's investors community.
Finestel Pro | A Fully Personalized White Label Crypto Copy Trading Platform
Finestel is some sort of a crypto accounting system. As I mentioned before, you can connect up to 10 exchange accounts and manage them all using only one exchange account. Imagine you've connected 9 Binance investor accounts with different futures account balances to distribute your futures trading strategy on all of them using 1 Binance account that you've also connected to your Finestel account as a trader.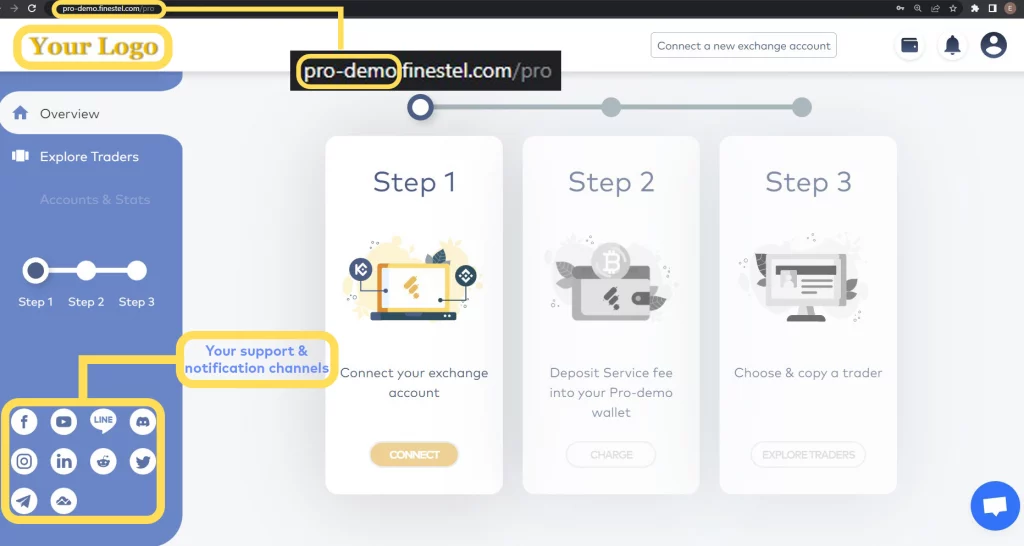 But, what if there are crypto asset managers who need a more diverse crypto accounting system? Like a pricing model other than just the performance fee. Well, Finestel Pro got you covered!

Finestel Pro is a fully customizable white label copy trading platform built on top of the Finestel engine. Finestel Pro was specifically designed for professional crypto traders and asset managers to build their digital crypto asset management firm on top of Finestel's powerful engine.
Finestel Pro's Capabilities
In less than 1 working day after applying for a Finestel Pro Demo you'll receive an email with a demo link and instructions on how to gain your Finestel Pro. After sending the necessary materials, you will receive a fully personalized white label copy trading platform with your brand instead of Finestel's, not only with the same capabilities, but even more!

Finestel Pro users will have a personal Finestel domain, starting with their brand name and a personalized dashboard. Using Finestel Pro, you will be able to design a customized pricing, use performance, management, subscription fees, or a combination of all of them.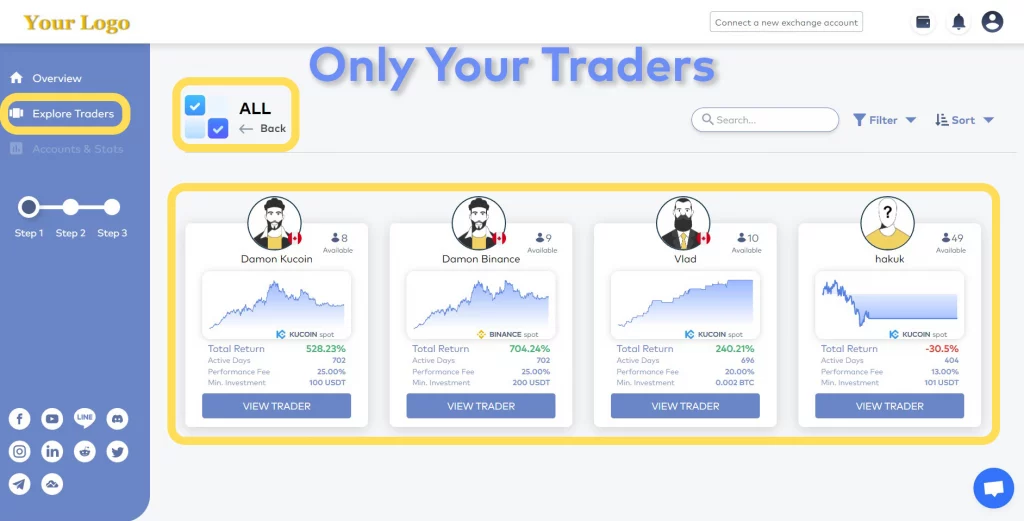 You will experience a robust reporting system, can design personal email and Telegram notification systems, and you can combine the two to design your own support system. You have access to marketing tools such as referral and affiliate programs and lastly, your clients will only see your traders on the Explore Traders menu.
Frequently Asked Questions
Does Binance allow copy trading?
Yes, via a third-party platform like Finestel and through an API connection. The trader Binance accounts (which Finestel copies from) connect via read-only API connections and investors (copy traders), which Finestel replicates the copied trades into.

Does Binance have automated trading?
If you know how to develop a trader bot and have a trading strategy, you'll be able to automate your crypto trading on most exchanges. However, bots can automate, not automatically or independently, and you need to tell them what to do.

Who is the best crypto trader to copy?
The one whose trading strategy fits your financial conditions best, to be brief. Choosing the right trader to copy is not as complicated as developing trading strategies but as necessary.

Is trading futures gambling?
If you're tossing orders into the trading terminal, it is. However, the primary purpose of futures markets is hedging against asset price fluctuations, AKA volatilities, but you need trading strategies for that.

Can you hold futures long term?
It depends on the contract type that you're trading. "Quarterly" contracts expire every 90 days, and your position will automatically close at the expiration date. "Perpetual" contracts, on the other hand, don't expire and can be held permanently.

How much does copy trading cost?
A prepaid $29 per month per copy service fee + the post-paid copied trader's performance fee, which investors must pay only if the trader profits.

Are futures profitable?
Regardless of the market type, trading's profitability depends on the trading strategy and its implementation. Futures trading could be super lucrative but with a back-tested, well-developed trading strategy.

Is copy trading an investment?
It absolutely is. You're investing in the trading skills and strategies of an expert trader. Also, you should be aware that, just like trading, it's not a get-rich-quick scheme.