Bybit does have copy trading, yet we decided to make it available on Finestel and Finestel Pro, not only because a ton of our traders asked for it but also to let them customize the Bybit copy trading they prefer, with their brand on it!
In this paper, we'll briefly talk about Bybit tools and services (derivatives copy trading & trading bots), then about Bybit copy trading (spot & derivatives) services on Finestel and Finestel Pro to show you the difference. Finally, we'll tell you the results of integrating Bybit trading bots with Finestel Pro; to blow your mind.
If you're a Binance or KuCoin user, you might like to take a look at our Binance spot & futures copy trading or KuCoin copy trading guides on Finestel blog.
Content Menu
Why We Added Bybit Copy Trading to Finestel & Finestel Pro
As we said above, Bybit has derivatives copy trading, which is more like a PAMM (Percentage Allocated Management Model) system, and we'll tell you about it in the next heading.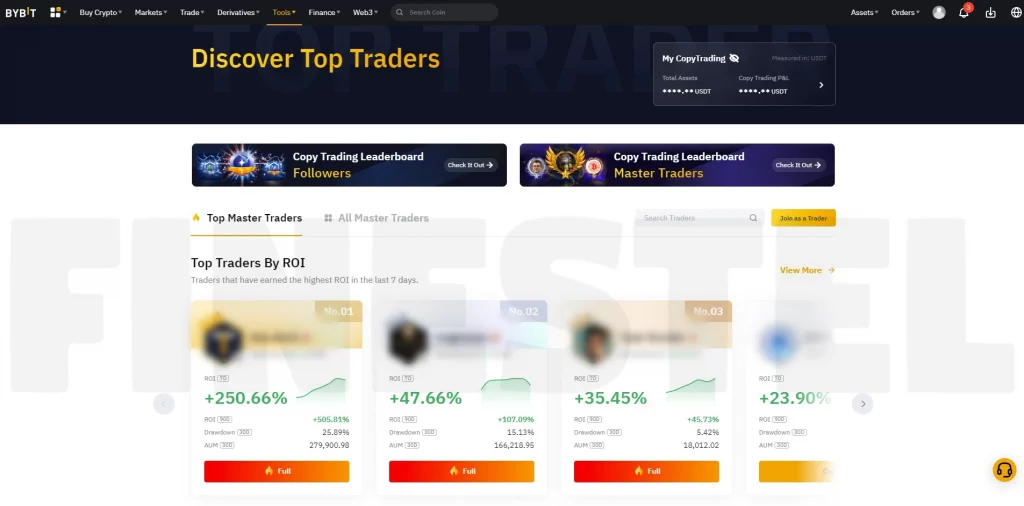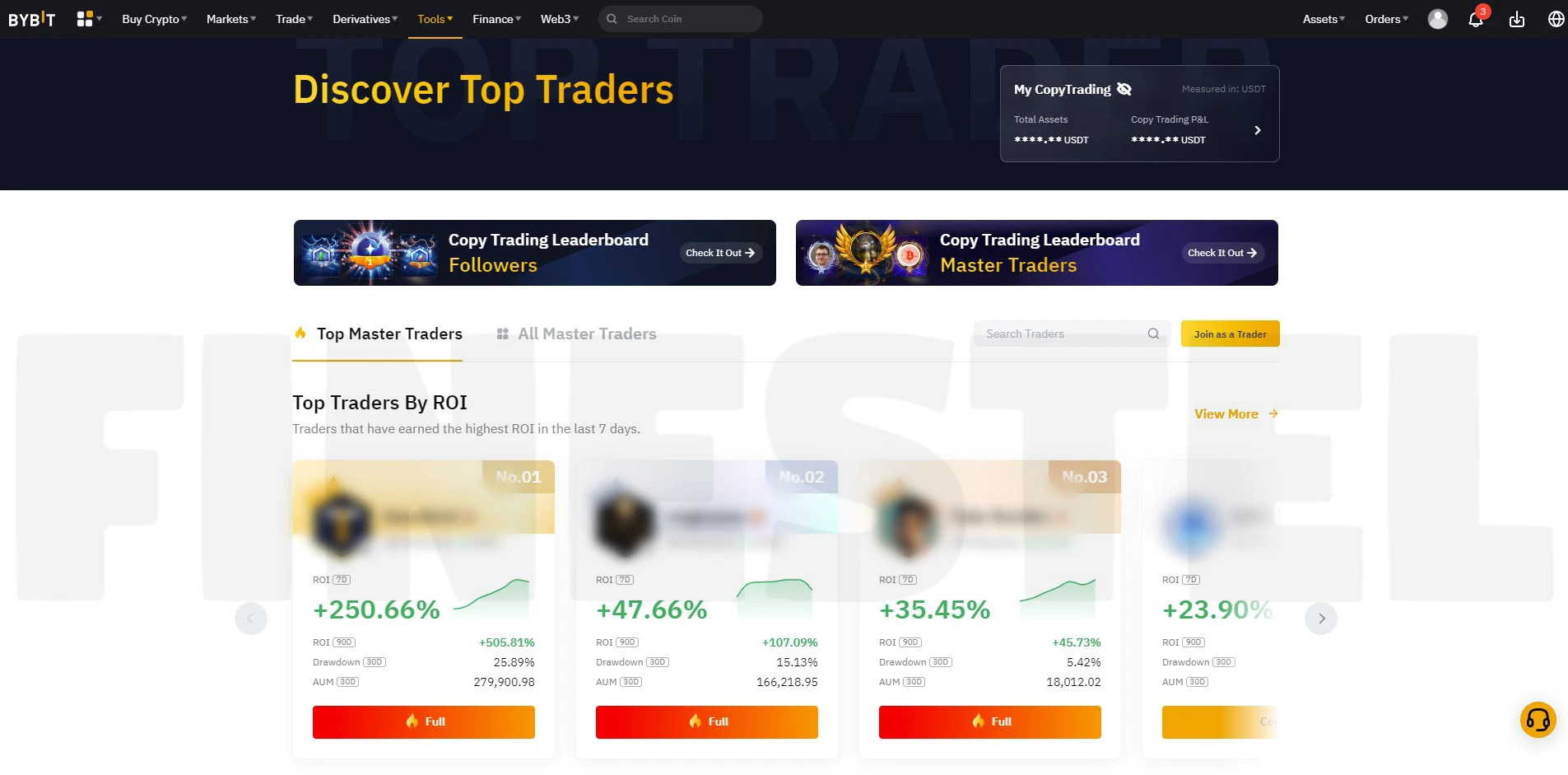 Finestel Pro, on the other hand, is a white-label crypto asset management software for professional crypto traders, portfolio, and asset managers to deploy automated asset and client management strategies on.
Using Finestel Pro, crypto investment managers can customize Bybit copy trading models for both spot & derivative markets and make them available to copy for their community of clients/investors/followers, or whatever the white-label owner wants to call it.
Finestel Pro white-label owners have access to customize the payment & billing methods and cycles, reporting, notifications, and a few more client management tools and services; good to know that all those tools and services have the white-label owner's brand and logo on it.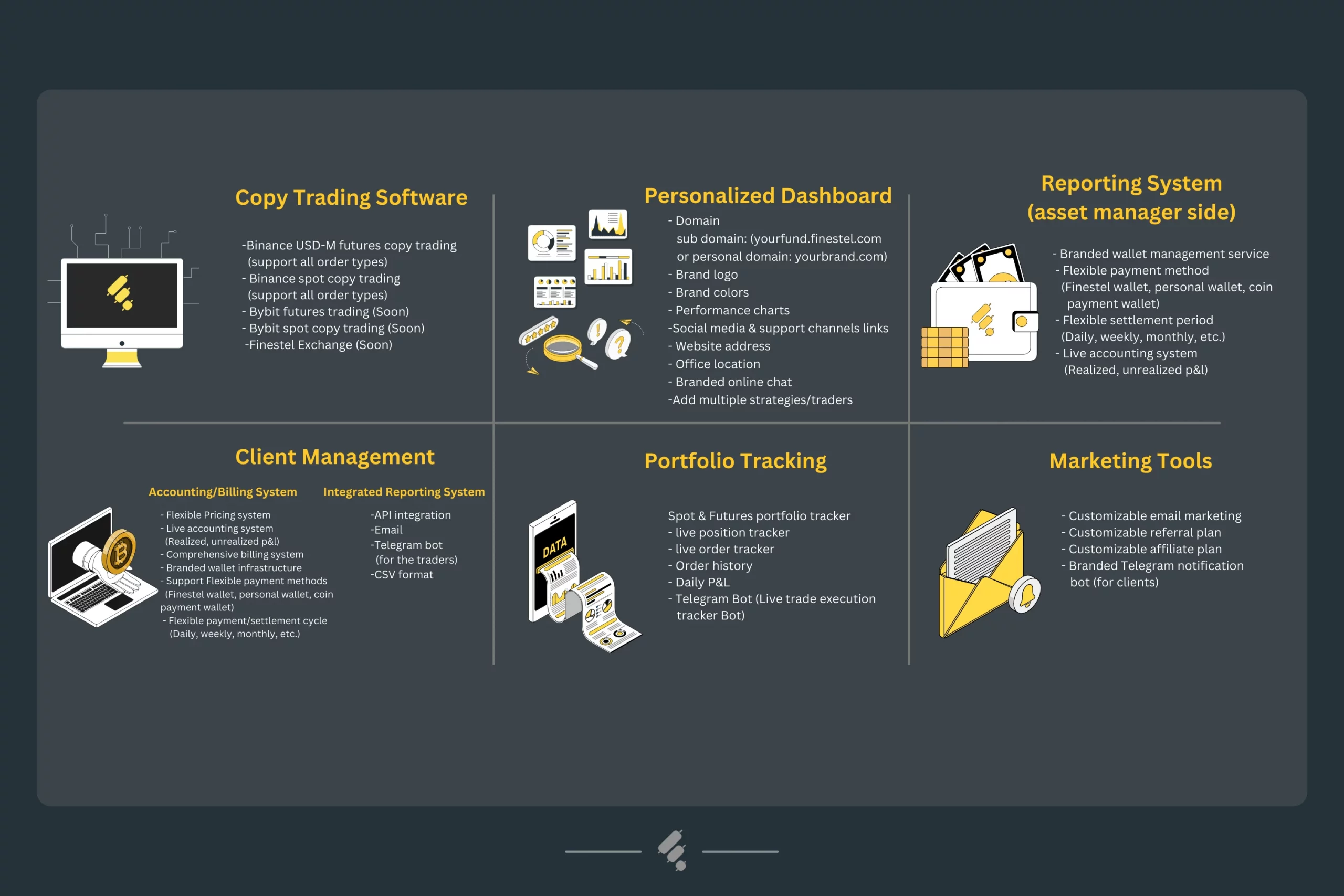 Get in-depth details about Finestel Pro.
Where Does Bybit Stand in the Crypto Industry?
Bybit has been in the crypto industry since March 2018. It's the top 9th crypto spot market exchange (at the time of writing) with over 300 trading pairs and second best crypto futures market with 223 pairs to trade. The exchange has over $400 million of spot market trade volume and roughly $11 billion trade volume in the futures market.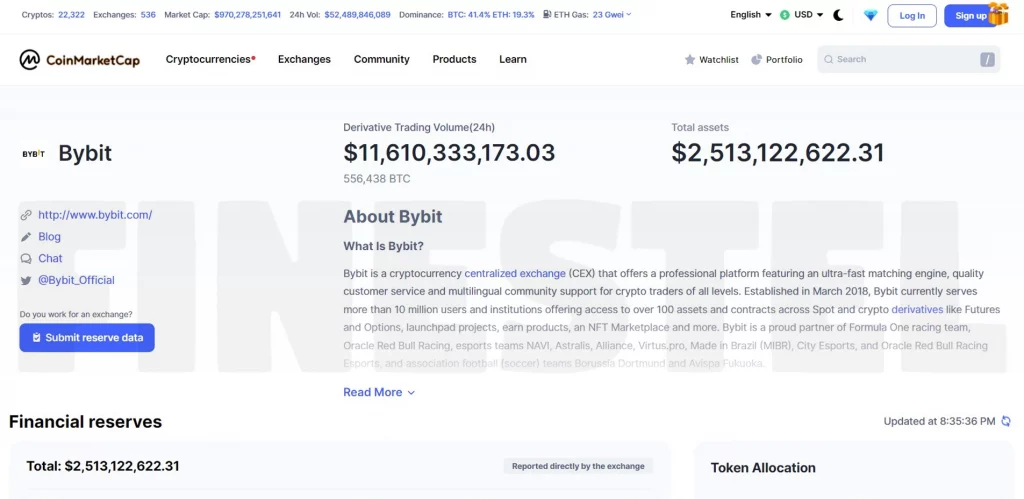 Bybit has tools for technical analyses and watching the market sentiment on its "Market Data" section, API trading via MetaTrader (MT4), subaccounts, and two other services that we're going to talk about a little more, their futures copy trading system, and trading bot.
All About Bybit's Copy Trading: A Profit Sharing Social Trading Platform 
Bybit's social trading is very narrowed toward utilizing a safe and simple copy trading environment for the public crypto investors to copy professional traders, called "Master Traders." 
Master Traders & Followers
Followers are Bybit users that copy Master Traders. They can see the trader's historical track record on their profile, check their ranking and reputation, or see their followers' profits.

To copy them, investors may choose between the Smart Copy Mode, which leaves everything to the traders, or Advanced Copy Mode to define some personal limits (Copy Stop Loss).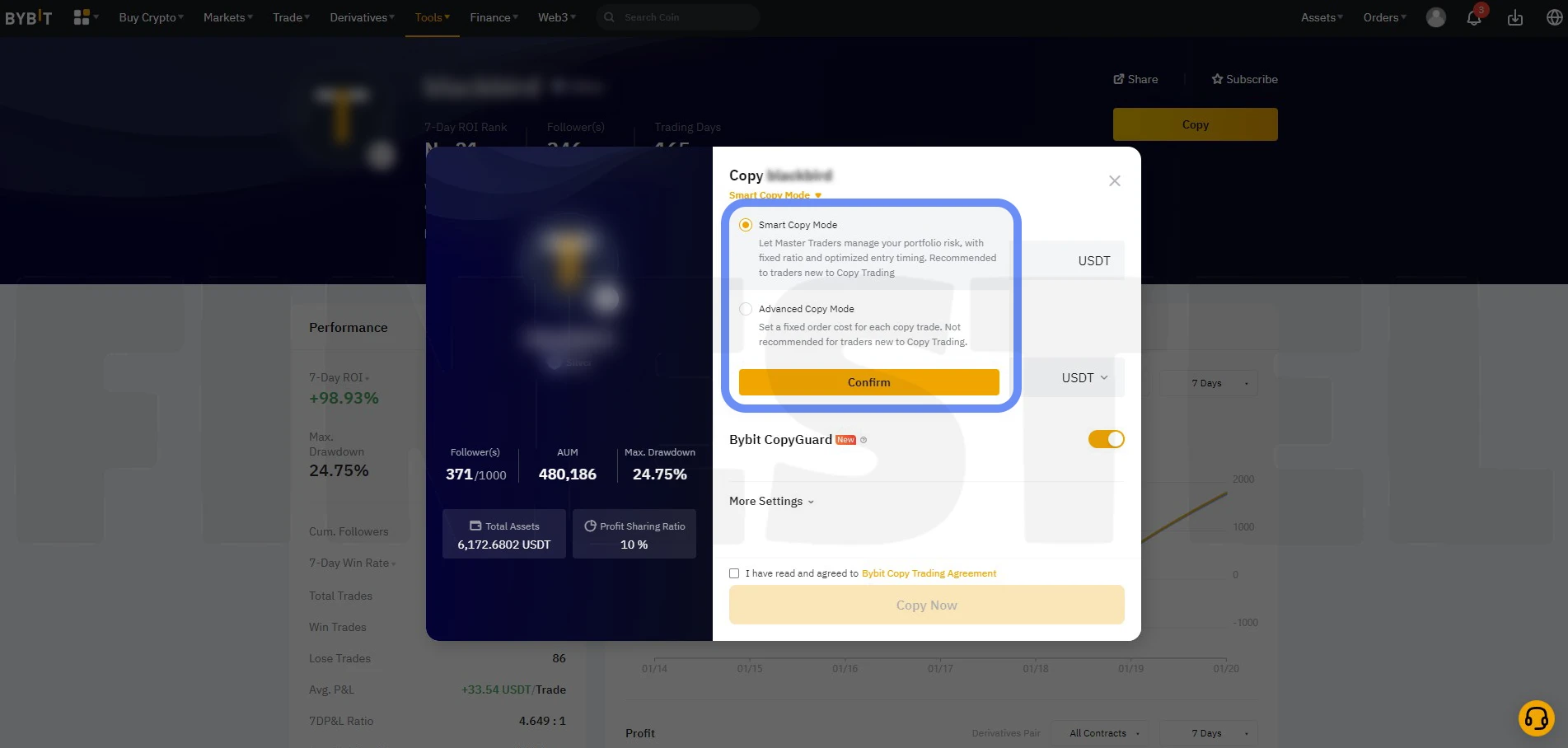 To become a Master Trader on Bybit, you need to submit an application, starting with an "Agreement Confirmation," clarifying Master Traders' responsibilities, Bybit copy trading rules, and penalties for violating those rules (the image below).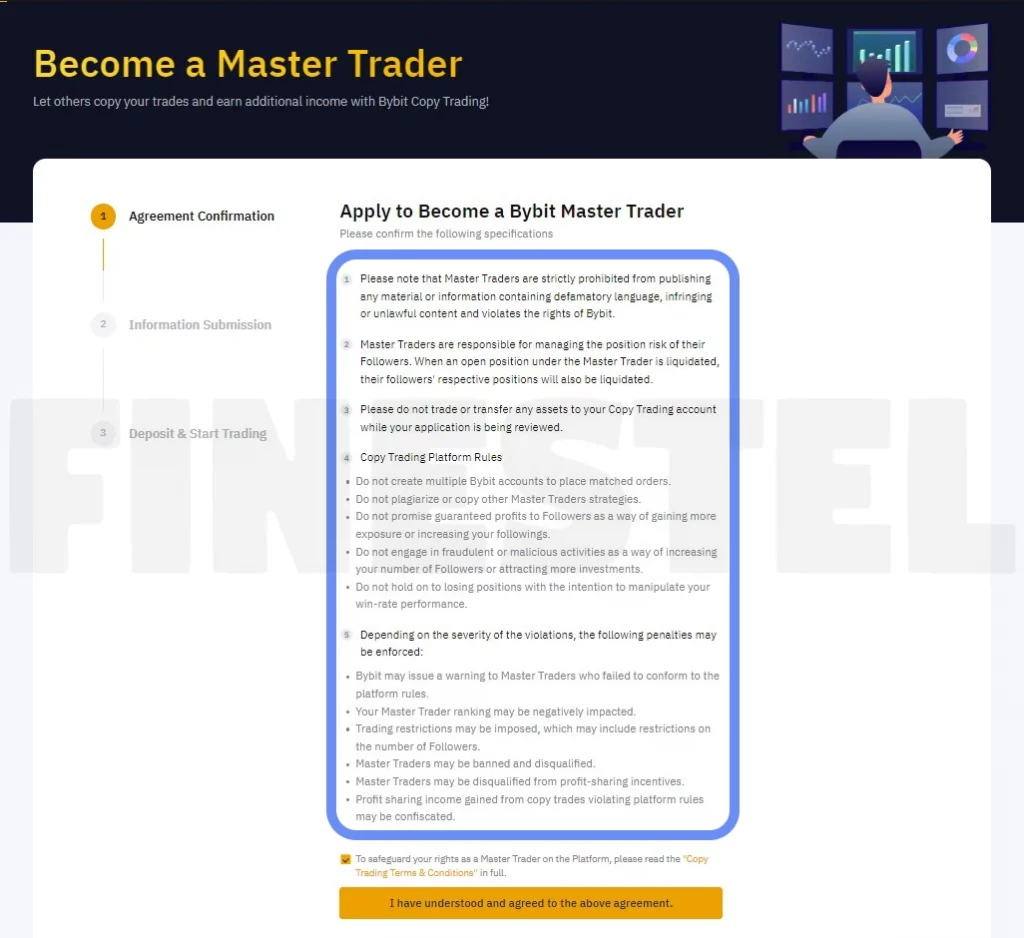 Bybit ranks Master Traders based on their ROI, profitability, and several other factors; the higher the rank, the higher the profit share (15% max) and follower limit.
Bybit Trading Bots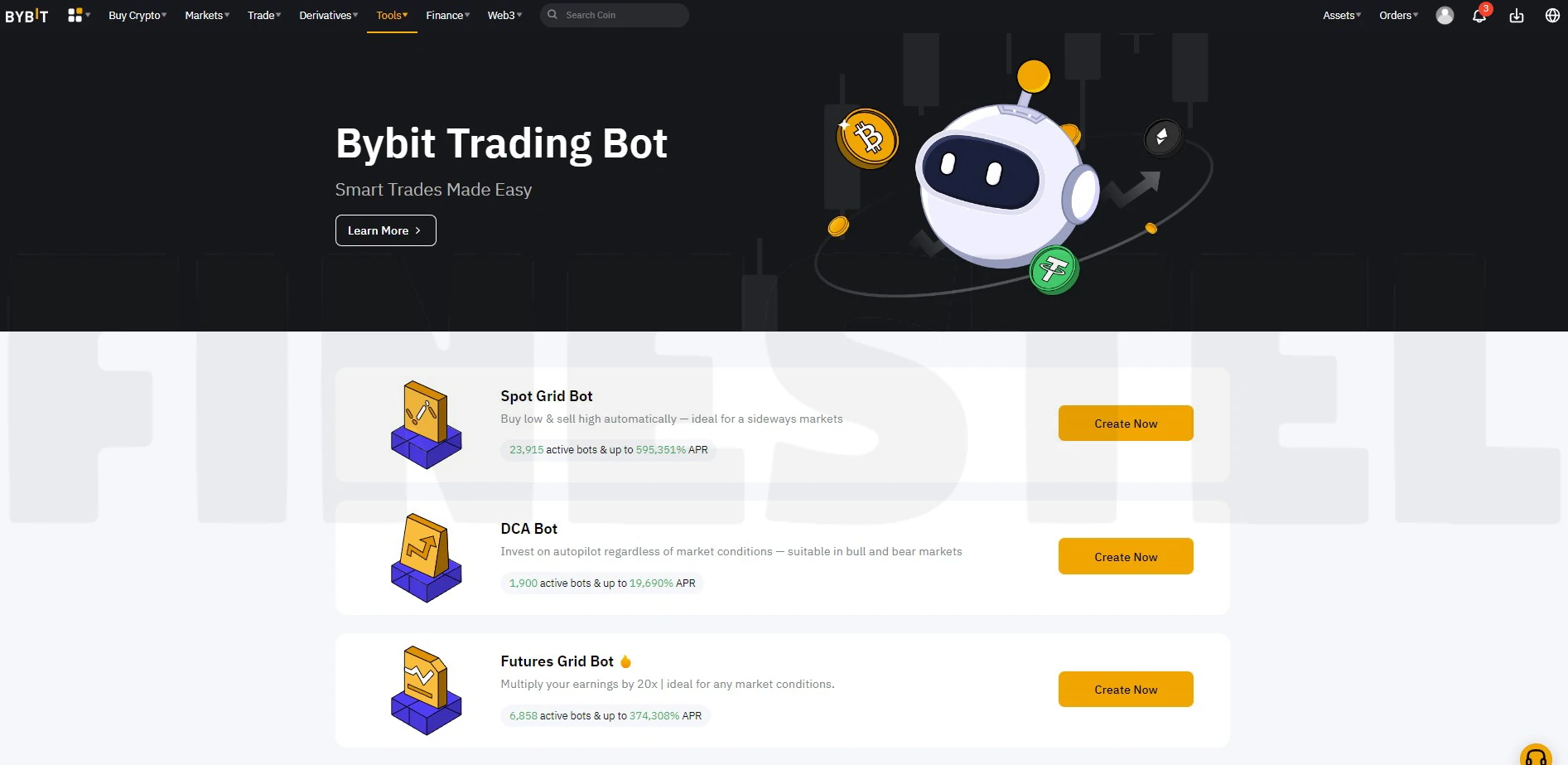 DCA (Dollar Cost Average) and spot & futures Grid bots are available and very easy to create using a user-friendly GUI (Graphical User Interface). They even have AI strategies available for spot and futures Grid bots.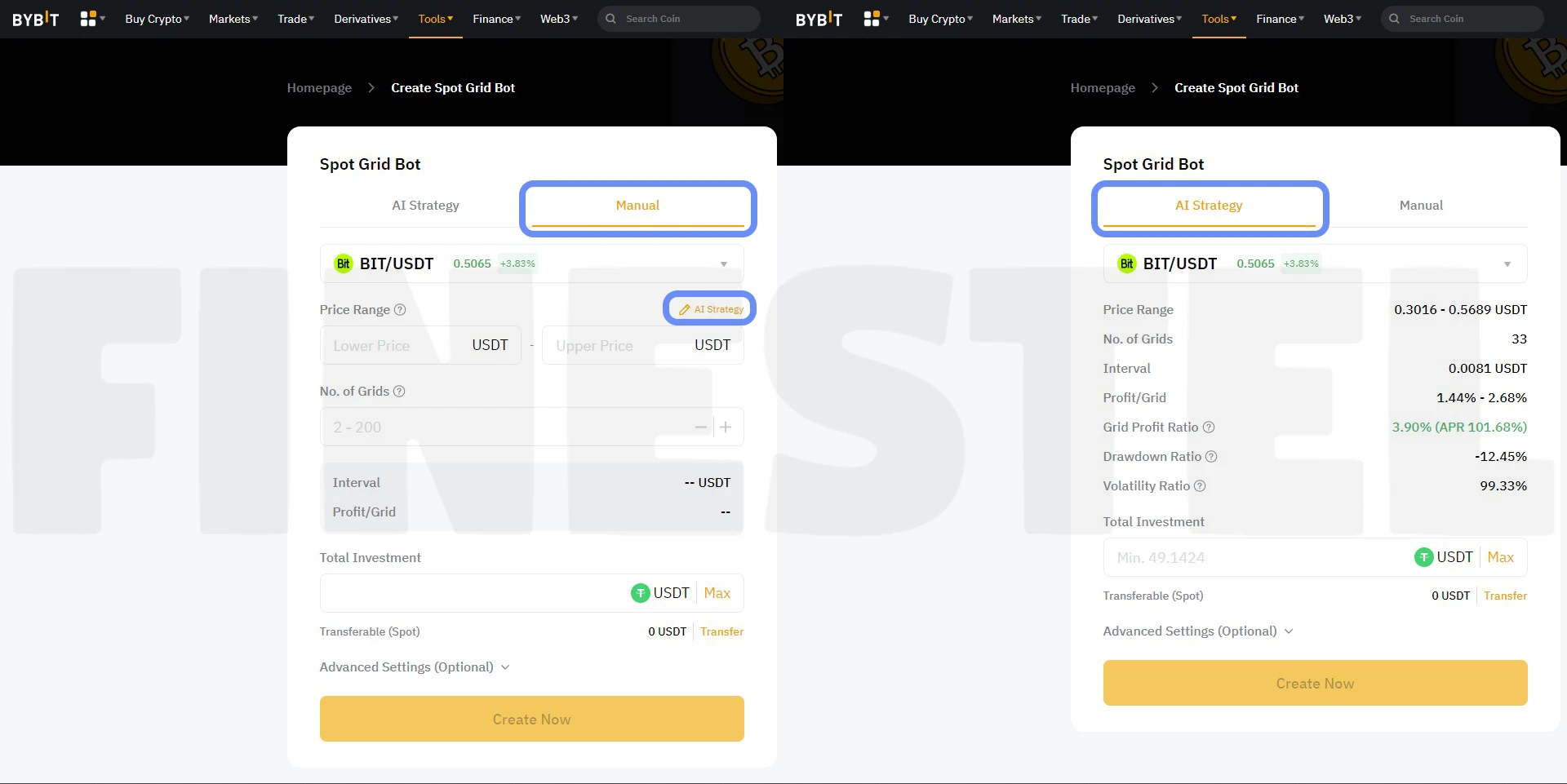 These bots are automated algorithms that execute trades or trading strategies on your Bybit accounts and are also available to copy.
We'll tell you what happens if you connect those digital creatures to Finestel Pro after telling you how Bybit copy trading on Finestel & Finestel Pro works.
How Finestel & Finestel Pro Offer Bybit Spot & Derivatives Copy Trading
A ton of traders on Finestel and many Finestel Pro white-label owners asked for Bybit, and we listened! So now both Finestel and Finestel Pro support Bybit copy trading on both spot and derivatives (USDⓈ-M futures) markets alongside KuCoin (spot only) and Binance copy trading (spot & futures).
Finestel offers Bybit copy trading to investors and traders on a social trading platform. Finestel Pro delivers the Bybit copy trading on an advanced white label version on Finestel Dashboard (I'll tell more in the end).
Important: Finestel social trading will be completely replaced with Finestel Pro in the future. However, we made Bybit copy trading available on Finestel too, so white-label owners can test it before adding it to their asset management services.
Bybit Copy Trading on Finestel
We'll start with Finestel as the process is almost similar for Finestel Pro users.
Start by finding and hitting the "Add New" button on your Finestel dashboard to select Bybit on the "Available Exchanges" page, and then hit the "Connect" button.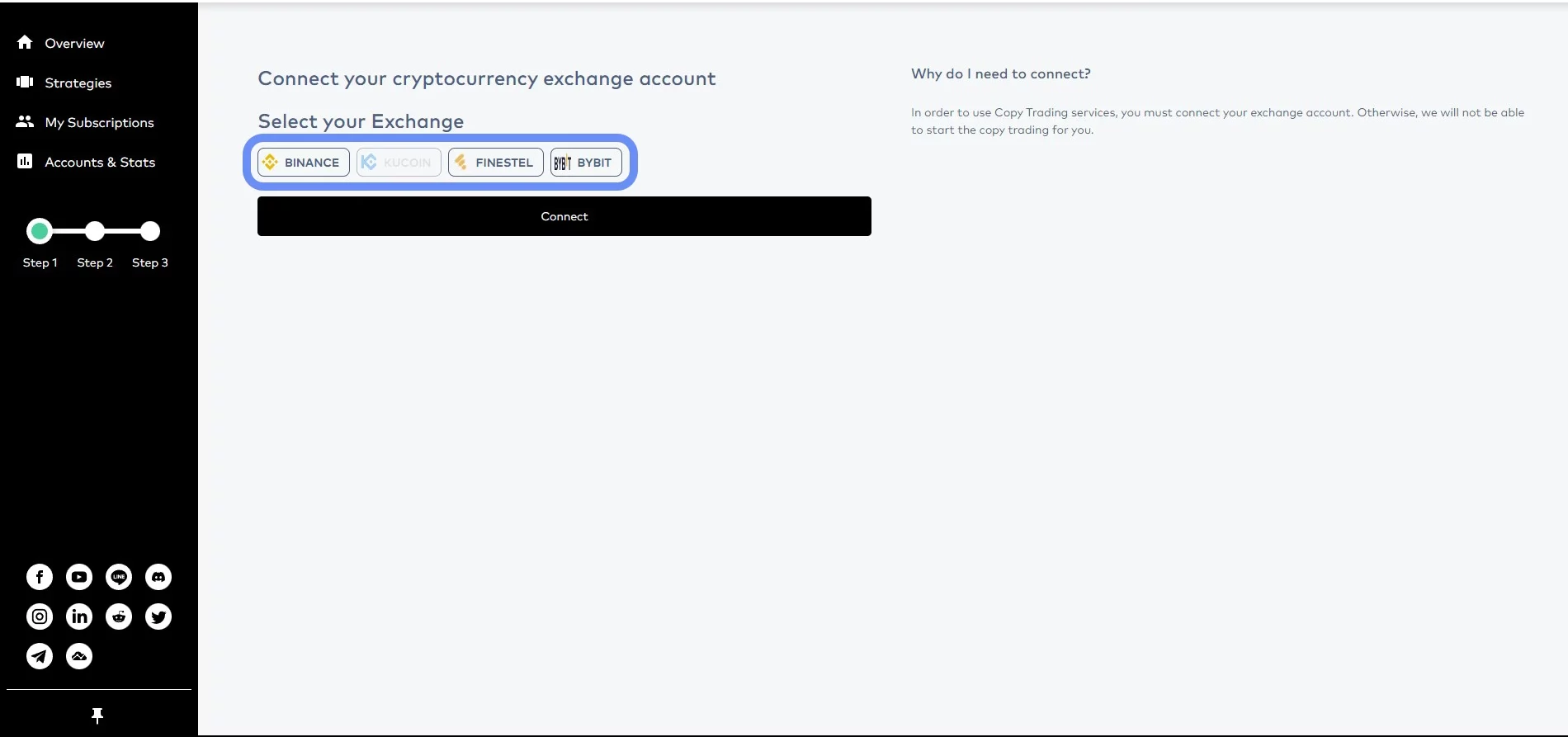 On the next page, name the new Bybit account and select the role (Trader or Investor). Next you need to create an API key on your Bybit account.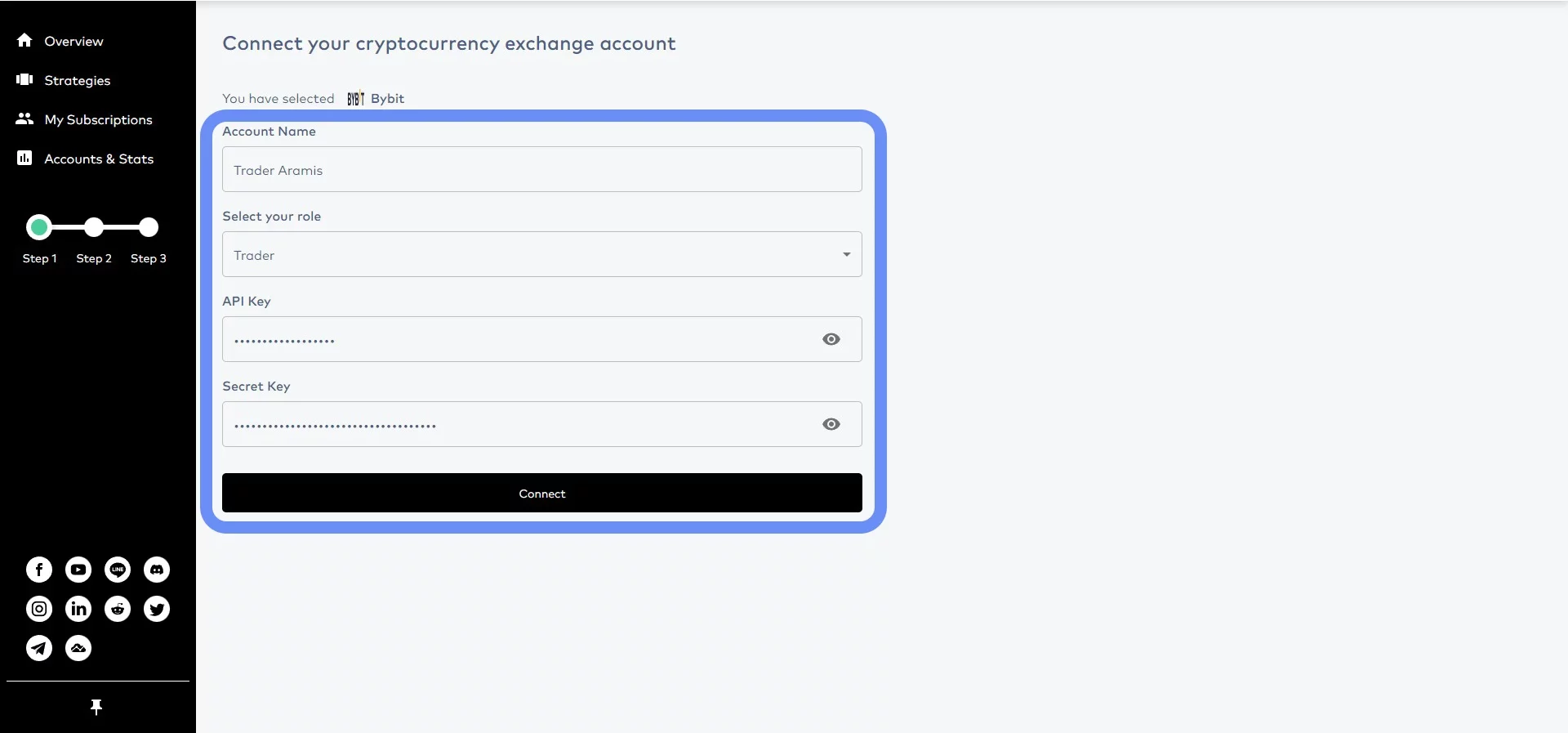 API Key Configurations for Connecting Bybit Trader & Investor Accounts to Finestel
Bybit has quite sophisticated API configurations, but generally speaking, if your account role is "Trader," you need to create read-only API access, and if you've selected "Investor" you need trade-only (Read-Write) API configurations.
**We have a dedicated article about the API keys guide with a focus on Bybit on the Finestel blog.
We'll tell you all you need to start Bybit copy trading in this current article, but if you're interested in delving deeper into it, you can read the mentioned article.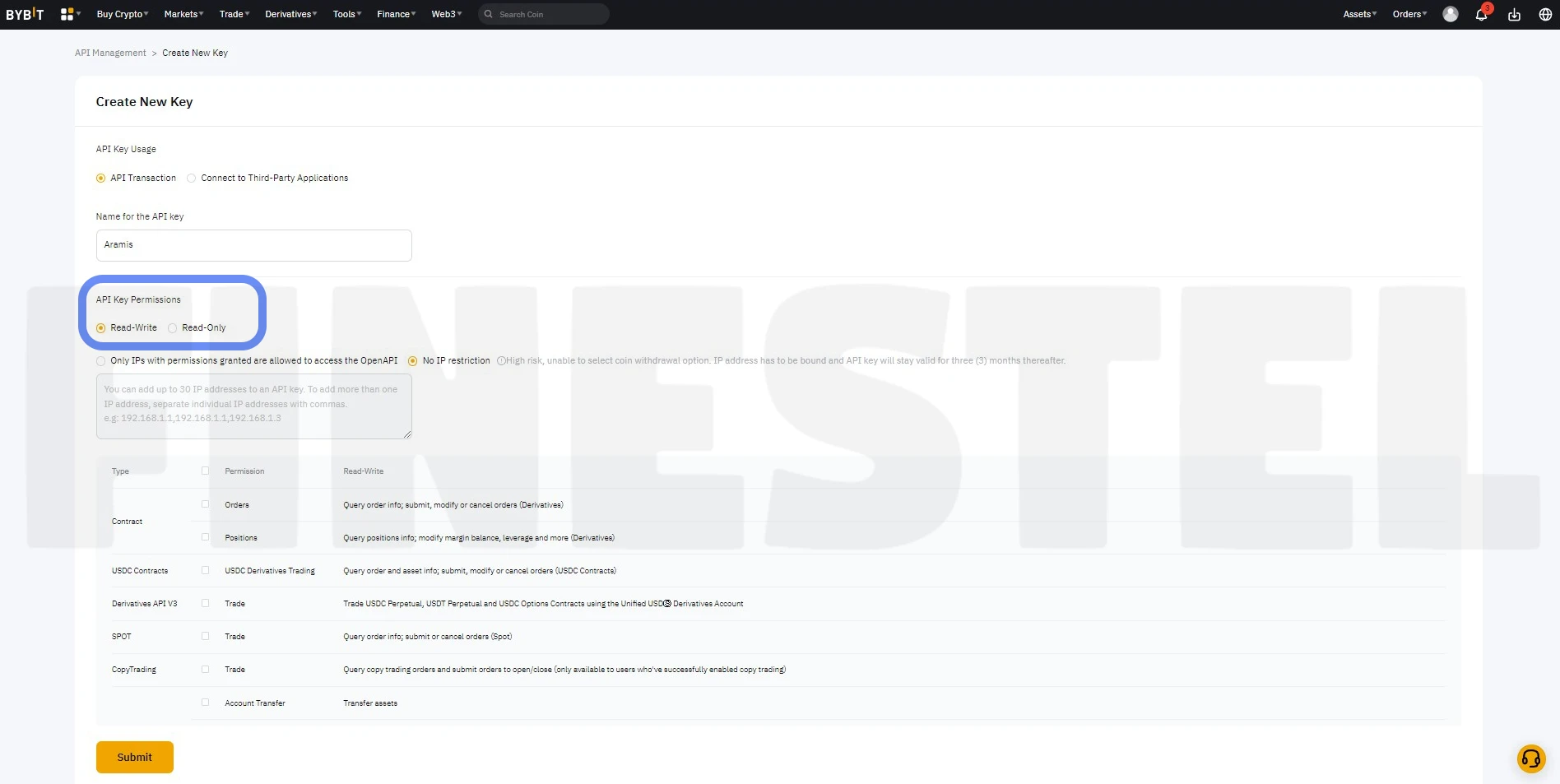 Both read-only and read-write APIs need to either the "API Transaction" or "Connect to Third-Party Applications" (recommended) options.
If "connect to a third-party application" option is selected just find and select Finestel from the dropdown menu below it and you're good to go.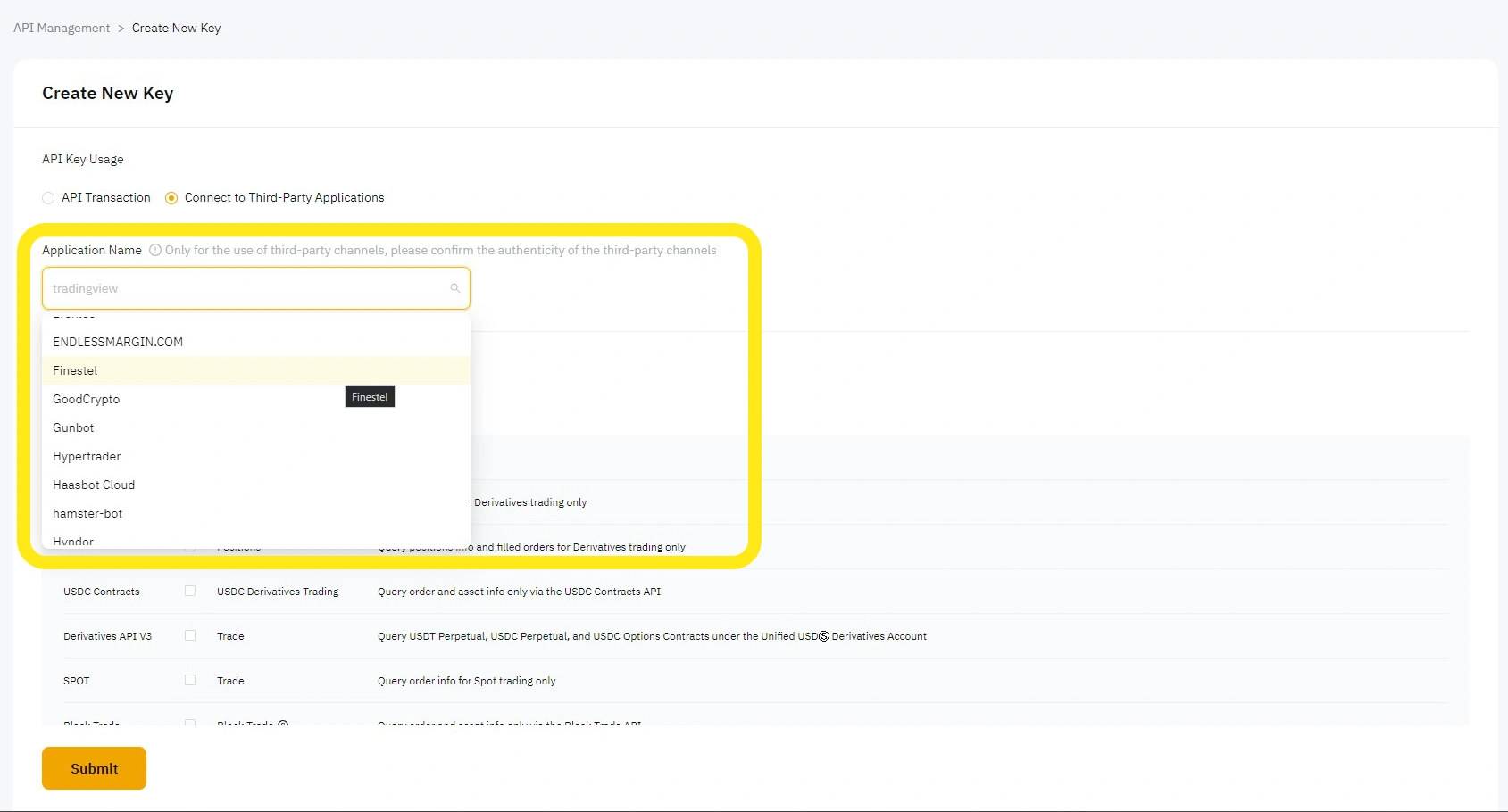 If the API transaction is selected, you need to select the "Only IPs with permissions granted…" and then enter the IP address Finestel provides you in the box.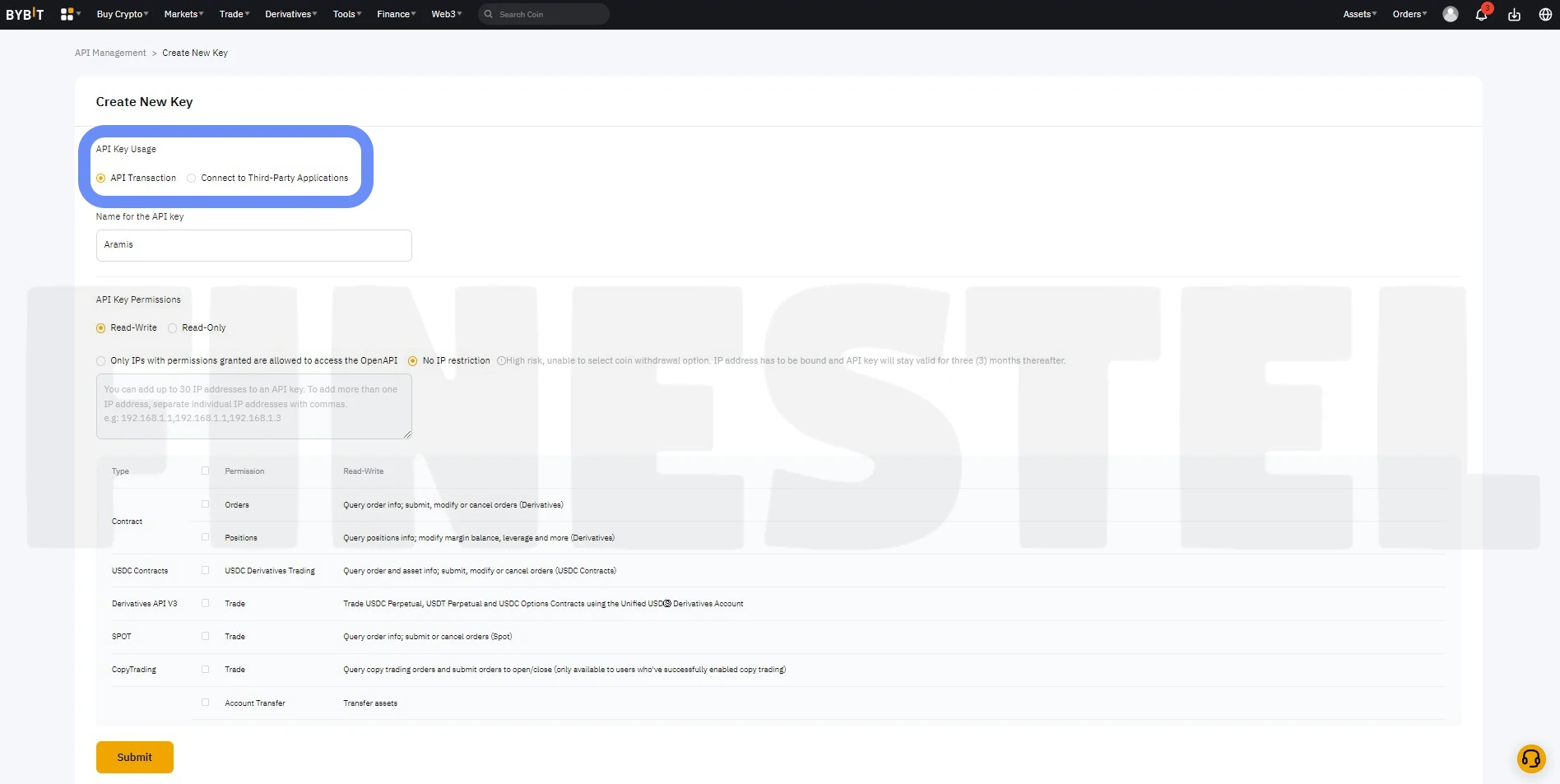 Read-only API Configuration (Trader Account Roles)
Below the "API Key Permission" section, select the "Read-Only" option and check mark boxes like the image below: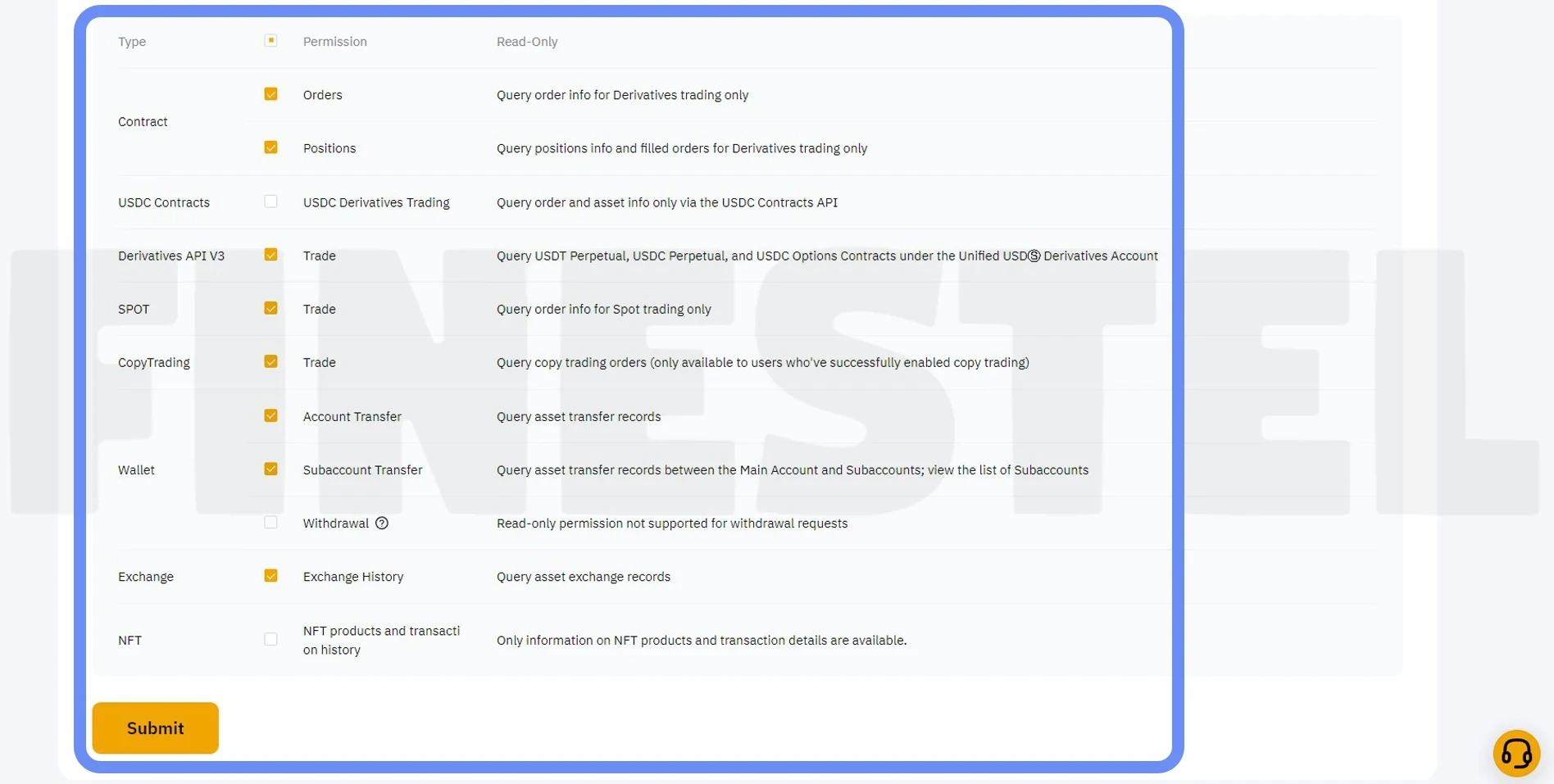 Read-Write API Configuration (Investor Account Roles)
Below the "API Key Permission" section, select the "Read-Write" option and check mark boxes like the image below: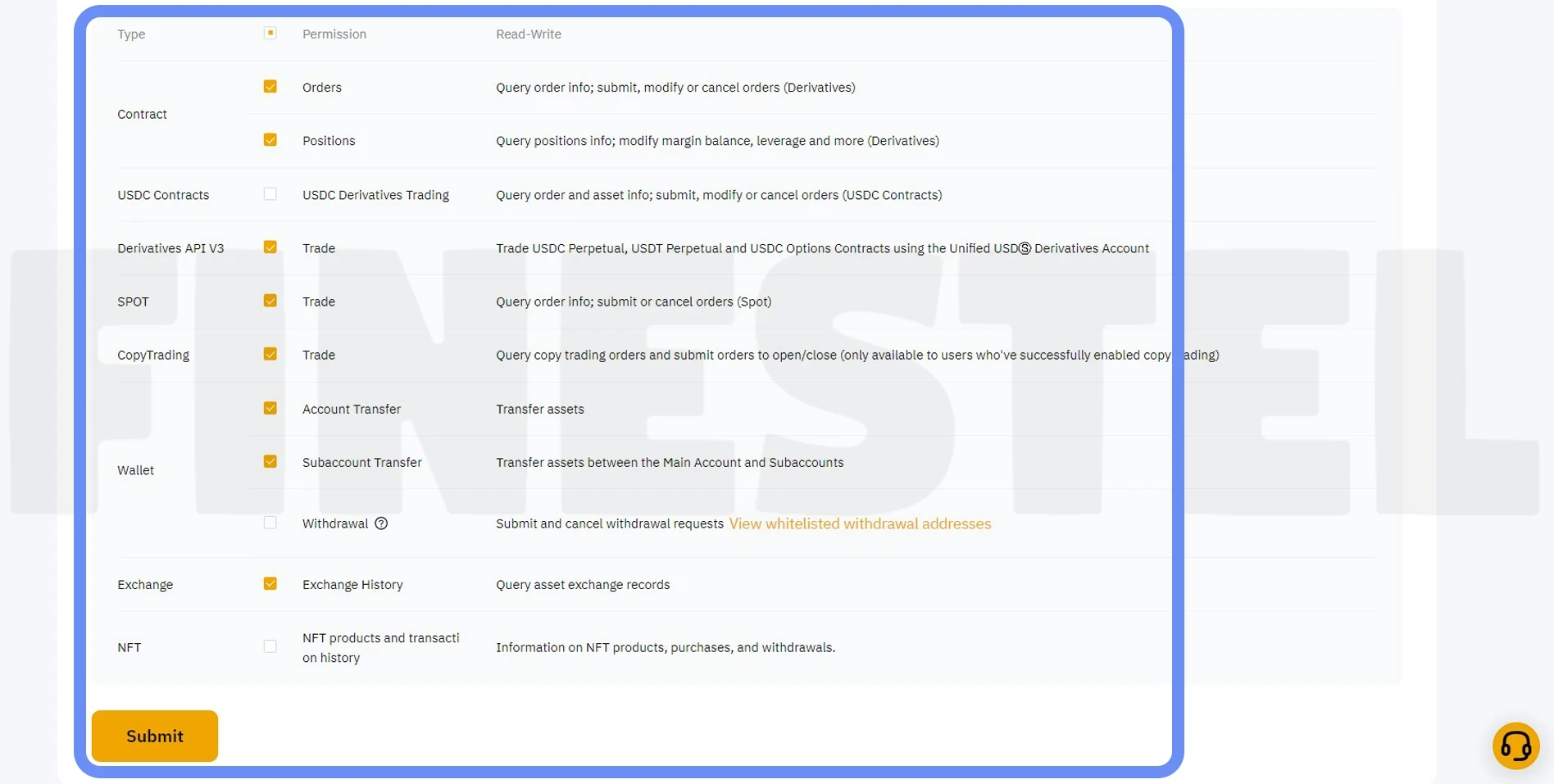 Now just hit the "Submit" button, and after a quick 2FA verification, Bybit will show your API's name, Key, Secret, and permissions.
**Keep in mind that for security reasons, Bybit – like most crypto exchanges – shows your secret only once and upon creation only. If you miss or lose it, you must delete the API key and create a new one.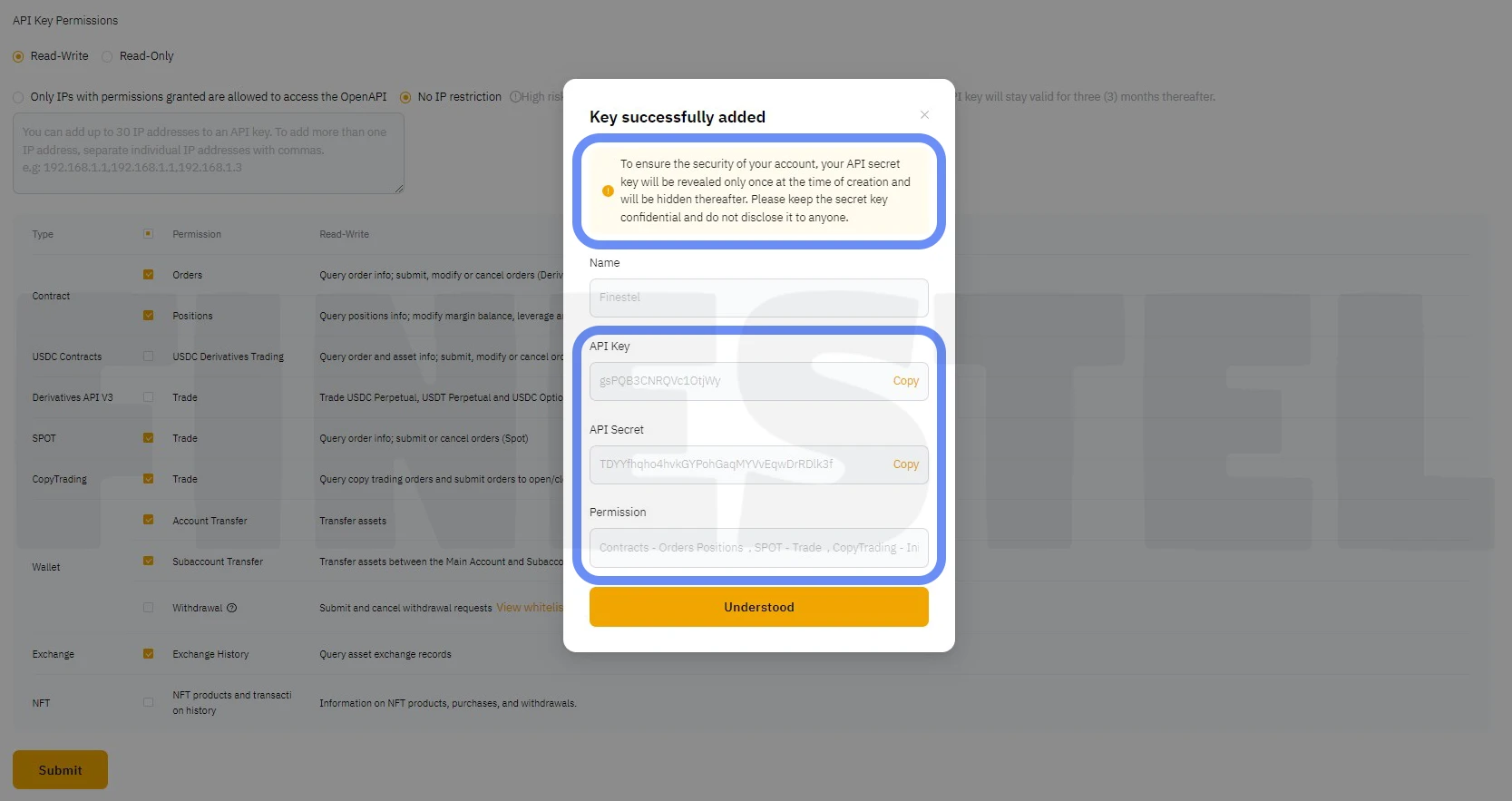 The connection is set & ready. Let's proceed to the next step.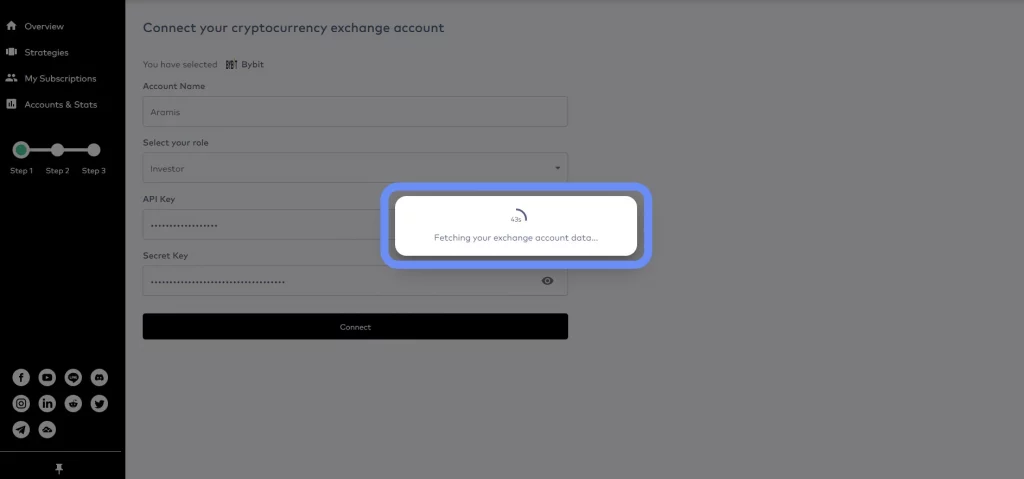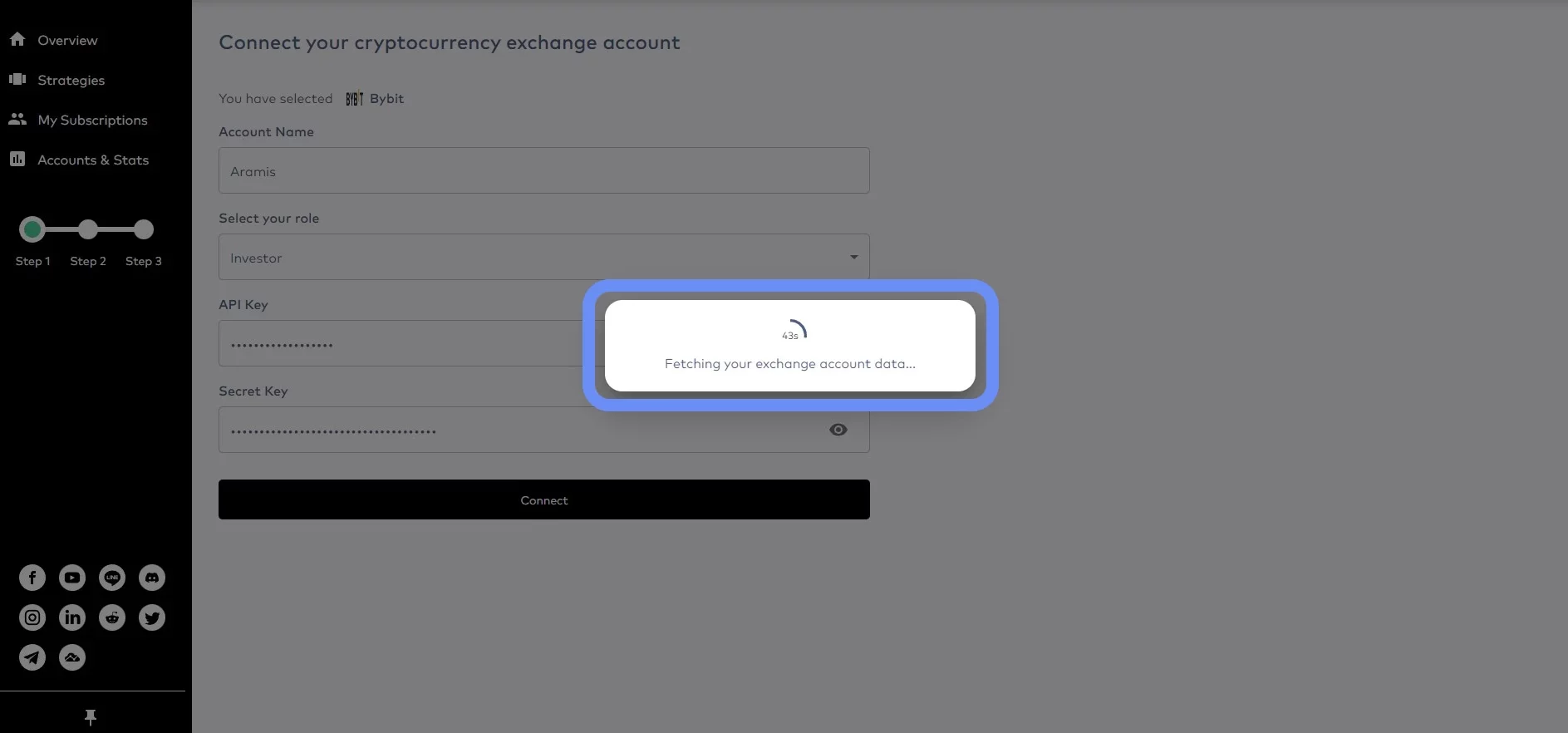 Copying Traders or Getting Copied by Investors
Traders' POV:
You can provide copy trading or asset management services privately and to your community of clients only by sharing your Finestel profile link with them (using Finestel Pro is a much better option, however).
Alternatively, you can upgrade your connected trader Bybit account to "Public" to get listed on the Explore Traders menu and be available for the public investors to copy you and gain AUM.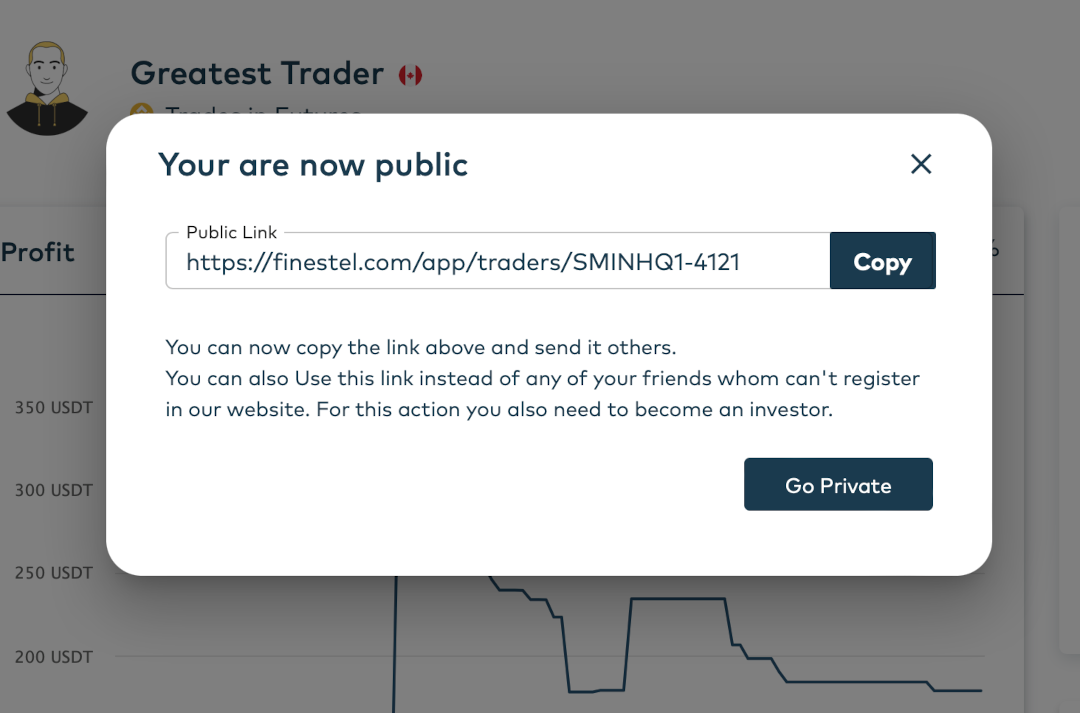 Investors' POV:
After connecting your Bybit account, if it's an investor account:
Find and select a trader:

Compare the listed traders on the "Explore Traders" menu to find the trader whose risk, return, and statistics suit your copy trading conditions best.

Hit The Copy Button:

Copying starts with paying the monthly "Service Fee" ($29), which investors pay using their Finestel wallet.

Portfolio Syncing:

After the payment, Based on the market of copied trader/strategy's market (spot/derivatives), Finestel will execute a replication of the copied spot trader's portfolio into your Bybit account o also execute the copied futures trader's

new

orders and positions into your Bybit derivatives account. Furthermore, your Bybit account will stay synced with the copied trader(s) as long as you copy them.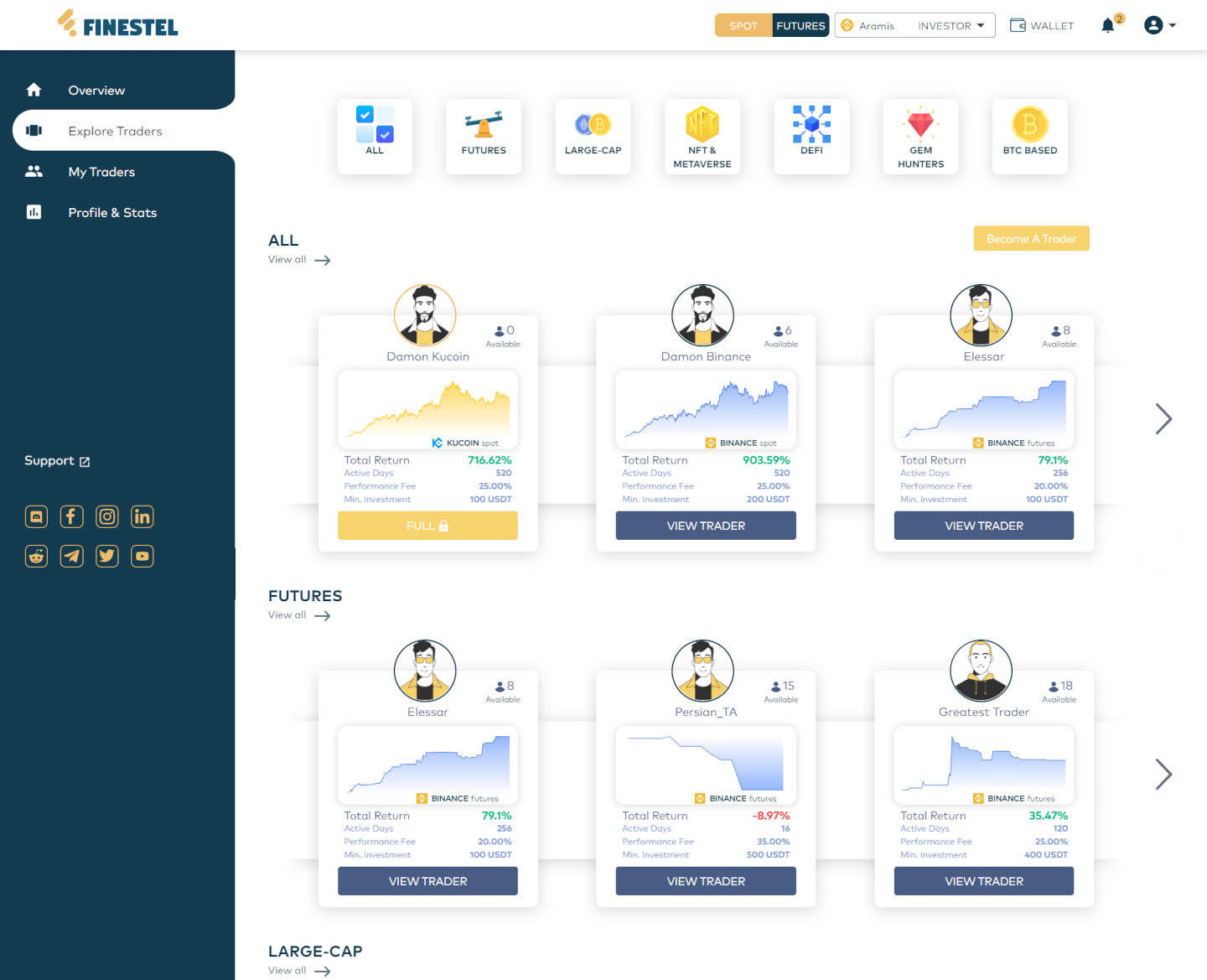 After 30 days, Finestel will realize your profits, calculate the copied trader's share (Performance Fee), and transfer the equal from the investor's Finestel wallet to the trader's autonomously.
If the investor's wallet balance is lower than the required payments (service and performance fees) at the end of the payment cycle, Finestel will cease the copy session asking the investor to increase their Finestel wallet balance.
Let's finally talk about our magic trick: Finestel Pro!
Bybit Copy Trading on Finestel Pro
Finestel Pro is a white-label software that pro traders can customize its tools and services to build their preferred asset management business upon.

The API configurations for connecting Bybit accounts are the same as they are on Finestel; explained in a few paragraphs above. 
The only difference is that the white label owner clients can only connect "Investor" Bybit accounts (or other supported exchanges). Only the platform admins have access to connect "Trader" exchange account; the process is exactly as we've explained further above.
Now let's talk about what else Finestel Pro provides in addition to Finestel if you want a robust Bybit copy trading bot.
Crypto Portfolio & Asset Management on Bybit, with
Finestel Pro
Finestel Pro lets you connect all your (white label owner's) strategies running on multiple Bybit accounts. Plus, you can manage the community of the investors that want to invest in and copy those strategies by signing up on your labeled copy trading dashboard. On Fineestel Pro, you can customize almost every feature, tool, and service.
You may define your own payment and billing methods and cycles (daily, weekly, monthly, etc.). Hence your investors may need to go through payments such as subscription or performance fees, or a combination of them.
The white-label owners have access to customize Finestel Pro's reporting system to their preferences or integrate their support channels with their personalized software.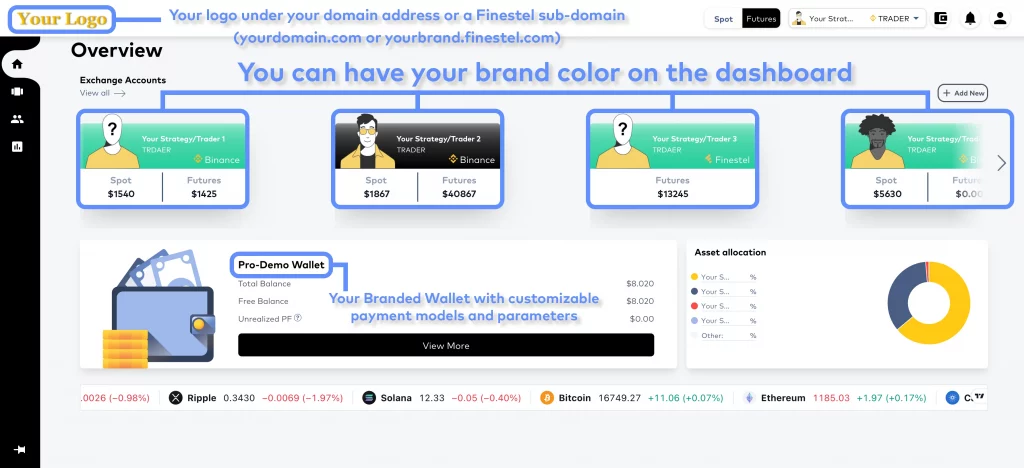 By connecting their exchange accounts via trade API access, investors (clients/copy traders/followers…) can choose between the investment strategies/traders that the white-label Finestel Pro owner lists and then copy them.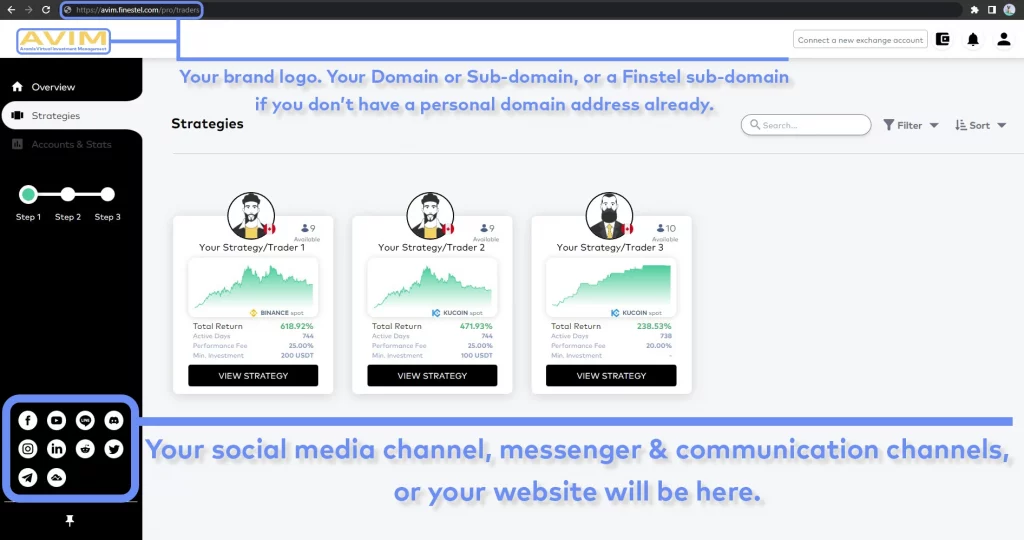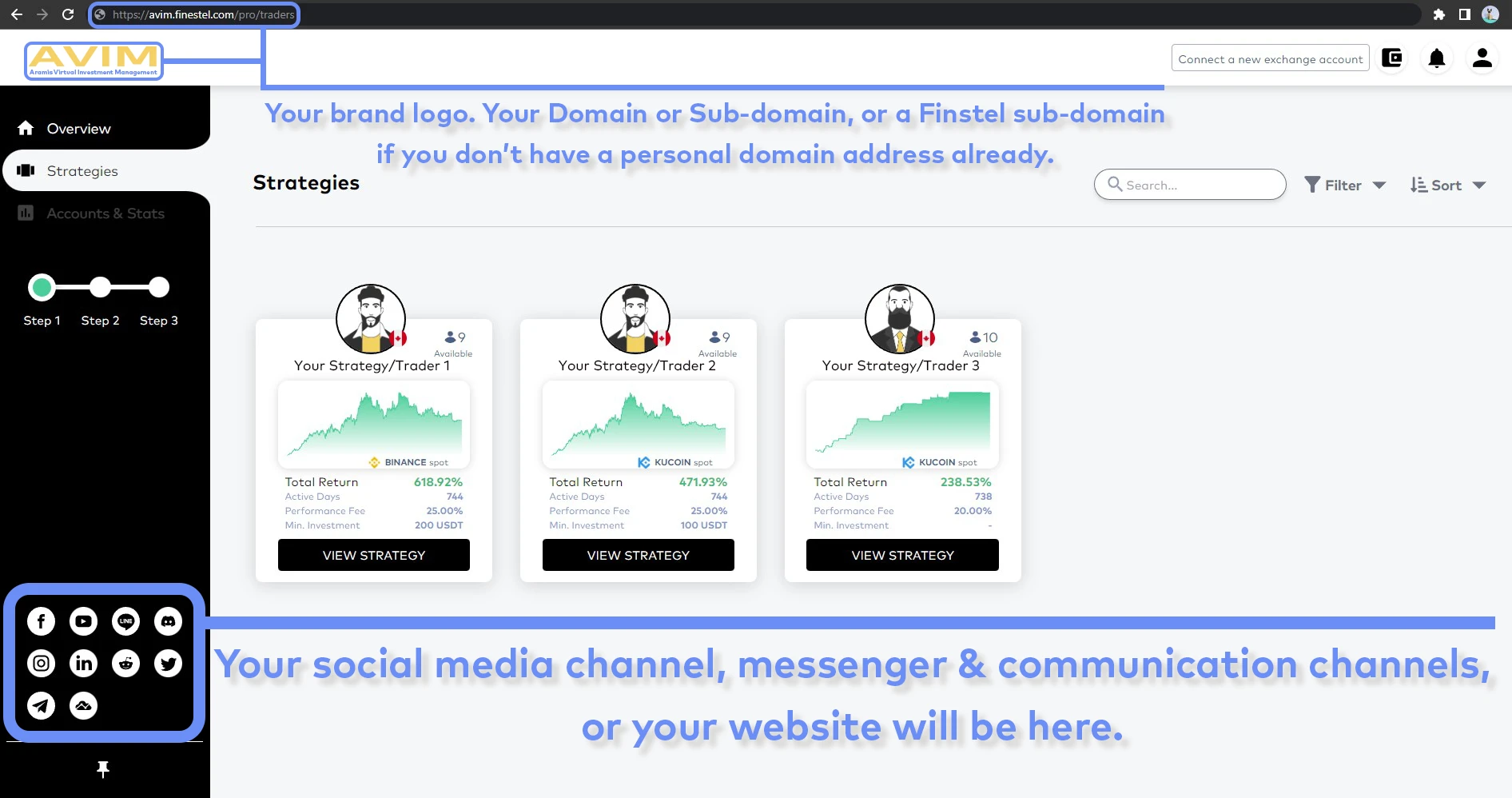 From there, traders can execute trade/strategy replications on their clients' exchange accounts to manage and maintain portfolios using their exchange account or Finestel Pro's trading terminal.
Finestel's copy trading bot executes every element of the strategy or trade setup, such as orders (SL, TP, OCO, leverage…) and trade settings (cross, isolated, hedge mode, reduce only…), proportional to each client exchange account's balance. And does that super fast (about hundredth of a sec).
Your clients will have various risk management options to choose from and funds to diversify their investments. And once they copy a trader/strategy, Finestel Pro's client management service handles the rest of the process.
Finestel Pro Client Management Automations
The white-label owners have access to customize all Finestel Pro automated client management tools & services such as reporting, support, autonomous billing, and payment system, and more. They will have all those services fully personalized and branded. To learn much more, read the A-Z detail about Finestel Pro.
Order Your Personalized Finestel Pro
Simply CLICK HERE, put in the required information, and submit your request. You will receive a Finestel Pro demo + instructions to order your fully personalized one for your business.
Please keep in mind that depending on the depth of ordered personalization, it takes between 1 to 3 working days for your white-label software to be ready.
If you have any unanswered questions, you can request an online meeting with one of the Finestel managers or reach out to the online chat (on the bottom right corner of the page) and get the answers you need.
You may want to learn more about Finestel & Finestel Pro updates.