The festival of lights is upon us! Diwali brings joy, festivities, sweets, and of course…Muhurat Trading. Even if you're not a seasoned investor, you must have heard about this special trading session held annually on Diwali. It's an integral part of Indian stock market traditions.
In this detailed guide by Finestel, we will demystify Muhurat Trading – its origins, significance, timing, performance trends, strategies, and outlook. So read on to get the complete lowdown!
What is Muhurat Trading?
Muhurat refers to an auspicious time in Sanskrit. Muhurat Trading is a symbolic ritual where investors trade for an hour on the evening of Diwali during normal market hours.
The rationale behind this tradition lies in Hindu mythology. It is believed that trading during the Diwali Muhurat brings prosperity and financial success in the coming year. The session is dedicated to Goddess Lakshmi, who signifies wealth and prosperity in Hinduism. By participating in Muhurat Trading, investors are essentially appeasing Lakshmi and seeking her blessings for a fertile New Year ahead.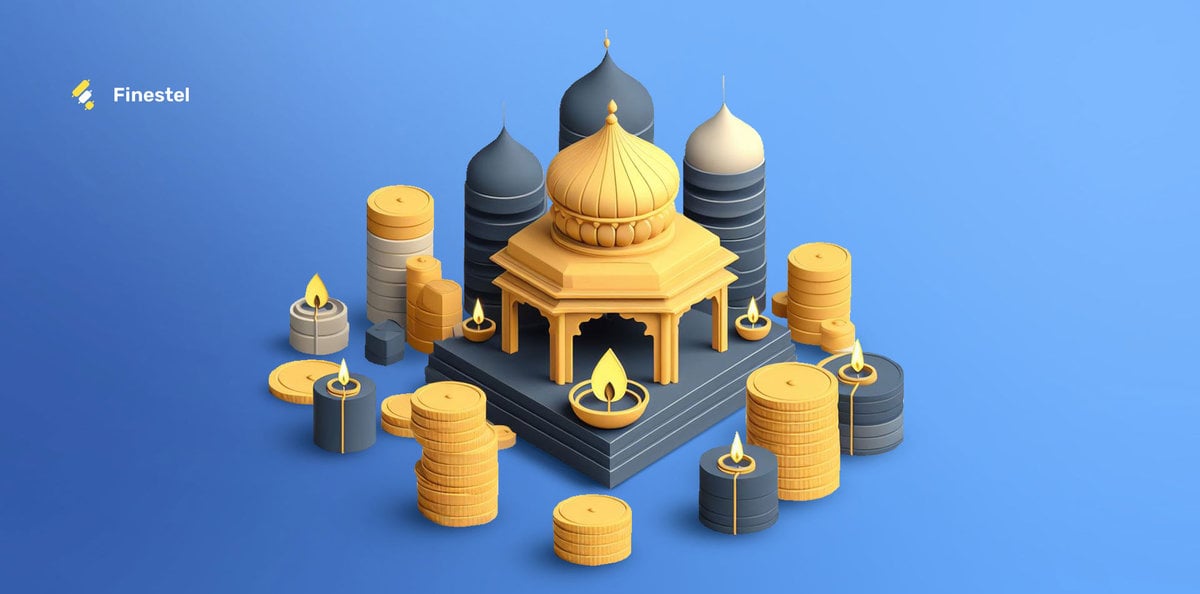 Now, you may be wondering, with just an hour of trading, can anyone make big profits? Volume and liquidity are quite low compared to regular market hours. So, people don't really expect to earn massive gains. For most investors, Muhurat Trading is more about upholding tradition than serious trading. Of course, some brokerages do observe spikes in trading activity and revenue during this session.
The Origins of Muhurat Trading
Stockbrokers in Mumbai started the tradition of Muhurat Trading back in 1957. It was the Dalal Street Investment Corporation that conducted the first ceremonial trading session.
Back then, the trading session would be heralded with priests chanting mantras and brokers offering prayers. The priests would ring a traditional ghanta (Indian bell) to signify the start of trading. Businessmen would turn up in traditional attire like dhotis and turbans to trade on the bourse and seek blessings.
Over the years, these practices have evolved, but the underlying tradition continues. Even today, before the start of Muhurat Trading, pictures of Goddess Lakshmi and Lord Ganesha are placed on the trading terminals. Investors and brokers chant prayers together. There is a festive air on the trading floor.
What Is Sensex?
For context, the Sensex is the benchmark index of the Bombay Stock Exchange (BSE) in India. It consists of 30 large and actively traded stocks, acting as a barometer for the overall Indian stock market. The Sensex, launched in 1986, is calculated using free-float market capitalization methodology.
It is one of the oldest and most widely tracked indices in Asia, reflecting the performance and sentiment of the domestic equities market. The gains seen in the Muhurat Trading session this year are representative of the continued bullishness driving the Sensex over the past year, as evidenced by the 6.5% rise since the last Diwali. With the upbeat start to Samvat 2080, investors will hope the positive momentum in the Sensex continues in the coming year as well.
When Does Muhurat Trading Take Place?
Muhurat Trading is held every year on Diwali, so the date varies per the Hindu lunar calendar. This year it falls on Sunday, November 12, 2023.
The one-hour session is slotted during normal market trading hours. Exchanges release circulars in advance with detailed schedules. Here is an overview of the 2023 timeline:
6:00 pm – 6:15 pm: Pre-open session
6:15 pm – 7:15 pm: Regular trading session
7:15 pm – 7:25 pm: Closing session
7:25 pm – 7:35 pm: Trade modification
So between 6:15 pm and 7:15 pm is when actual trading takes place. The pre-open session sets the mood through indicative pricing. The closing session gives investors time for last-minute trades. Post-closure, you still get 10 minutes to modify or cancel trades.
Find more information about the best time frames for crypto trading.
Can We Trade Options on Muhurat Trading?
you can trade options on Muhurat trading. It's one of the segments available for trading during this special session, allowing investors and traders to engage in derivative transactions as part of the overall Muhurat trading experience.
However, you should be careful and well-informed before indulging in options trading, as it involves higher risk and volatility than other types of trading. Some experts advise against options trading during Muhurat trading, as it may not be suitable for the long-term perspective and the auspicious sentiment of the session.
Stocks to Buy on Muhurat Trading 2023
Choosing the right stocks to buy can be a challenging task, as there are many factors to consider, such as the company's fundamentals, technical indicators, market sentiment, and future prospects. To help you with this decision, we have compiled a list of some of the top stocks to buy on Muhurat Trading 2023, based on the recommendations of various experts and analysts. These stocks are:
Ramco Cements (RAMCOCEM): This cement company is expected to benefit from the recovery in the construction sector, as well as its strong presence in the southern and eastern markets. The company has also improved its operating efficiency and reduced its debt levels.
Godrej Consumer Products (GODREJCP): This consumer goods company is a leader in the personal care and household segments, and has a diversified portfolio of brands. The company has also shown strong growth in its international business, especially in Africa and Indonesia.
HCL Technologies (HCLTECH): This IT company is a global leader in providing digital transformation solutions, and has a strong client base across various industries. The company has also invested in emerging technologies, such as cloud, artificial intelligence, and cybersecurity.
Eicher Motors (EICHERMOT): This auto company is the maker of the iconic Royal Enfield motorcycles, which have a loyal fan base and a premium positioning. The company has also expanded its product range and its global presence and has a robust pipeline of new launches.
Godrej Properties (GODREJPROP): This real estate company is a part of the reputed Godrej Group, and has a strong brand image and a diversified portfolio of projects. The company has also shown resilience in the face of the pandemic and has a healthy balance sheet and cash flow.
These are some of the top stocks to buy on Muhurat trading 2023, according to the experts. However, you should do your own research and analysis before investing, and consult your financial advisor if needed.
Muhurat Trading 2023 – Key Highlights and Market Response
The much-awaited Muhurat Trading session took place on November 12th this year. The market reaction was quite positive, upholding the general bullish sentiment typically seen during this event. Here are some of the key highlights:
The Sensex jumped over 500 points, or 0.79%, to 65,418.98 levels, while the Nifty surged over 100 points, or 0.62%, at 19,547.25 levels during the one-hour special trading session.
Infosys, up over 1%, was the top gainer on the Sensex, followed by Wipro, up 0.88%, and NTPC, up 0.78%.
All the sectoral indices traded in the green, with IT and Energy stocks leading the pack.
In the past year since last Diwali, the broader market outperformed the benchmarks. The BSE Smallcap and Midcap indices registered strong growth of 31% and 26%, respectively, compared to Sensex and Nifty gains of 6.5% and 7.1%.
The market capitalization of BSE-listed firms surged to a record high of ₹320 crore in the first week of June, taking India to the 5th largest market globally after the U.S., China, Japan, and Hong Kong.
So the Muhurat session this year saw upbeat participation in continuation of the positive momentum built up over the past year. Investor optimism remains intact despite global headwinds. With Lakshmi's blessings, the stage seems set for healthy equity returns in Samvat 2080. But as always, investors should focus on fundamentals and make reasoned investment decisions.
A Few Interesting Facts and Trends
Volumes during Muhurat Trading equal just 1% of the average daily turnover. In 2022, total turnover was Rs 4,500 crore.
Among sectors, banking, financial services, FMCG, auto, and pharma stocks see relatively higher interest.
In terms of indices, Sensex has closed positive in 5 out of the last 7 Muhurat Trading sessions. The only exceptions were in 2017 and 2020.
Top gainers in the 2022 session included heavyweights like SBI, ICICI Bank, ITC, Mahindra & Mahindra, and L&T.
So, based on historical data, we can surmise that Muhurat Trading tends to be a bullish affair, with investors remaining largely optimistic. But one needs to be cautious about extrapolating short-term positivity. Fundamentals matter more in determining long-term trajectories.
For instance, in 2018, Sensex gained 0.9% during the Muhurat session but ended the Samvat year down 3.6%. So, don't rely solely on Muhurat's performance to make investment decisions.
Strategies and Tips for Muhurat Trading
Muhurat Trading is a symbolic tradition for most. However, some investors do like to capitalize on potential opportunities within the limited trading window.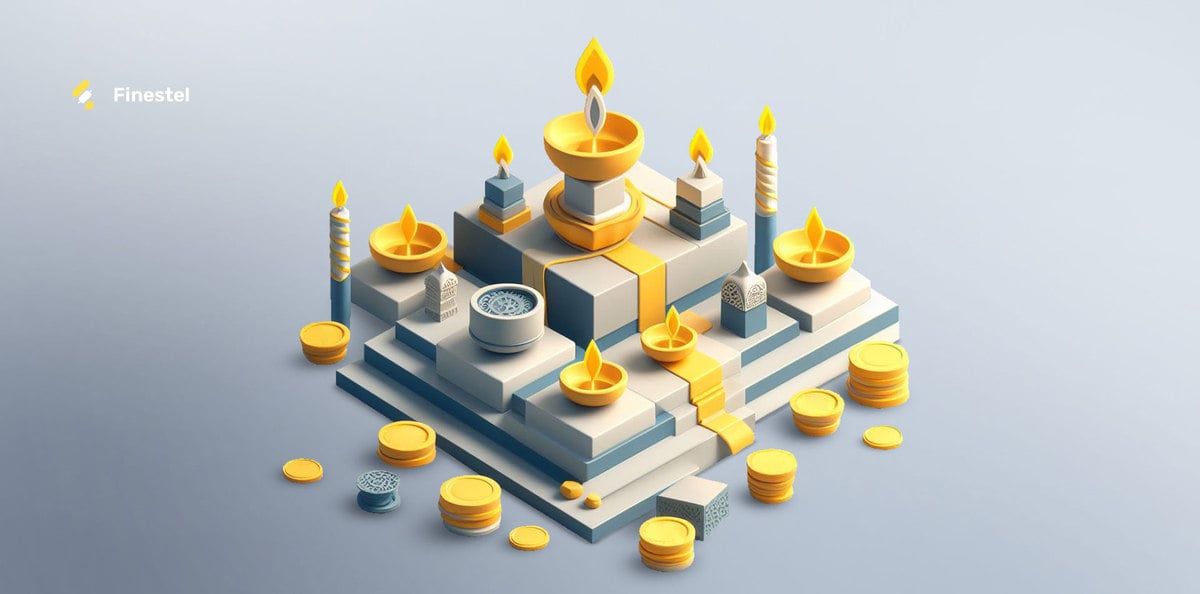 If you plan to trade this Diwali, here are some tips:
Allocate only as much capital as you can afford to set aside for this specific purpose. Don't take undue risks.
Focus on quality stocks from sectors in growth mode. Technology, pharma, and consumer goods are good bets.
Avoid penny stocks and overly speculative trades. Stick to fundamentally strong stocks.
Initiate smaller orders and volumes due to low liquidity and impact costs.
Don't obsess over profits; Muhurat Trading is ceremonial in nature.
Say a prayer to Goddess Lakshmi before you begin! Divine intervention can't hurt.
Read more about creating a trading journal.
Outlook for Samvat 2080
As we bid adieu to Samvat 2079 and get ready to start the New Year on a positive note, what is the economic and market outlook? Here are some expectations:
GDP growth is projected at 6-6.8% in FY24, aided by domestic demand and investments.
Inflation could moderate but remain above RBI's 2-6% target range due to global cues.
Equity markets will gravitate between domestic growth prospects and global headwinds.
The rupee may remain volatile, reacting to dollar movement and macroeconomic risks.
At a sectoral level, capital goods, manufacturing, infrastructure, IT, and FMCG could outperform.
So there are definitely opportunities amid the risks. With Lakshmi's blessings, investors will hope for stable growth and wealth creation in Samvat 2080!
Conclusion
Diwali is not just about lighting lamps and feasting on sweets. The festival also ushers in an auspicious New Year for the business and investor community. Muhurat Trading encapsulates the spirit of optimism and prosperity that defines the festival.
While a predominantly ceremonial event, it gives investors a chance to initiate trades on an upbeat note. With the right strategies, it can be an opportunity to earn some extra returns. But more importantly, it allows all stakeholders to join in upholding traditions passed down generations.
This Diwali, let us light the lamp of knowledge and rationality along with the lamps of hope and prayer. Here's looking forward to a happy and prosperous Samvat 2080!