Copy trading is one of the fastest-growing services in the Forex trading industry. Originating from sharing ideas on social trading platforms, copy trading has since evolved into instant, automatic replication of expert traders' positions by their followers. Consequently, the increasing popularity of copy trading is opening up the Forex market to a much wider audience than ever before. This trend leads many traders and investors to search for the best Forex brokers for copy trading.
Copy trading in Forex offers numerous potential benefits to investors, such as effective risk management, potential profitability, time-saving, and convenience of automated executions by providing access to the expertise of successful traders. The emergence of this technology is also advantageous for traders, making funds more accessible to grow their businesses.
This article compares the best copy trading Forex brokers, analyzing their features and mentioning their strengths and weaknesses respectively. Readers can draw valuable insights from these comparisons, assisting them in decision-making.
An Overview of Copy Trading in Forex
As mentioned in the introduction, copy trading is the process of selecting a trader to replicate their trading activities. Copy trading is inspired by mirror trading, which was initially only available to institutional investors. Yet, the recent advent of technology makes it accessible to almost anyone interested in the financial markets.
Many Forex brokers offer copy trading services to their clients, allowing them to profit from experienced traders' decisions without making any of their own. The resulting simplicity in getting exposure to the sophisticated financial markets without expertise has led to the rising popularity of copy trading as one of the go-to gateways for non-traders.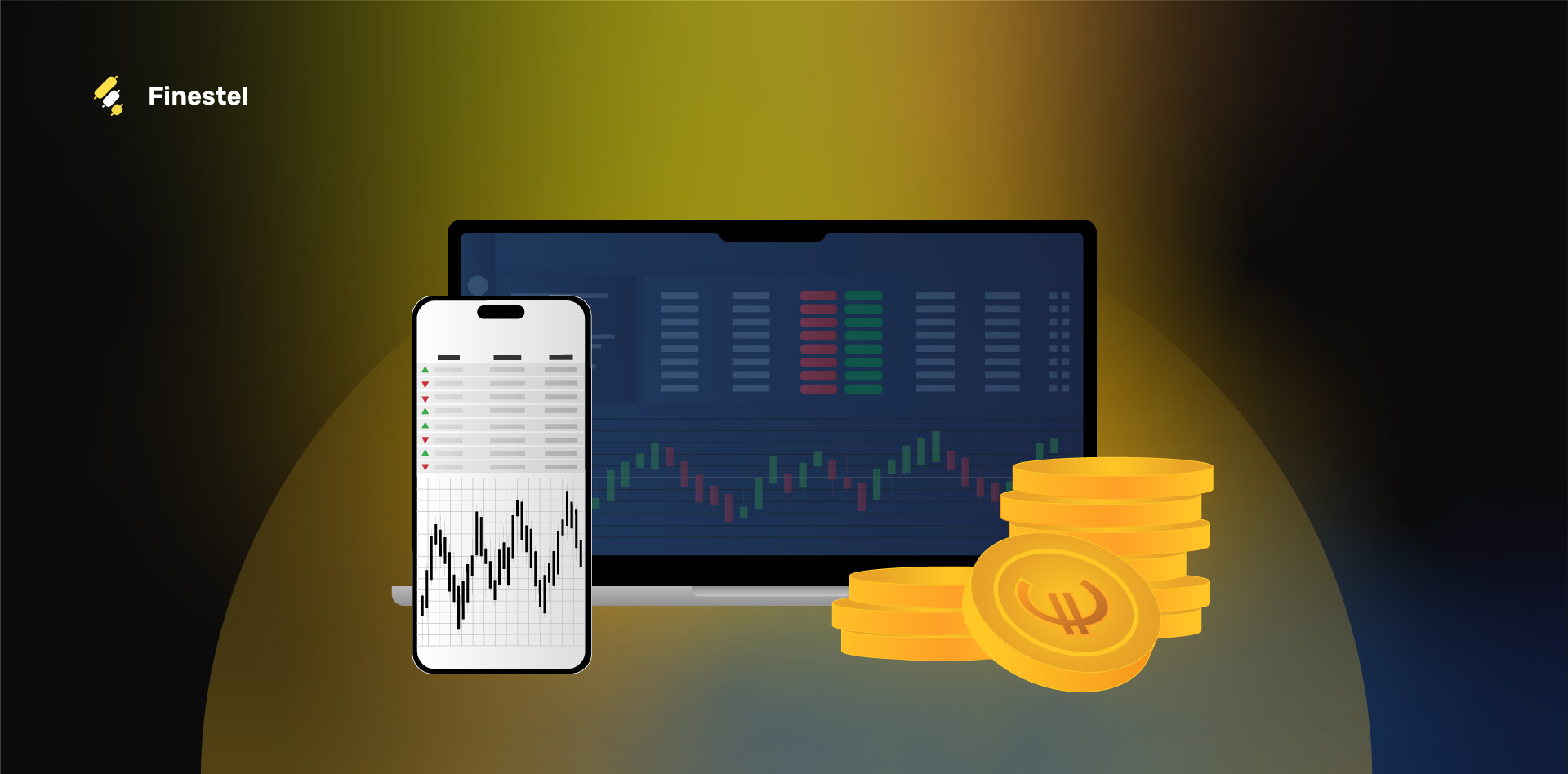 A market that has seen significant copy trading interest in recent years is the Forex market. The foreign exchange market (known as Forex) is an international market where traders buy and sell countries' currencies. Being the largest and most liquid financial market in the world, the Forex market could be a merciless environment for novice traders and investors with little knowledge about the mechanics of financial markets and macroeconomics. Therefore, it comes as no surprise that Forex market traders and investors highly favor copy trading, with several brokers providing copy trading services for their users.
The Mechanics of Copy Trading: How It Works in Forex
In the Forex market, there are usually various companies offering different copy trading services. These services are compatible with trading platforms like Metatrader and cTrader. Forex brokers buy these services' licenses from the creator company and offer it as a copy trading service to their clients. Traders and investors can then create accounts with the broker and use their copy trading service.
Top 5 Forex Copy Trading Brokers
The table below demonstrates the top 5 Forex copy trading brokers, based on user and professional reviews:
| | | | | | |
| --- | --- | --- | --- | --- | --- |
| Platform | Minimum Deposit | Regulatory Status | Maximum Leverage | Supported Trading Platforms | Available Instruments |
| eToro | $10 | SEC, FCA, CySEC, ASIC | 1:400 | Web | 3000+ |
| AvaTrade | $100 | FFAJ, CySEC, ASIC | 1:30 | Web, MT4, MT5 | 1000+ |
| Pepperstone | $200 | ASIC, FCA, DFSA | 1:200 | TradingView, MT4, MT5, cTrader | 2000+ |
| Vantage | $50 | ASIC, FSCA, CIMA | 1:500 | MT4, MT5, Web | 1000+ |
| FXCM | $50 | FCA, ASIC, FSCA, CySEC | 1:1000 | TradingView, Trading Station, MT4 | 400+ |
eToro
eToro is a well-known platform worldwide, due to its social trading network and copy trading services. Home to over 30 million investors and traders, eToro offers access to over 3,000 instruments from stocks, Forex, and cryptocurrencies. Their platform allows investors to see the real-time performance and trades of other users, which could be useful in identifying other successful traders.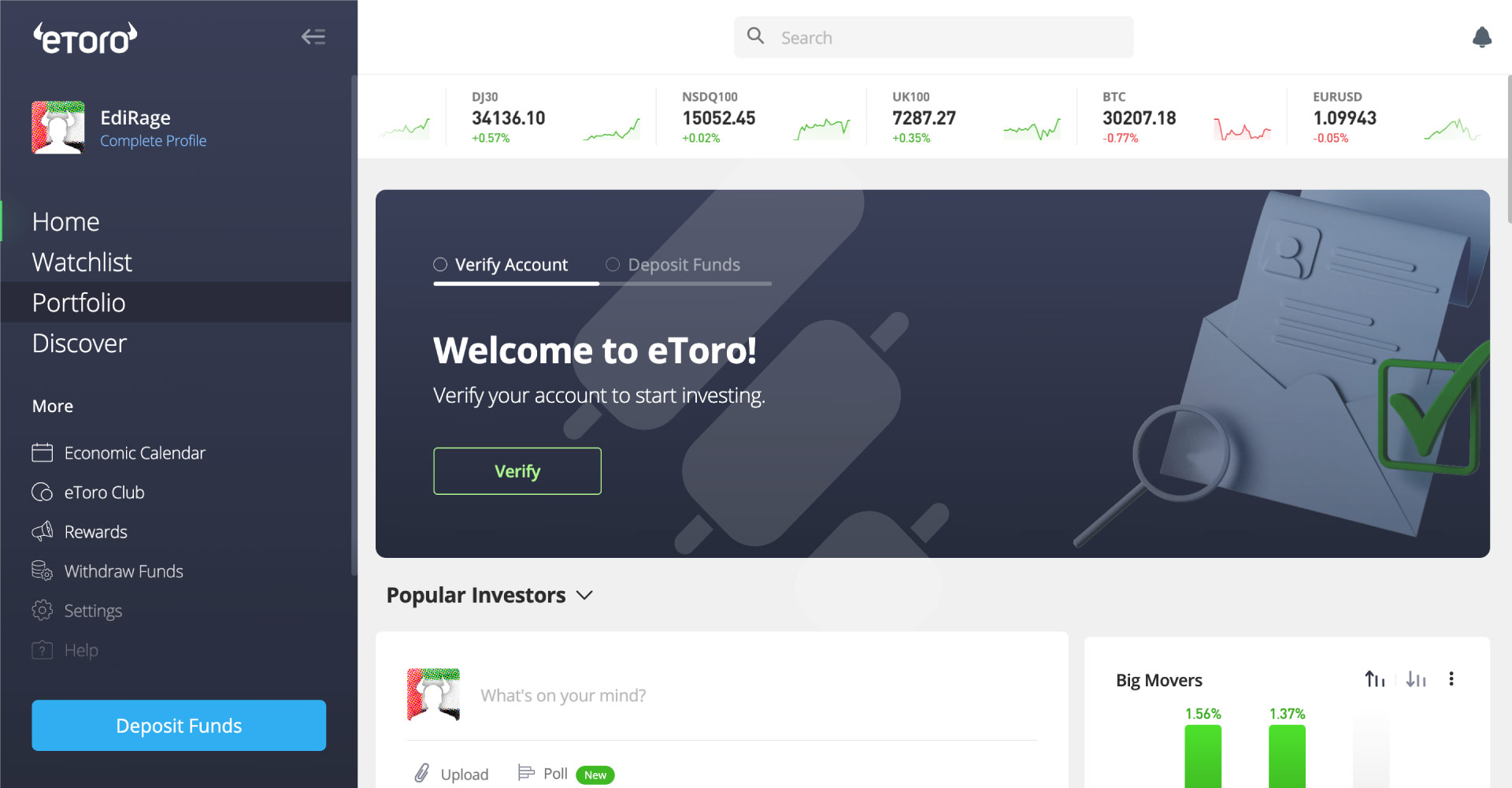 Pros
User-friendly social trading platform

Wide range of assets and instruments are available

Excellent copy trading service
Cons
Higher-than-average spreads
AvaTrade
AvaTrade is a globally reputable brand, being one of the best copy trading forex brokers. It is regulated in multiple regions and is a trustworthy broker. Due to its large customer base, a wide range of financial instruments, and excellent customer service, AvaTrade has received many international awards.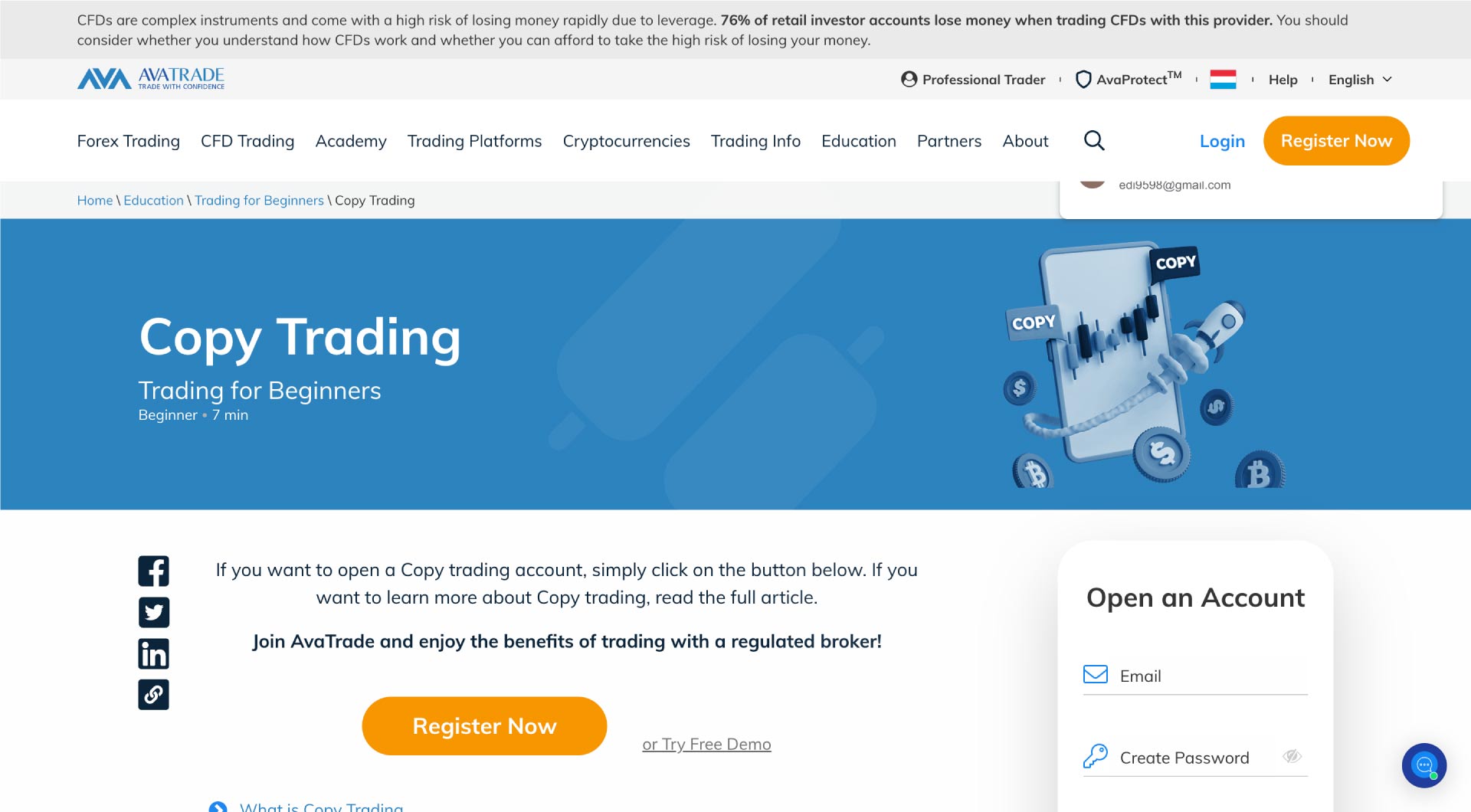 Pros
Valuable educational tools

Access to great copy trading platforms

A large variety of assets available
Cons
Pepperstone
Pepperstone is a leading Forex broker with a strong presence in the Australian market. The company is a reliable choice for traders due to being highly regulated and receiving several awards over recent years.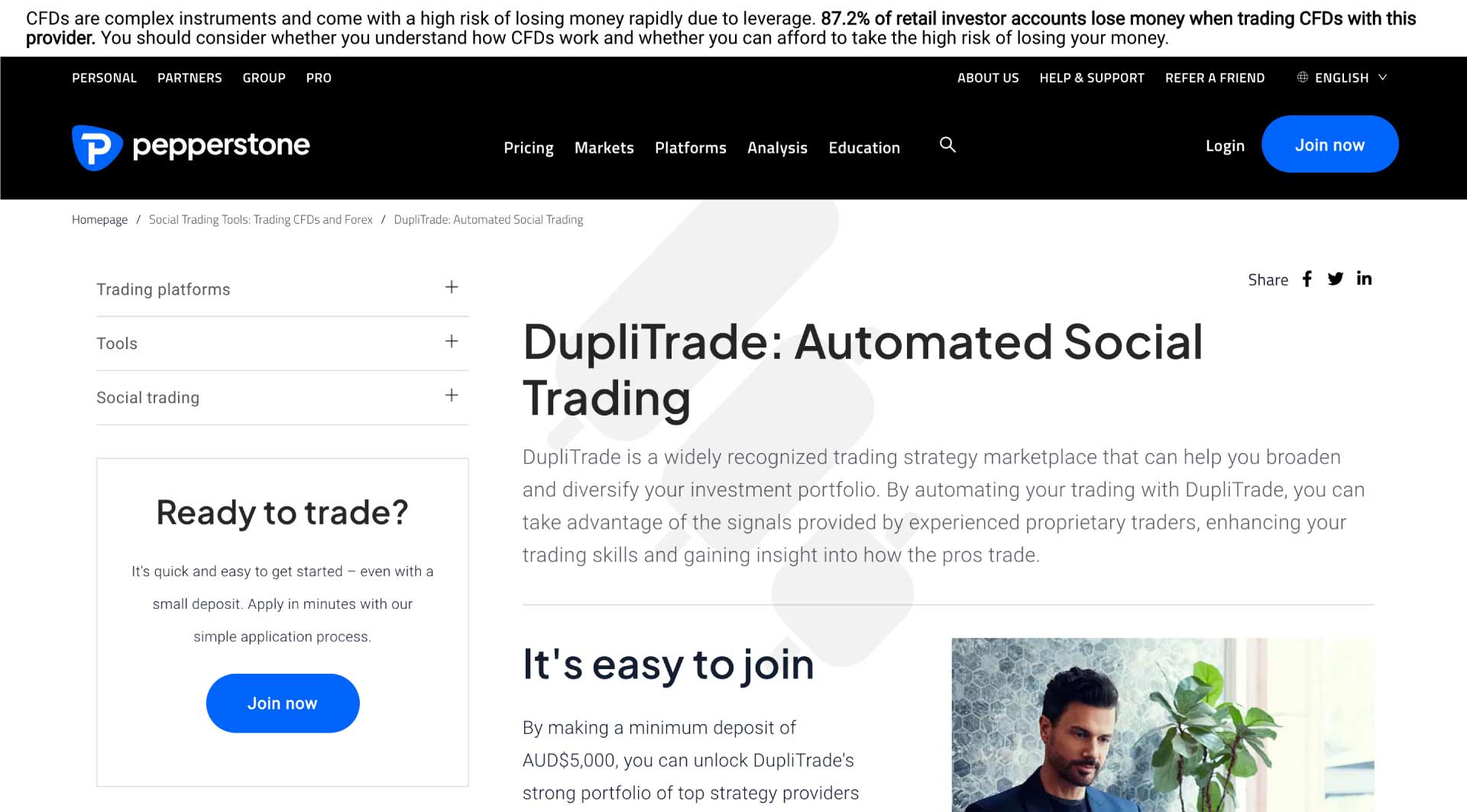 Pros
Regulated in 7 jurisdictions

Offers MT4, MT5 and cTrader

Low spreads and fast executions
Cons
Restricted for U.S. traders
Vantage
Vantage offers one of the top 5 copy trading services for Forex, allowing talented traders to earn extra income from managing their followers' funds. Their platform has a diverse range of traders and a wide variety of instruments. Vantage is popular among beginners as they can observe and learn winning trading strategies.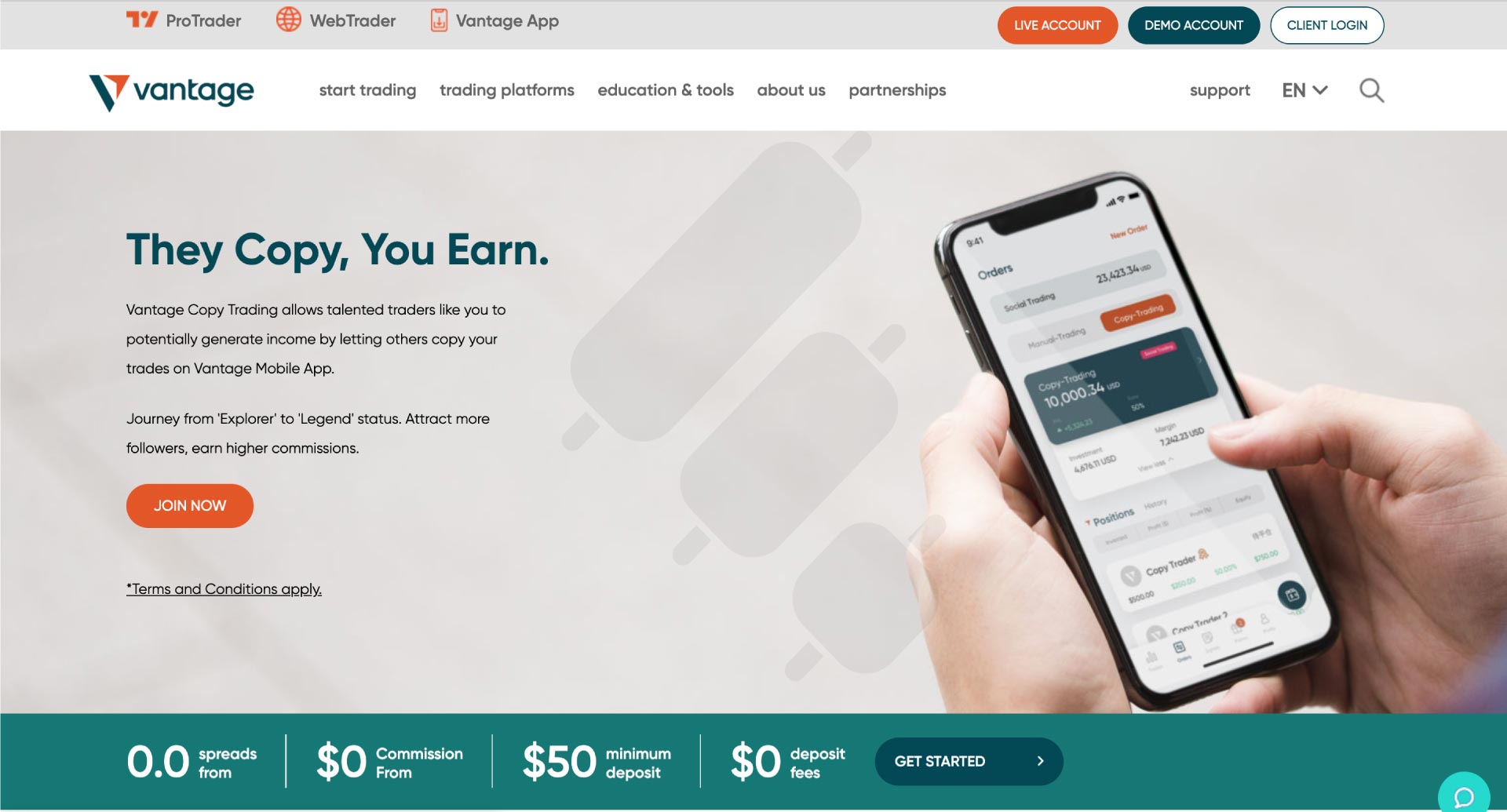 Pros
User-friendly mobile app

Low spreads and commissions

Useful trading tools and services
Cons
Large starting deposits required

U.S. based traders not allowed
FXCM
FXCM, a market-making broker founded in 1999, is one of the most popular forex brokers with a long history. The broker is regulated in several jurisdictions and would be an ideal choice for traders. FXCM offers a large variety of trading instruments, including Forex and CFDs.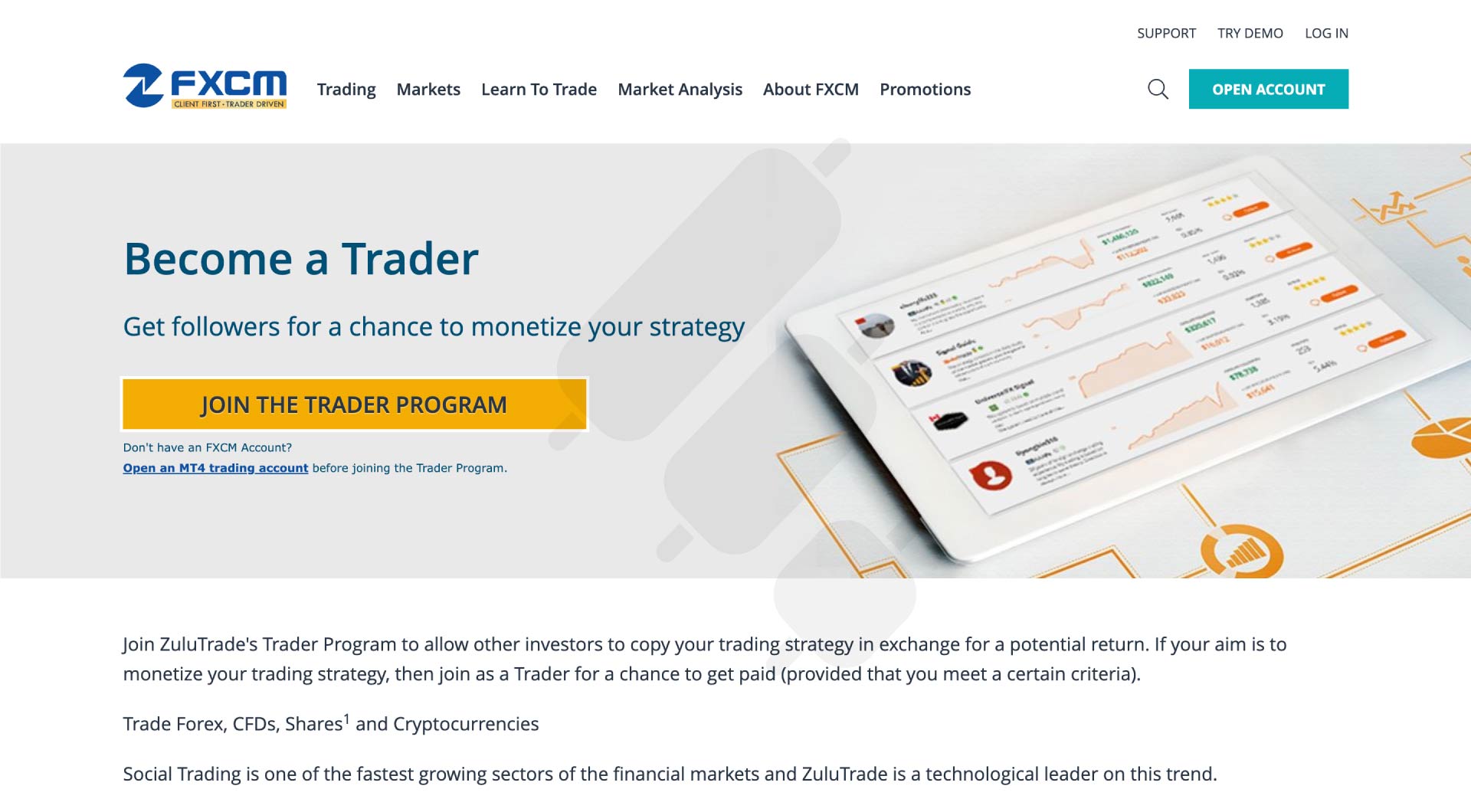 Pros
Reliable 24/5 customer support

Low initial deposits

Access to mobile trading and one-click executions
Cons
Banned from operating in the U.S. due to past customer fraud incidents.
Selecting the Ideal Forex Copy Trading Broker for Your Needs
When selecting the ideal Forex copy trading broker for your needs, you must carefully consider various aspects. Here are some of the key factors for choosing a suitable copy trading broker:
Reputation and Regulation:

Look for highly regulated brokers that have a transparent background and a strong reputation in the market. 

Traders:

Evaluate the traders available to copy on the broker. Search for a wide range of experienced traders with decent past performance and consistently profitable strategies.

Customer Base and Compatibility:

Traders should search for copy trading brokers that are compatible with popular trading platforms and have a large customer base as they look for investors to grow their AUM.

Transparency:

The best Forex copy trading brokers should offer detailed metrics and data related to their traders' past activities and historical performance.

Costs of trading

: Forex brokers have different commissions and spreads as costs of trading. Traders should prioritize brokers with lower costs of trading.

Customer Support:

No one likes to deal with terrible customer support during a stressful trading day. Users should value quick response times, educated staff, and efficient communication channels such as live chat and email.

Security and Account Protection:

Traders and investors must ensure that their chosen broker is highly secure and provides additional security tools like two-factor authentication.

Trade Execution Speed:

Fast and precise trade execution is one of the crucial factors in copy trading. Platforms with low latency and delays ensure high efficiency in your copy trading experience. So, make sure to choose brokers who offer their services through high-speed, advanced platforms.
Here's how Forex Traders Can Leverage Finestel's Copy Trading Service for Their Business
Copy trading is a rapidly developing area in the crypto market. Forex brokers usually offer crypto copy trading services through their MetaTrader4 or 5 software. Yet, there is a limit to the available crypto pairs, and the spreads are usually too high. Forex copy trading platforms, and brokers are not reliable enough in crypto copy trading. But then, there is Finestel.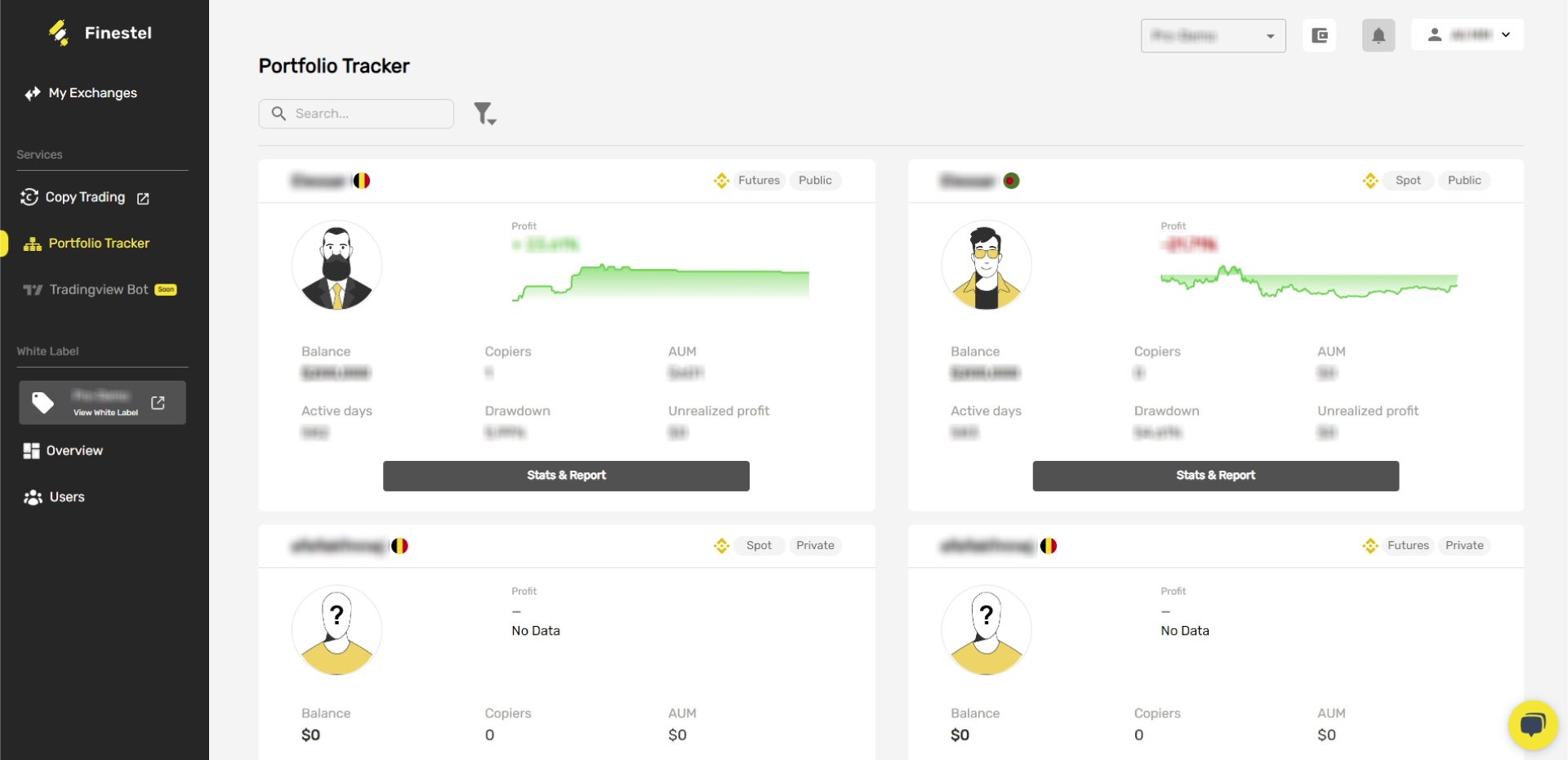 Finestel is a top solution provider in the cryptocurrency space. The company was born to be the ultimate copy trading platform but it evolved into a white label copy trading software, mainly offering their services to the crypto market traders and investors. Finestel offers a variety of features inside an all-in-one package that can be attractive to individuals interested in copy trading. Here are some key features of Finestel's solution:
Copy Trading System: Arguably the best in the crypto market, Finestel's cutting-edge copy trading system allows you to replicate successful traders' executions at lightning speed and profit from their expertise.
White Label Solution: Designed by Finestel, presented by you. Offer your trading and portfolio management services to your clients under your brand.
Back Office Solution: Finestel's back office solution offers a wide range of modules, ensuring efficient management of critical tasks and data associated with running a copy trading business.
Forex traders can arm the crypto side of their copy trading business with Finestel's white-label solution and offer it to their clients under their brand with several additional features available. Furthermore, Finestel can also develop dedicated, highly customizable services for your Forex copy trading.
Traders can access Finestel's copy trading service by signing up at a crypto exchange or making a Bybit sub-account (and soon other exchanges) for themselves and their clients, and finally, creating an account on Finestel's website.
Top 5 Forex Brokers for Copy Trading Infographic
Conclusion
With technology's rapid development over the recent years, Forex copy trading has become available to a large audience worldwide. Anyone interested in the financial markets can now gain exposure to them by following expert traders and replicating their trades in their accounts using copy trading services. Yet, selecting an ideal copy trading platform can be tricky, and users should carefully evaluate platforms based on various factors like reputation, regulatory status, minimum deposit requirements, and copy trading functionalities.
Moreover, the top 5 best copy trading forex brokers have been introduced and compared in this article. eToro is the clear winner thanks to its user-friendly and advanced CopyTrader platform, followed by AvaTrade as the runner-up, with its access to great copy trading platforms and large customer base. Other brokers, including Pepperstone, Vantage, and FXCM also offer competitive copy trading services under their reputable brands.
FAQ
How do I choose a reliable copy trading broker?
Traders should consider regulatory status reputation in online forums or reviews written by other websites, copy trading platform features, transparency, range of available traders, and customer support when choosing a reliable copy trading broker.
Are there any risks associated with copy trading in the Forex market?
Yes, there are significant risks associated with copy trading in the Forex market, including the potential loss of funds due to poor trader performance, technical platform issues, and the inherent risk in the Forex market.
What are the top 5 forex copy trading platforms?
Some of the top forex copy trading platforms are eToro, ZuluTrade, Myfxbook, Duplitrade, and NAGA. These platforms offer a wide range of useful features and provide an enjoyable user experience for traders and investors.
What is the best forex copy trading software recommended for experienced traders?
MetaTrader 4 (MT4) and MetaTrader 5 (MT5) are the most popular trading platforms and are also very useful for copy trading in the Forex market. Both platforms are highly compatible and robust, making them the go-to choice for traders and brokers.
Are forex copy trading platforms regulated?
The regulatory status can vary from platform to platform, but there are several highly regulated copy trading platforms available worldwide. It is essential to verify the reputation of regulatory licenses of the platform you choose to work with.