Prop trading is one of the many strategies institutions use to participate in the financial markets. Proprietary trading firms use their own money to invest in the markets instead of managing clients' capital. The best prop trading firms are gaining massive popularity in the retail trading industry, as they provide the opportunity for skilled traders to trade on larger funds.
In this article, we focus on introducing the top prop trading firms. We first begin by explaining a prop firm and how it works. We then provide instructions on how you can become a prop firm trader. Finally, we analyze the factors you must consider before choosing a suitable firm to work with and introduce the best prop trading firms in 2023. We also provide a brief explanation of how you can create your own prop firm using Finestel's white-label solution.
What Is a Prop Firm?
A proprietary trading firm, or simply a prop firm, is a financial institution that invests its own money in the markets. Some prop firms also offer successful traders the chance to manage the firm's capital and share the profits with them. We focus on these types of institutions in this article and try to guide traders interested in prop trading to choose the firm that is best suited for their goals.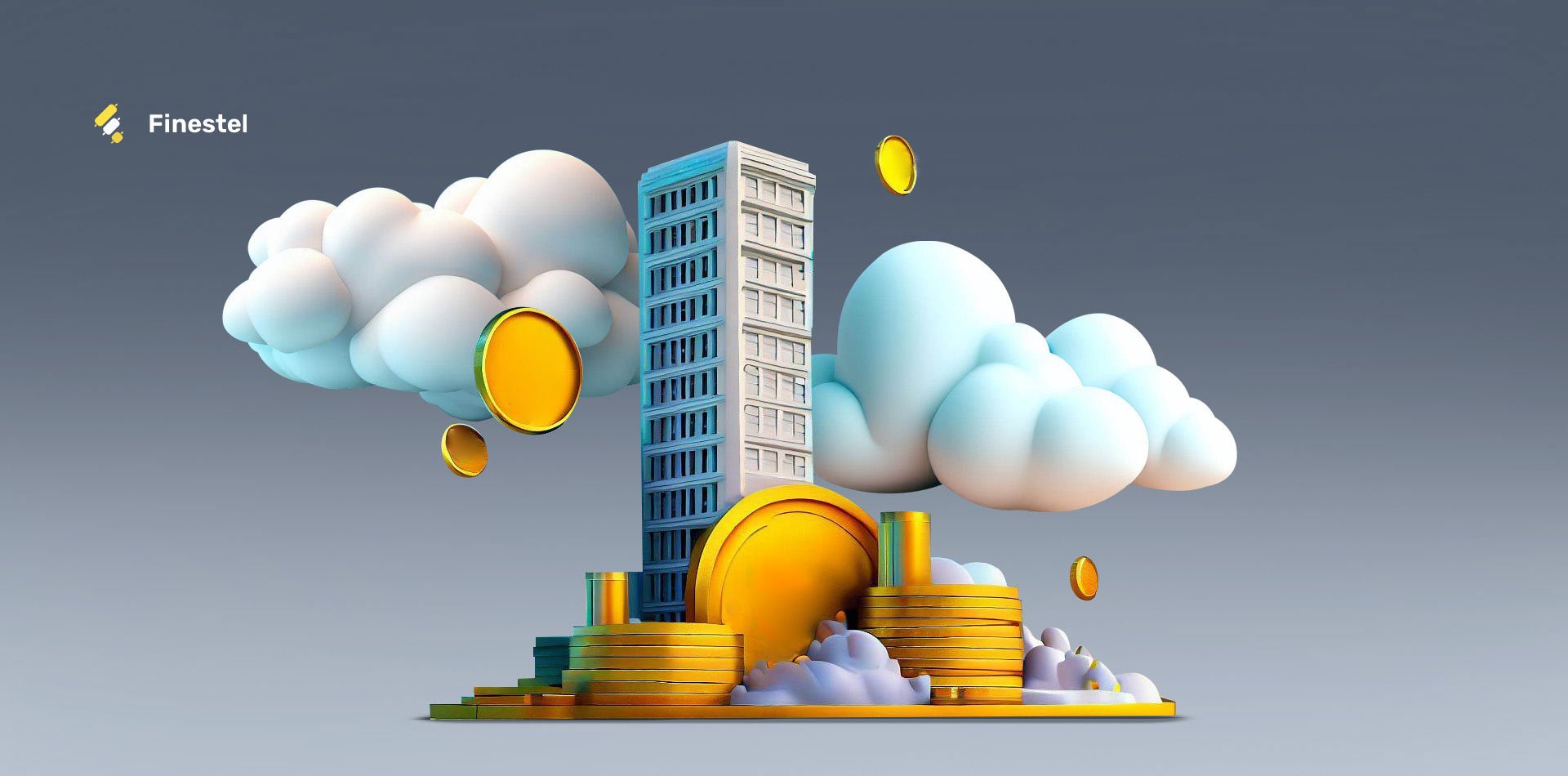 How Does a Prop Firm Work?
Prop firms raise funds from their own shareholders or borrow from other institutions. They use this money to fund skilled traders in the form of trading accounts registered with partner brokers. The traders would then manage the firm's capital and trade financial instruments, aiming to earn profits.

The profits are shared between the firm and the trader at the end of each period, which is typically a month. However, you should note that prop firms use challenges to identify deserving traders. These challenges are in the form of demo trading, with different profit targets, maximum drawdown, and time limits.
How Do Proprietary Trading Firms Manage Market Volatility?
Prop firms use various risk management techniques to manage their risk and protect themselves against market volatility. A decent example is the drawdown limit set for funded traders. This rule prohibits traders from going through a drawdown of more than a certain level, and if they do so, their account is taken from them. Another method these firms use is diversifying their income sources.
Arguably, the main revenue stream of prop firms is not from the profits the traders realize, but the cost they charge for their challenges. Regardless of whether the trader passes or fails the challenge, he should pay the challenge price in advance. This income source is totally independent of market volatility.
How Can I Become a Prop Trader?
Prop firms have provided an outstanding chance for traders to manage more funds, with the only risk they bear being the price they pay to purchase challenges. However, the first step to use this life-changing opportunity is to learn the skillset and become a professional trader.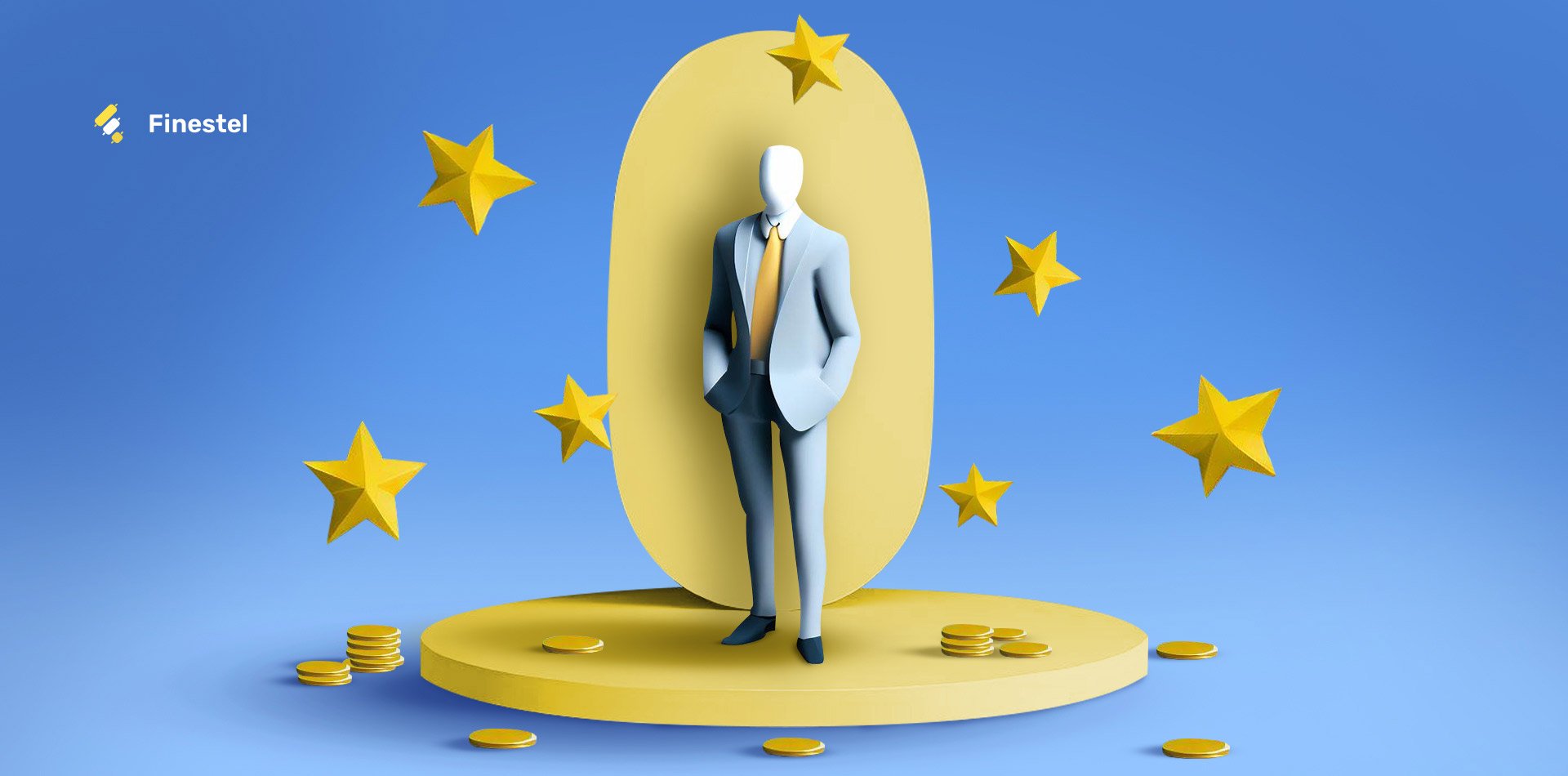 By a professional trader, we mean one who can effectively manage risk and consistently extract money from the markets. Yet, you should also train yourself to play by the rules and requirements of the firm you choose to work with. Pay attention to maximum and daily drawdown limits, minimum active days, etc.
With several reputable prop firms available to choose from, traders have one of their main problems solved. That is a lack of trading capital. You only need to master the skills required to become a consistently profitable trader and a professional risk manager.
Success Stories: Traders Who Made It Big
In this section, we aim to briefly present you stories about traders who made it big time, using prop firms. These traders have decided to share their stories on different social media platforms and podcasts. So, we tell their stories from their own mouth. Note that we have used these traders' social media IDs rather than their full names.
Paladin:

Being only 21 years old, Paladin believes that prop firms saved his trading career and that he would not be where he is now without them. Paladin used to work as a part-time doorman, while in college to fund his trading career and be able to buy prop firm challenges. Now, he is making five figures a month, thanks to the opportunity the prop firms have provided for traders and of course, his own talent and hard work.

Kimmel Trading:

Rafael, a young guy living in Portugal, is another example of how utilizing prop firms can change an aspiring trader's life. Being in his 20s, he has been trading for 3 years. Yet, he is now funded by multiple prop firms, managing 7 figures in assets. He believes that prop firms can be used as a shortcut for traders to reach their financial goals if they are disciplined enough.

Hannah Forex:

One of the few popular women in the trading industry, Hannah is also another young trader that has been blessed with the opportunities provided by the prop firms. As a result of her own determination and being funded with multiple 6 figure trading accounts, she is now able to live independently and also support her family.
Factors to Consider When Choosing a Prop Trading Firm
While there are many prop firms currently active in the retail trading industry, you should be careful which firm you choose to work with. Here are some of the most important factors you need to consider when selecting a prop firm:
Reputation:

Try to analyze prop firms by checking their reviews on different trading forums, websites, and social media. Look for possible red flags and strengths users point to before opting to create an account with a firm.

Regulation:

Only consider prop firms that are highly regulated. The best prop trading firms are regulated in the United States and the European Union. Therefore, they are reliable enough and worth your money and time.

Pricing:

Various prop firms offer different prices for their challenges. You should preferably work with firms that have the most reasonable prices.

Pass/Fail Criteria:

Compare profit targets, maximum and daily drawdown limits, minimum trading days, and time limits between the reliable prop firms to identify the one you are most convenient with.

Payout & Profit Sharing:

Check out the ratio of profit splits each prop firm offers to funded traders upon payout. The frequency of payout eligibility is also an important factor that you should keep in mind.

Partner Brokers:

Each prop firm has one or more brokers as partners. Evaluate the brokers by assessing their spreads, commissions, slippage, and available trading platforms.
Top Prop Trading Firms in 2023
In the previous sections, we have thoroughly discussed prop firms, how they work, and the factors you need to consider when choosing one of these companies. Now, we introduce the best prop trading firms in 2023 by comparing their standard challenges and other general criteria and move on to analyze each one separately.
Prop Firms
Profit Target
Maximum Drawdown
Trading Period
Profit Sharing
Instruments
Platforms
$100K Challenge Price
FTMO

Phase

1

: 10%

Phase 2: 5%

12%

Unlimited

Up to 90%

Forex

Commodities

Indices

Crypto

Bonds
Stocks

MT4

MT5

cTrader

$540

My Forex Funds

Phase

1

: 8%

Phase 2: 5%

12%

Unlimited

Up to 85%

Forex

Commodities

Indices

Crypto

MT4

MT5

$499

The Funded Trader

Phase

1

: 10%

Phase 2: 5%

10%

Unlimited

Up to 90%

Forex

Commodities

Indices

Crypto

MT4

MT5

$499

My Funded FX

Phase

1

: 8%

Phase 2: 5%

8%

Unlimited

80%

Forex

Commodities

Indices

Crypto

MT4

MT5

$500

True Forex Funds

Phase

1

: 8%

Phase 2: 5%

10%

Unlimited

80%

Forex

Commodities

Indices

Crypto

MT4

MT5

€499
FTMO
Being the most household name in the industry, FTMO is arguably the company that made prop trading firms popular in the retail trading space. They offer two main types of challenges, with normal and aggressive risks. The main difference is that the aggressive accounts allow you to go into twice as much drawdown as you can in normal accounts, but your challenge and verification profit targets are also doubled.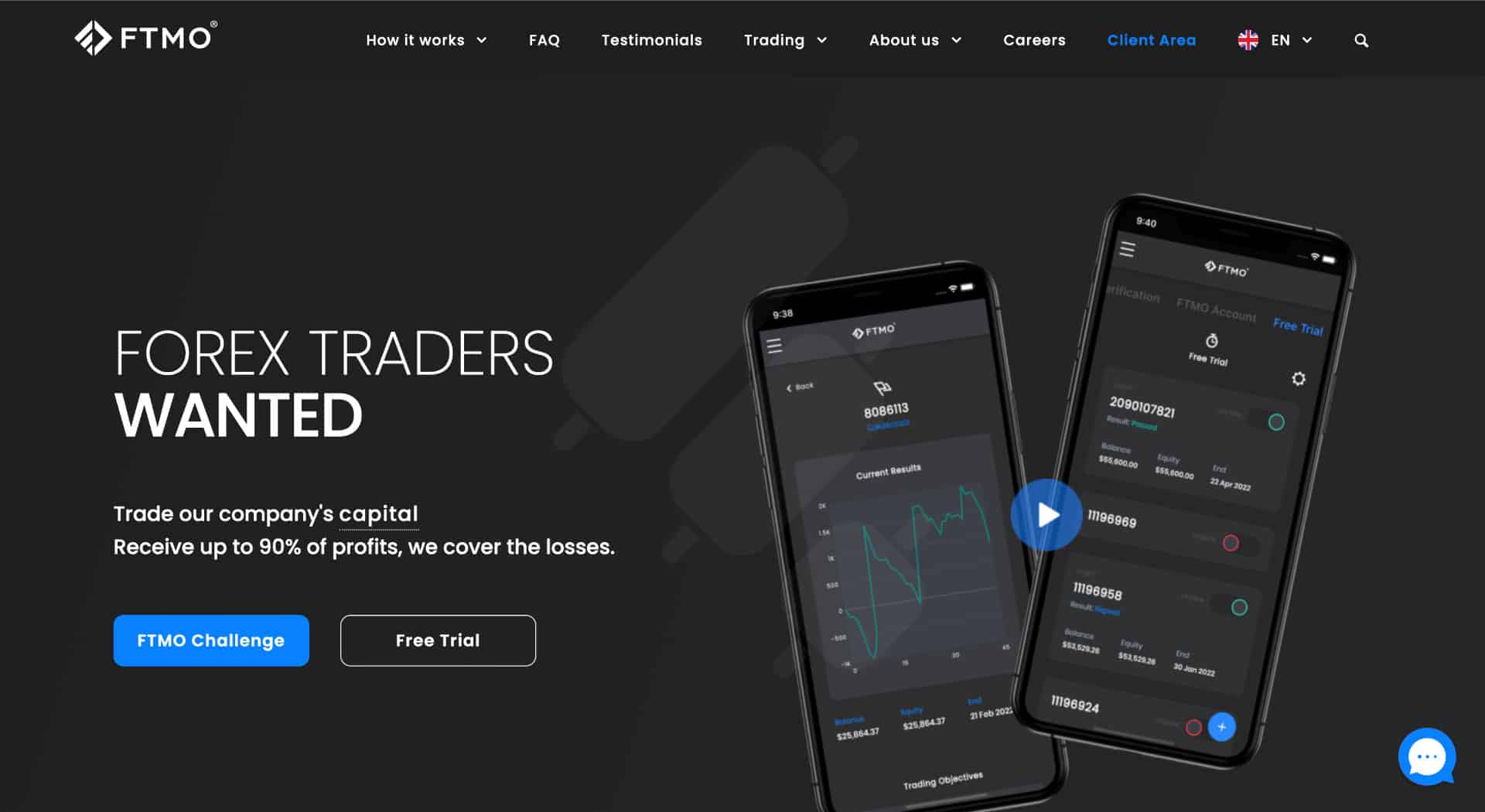 Pros
The most trustworthy prop firm in the world

Excellent trading journal and performance-tracking apps

Scale up to $2 million in funding

One of the best profit split policies in the industry

Offers a free trial
Cons
No one-step challenge

High profit target
My Forex Funds
My Forex Funds has been FTMO's main rival over recent years. They offer traders more flexibility and choices, with easier profit and loss requirements and more types of challenges. In addition to their standard, 2-phased challenge, known as evaluation, they also offer rapid and accelerated challenges. The Rapid accounts do not have profit targets, and you get a smaller share of profits paid as you earn and learn. The accelerated ones are suitable for traders that want instant funding with higher profit splits than the rapid accounts.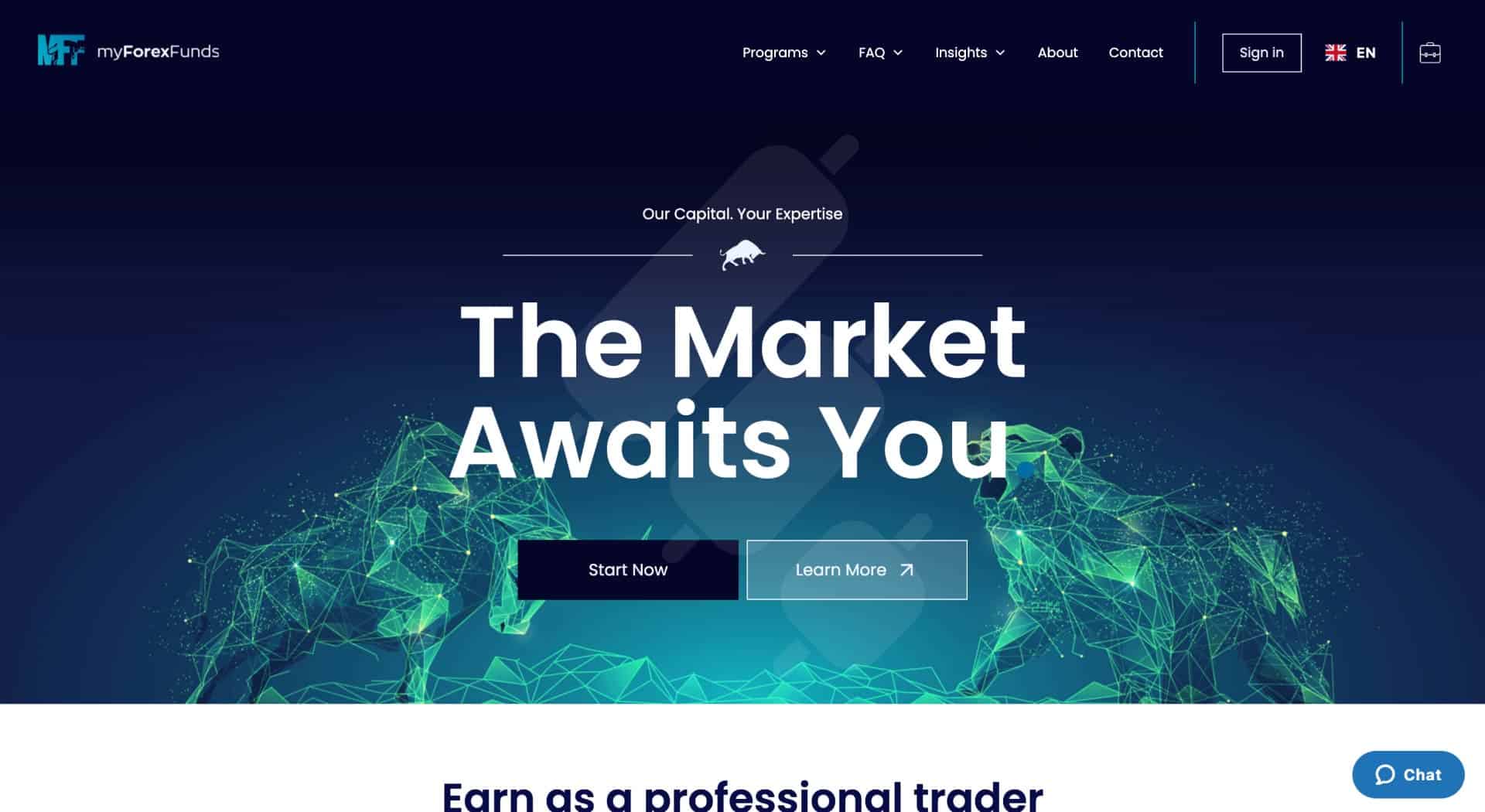 Pros
Weekly or bi-weekly payouts

High leverage available

Reasonable pricing

Free retry if you do not violate the rules
Cons
High slippage

Weak customer support

No free trial available
The Funded Trader
While relatively younger than both FTMO and My Forex Funds, The Funded Trader has done an excellent job of catching up with the two. They offer traders from all around the globe the chance to get funded. They have four types of challenges; Standard, Rapid, Royal, and Knight. The Rapid challenge requires no minimum trading days while having a smaller profit target and drawdown limit. The royal challenge is similar to the Standard challenge, except it allows the use of Expert Advisors. Finally, the Knight challenge is similar to the Royal one but only has one phase.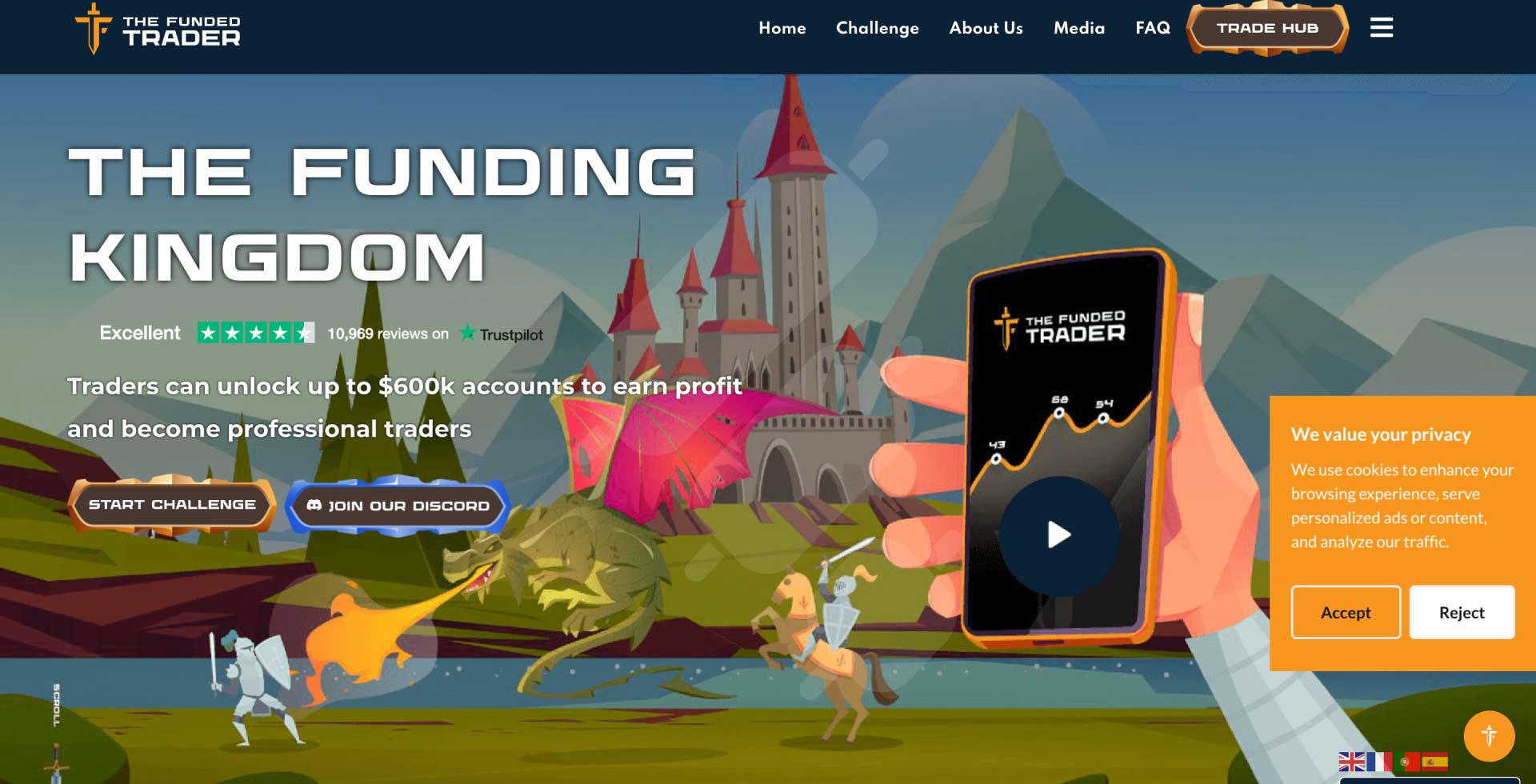 Pros
Fewer rules and requirements

Quick payout processing

Various types of challenges

Excellent customer support
Cons
Shorter history than competitors

High commissions and spreads on some instruments

No free trial is available
My Funded FX
One of the newer prop firms in the industry, My Funded FX, has been working hard to pull itself to the top. They have two types of challenges, a standard 2-step challenge and a 1-step challenge. The 1-step challenge requires you to reach the same profit target as the first phase of the 2-step challenge but has a smaller drawdown limit.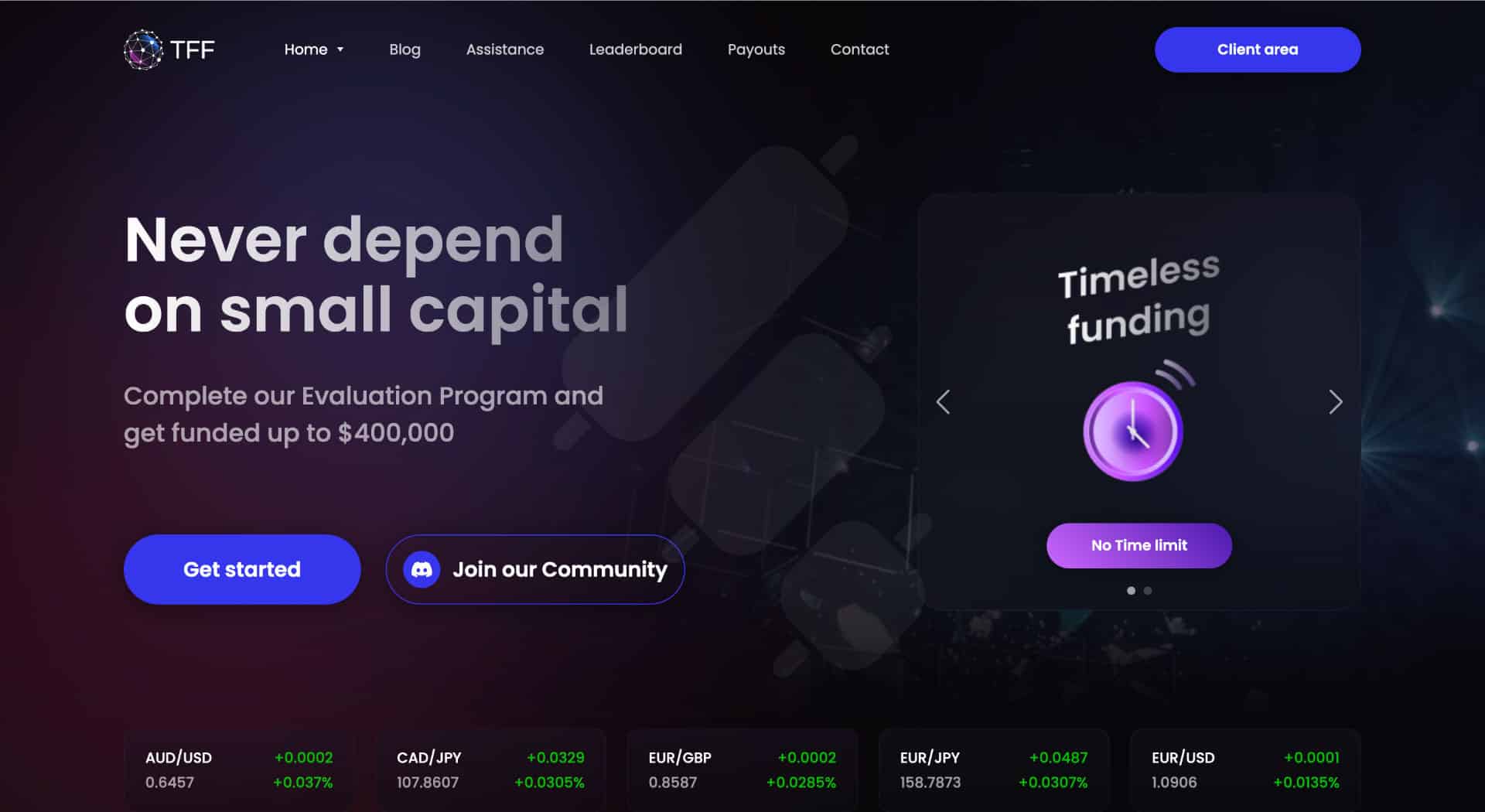 Pros
Weekend crypto trading allowed

Huge Discord community

Regular promotions and coupon codes

Excellent customer support through Discord
Cons
A new prop firm with limited history

No free trial available
True Forex Funds
TFF is another new, but rising prop firm. It is rapidly gaining popularity among both beginner and experienced traders, as it has fewer rules and requirements. You can also open an account with TFF in either U.S. Dollars, Euros, or British Pounds.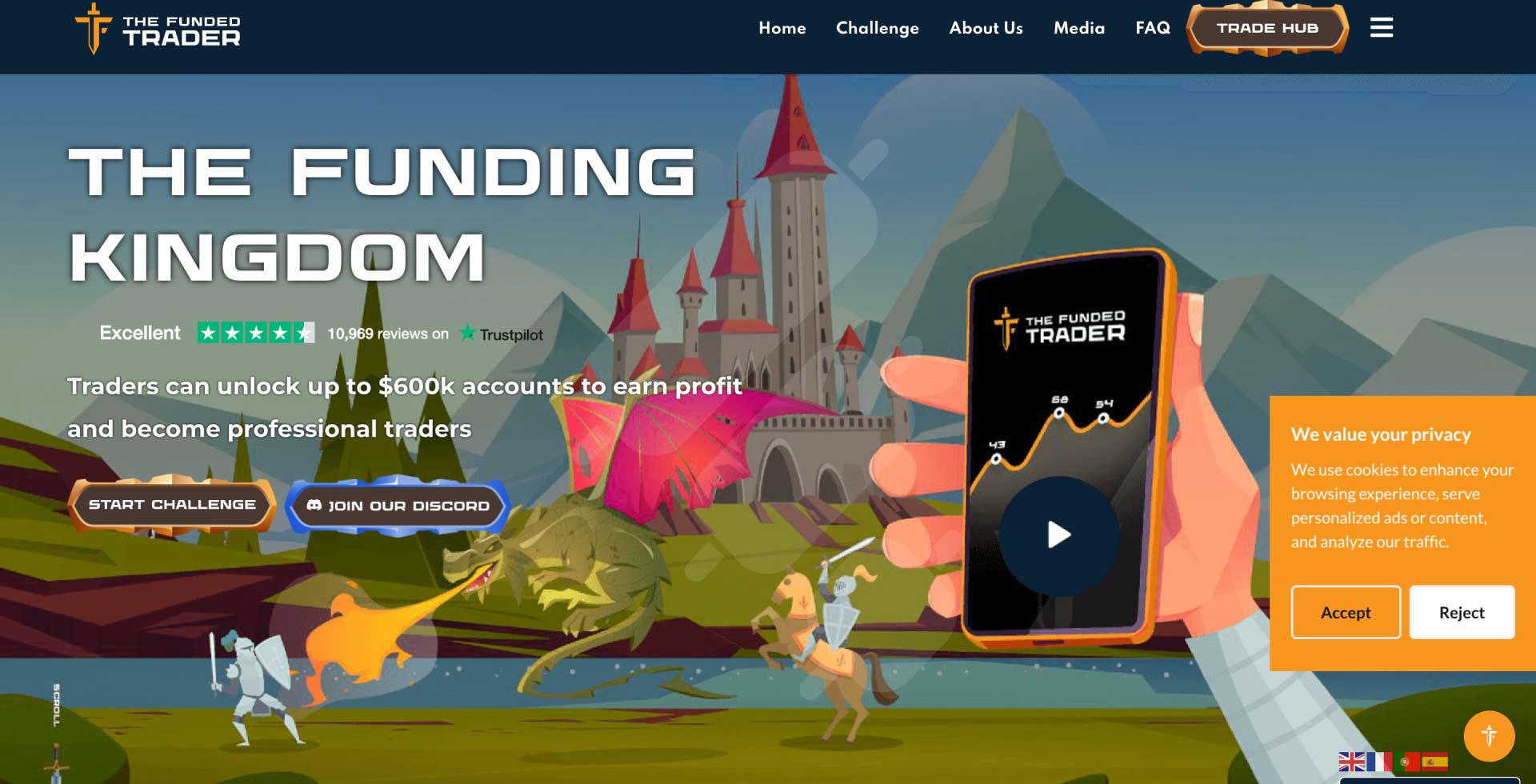 Pros
Tight spreads

News trading allowed

Free retry if you do not violate the rules
Cons
New to the industry

No free trial available
Are Prop Firms Ponzi Schemes?
One of the allegations that prop firms have faced recently is that they operate very similarly to a Ponzi scheme. Most prop firms claim that they profit from traders who are profitable, via profit sharing, and therefore try their best to provide a helpful environment for their clients. Yet, some of them rely on challenge purchases as their primary revenue source.
My Forex Funds, one of the largest prop firms in the world has recently been accused of using software to work against their own funded traders and make them lose their funded accounts. In fact, CFTC has publicly stated that most funded traders are trading on a simulated account, instead of being connected to the markets.
Therefore, My Forex Funds has seemingly committed fraud by stating that their success is tied with that of their traders but has been trying to make traders lose behind the scenes. This business model, which is primarily based on revenue from individuals who buy challenges, and the profit payouts of the minority of profitable funded traders are paid from this income source is very similar to Ponzi schemes; sharing profits with the money invested by other investors.
Easiest Way to Create Your Own Crypto Prop Trading Firm
Using Finestel's white-label solutions, you can create your own prop trading firm. Yes, you read it right, and it is very easy. All you need to do is to link your accounts to traders you deem suitable, letting them manage your capital and you can split the profits at the end of each period. Therefore, you can let several professional traders manage your capital.
We are also working on supporting demo accounts from popular exchanges like Binance and OKX. This way, you would be able to test the traders interested in getting funded with your money. You can do it just like other prop firms, setting rules and objectives for them to evaluate their expertise on a demo account, before allowing them to trade on real funds. 
Conclusion
In this article, we started out by explaining what prop firms are, and how they work. We also offered a guide on how you can get funded by a prop firm. However, our main objective was to describe the factors and criteria you should look for when choosing a prop firm to work with and introduce the best prop trading firms in 2023.
We analyzed the current top 5 prop firms by comparing their prices, rules, and features to each other. We also evaluated them individually and stated the pros and cons of each. Moreover, we ranked FTMO as the best and most reliable prop firm in the world, with the best track record of them all. Yet, the prop firm industry is rapidly growing, and many competitors are entering the market, making it easier for traders as they have more options.
FAQ
What Is The Best Prop Trading Firm?
While the best prop trading firm depends on your preferences, FTMO is widely considered the best prop firm in the industry.
Are there any risks associated with proprietary trading?
Yes. Just like any form of trading, prop trading is also associated with substantial risks, both financial and legal.
How do I choose the right prop trading firm for my trading goals and style?
You should consider factors like minimum trading days, drawdown limit, profit targets and whether they have time limits or not, to choose the right prop firm for yourself.
How much do prop traders make?
Prop traders' income varies depending on their skill, trading style, and their account size.
Can I trade remotely with prop trading firms, or is it location-dependent?
Prop firm trading is mostly remote, thanks to the advent of the internet and technology. You only need to have access to an electronic device and the internet.