Everybody who has heard about multi-account management systems may ask himself, What is MAM"? A MAM is a trading system used in the crypto and forex markets that allow asset managers and traders to execute their trades on multiple accounts simultaneously. Traders skilled enough to raise AUM and achieve more profits for themselves and their investors commonly leverage from their MAM accounts. Also, investors need more time, knowledge, or experience.
In this article from Finestel's Academy, We will talk about the role of multi-account management systems in both markets and address their pros and cons for traders and investors. We will also compare MAM with other investment management systems like Copy Trading and PAMM. Further, the distribution of profits and losses, top MAM trading systems, safety aspects of MAM trading, and critical factors to consider before investing in a MAM account will be discussed.
What is a MAM Trading System?
A Multi-Account Manager (MAM) trading system is a complete software that simplifies investors and traders handling multiple accounts through a unified interface. Such systems are mainly employed by asset managers, hedge funds, traders, and other institutional investors to supervise their clients' investments competently.
They enable simultaneous placement of orders across various accounts, eliminating the need to manually input trades for each separate account. Apart from professional investors, MAMs are specifically beneficial for asset managers, allowing them to allocate transactions of multiple clients for a certain percentage of their successfully executed trades.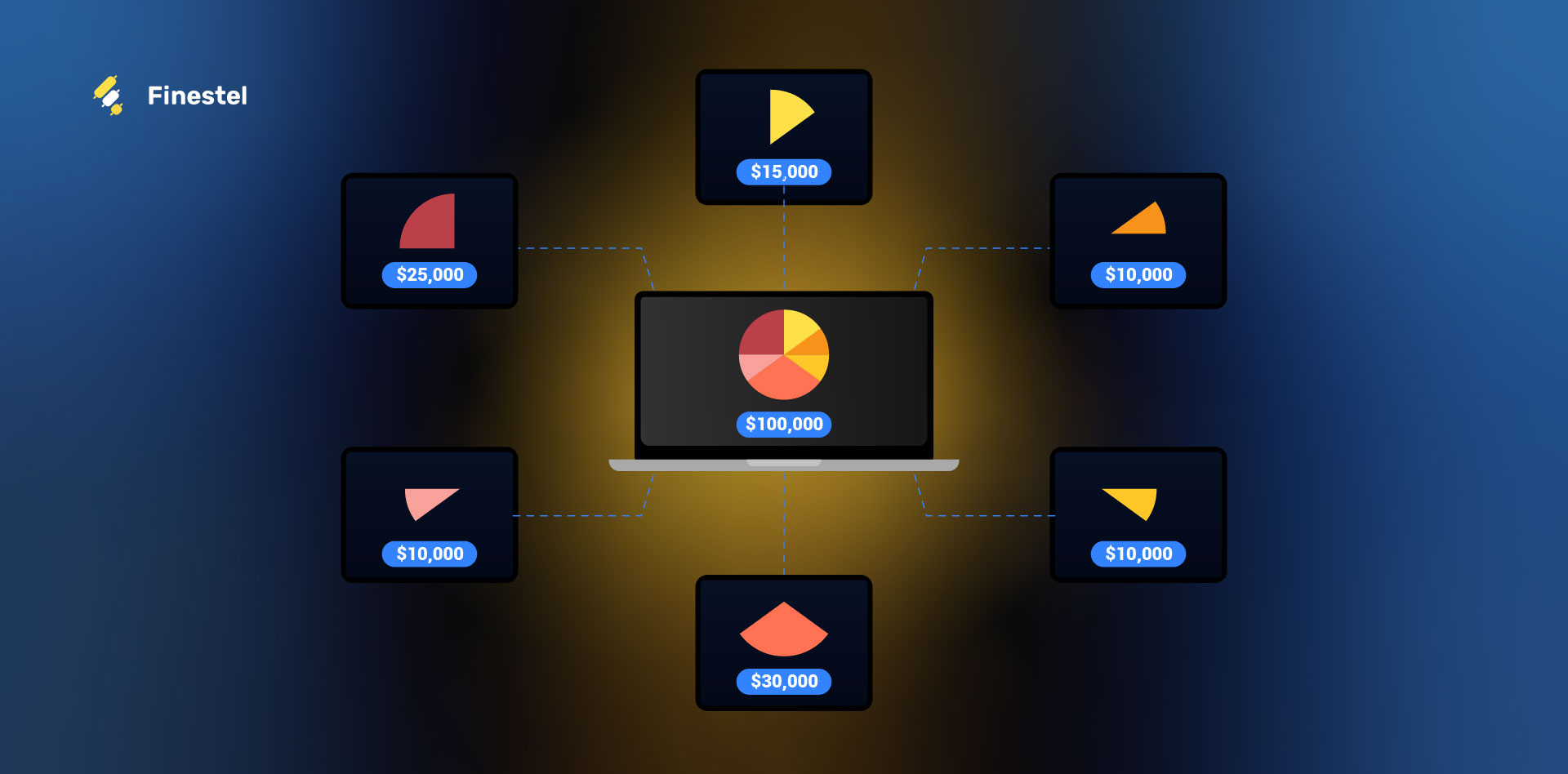 Additionally, the MAM trading system replicates the trades the asset manager places across the collection of individually-owned accounts, with divergences like trade size adjusted according to each investor's preferences and risk levels.
MAM in Crypto & Forex Market
Since MAM trading systems manage multiple accounts from a single interface, they have gained significant attraction in the Crypto and Forex markets.
In forex markets, MAMs are mainly used by asset & money managers and brokerage firms to handle vast investments from numerous clients. As a result of this innovative system, traders can execute client trades while maintaining funds in separate accounts. In this manner, all parties are assured of enhanced flexibility and control.
MAMs are beneficial, specifically for professional traders who need a quick and applicable method of executing trades across multiple accounts. In addition, MAMs provide great customization to meet the needs of both asset managers/traders and clients. This process includes setting varying risk levels for each account, adjusting trade sizes, and establishing stop-loss orders. 
MAMs are extremely useful for managing multiple accounts across different exchanges in the crypto market. They also facilitate the execution of trades across the platforms to resolve timing concerns. Cryptocurrency asset managers use MAMs to streamline the investment process and enhance portfolio management effectiveness.
Notably, MAMs are third-party solution providers in the cryptocurrency markets, while they are a software feature of brokers in the forex markets.
Exploring the Pros & Cons of MAM for Crypto Traders and Investors
Focusing on crypto markets, here are a few pros and cons of multi-account management for traders and investors separately:
For Traders:
Pros
Efficiency:

traders can manage multiple accounts from a single interface, saving time and tracking trades and account balances more manageable.

Customization:

MAM can be customized to meet the specific needs of traders. For example, traders can set diverse risk levels for each account, adjust trade sizes, and set stop-loss orders.

Profitability:

MAM is profitable for traders because they can acquire a portion of the profits from their accounts.

Concentrated Control:

Traders and especially asset managers with their group of investors can spread their trading strategy simultaneously. It is an excellent opportunity for them to expand their AUM capacity.
Cons
Risk:

Traders may make mistakes or execute trades that do not align with the investor's risk tolerance or investment goals.

Dependency on Technology:

Asset managers depend entirely on technology when sensitive trading times come. If there is any interruption in internet connectivity and speed, trades may not be placed simultaneously, which brings losses.
For Investors
Pros
Transparency:

Investors are equipped with transparent data because they can see all the trades executed on their accounts.

Diversification:

Investors can diversify their portfolios by investing in multiple accounts managed by different traders. 
Cons
Fees:

MAM may charge the trader's share portion as fees, which can reduce the overall profitability of the investment. Some platforms also consider fees as their business model.

Lack of Control:

Investors may need more control over the trades run on their account, as they rely on the trader to make decisions.

Reliance on the Trader:

The investment's success relies on the trader's skills and experience, which may take time to assess.
MAM Vs. Copy Trading Vs. PAMM
MAM, Copy Trading, and PAMM are three different investment management systems that investors can utilize to participate in the financial markets without actively managing their accounts. The main differences between these three systems are as follows:
MAM (Multi-Account Manager)
MAM is a trading system that allows experienced investors to manage several individually-owned trading accounts.
In MAM trading, trades placed by the asset manager are replicated across the group of accounts, with attributes like trade size changed depending on each investor's preferences and risk level.
Copy Trading
Copy Trading is a system where investors automatically copy the trades of one or more traders selected at their preference.
At first glance, it may be similar to multi-account management, but there is a precise difference in the investor's point of view. In Copy trading, investors may enter a third-party copy trading platform to choose a trader among several traders at a social lobby to assess their statement and start copying the trades. This method gives investors more control over their accounts to copy several traders for their several exchange accounts and sub-accounts.
Copy Trading is a compatible service for investors who want to participate in the markets but need more time or expertise to trade independently. It can help them obtain knowledge and experience by analyzing the trades and watching traders' recap explanations.
PAMM (Percentage Allocation Management Module)
PAMM is a trading system that allows investors to allocate a percentage of their funds to a chosen trader.
The trader or asset manager then manages the funds in a single account and distributes the profits or losses among the investors based on their percentage allocation.
PAMM is an appropriate service for investors who want to participate in the markets but need more time or expertise to trade independently
In summary, MAM, Copy Trading, and PAMM are different investment management systems allowing individuals (investors or less experienced traders) to feel the market volatility and occasional trading situations. It can help them gain expertise in trading alignment and market participation. 
How Are Profits and Losses Distributed in a MAM Account?
Profits and losses of a MAM account are commonly allocated according to the ratio of money deposited by each investor. Profits and losses as results of trading operations would distribute accordingly if a MAM account holds three clients with a 50% share for one investor and a 25% share for every two others.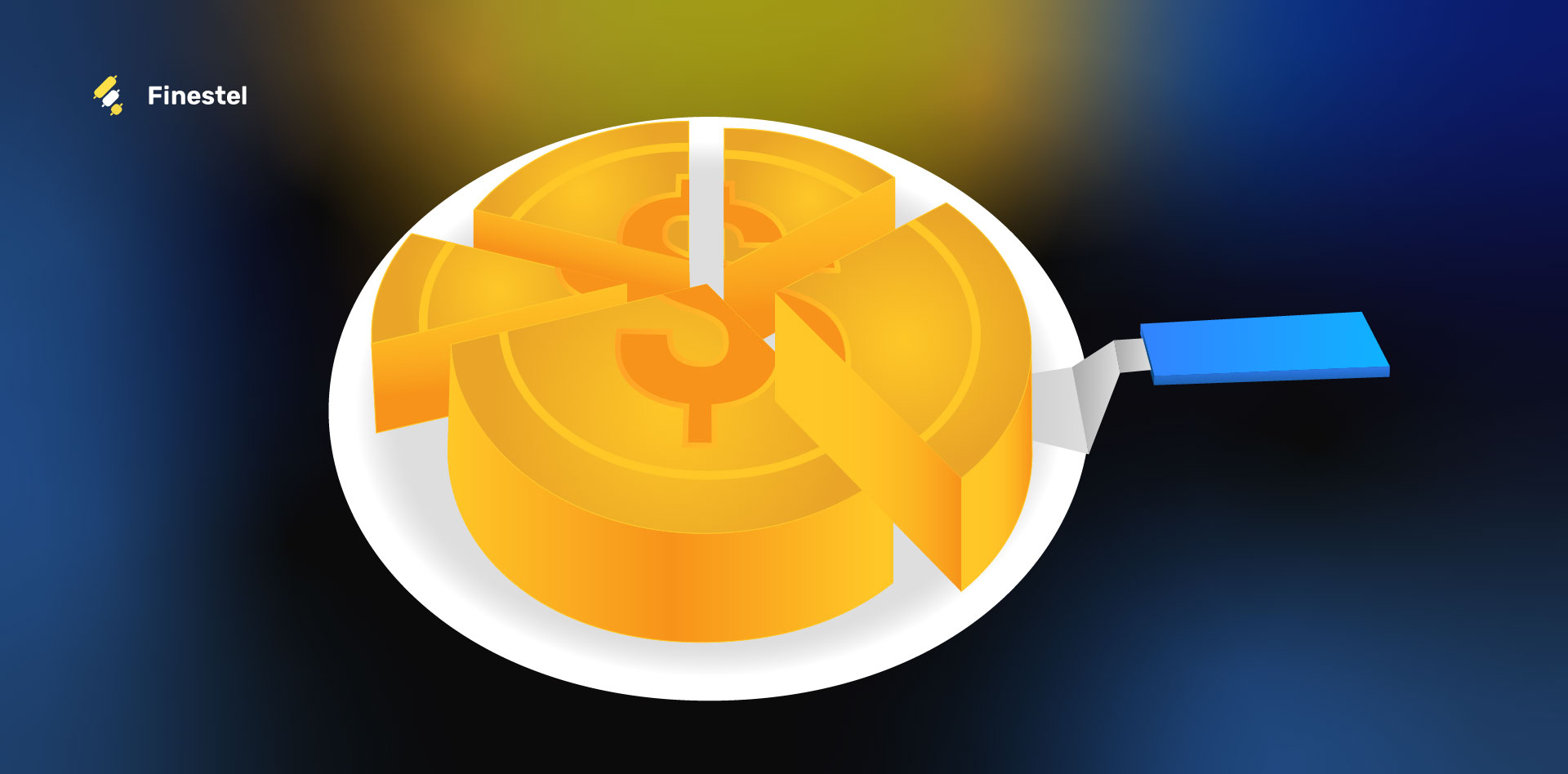 When the asset manager executes trades using the funds in their account, results will be automatically split among investors relative to their stakes in the manager's account, whether profit or loss.
The trades of the asset managers will be reflected across their group of investors through factors such as trade size adjusted per each investor's priorities and risk level. 
Top 5 MAM Trading Systems
Since the term "Copy trading" is heard mostly in the atmosphere of the cryptocurrency market than in Forex, here are the lists of the top five trading systems for MAM in Forex and Copy Trading in Crypto separately.
TOP 5 MAM trading systems in Forex (Some support Cryptocurrency at their broker):
Coinexx MAM: Coinexx is an ECN broker that offers MAM trading with 1:500 leverage, 80+ instruments, and a joining bonus. The minimum deposit is 0.001 BTC, and the minimum trade size is 0.01 lots.
Supports Crypto? YES

HFM PAMM/MAM: HFM (formerly known as HotForex) offers PAMM (Percentage Allocation Management Module) and MAM accounts. PAMM accounts allow investors to allocate funds to an asset manager, while MAM accounts allow asset managers to manage multiple accounts from a single interface.

FXTM Invest:

FXTM Invest is a copy trading program allowing investors to follow experienced traders' trades. The program includes a MAM account option enabling traders to manage multiple accounts from a single platform.


IC Markets MAM/PAMM:

IC Markets offers both MAM and PAMM accounts. The MAM account option allows asset managers to manage multiple accounts from a single interface, while the PAMM account option allows investors to allocate funds to an asset manager.

AvaTrade MAM:

AvaTrade offers a multi-account management option that allows asset managers to manage multiple accounts from a single interface. The statement also includes advanced risk management tools.
TOP 5 Copy trading systems in Crypto Market:
Finestel: It is a trading technology solution provider that offers copy trading services in the crypto market. It also offers the service as a white-label solution with your own team's/company's brand on it.
Coinstats: It offers a collection of tools for cryptocurrency investors. It allows users to connect their exchange accounts and automatically copy the trades of successful traders.
Wundertrading: With the WunderTrading Copy Trading tool, investors can directly copy successful traders' strategies and incorporate them into their automated trading bots. Users can copy the trade with the same settings in real time as soon as the signal provider generates a signal manually or through a trading crypto bot.
Kubera: It seeks to simplify the procedure of investing in cryptocurrencies. It offers a user-friendly interface and creative features that make it comfortable for novices to get started with copy trading.
3commas: It is a highly leaned crypto copy trading service among traders in the cryptocurrency market. Particularly, It provides smart trades and automated trading bots for users.
It is important to note that the effectiveness of a MAM trading system depends on various factors, including the trading strategy of the asset manager and the risk management tools provided by the broker.
Is MAM Trading Safe?
Multi-account management is secure enough to consider in investment projects, but for a more precise answer, it depends on the factors that investors should consider primarily.
What Should Clients Consider Before Investing in a MAM Account?
Before investing in a MAM account, investors should consider several critical factors as follows:
Research the asset manager's performance history and trading strategy.

Select a reputable broker with robust risk management tools such as stop-loss orders.

Understand the fee structure, including performance, management, and account opening fees.

Evaluate personal investment goals and risk tolerance, acknowledging that MAM trading carries high risk.
Understanding MAM (Multi Account Management)| Infographic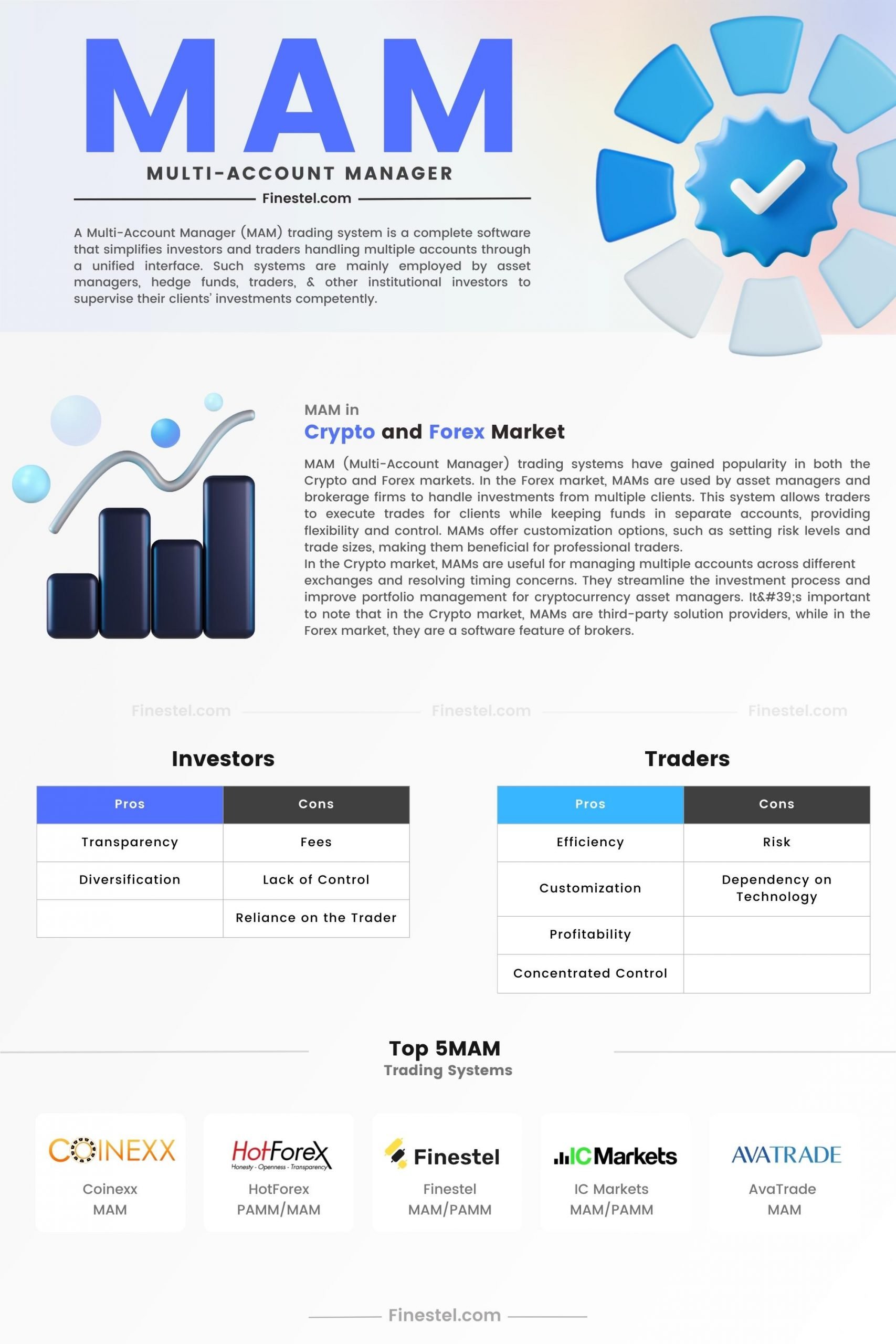 Conclusion
This article answered the question What is MAM  and discussed MAM trading systems' definition, pros, cons, drawbacks, and application in the crypto and forex markets. Besides, MAM trading was compared with other investment systems, along with introducing the top 5 MAM trading systems.
The MAM account is a valuable feature in the financial markets. By using it, traders can precisely control multiple accounts and sub-accounts, and investors can benefit from diversification and transparency. Therefore, before investing in a multi-account management system, investors should carefully evaluate the asset manager's experience and background, risk management tools, and personal investment plans.
FAQ
What is a Multi-Account Manager (MAM) account?
A multi-account management system is a trading system that enables asset managers and traders to manage and execute trades across multiple accounts simultaneously.
What are the benefits of using a MAM account?
The benefits of using a multi-account management include simultaneous execution of trades across various accounts, customization based on specific needs, enhanced efficiency, and the potential for increased profitability.
How does MAM differ from PAMM and LAMM in crypto trading?
In a sentence, MAM allows for managing multiple individually-owned accounts, PAMM involves a pooled fund, while LAMM allows different lot sizes per investor account.
What should I consider before choosing a MAM service for crypto trading?
Consider the asset manager's experience, the service provider's reputation, and the transparency of their trading strategies.
Who can use a MAM account?
Professional traders, money managers, and investors who may lack the time or experience to manage multiple accounts can use a MAM account.
Can clients have different risk profiles in a MAM account?
Yes, clients can have different risk profiles in a MAM account, with trades and allocations adjusted according to each investor's preferences and risk tolerance.